I love a high tea. It's such a civilised combination of cakes and pastries, sweets and savouries, and don't get me started on how much I love a nice cup of cha! Oh, and did someone say champagne?! There's something so naughty but so nice about eating decadent deliciousness…  when it's not even a real mealtime! I never get bored of high tea. In fact, my only complaint would be that I don't enjoy it enough.
However, since I've lived in Sydney I've morphed into some kind of caffiend and my love for coffee knows no bounds. If I don't have  a cup  in the morning, I get cold turkey by the afternoon. My bad, I know.
So imagine my delight when I learned of  High Coffee! Yes, that's a thing! A thing that combines my love of baked goods, afternoon delights and need for caffeine. Winning!
There seemed no better excuse to partake of such pleasures than during the Birthday Festival. So that we did.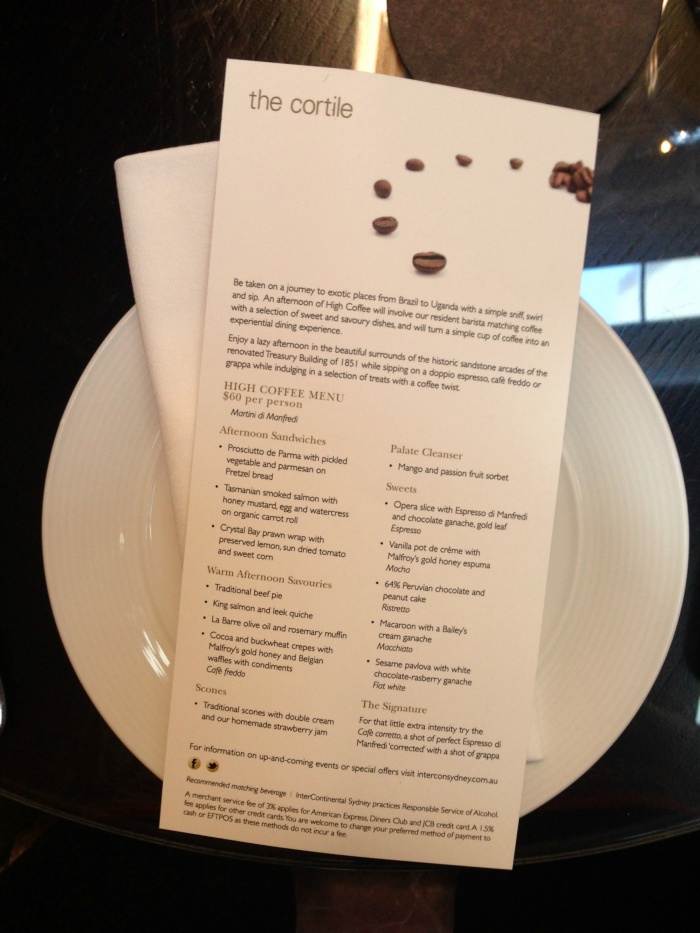 These days, High Coffee is served in Cortile at the Inter Continental, Sydney which is situated  in the beautiful surrounds of the historic  Treasury Building dating back to 1851. It's pretty impressive and the cosy little booths are a perfect and intimate place to enjoy the afternoon delights.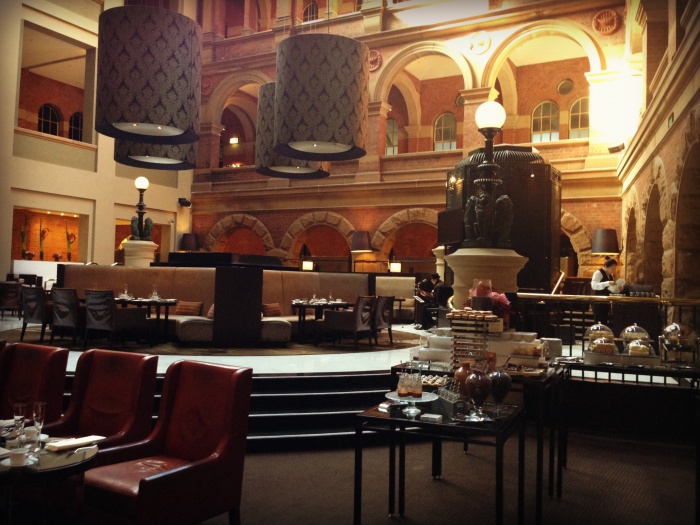 The fun starts with an Espresso Martini, and then it just doesn't stop.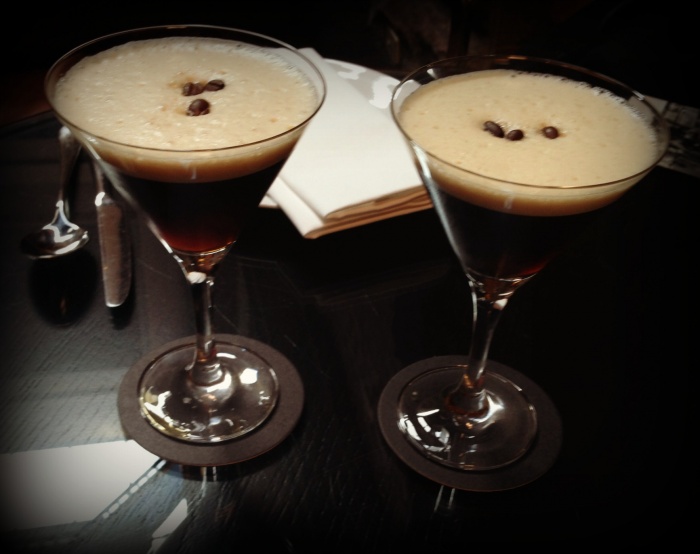 The cake stand is vast and full with delicious treats. The savouries include Prosciutto with pickled vegetable and parmesan on pretzel bread, Tasmanian smoked salmon with honey mustard, egg and watercress on an organic carrot roll and my favourite, the Crystal Bay prawn wrap with sun dried tomato and sweet corn. Get in my belly!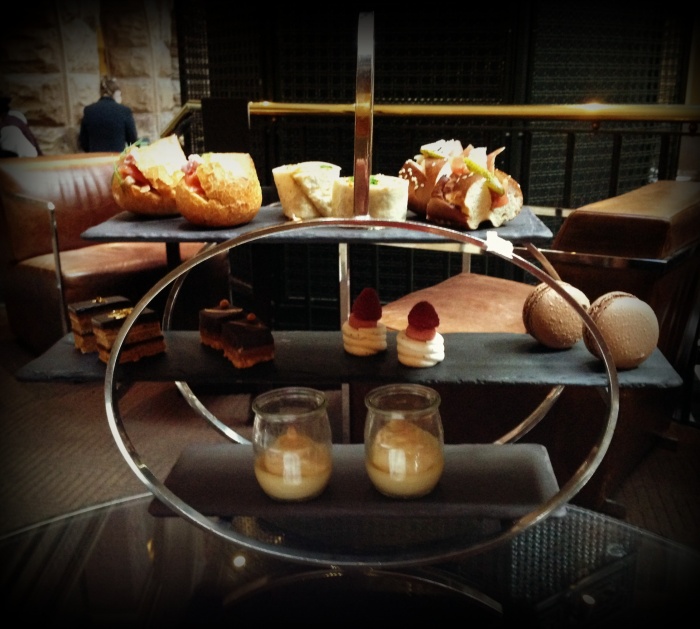 But that's just the cold stuff. There's also the warm savouries to attend to. We loved the baby Beef Pie the best with the Salmon and Leek Quiche coming a delicious second. The Olive Oil and Rosemary Muffin seemed like the poor relation in comparison, though.
Onwards and upwards, to the warm sweet treats, cocoa and buckwheat crepes with gold honey and Belgian waffles with a mouth watering selection of condiments, including homemade jam and homemade nutella. The crepes were all kinds of awesome and the waffles exceptionally sweet but we slathered them in nutella, because it was homemade after all.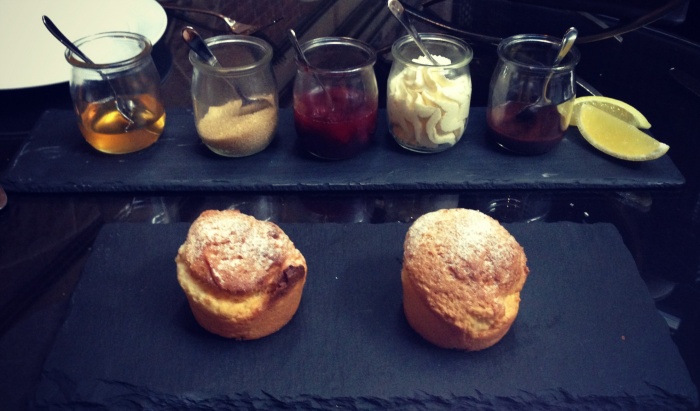 The scones were just like scones should be, only better. We decorated them with double cream and oodles of homemade jam because we wanted all the calories. All of them!
There were still the sweet treats to contend with. No sooner had we ploughed our way through one tier of the tower, than another freshly filled one appeared. It really was like a never ending tea-cum-coffee party.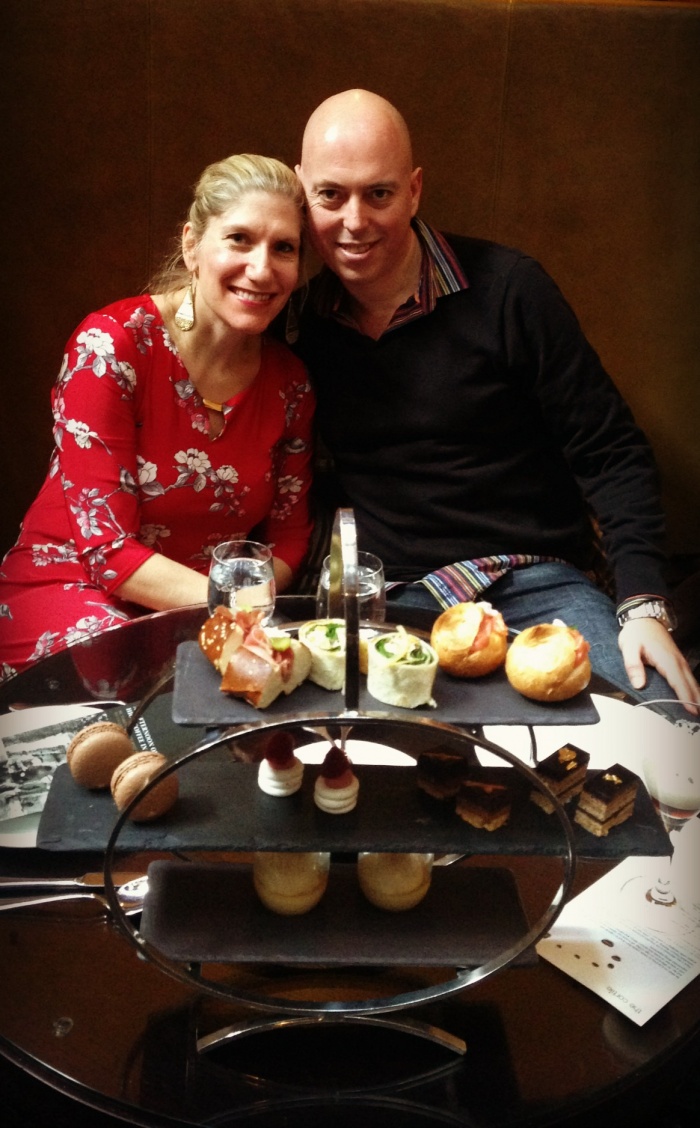 The sweet treats were really a sight to behold.  The opera slice with Espresso di Manfredi, chocolate ganache and  gold leaf looked and tasted like a cake fit for a Queen.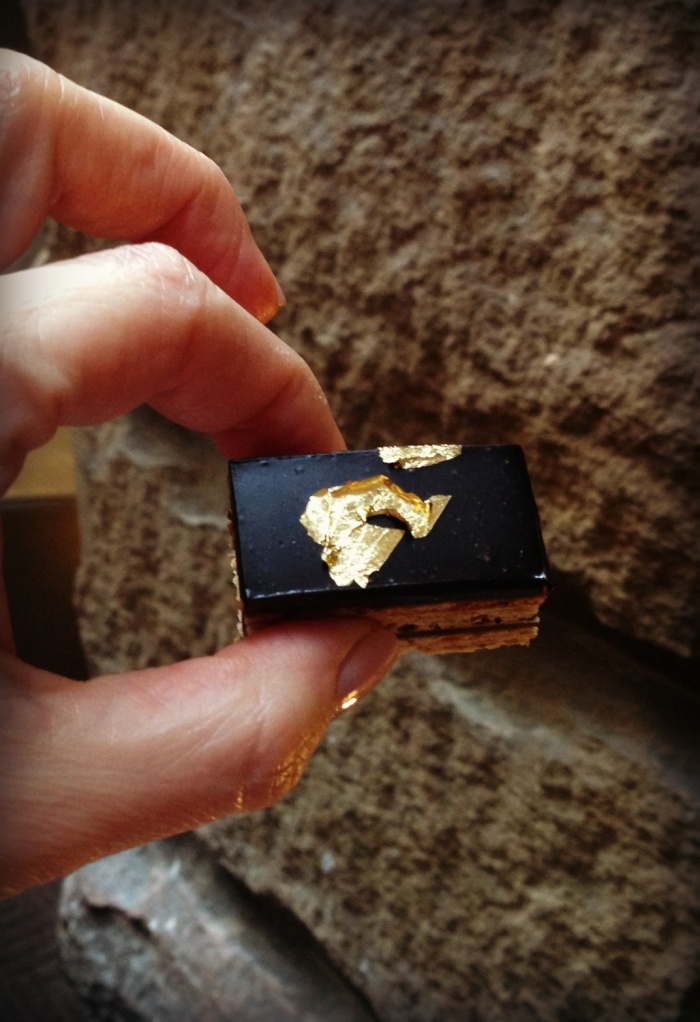 The Vanilla pot de crème with Malfroy's gold honey espuma was especially delicious with a wonderful combination of flavours and textures and hip, hip, hooray for the Baileys Macaroon.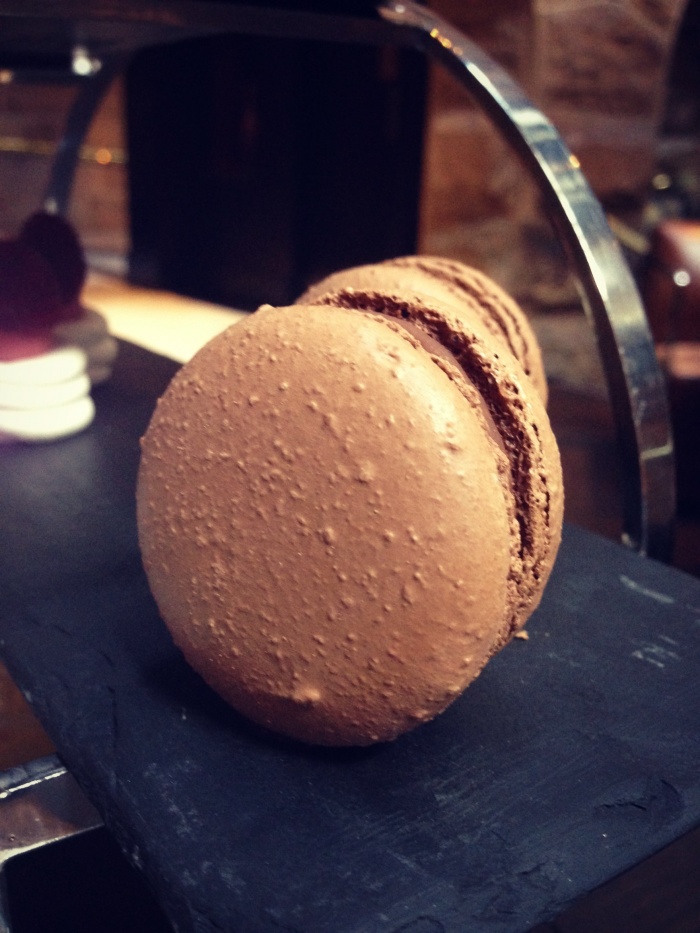 The 64% Peruvian chocolate and peanut cake was like a Reece's Peanut Butter Cup with knobs on and the sesame pavlova with white chocolate-raspberry ganache brought some light relief to the dark chocolate party on our plates.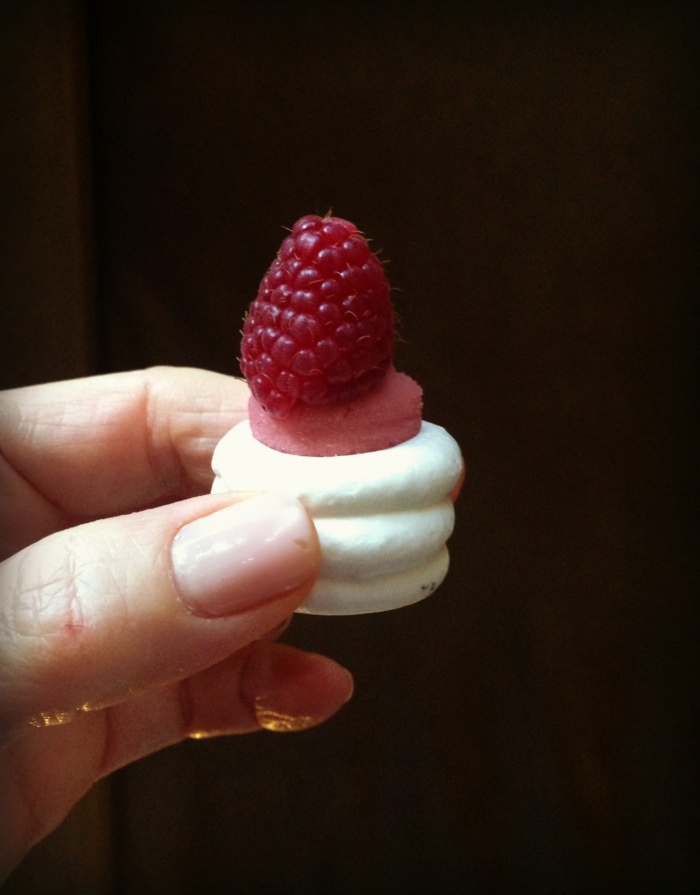 The mango and passionfruit sorbet made our palette  as clean as a whistle.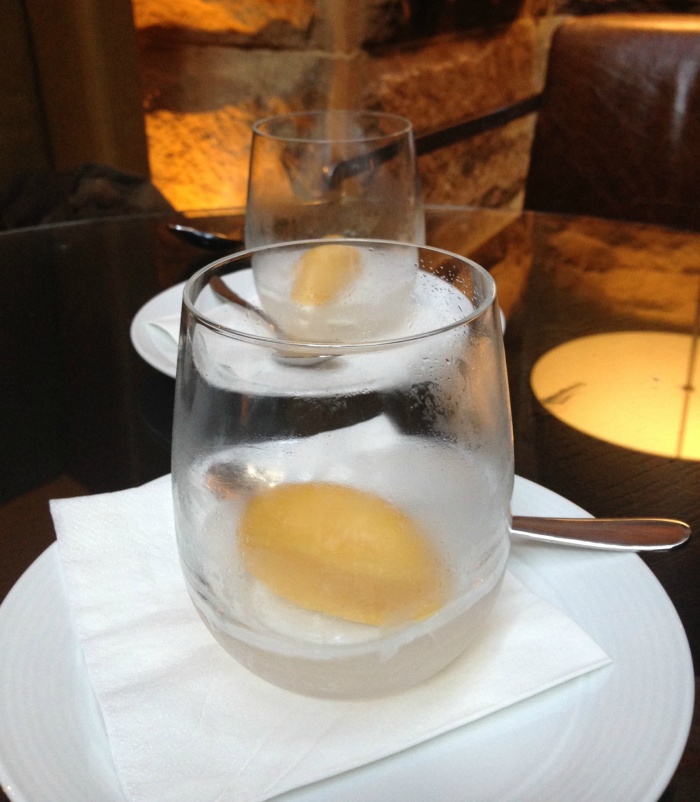 A birthday tea isn't a birthday tea without a cake and a candle, and at the Intercontinental this is served with  a birthday song from the musician in situ. It was at this point that I started to doubt my motto, " I always leave room for cake." Even I have my limits.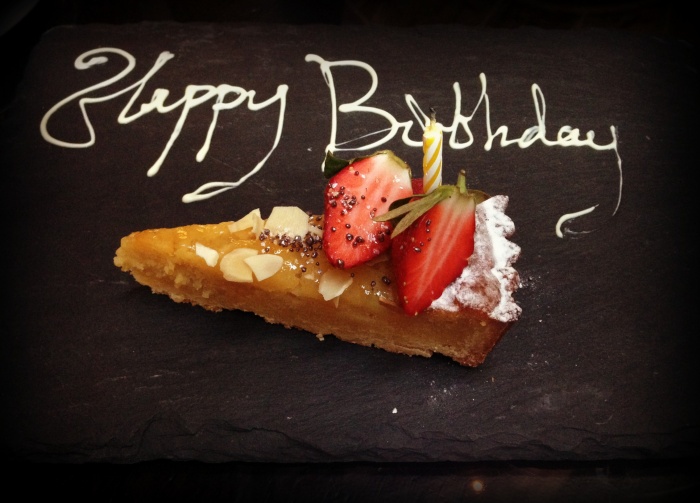 The Intercontinental certainly saves the best 'til last when it comes to the High Coffee Expereince. Just when you think you can take no more of this deliciousness, you are presented with the hotel's signature cafe corretto – a shot of espresso "corrected" with a shot of grappa liquor. This my friends, is the real deal.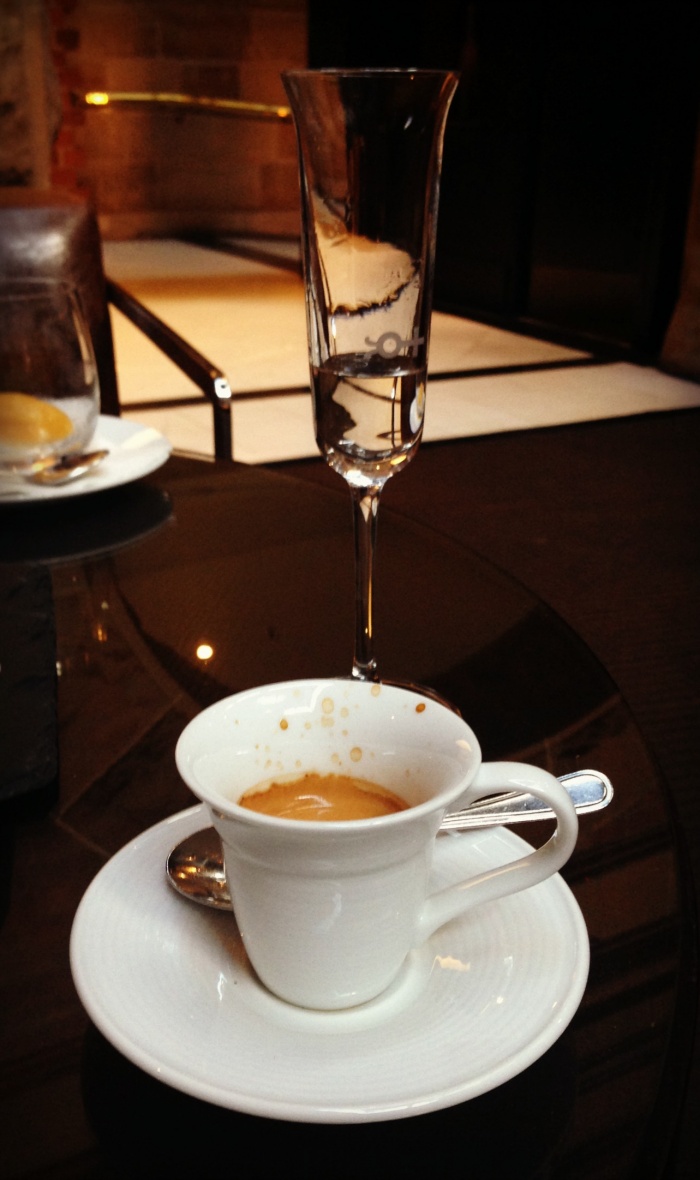 The grappa is top notch and full of flavour. Hana, our delightful server, invites me to drop some of the grappa onto my palms and then rub them together. When I smell my hands, they smell so fragrant and well, grape-y. There's a few ways to drink the Cafe Coretto but we follow Hana's advice. This way is the best way, she says.
David kindly agreed to demonstrate this highly intricate process.
First, you down your shot of coffee, in one, if you can.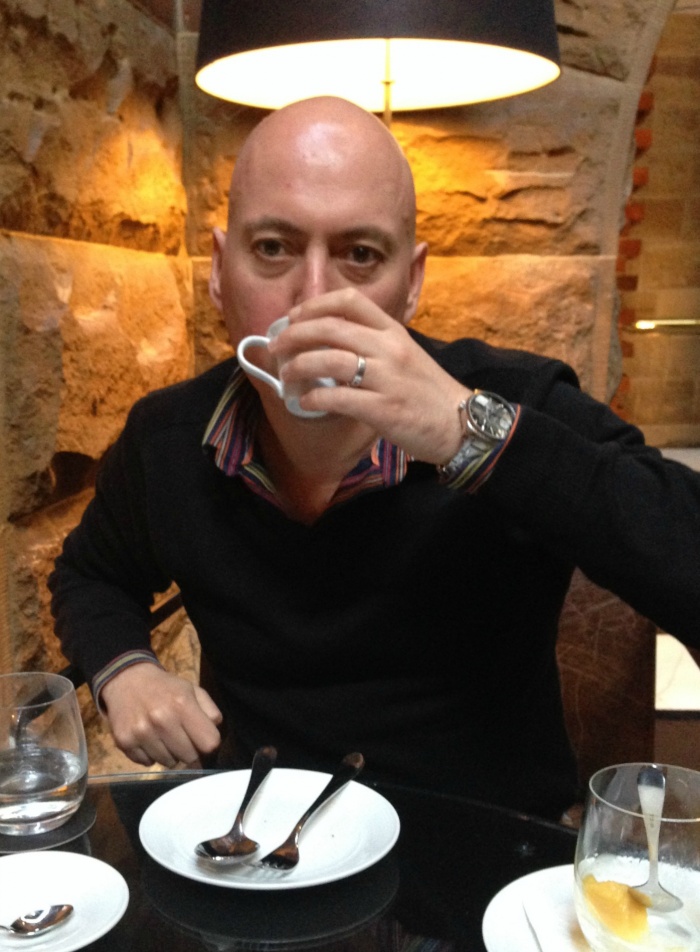 Then, pour the grappa into your empty coffee and give it a swirl, just so you can infuse the grappa with the espresso flavours.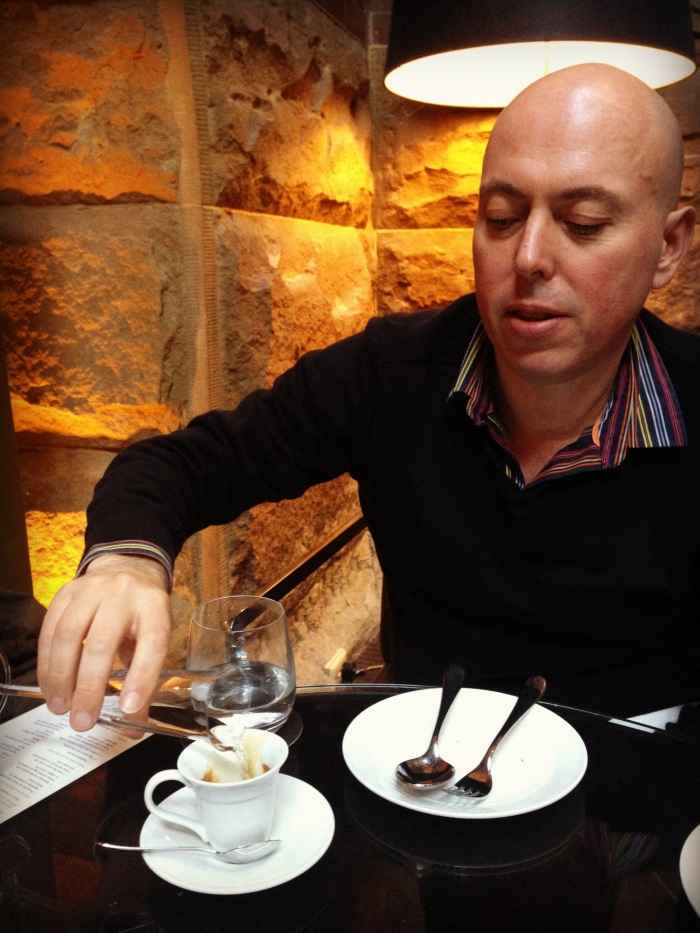 Don't forget to  have a quick sniff because  the coffee and the grappa together makes for an amazing aroma.
Then go hard or go home, and down that grappa in one! This is hardcore!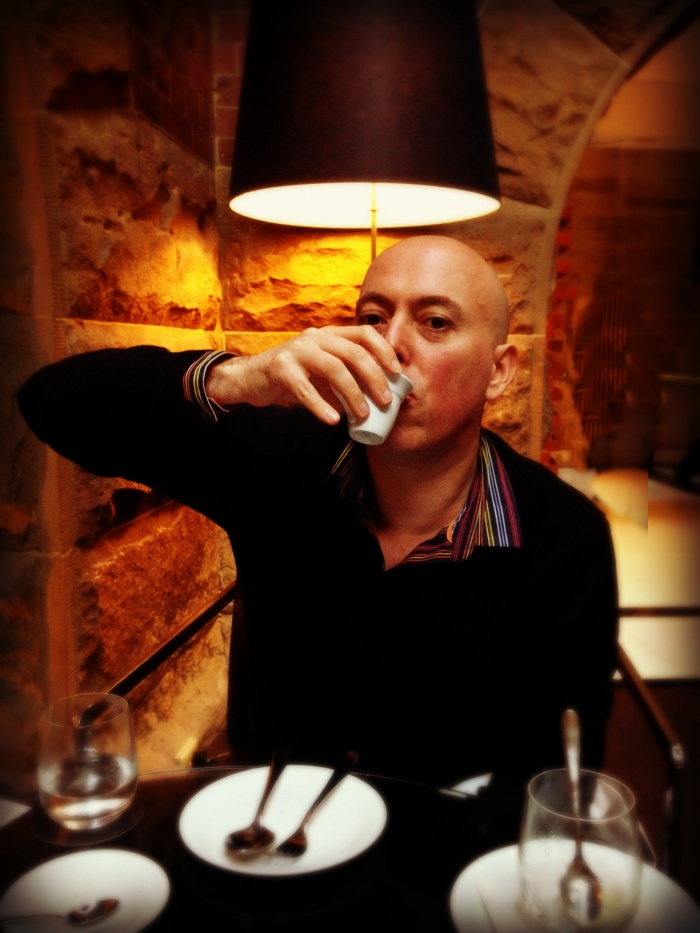 This is good.
Everything about this experience was exceptional. Cortile is an impressive spot, the service is first class and the food and drink is just made to tantalise your tastebuds.
It's something deliciously different and it's the perfect way to celebrate with that special someone or special occasion in your life.
My tip is to book ahead, arrive with an empty stomach and allow at least 2 hours to savour the experience.
Oh, and don't worry, although you will want to eat all the delicious delights placed before you, you don't have to. Most bellies are beaten (just not mine.)
Note: This post is in no way sponsored. David and I dined as guests of each other as part of our Birthday Festival. It was just too good not to share.
So,  if you had to choose, what would it be? Sweet or savoury? Coffee or tea?
What you need to know
High Coffee is available every day from 11 – 5.30
Check out the full menu here
Price $60 per person