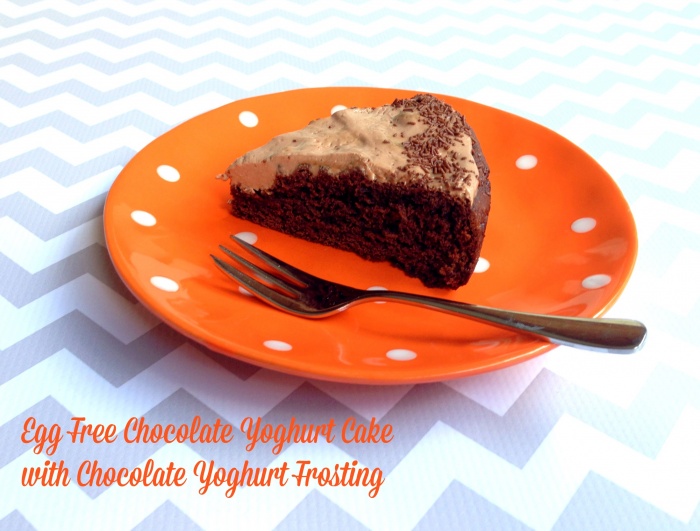 Serves 6-8 generously
So this is what happens when you have some yoghurt looking lonely in the fridge and you need to make a birthday cake for a friend who eats egg-free. Yay for yoghurt!  I saw Brian's orginal recipe and decided to give it  a whirl in the thermie with great results. The cake is deliciously dense and has a lovely chocolatey flavour.'Twas a shame to let all that good yoghurt go to waste, so I used it for the topping too. I love the way the sourness of the yoghurt balances the sweetness of the cake but if you prefer something sweeter, some chocolate buttercream or a smooth ganache would work equally as well.
Ingredients
50g butter
200g raw sugar
225g plain yoghurt
1 teaspoon vanilla extract
250g plain flour
1/2 teaspoon bicarbonate of soda
3 tablespoons cocoa
FOR THE FROSTING
1/2 cup Greek yoghurt
2 tablespoons cocoa
2 tablespoons sugar (or sweetner of choice)
sprinkles (if desired)
How to
Heat oven to 180C/fan 160C. Grease and line the base of  a deep 20cm cake tin with baking paper.
Mill sugar for 10 seconds on speed 9.
Add the butter and chop for 5 seconds on speed 8. 
Insert butterfly and mix for up to 2 minutes on speed 3-4.
Add the yoghurt and vanilla extract  to TM bowl and mix on speed 4  for  15 seconds. Scrape down lid and bowl.
Add the flour, bicarb and cocoa. Mix for  15  seconds on speed 4,
The mixture should be well blended. If necessary, scrape down lid and sides one more time and whizz for 5 seconds on speed 4. The mixture will be very thick. Use the spatula to put  the mixture into the prepared tin, smooth the top and bake for about 30-40 minutes, or until a cake tester comes out clean. If the cake is browning too quickly, cover with foil.
Allow cake to cool in tin for at least 30 minutes before transferring to a cooling rack.
When cake is completely cool, decorate with yoghurt frosting.
FOR THE FROSTING
Simply add all the ingredients in a bowl and mix until combined. Spread onto cooled cake.
Other info
Prep time:  2 minutes 30 seconds      Cooking time: 30-40  minutes