Today the Words of  Wisdom come direct from Disneyland.
There was so much to love about the  Disneyland Half Marathon, the course, the  cheerleaders, the brass bands, the vintage car rally, the Disney characters, the run through Angels Stadium and the running signs.
The running signs were inspiring, funny and entertaining and I loved them all. Friends, family and locals woke up before the birds, lined the streets and no doubt got arm ache just to be every runner's best friend.
I couldn't get a picture of the guy who had this sign, but it was one of my all time faves!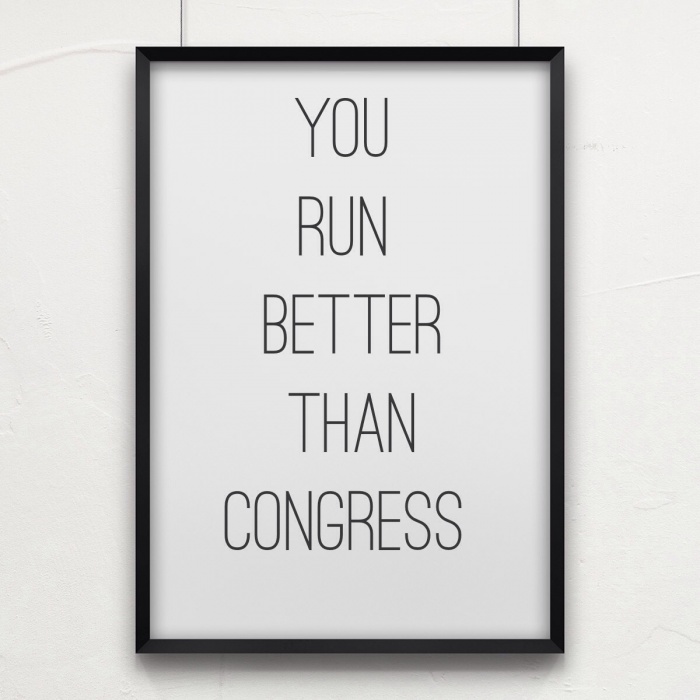 Some of the supporters not only shared their time and their enthusiasm, they shared their candy and pretzels too. Thank YOU complete stranger!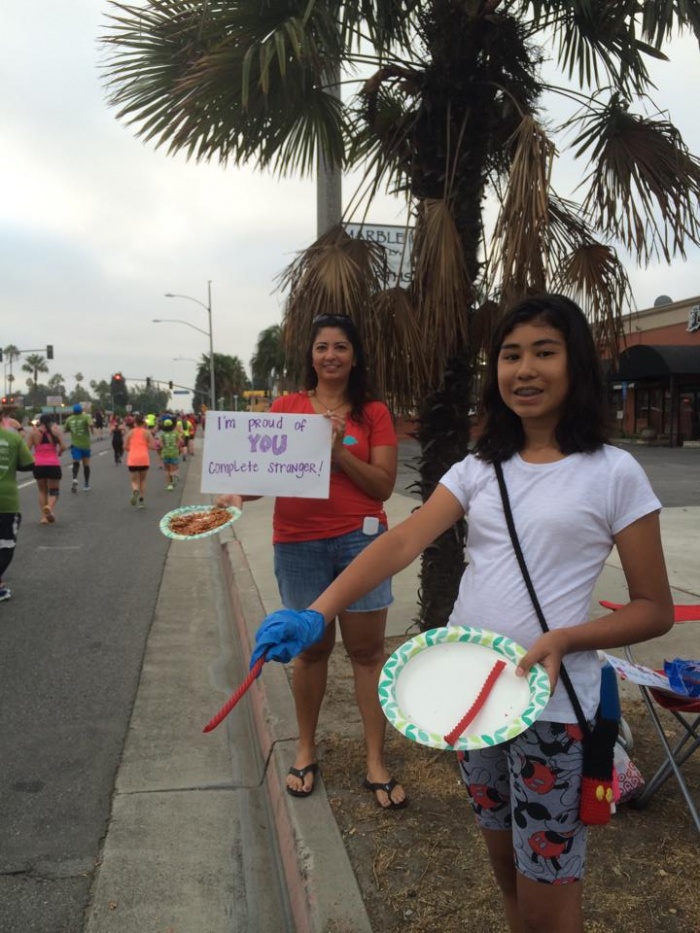 photo credit: Holly
This guy was one of my favourites. He got on his bike and popped up in so many places around the course.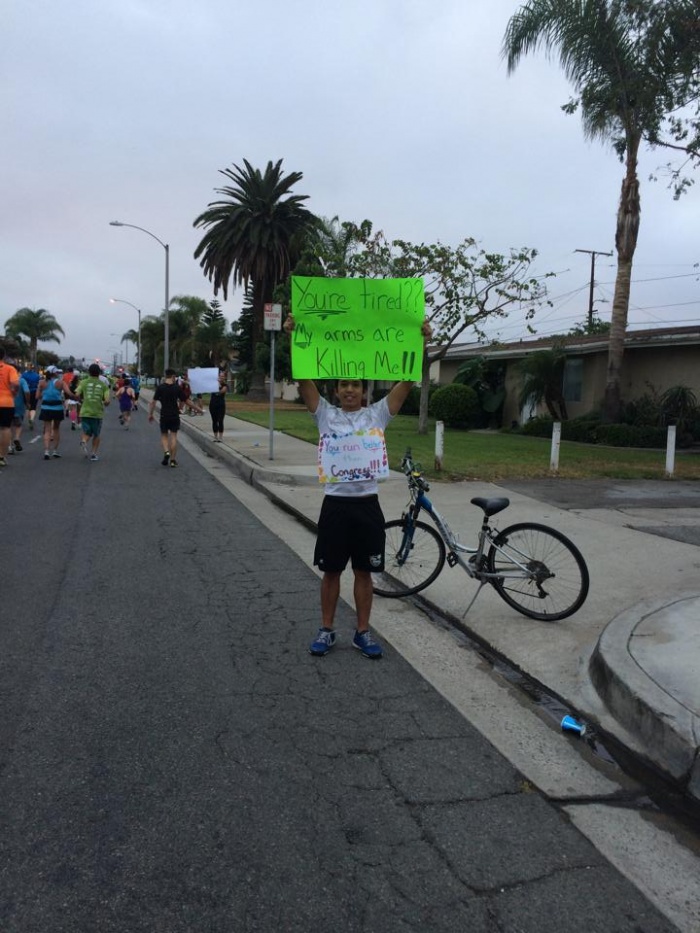 photo credit: Holly
And this one made me laugh so hard.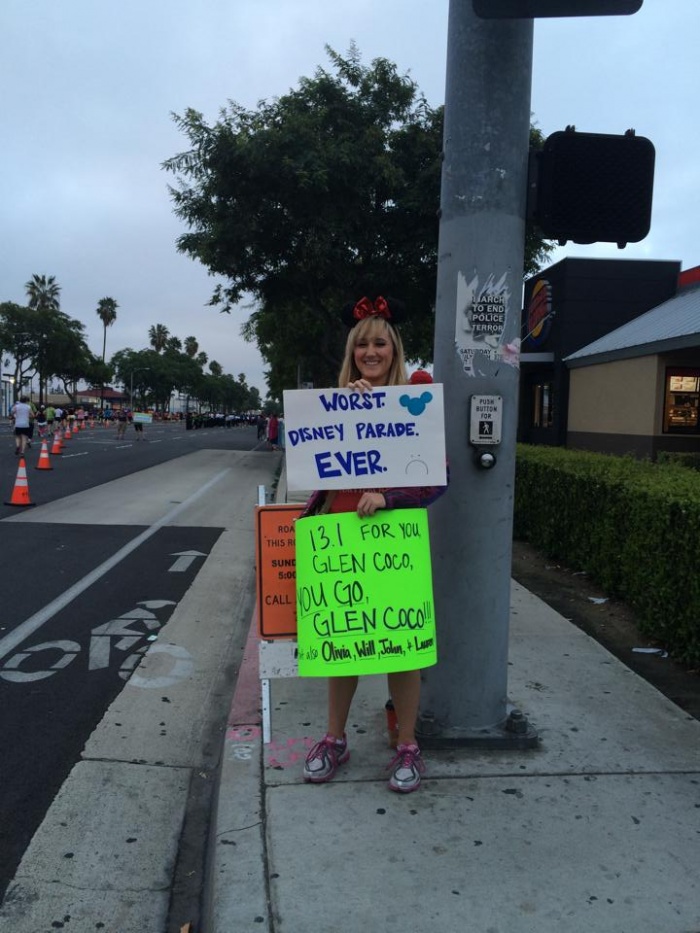 photo credit: Holly
How about this one? Telling it like it is!
photo credit: Holly
I saw this one as I was running into Angels Stadium. What can I say? I'm a sucker for a free banana!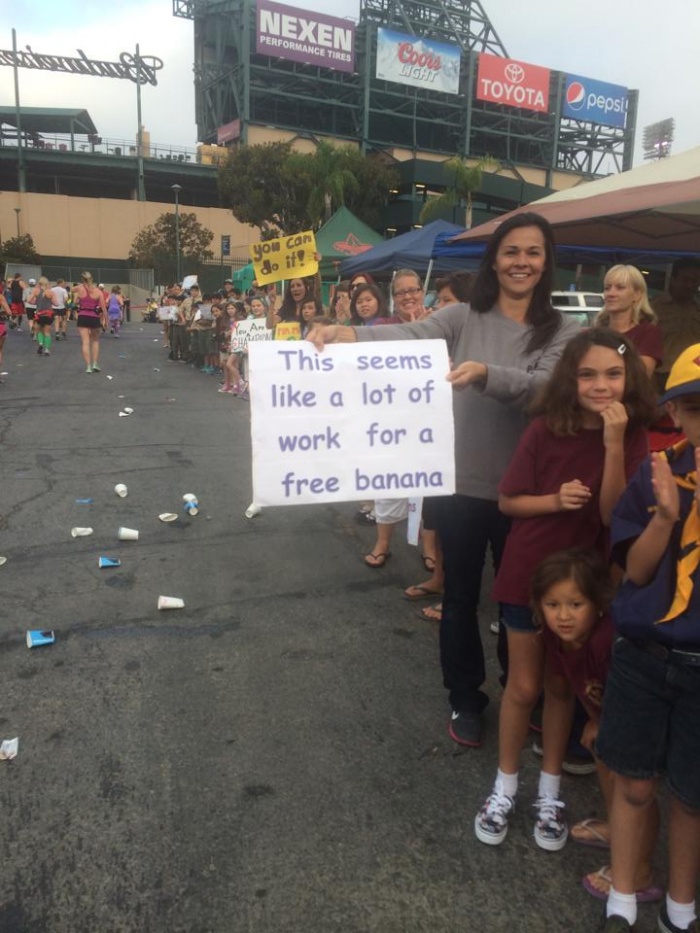 photo credit: Holly
And how about this guy? FYI Trader Sam's is the coolest bar in Disneyland. Do you think by hotties, he means sweaties?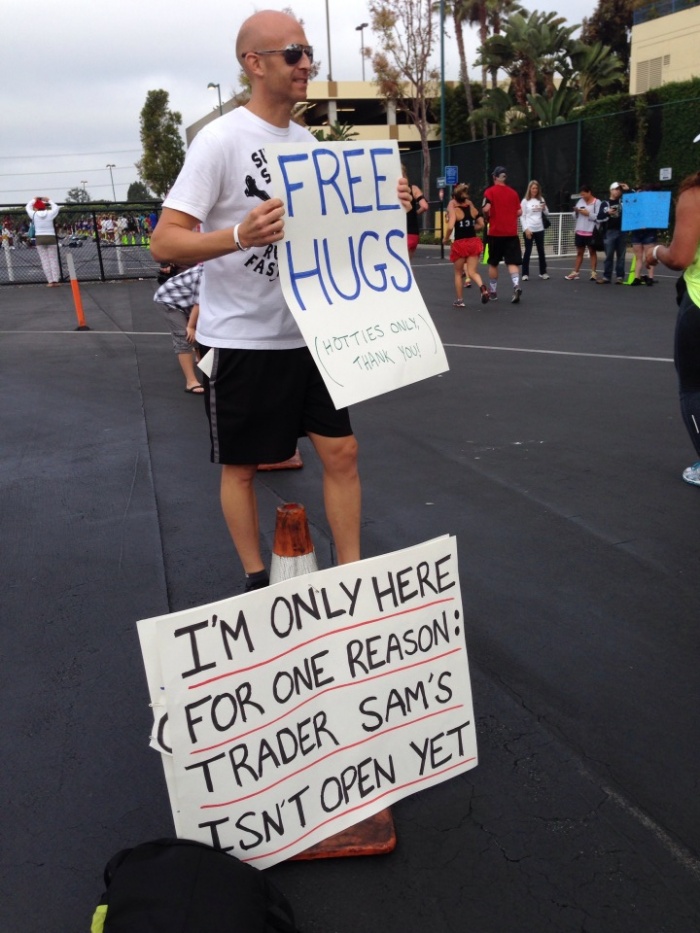 photo credit: Lynda
Sometimes you have to do whatever it takes to get over the finish line.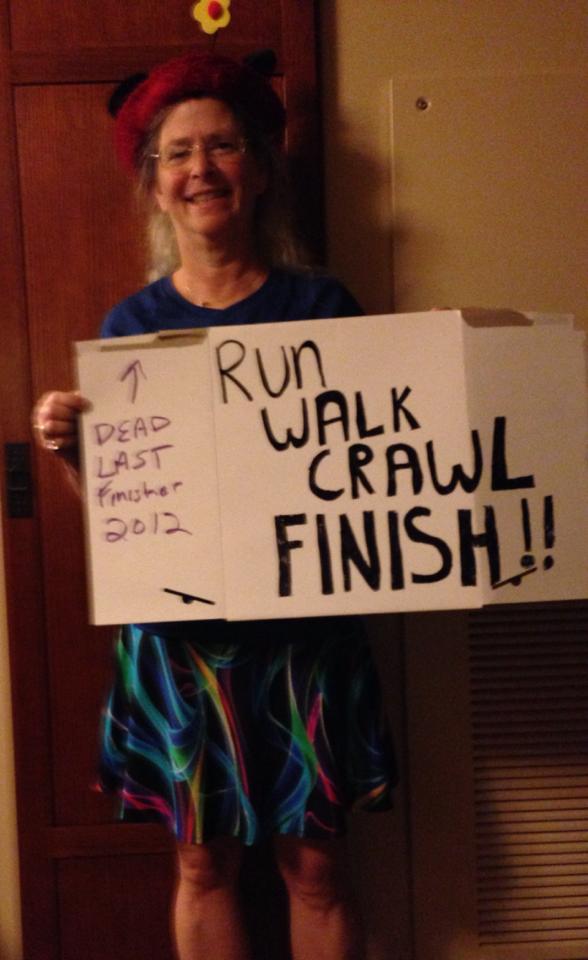 photo credit: Lynda (This is Lynda – thank you Lynda for cheering me on!)
Thank you for believing in me, dear stranger, even when I didn't believe in myself!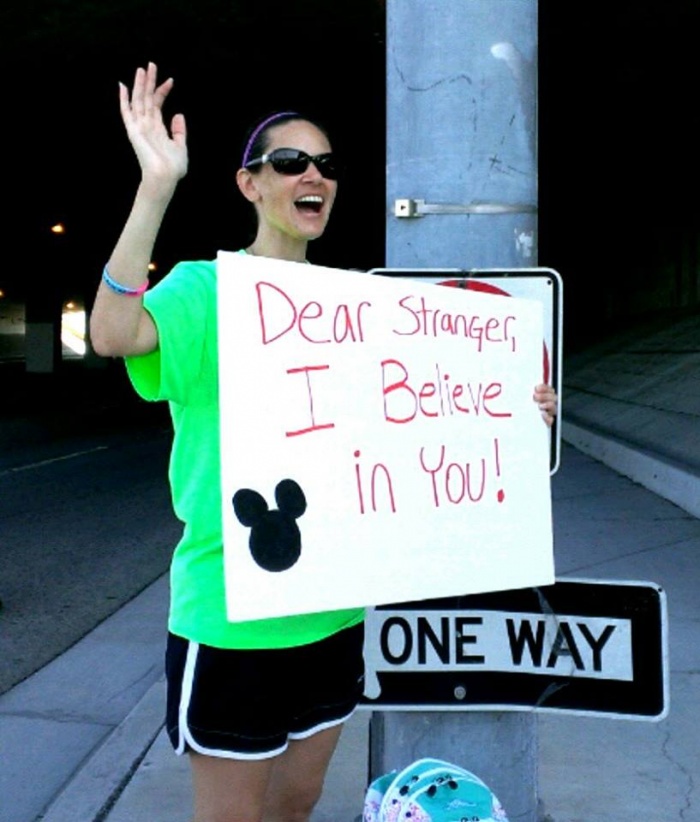 photo credit: Audrey
Because you can never have too much power.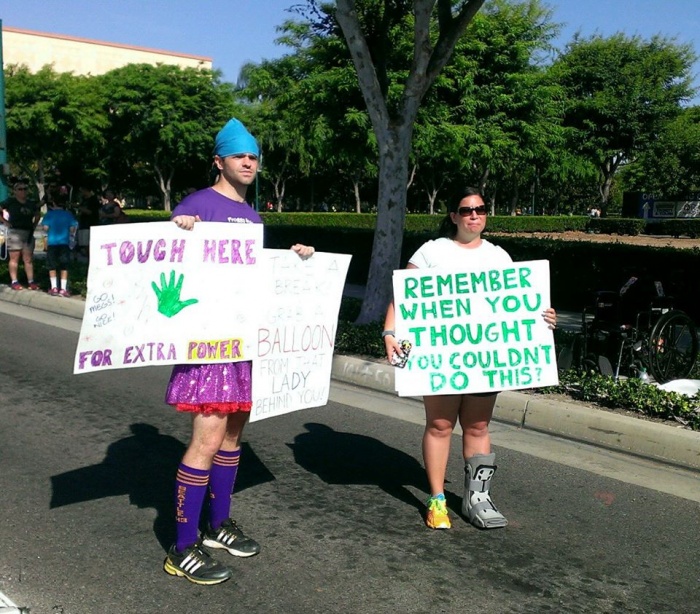 photo credit: Audrey
I think she has got the feeling crap spot on, not so sure that I looked amazing. Still, nice of her to say so!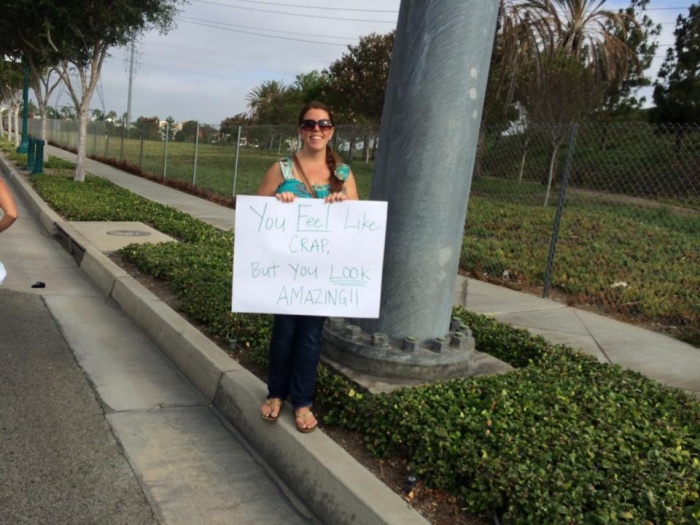 photo credit: Libertad
On race day, I was having way too much fun and focusing way too hard on clocking up the kilometres, so a massive shout out to my Disneyland Half Marathon Facebook friends, Holly, Audrey, Lynda and Libertad for not only doing the photographic honours, but sharing the fruits of their labour. Thank you guys!
And, because I love his work so much, who can forget, Ken and his free hug station. If you haven't watched this clip already, you're missing out. It's a classic heart burster!
Which sign is your favourite? If you were holding a sign, what would yours say? I'm giving you a virtual high five and wishing you a wonderful Wednesday.