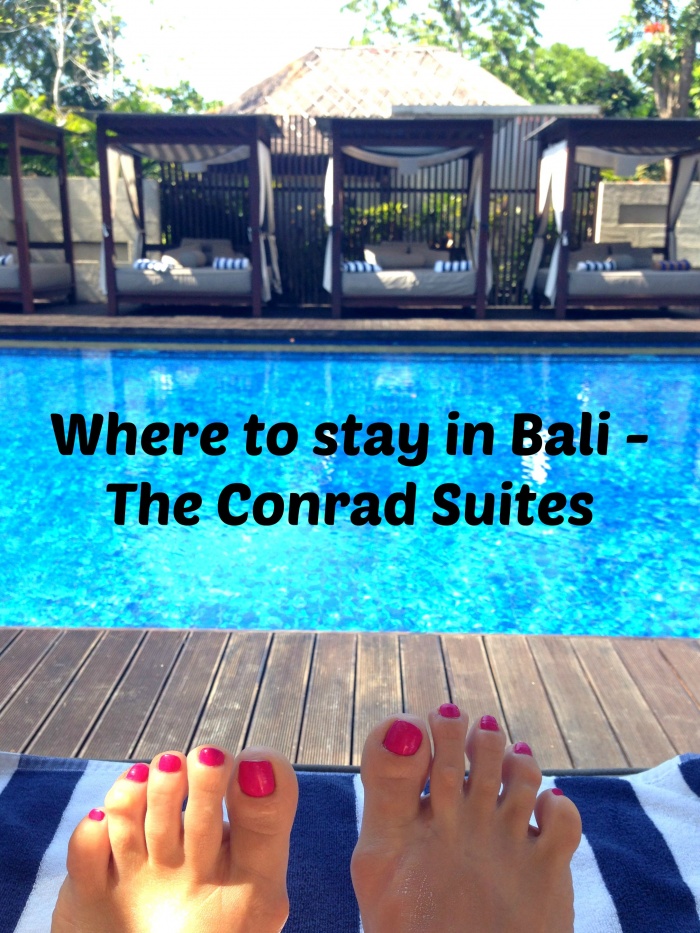 This time two weeks ago I was back in Bali chillaxing as if it was going out of fashion. "Sigh."
We made a return visit to  the Conrad Suites Bali which was the perfect place to kick back and relax after five weeks of running around on our epic adventures. The suites are located in an exclusive wing  adjacent  to the main Conrad resort, and have the advantage of  benefiting from  all the facilities that a large resort has to offer, with the intimacy and tranquility of  boutique accomodation.
There are so many reasons to love staying here but here are my Top 10.
1. The Suites
The suites are spacious, stylish and  bigger than our apartment in real life. There's a  massive lounge/diner, an even bigger bedroom, a dressing room, outsize bathroom and a large balcony with a day bed and views over the gardens.
The bathroom was my far and away favourite with the fantabulous rain shower, a phone in the toilet and the TV above the bath! Is it just me, or doesn't everybody want a TV to watch in the bath?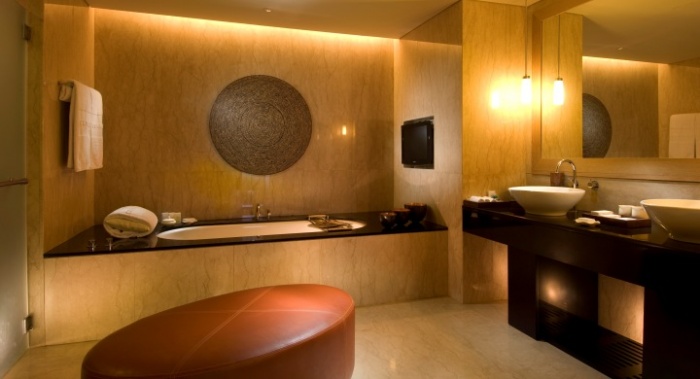 2. The pool
At the adult only pool, you won't find lilos, beach balls or water games  but you will find peace and quiet, and lots of it. Of course, if you're staying at the Suites with small people, there are plenty more other beautiful pools to choose from (and there's a Kid's Club too.) The bales are so comfortable we may or may not have fallen asleep on them.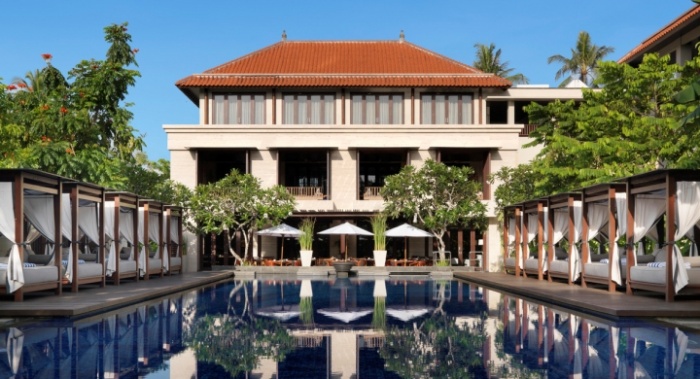 3. The staff
The staff are the BEST. Everyone is so kind, so helpful and always ready with a smile. They are also pretty smart because they remember and greet every guest by name. I don't know how they do that, but they do.
4. Fresh fruit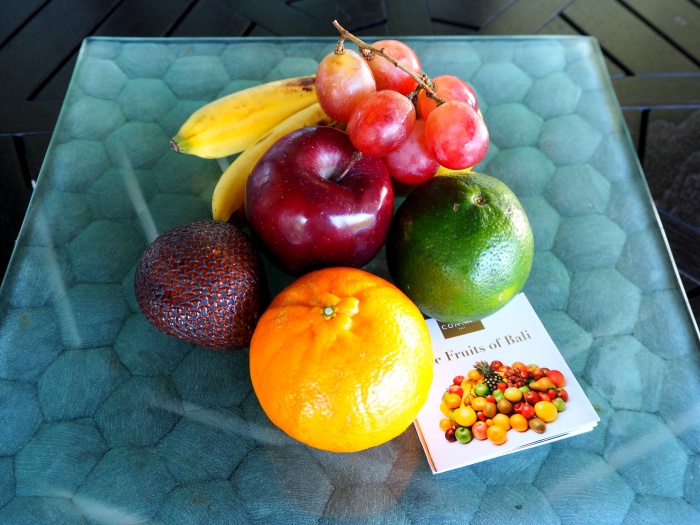 I loved the fresh fruit selection that was delivered to our room daily. I enjoyed sampling the fruits of Bali, as well  as some of the  good old fashioned favourites. The Fruits of Bali book is a nice touch, so you can learn and eat at the same time. I do declare that I must be the World's Number One Snakefruit Fan!
5. The Laundry Service
Guests at the suites have unlimited access to laundry facilites which is especially convenient when you have been travelling the world and arrive with a suitcase half full with dirty clothes.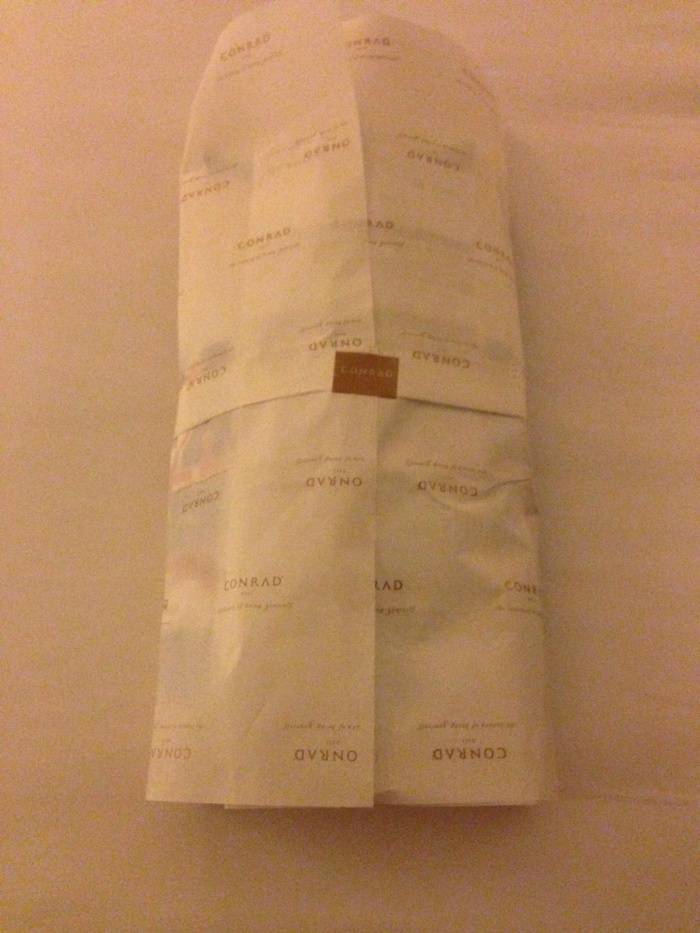 This is the only time my underwear will ever be folded and my laundry be so neatly presented. Let me tell you that unwrapping laundry that is folded this beautifully feels just like Christmas!
6. High Tea
High Tea is  served every day by the pool from 3-5 pm and it's every day delicious. The savouries were our far and away favourites. We were particularly partial to the savoury puffs, the flavour of which changed daily, and I for one, was also very fond of  the mini muffins.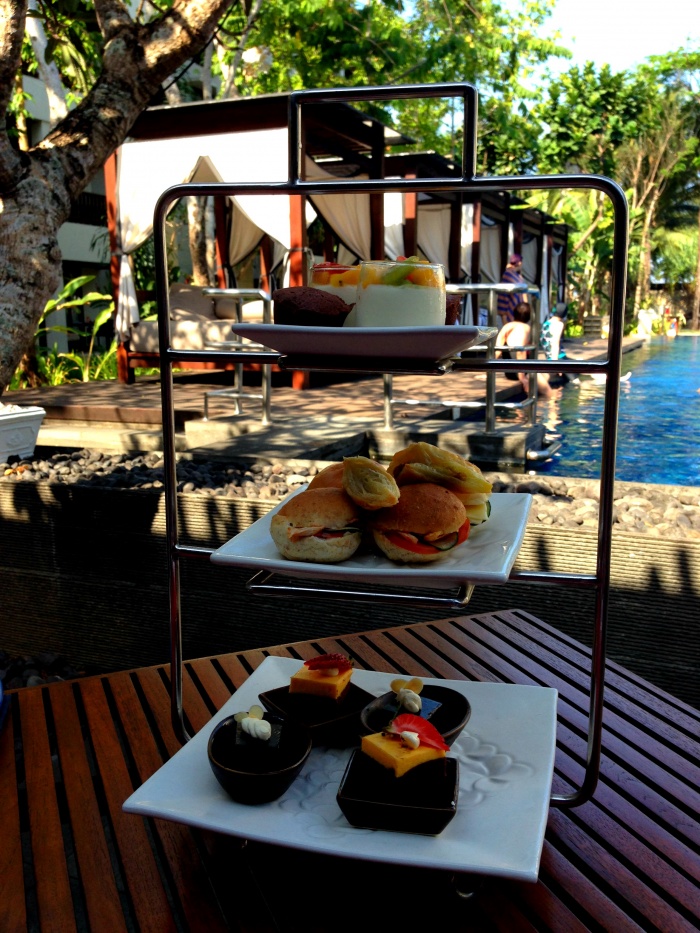 7. Cocktail and Canapes
High tea is quickly followed by cocktails and canapes which are  served every night from 5 -7pm here in the Executive Lounge.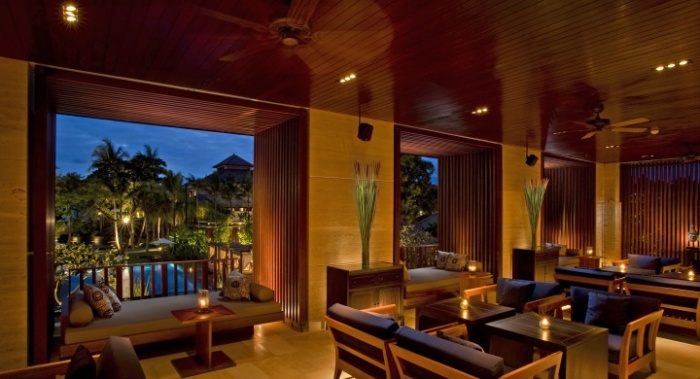 There's beer, there's cheer, there's cocktails and mocktails, there's wine and good times. And once a week, there's this La Vie en Rose, probably the biggest cocktail in the world. If it's not breaking any records for it's size, it could certainly break records for it's taste, it was so delicious!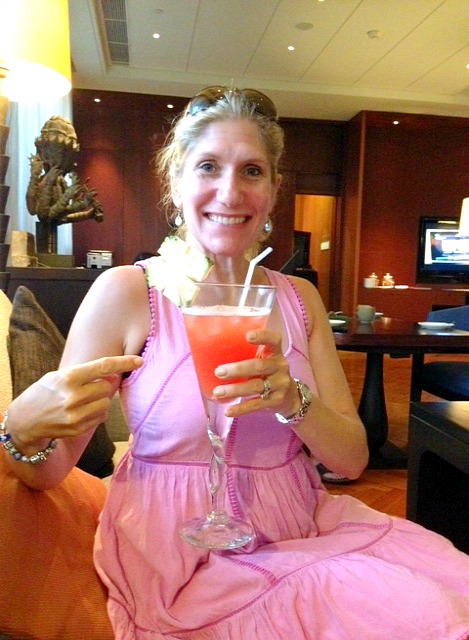 There's a different canape selection every night and as many of these highly addictive crackers as you can consume. I don't know what they are called but they are super delicious.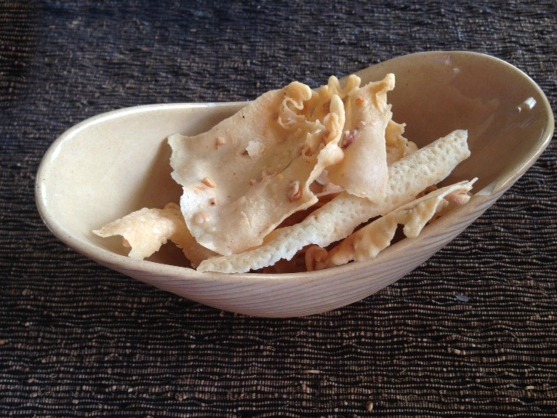 8. The proximity to the beach
It's just a hop, skip and a jump to the beach. We're not beachy peeps because we're not fans of sand and besides, that pool is just too inviting. If the beach is more your thing, it's literally on your doorstep and if you don't like to lie on it, you can at least walk along it which is the next best thing.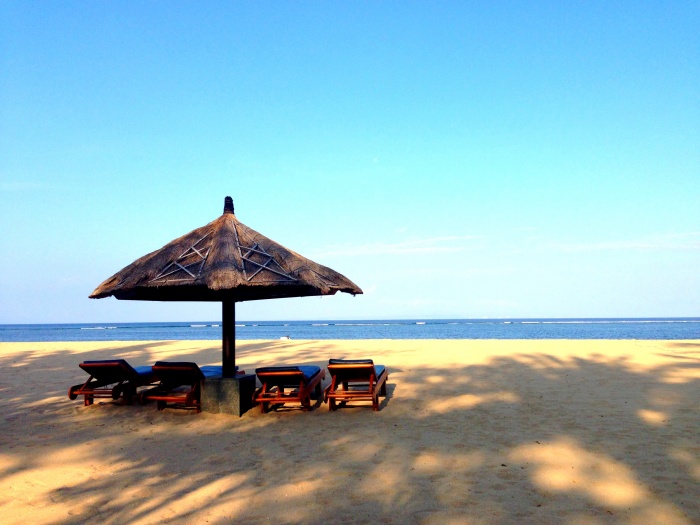 9. The Spa
Jiwa Spa is named in honour of the Balinese word for "soul" and it's the ultimate spa escape. There's 10 treatment rooms, garden pavillion spa villas, a plunge pool and it's all surrounded by water gardens. It's like a little bit of heaven that fell onto earth in the middle of a hotel complex. I felt like a real life rock star when I enjoyed my facial and pedicure. And the best bit is that Conrad Suites guests get a 15% reduction on spa treatments, which means you get a lot more beautifying for your buck!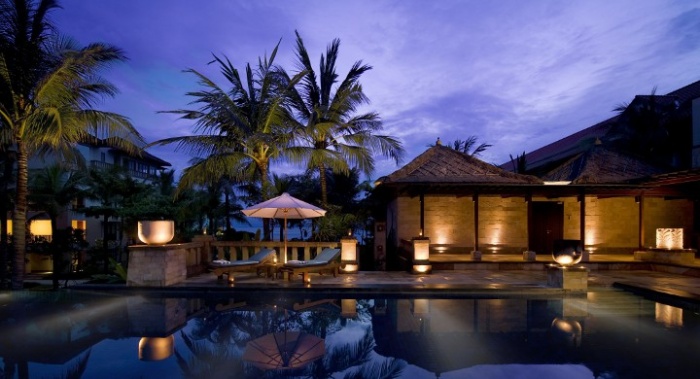 10. Free Wifi
Wifi may be a luxury for some, but for us, it's a holiday essential. David needs regular soccer news, like he needs air, food and water and I am gripped by FOMO if I can't catch up with all my favourite blogs. The free wifi allowed me to instagram with wild abandon, catch up on my Clever Cookie classes and babble on in some blog posts. Winning!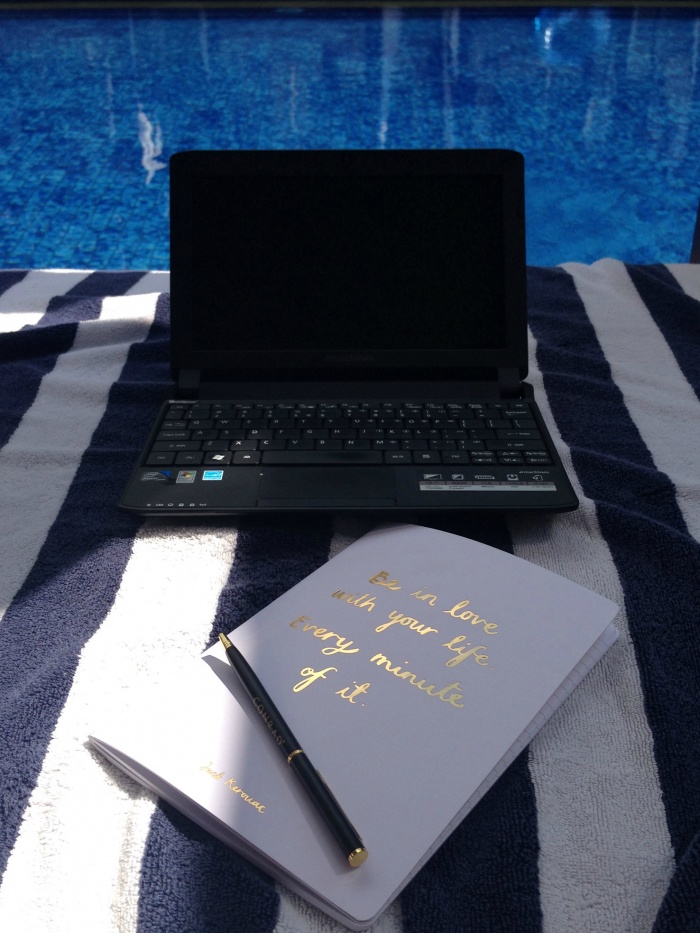 The monkeys are of course the Brucie bonus. I am getting quite a collection. A cuter monkey and a bigger bed, you never did see.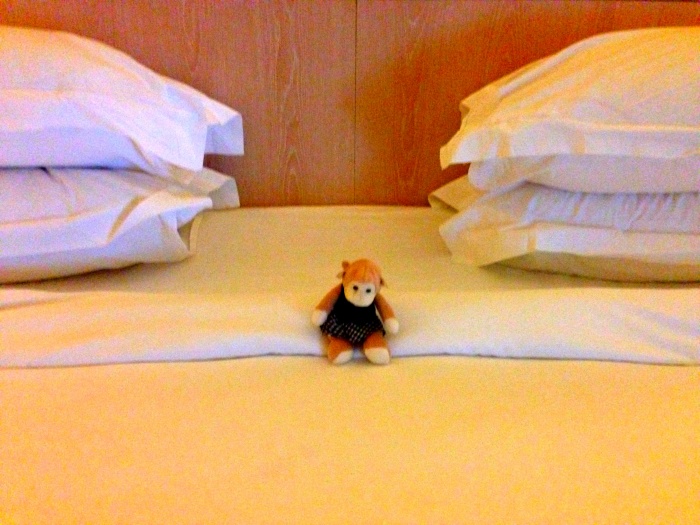 Now Nusa Dua ain't no party precinct and there isn't much to eat, drink or do within walking distance of the Conrad. There are however some great restaurants a tiny taxi ride away and many of them offer a free pick up and drop off service. However, once you're ensconsed in the Conrad Suites you might never want to leave. Just sayin'.
What's the best place you've ever stayed? Have you been to Bali? What's your favourite place to stay? And tell me who has time to iron underwear anyway?
Images by The Annoyed Thyroid and Courtesy of The Conrad Bali