So today I took part in my first Sydney Rebel Run. I've always wanted to give it a go, but in previous years, I've either been recovering from surgery, out of the country or overcome by apathy. Today I was none of those things. Huzzah!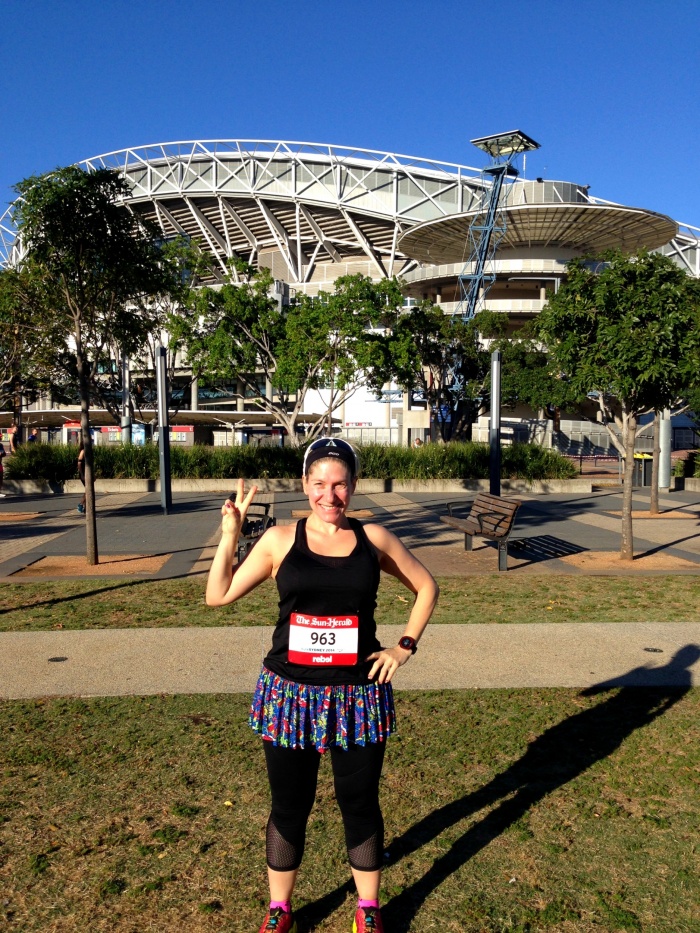 I was desperate to be in it to win it, so while we were on holiday in the mother country I signed up with wild enthusiasm, and because caring is sharing and sharing is caring, I signed David up too. I figured if he was going to drive me to Olympic Park, he may as well run round Olympic Park with me while he was there. That's Sam Logic, that is!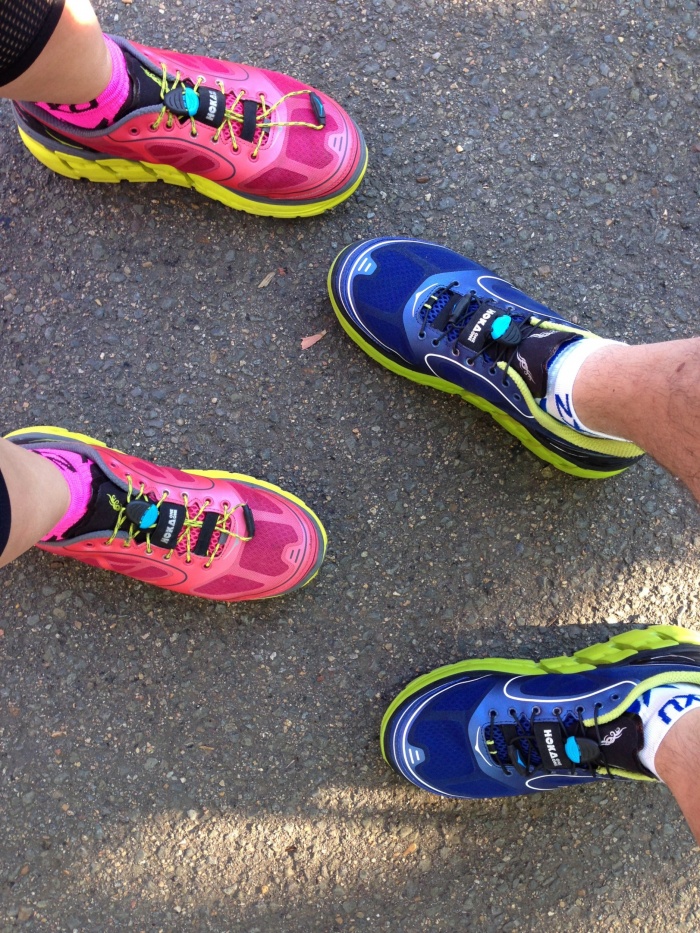 I engaged in my usual running rituals.
First off, there is the flat lay. I would never dream of flat laying and photographing my everyday outfits but I wouldn't dream of not snapping a pic of my race day attire.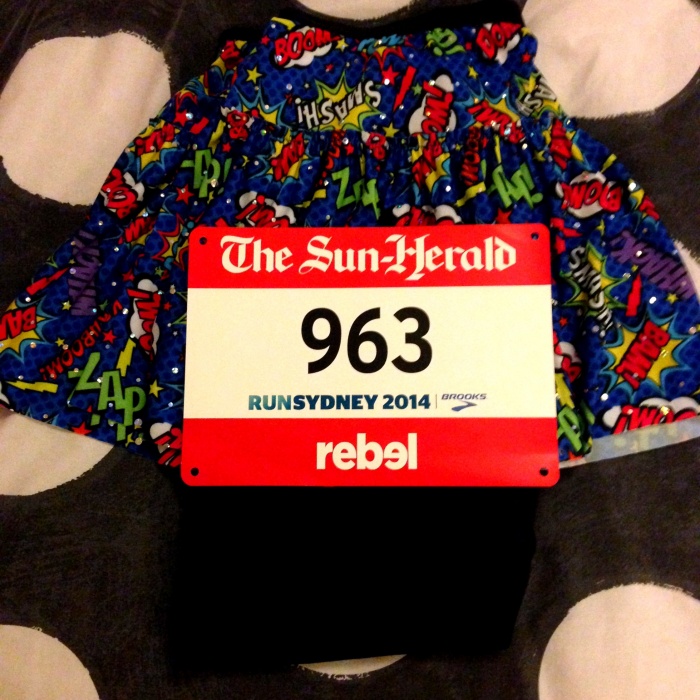 Talking of race day attire, I always like to sport a new running top for the occasion. There's never been a better excuse to buy new running clothes. I couldn't resist this one from Lorna Jane especially because I had some pre loved running kit to recycle. Have you heard of Lorna Jane's Swap Shop? It's awesome – you take (a maxiumum of 3) items of pre loved sports wear to  donate to those who need it, and in return you get $5 per item to spend in store. Winning on all counts!  Of course, this time I pushed the boat out in the new thread department, because I got to give my new Sparkle Athletic superhero skirt it's first outing.
I may not run the part but I always try to look the part. Race day nails are my grooming equivalent of a pre race stretch. I was short on energy and tight on time so I slapped on these Sally Hansen nail stickers. You could see me coming a mile away with these nails, I tell you.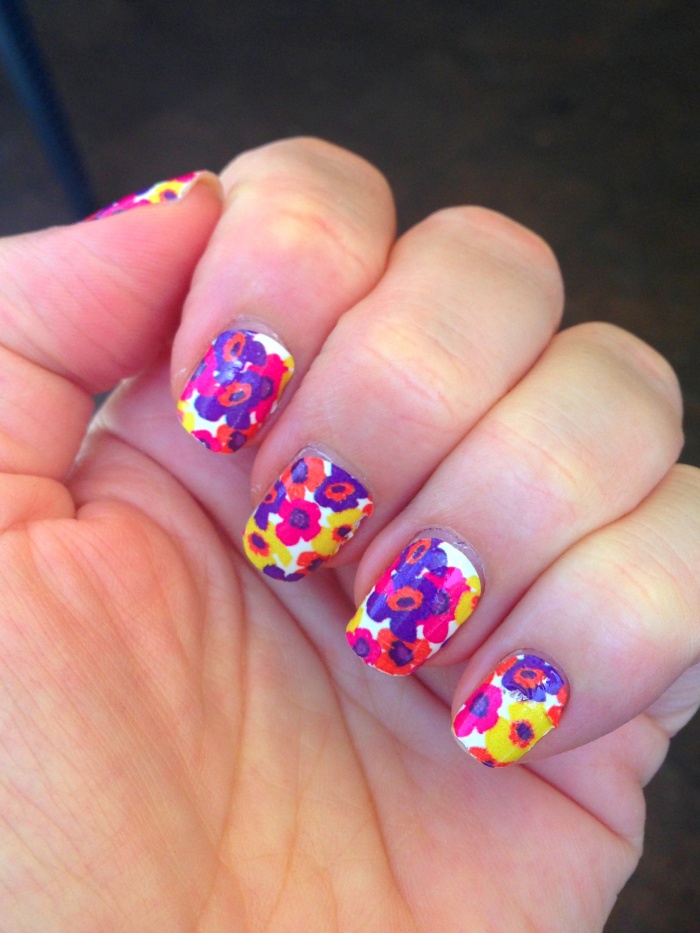 The Rebel Run was brilliantly organised, had a great vibe and a pleasant course. When it comes to runners, we're talking quality not quantity. There were only about  2000 participants for the 10k which meant there was a  warm and  friendly feel and that you could get up close and personal with the start line.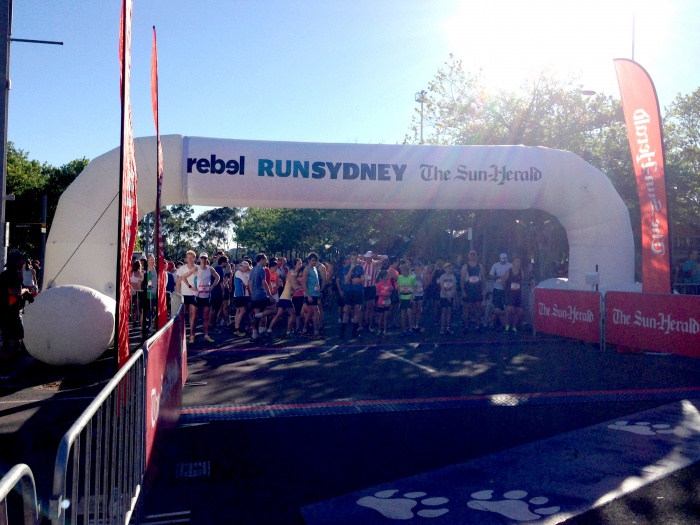 I'm not going to lie, that 10k was hot and it was hard and there was definitely more sweat than sparkle. My personal highlight was running through the stadium and crossing the finish line in 59 minutes and 19 seconds. It's not my fastest time and it's not my slowest either. I'm not thinking about my speed, I'm just thinking that I did it and I've been virtually fist pumping myself all day.
Of course, David was the hare to my tortoise, but the advantage of having a husband who runs faster than you is that there's someone to cheer you over the finish line. We both got a medal for our efforts. I feel simultaneously relieved and heartbroken that this will be the last bit of running bling for 2014.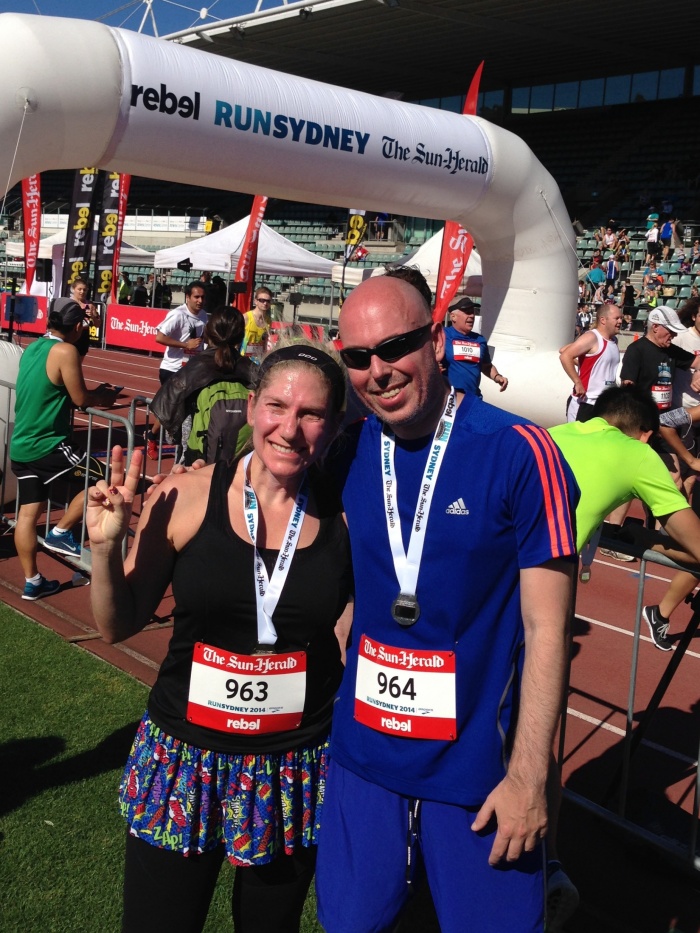 The friendly photographer who snapped this volunteers for Achilles, an organisation I totes admire and epitomises the belief that together we can make a difference. At Achilles people who are able bodied and those with disabilities exercise together. Getting involved with these awesome peeps is top of my list things-to-do. So out of the 2000 odd people at the stadium, the one who took our photo was an Achilles volunteer. I don't think that was a coincidence, I think that was serendipity. 
My legs were as tight as I was for time, (read very tight,) so I couldn't do my usual trick of  soaking in a bath of Epsom Salts. Instead I slathered myself in this, I call it Lotion of the Gods (you might know it as Epsom Salts Lotion.) If I didn't know better, I would say it was magic  lotion. My kind Disney friend gave this to me in the States and it is the bomb! If you see or hear of it anywhere down under, please let me know. Soon I will have to start rationing the stuff. Having said that, the lovely Bele from Blah Blah Magazine  made these awesome bath tea and shower body scrub pods. I think I totes need to have some of these in my life.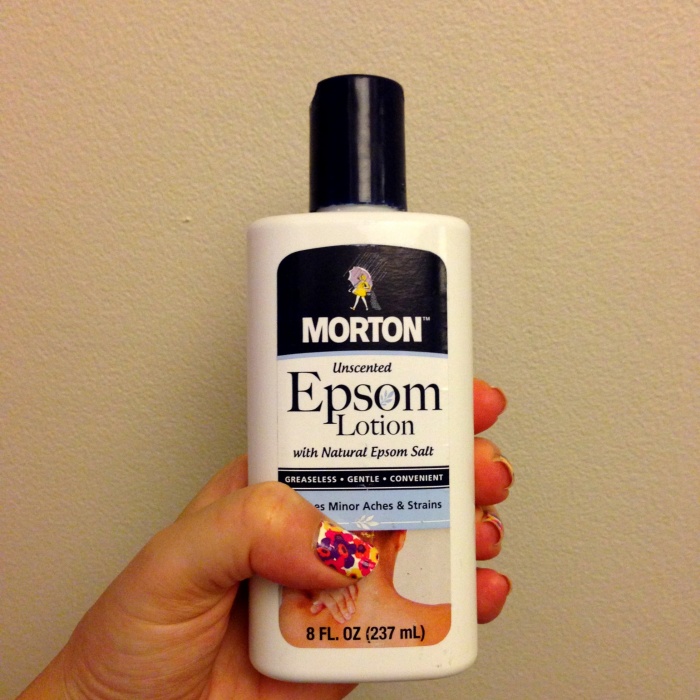 So there you have it the last "official" run of 2014. Sweat, stickers and superhero skirts. It's a wrap!
What was your Sunday highlight? What do you deserve a medal for? Did you do the Sydney Rebel Run? Did you have fun too. Got any top tips for tired legs?