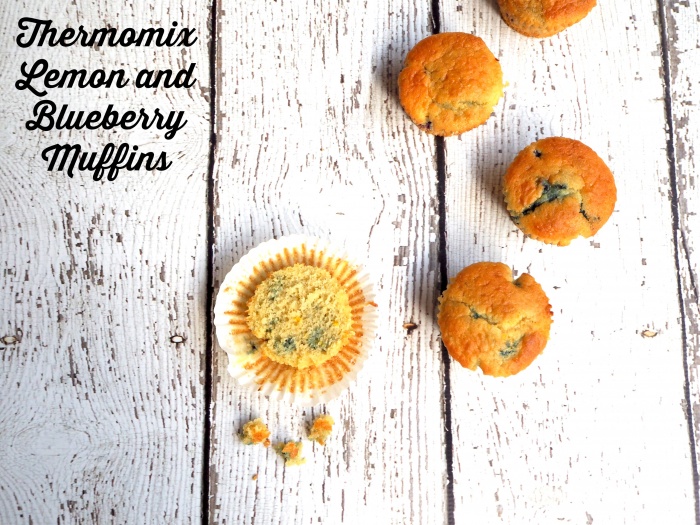 Makes 12
Sometimes I get a late night baking craving and this is a result of one of those times. I had a pot of sour cream to use up and a lot of lemons, and when life gives me lemons, I do what I do and love best, I bake. So after a perusal of a few recipes on Pinterest, I whizzed these babies up in the Thermomix, and they're berrylicious! The sweetness of the berries and the tang of the lemon is a match made in muffin heaven, and if you don't believe me, bake for yourself!
Ingredients
1 lemon (you will need the juice and the rind)
280g self-raising  flour
150g raw sugar
1 teaspoon bicarbonate of soda
1 teaspoon baking powder
1/4 teaspoon salt
120g butter
300g sour cream
1 egg
1 teaspoon vanilla extract
150g frozen blueberries
How to
1. Preheat oven to 180 C / 160C fan-forced.
2. Place lemon rind in TM bowl and grate for 50 seconds on speed 8. Scrape down sides after 25 seconds. Set aside.
2. Mill sugar to caster sugar for 5 seconds on speed 9. 
3. Add flour, bicarb, baking powder and salt to TM bowl and mix for 10 seconds on speed 6. Set aside.
4. Melt the butter for 3 minutes at 60 degrees on speed 2.
3. Add egg, vanilla, sour cream, lemon rind and lemon juice to  TM bowl. Mix for 10 seconds on speed 5. Scrape down. Mix for another 10 seconds on speed 5.
4. Add the dry ingredients, including the lemon rind  into TM bowl. Mix for 5 seconds on speed 4, using the spatula to assist. Repeat for another 5 seconds on speed 4.  Don't over mix! Remember a lumpy mixture makes the best muffins!
5. Gently stir through the berries with the spatula.
5. Use an ice cream scoop to spoon the mixture  into the prepared muffin cases and then bake   for 18-22 minutes until golden brown and the tops bounce back lightly when pressed.
Other info
Prep Time:  3 minutes    Cooking time: 18-22 minutes