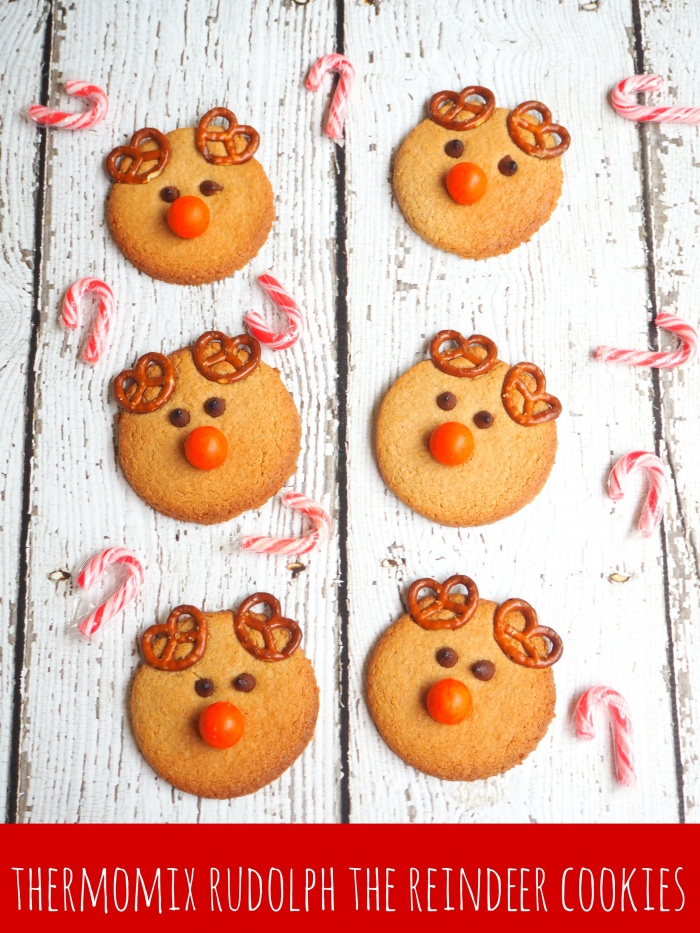 Makes 12
I saw these Rudolph cookies in an old AWW copy of Christmas Baking. As I am a fan of the Lazy Girl of Cooking, I decided to simplify them some and make them in my Thermomix. They're packed with lots of wholemeal goodness, taste seriously yum and look utterly cute. And on the flip side, you'll have some extra choc orange balls that you can eat while you cook!
Ingredients
90g butter (at room temperature)
110g soft brown sugar
1 egg (at room temperature)
25g dessicated coconut
35g wheat germ
100g wholemeal plain flour
50g self-raising flour
1/2 teaspoon mixed spice
24 pretzels
48  dark choc chips
12 giant chocolate orange balls (I used Darrell Lea's BB's)
How to
Weigh the butter and the brown sugar into TM bowl. Add the egg and insert the butterfly. Cream together for 1 minute 

on 

speed 4

. Scrape down sides of bowl and the lid and then repeat for another 

1 minute 

on 

speed 4

. 

Check that the mixture is well mixed. Remove the butterfly.

Weigh in the coconut, wheat germ, flours and spice. Set the dial to the closed lid position and combine  for 1 minute on interval speed. Check that everything is nicely mixed.
Remove the dough from the TM bowl, wrap in plastic wrap and place in the fridge for 30 minutes.
After 30 minutes, remove the dough from the fridge and roll it between two baking tray sized sheets of baking paper until about 5mm thick. Place on a baking tray and refrigerate for a further 30 minutes.
Preheat oven to 180C / 160C fan-forced and line two baking trays with baking paper.
Using a 9cm cutter (I just used a large glass)  cut 12 rounds from the dough, re-rolling scraps as necessry.Place cookies on a baking tray, spacing them about 7cm apart as they will spread when cooking. Position two pretzels on each cookie for antlers, and press down firmly. Decorate cookies with choc bits for eyes. Bake for about 10 – 12 minutes (until golden brown.)
As soon as you remove the cookies from the oven, immediately press the chocolate orange balls onto the hot cookies for the noses. Cool on trays.
Other info
Preparation  Time: 40 minutes  Cooking time:  10-12 minutes
TIP! If some of the choc orange balls decide not to stick, just secure them with a little bit of melted chocolate.
The cookies can be stored in an airtight container for up to a week.