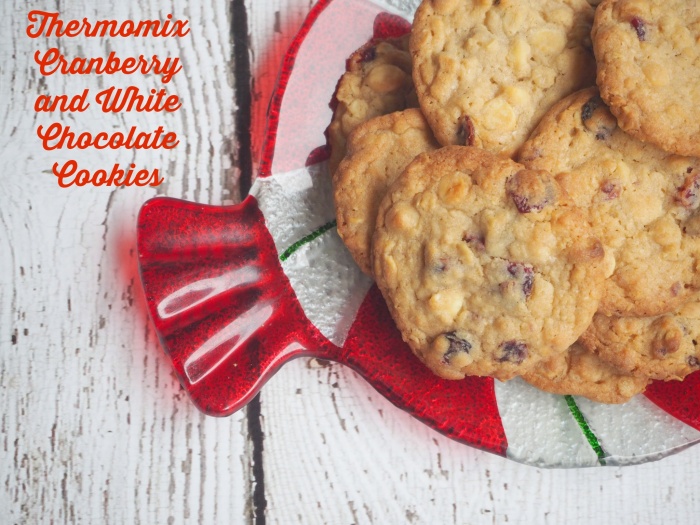 Makes 24
'Tis the week before Christmas and in this house, red and white is all right! These colours look like Christmas, taste like Christmas and are the colours of all our favourite football teams! This is a conversion of a Nigella recipe which you can find here. However, these cookies are such crackers that I had to convert the recipe to the Thermomix. The verdict? Cookielicious!
Ingredients
150g plain flour
1/2 teaspoon baking powder
1/2 teaspoon salt
75g rolled oats (not quick oats)
125g soft butter
75g brown sugar
100g raw sugar
1 egg
1 teaspoon vanilla extract
75g dried cranberries
150g white chocolate chips
How to
Heat oven to 180C/fan 160C. Line two baking trays with baking paper.
Mill the raw sugar to caster sugar for 3 seconds on speed 9.
Add the brown sugar, butter and vanilla extract to TM bowl and mix on speed 4 for 1 minute.
With the blades running on speed 4, add the egg through the hole in the top of the lid. This should take about 30 seconds.
Add the flour,oats, baking powder and salt. Set the dial to the closed lid position and knead for 30 seconds on interval speed.
Add the chocolate chips and cranberries and mix for 10 seconds on reverse speed 3 using the spatula to assist.
Roll tablespoons of dough into balls with your hands, then gently place on the tray and gently press down with a fork.
Bake in batches for about 15 minutes until golden at the edges. The cookies will be too soft to lift off straight away so leave them to cool for 5 minutes on the baking trays before using a spatula to transfer them to a cooling rack.
Other info
Prep time: 5 minutes Cooking time: 15 minutes
TIP!
If you want to have a Christmas colour trifecta to your cookies, you can go green by adding 50g pistachios at stage 6.
The cookies can be baked up to 5 days ahead – just store them in an airtight container with sheets of greaseproof paper between layers. The cooked cookies can be frozen for up to 3 months, and simply thawed at room temperature.