This weekend I popped my Christmas Cookie Exchange cherry. Yes, Christmas Cookie Exchange, that's a thing.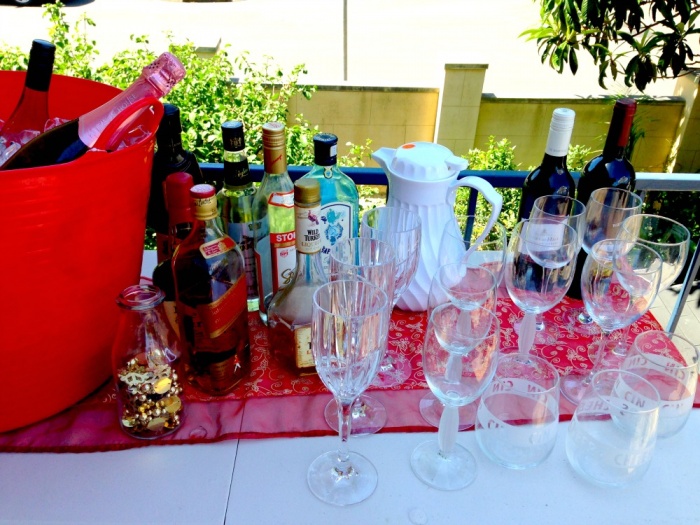 It's sweet and it's simple. There are 11 guest bakers and makers on the list, each person bakes twelve dozen of their favourite cookie or sweet treat then ninja wraps those babies up, as if the gift was fit for a Christmas king. There are prizes for the best bakers and the most perfect presentation.
Everyone gets to meet and greet, taste all the creations, and at the end of the afternoon, take home a box of every type of baked good complete with the recipe (because you're sure to want to try this at home!)
I totes wanted to play along, but in light of recent events and my plate being rather full, I decided to put my "less is more" theory into practice and had to bow out this year.
However, Stephanie, the hostess with the mostest, made sure that neither David nor I were sitting on our laurels for long. David was asked to judge the ninja wrapping, an unenviable task, I must say…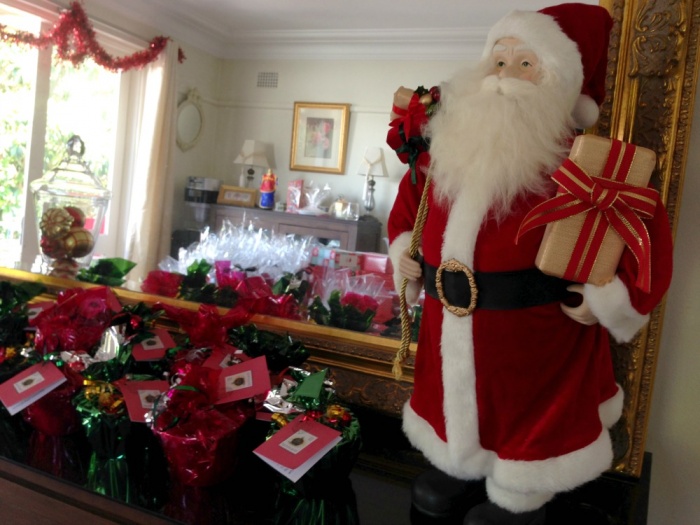 …while I was asked to judge the cookies which was a tough call because I had to eat ALL the things. It was a hard job but somebody had to do it. Naturally, I took my judging responsibilities seriously and attacked the task (and all the cookies,) with enthusiasm!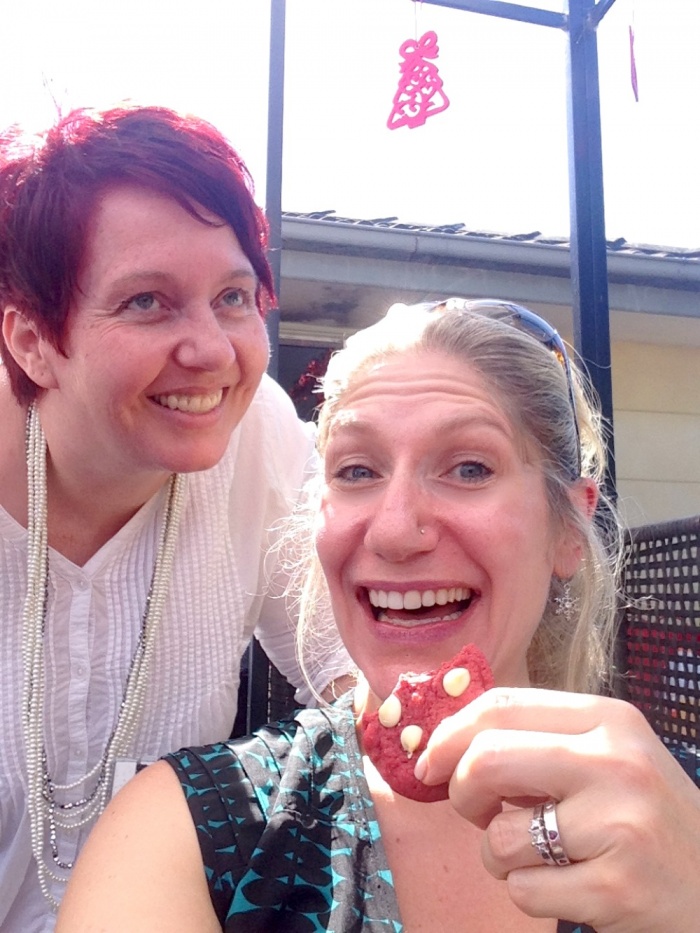 There were three different kinds of rum balls, all of them delicious. Doug's were my favourite. They tasted like Christmas Pudding, only better. I love how he presented them in these jars from Daiso with a yuletide garnish. Well played, Doug!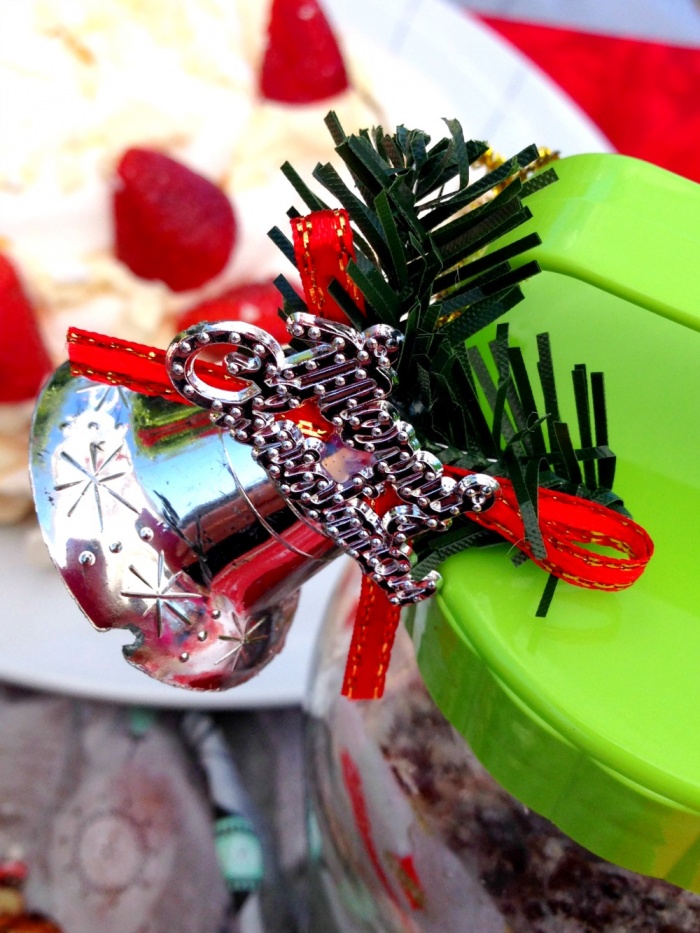 Damien and Catherine's sparkle drops also tickled my fancy because I am a big fan of freckles, especially when they're balanced atop discs of beautiful buttery shortbread.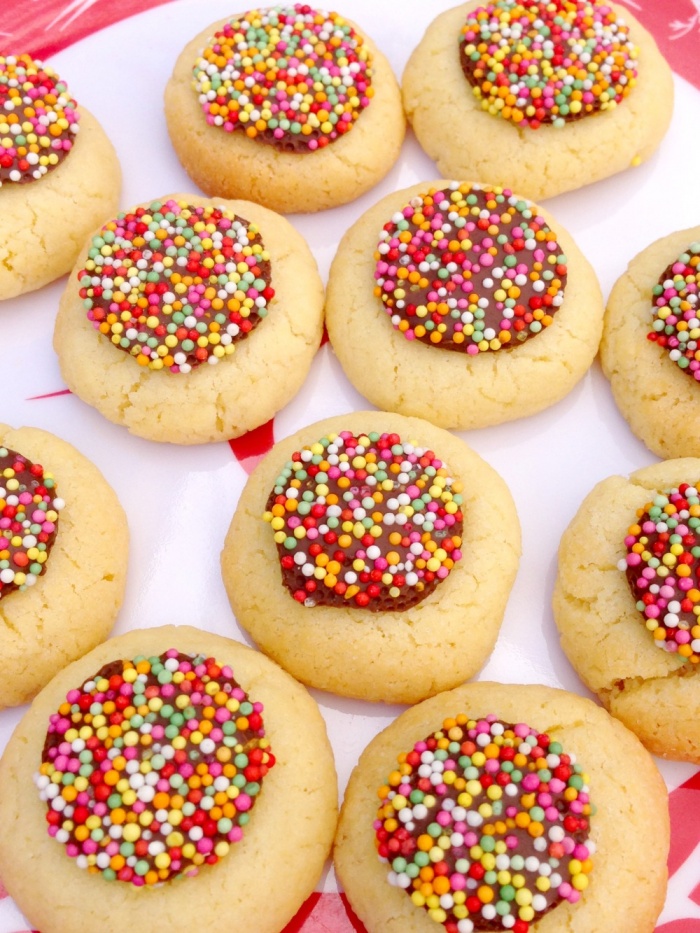 I was conveniently sitting next to Lynne and Suzanne, and their plate of Peppermint Bark, White Chocolate Rocky Road and truffles. A trifecta of chocoliciousness if ever I tasted one.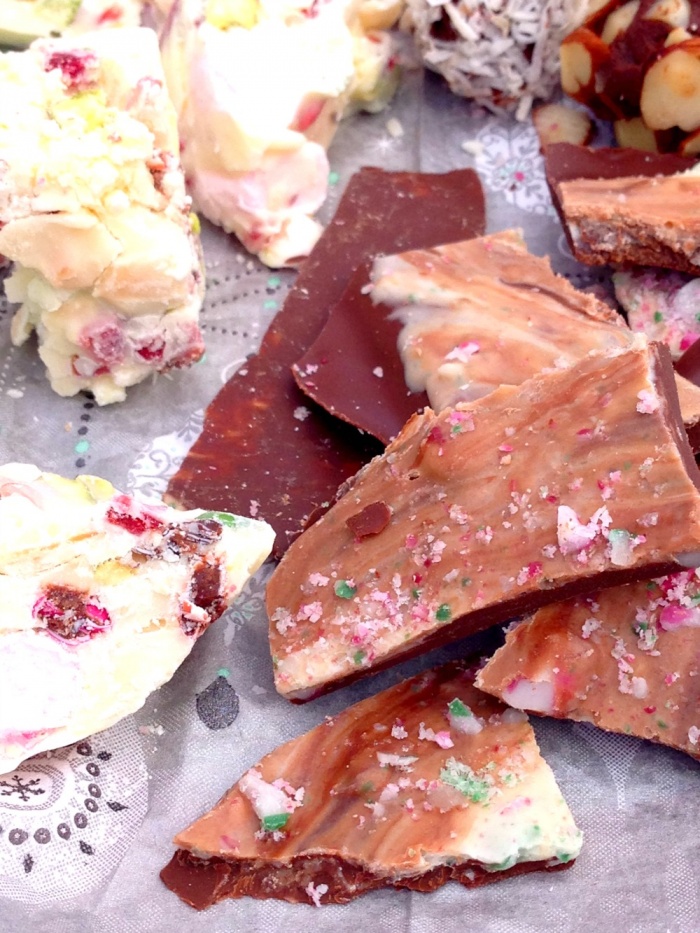 Did I tell you that Stephanie is the Pavlova Queen? Ladies and Gentlemen, I present to you Exhibit A.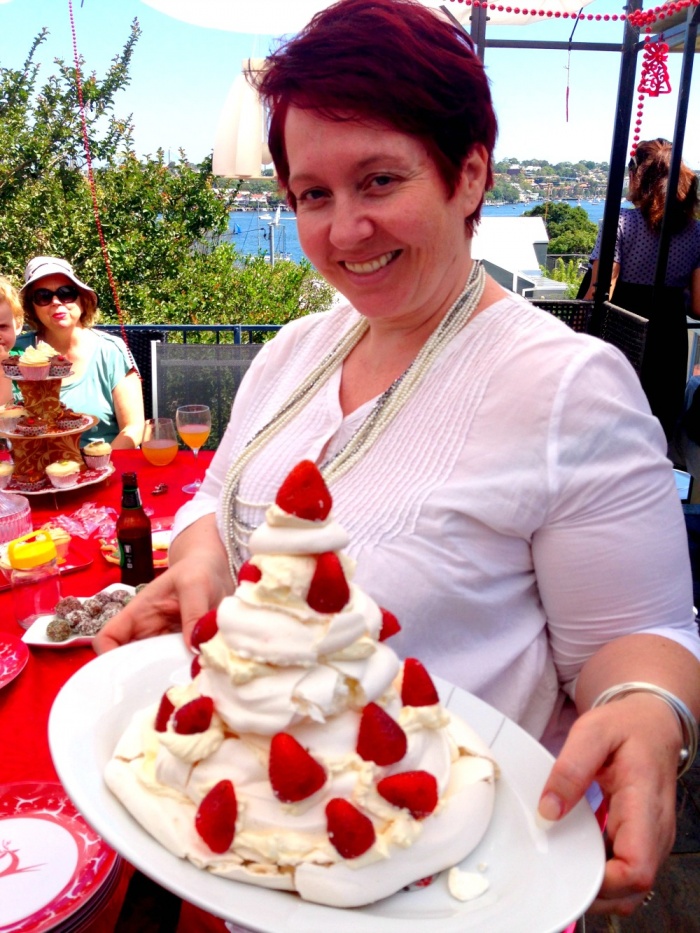 And she's a dab hand at ye olde cupcakes too. Exhibit B. Did someone say fairy floss?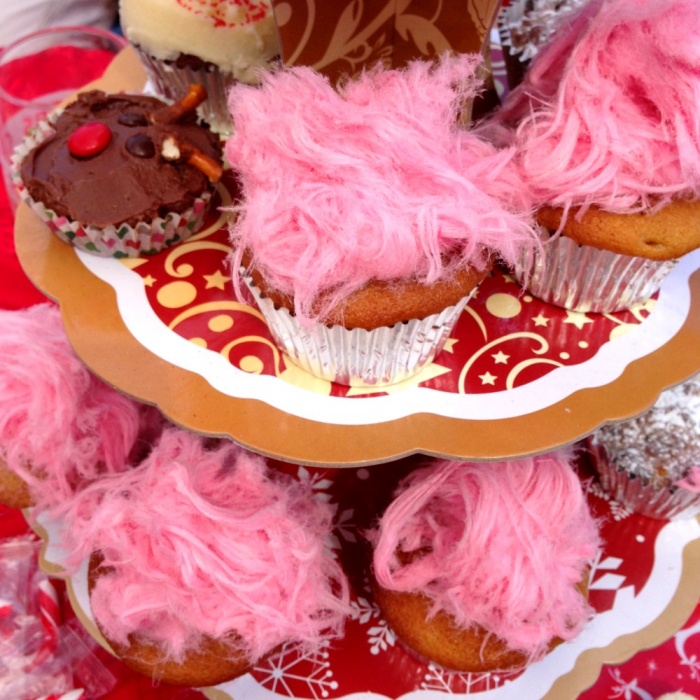 I can take sole responsibility for the rustic reindeer, which were the poor relations on the cake stand. Didn't stop the small people chowing them down, though. I love the innocence of kids, they never judge a cupcake on how badly it's been decorated. Thank you, children!
Of course, you have to be in it to win it, so Stephanie entered some of her own lovely iced sugar cookies into the mix.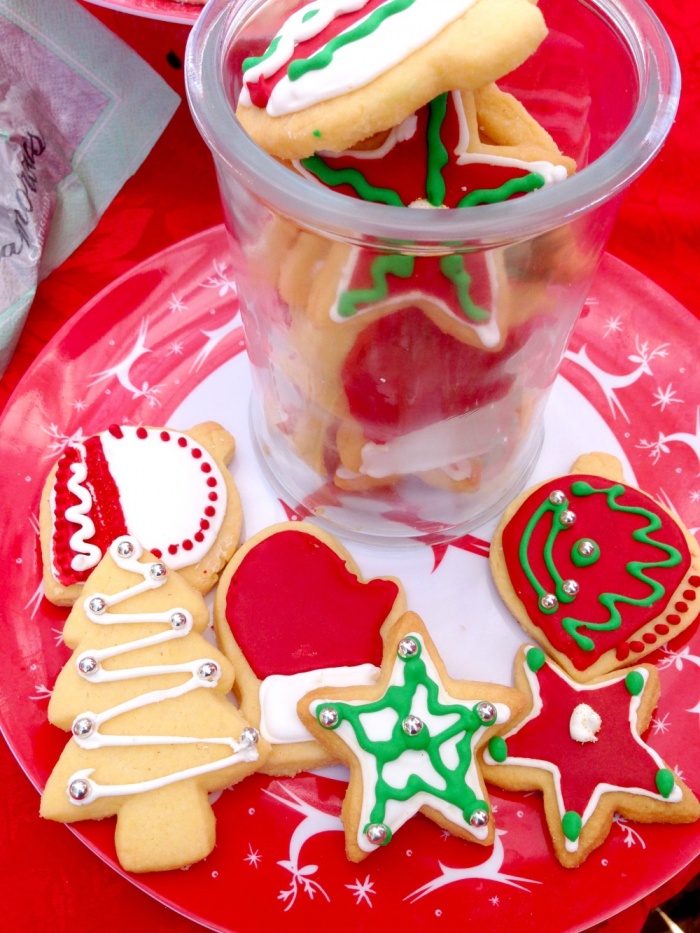 I loved Jasmine's Coconut Fudge Gingerbread men – all natural and all made in the Thermomix.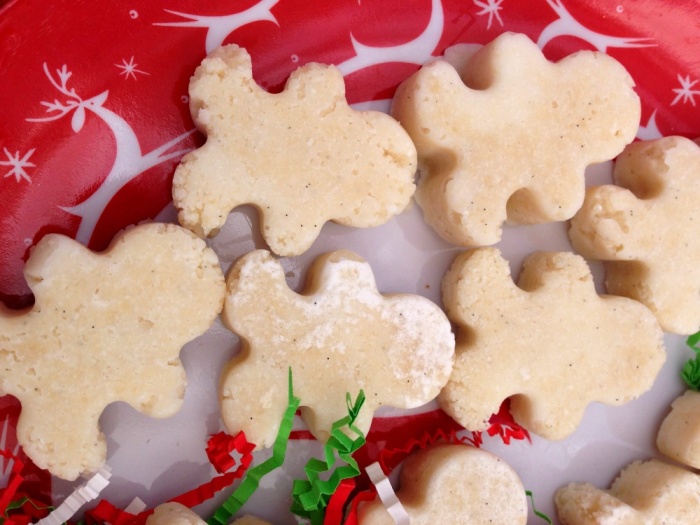 Unfortunately, Maria couldn't make it but she sent her Half Moon Almond Biscuits in her place, and man, I'm pleased she did! Everyone went nuts for them (excuse the pun!)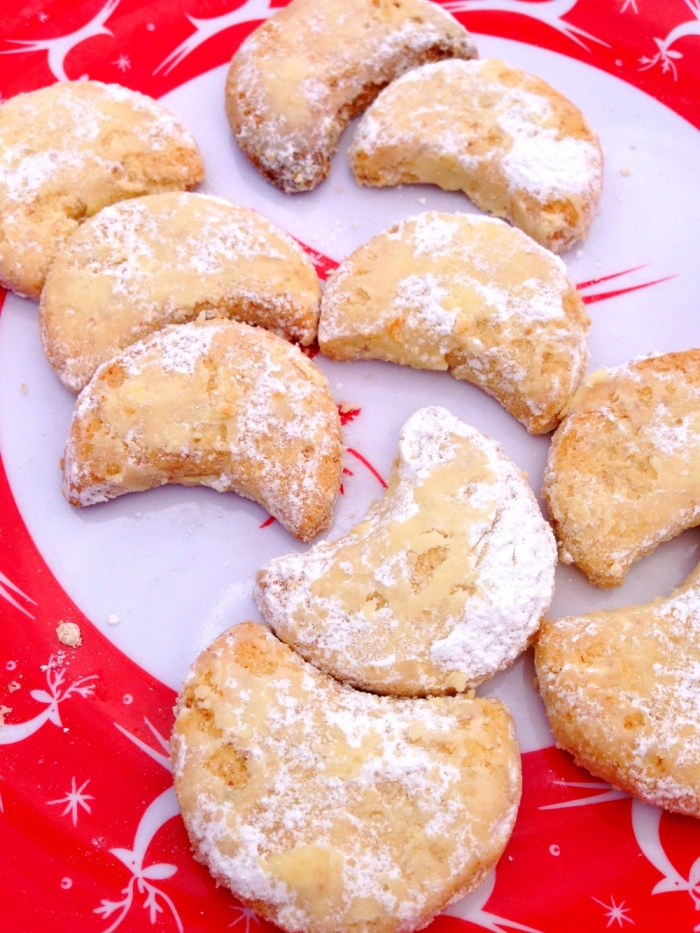 I was so happy to get to hang out with Trish from My Little Drummer Boys and inhale her Red Velvet Christmas Cookies which, in case you're interested, tasted as good as they looked only better.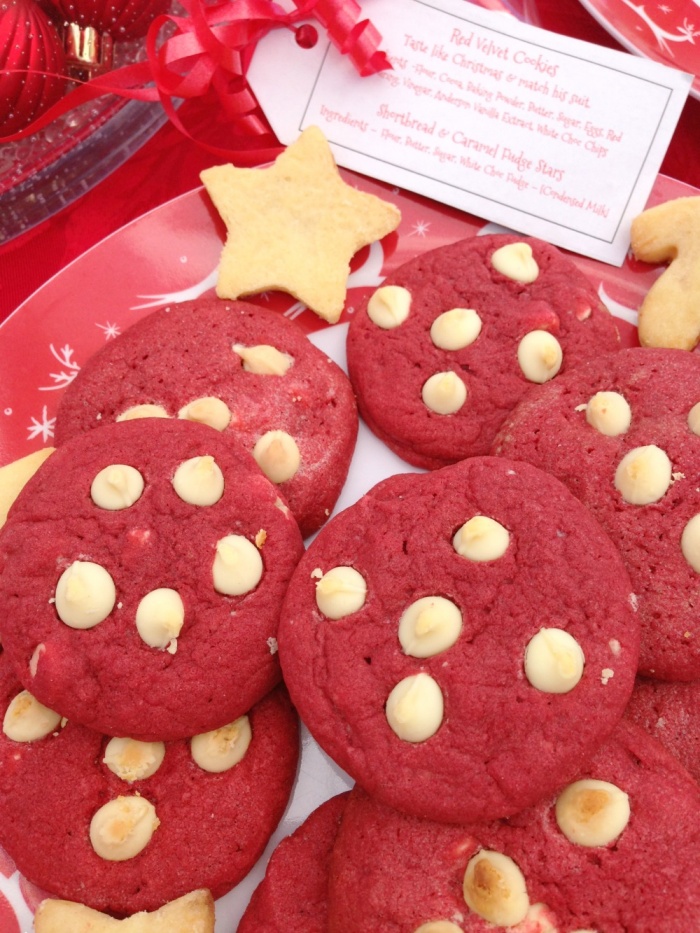 But that wasn't all, Karm and Ruth also made some delicious rum balls and Aisha's delightful rose and vanilla cookies were a family affair. I'm ashamed to say I was too busy eating to take a photo, but believe me when I tell you, they looked as good as they tasted, and they were very tasty!
Just before I fell head over heels into a sugar coma, Stephanie's husband Neil, and I retreated to the study where we oohed and aahhed over everyone's baked goods and had some difficulty deciding on the winners. What to choose, when it all tasted so good?
As it panned out, Trish's Red Velvet Cookies came first, with Lynne and Suzanne's chocolate trifecta in second and Yana's protein balls in third. (Unfortunately, I was too busy inhaling said protein balls to take a picture, but trust me, they were totes delicious.)
The Chocolate Trifecta ladies were on a winning streak, because they won the prize for most perfect presentation (as seen below in the large red and green shiny boxes.) David loved the uniformity and the little festive frills, which the ladies proudly told us, were all sourced from the two dollar shop. Guess where I'm hot footing it to tomorrow?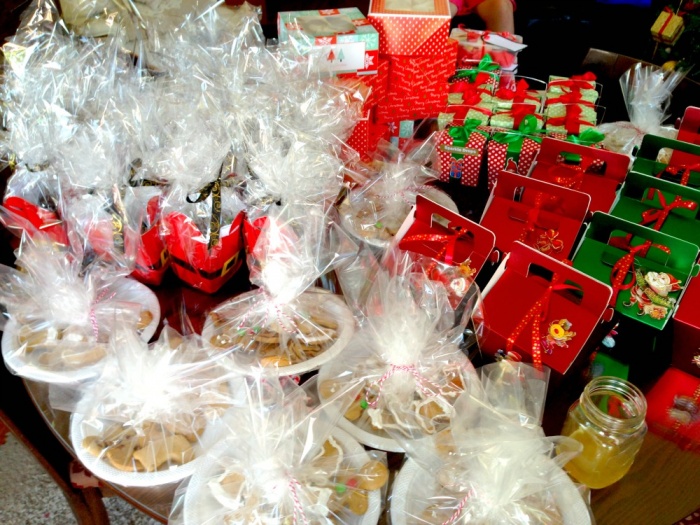 Oh, and Bella (14) and Kitty (9) whipped up some delicious gingerbread men and Santa hats (seen here at the front of the picture,) so being such great cooks and the only non-adult entrants, had a clean sweep in the Junior Division!
The bakers left the house laden down with beautiful boxes of baked goods, and David and I left with full bellies, happy hearts and secret tricks and cunning plans for what we're going to magic up next year.
Have you ever done a Cookie Exchange? If you were invited what would you bake?