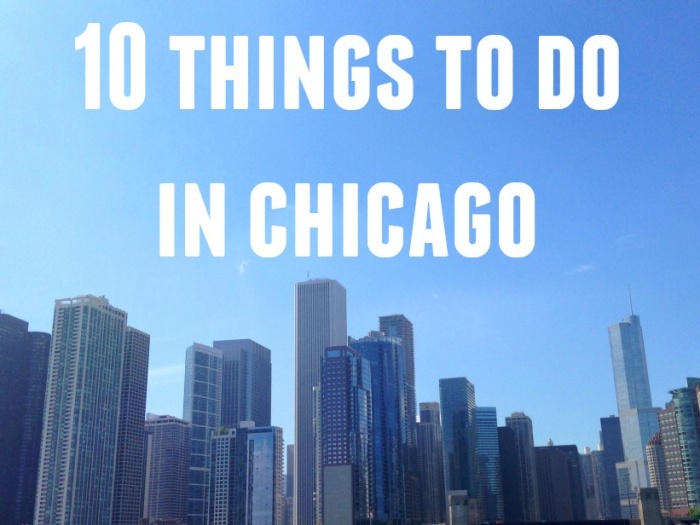 I would go back to Chicago in a heartbeat. I gave you 7 good reasons to love Chicago and because caring is sharing, I'm going to give you 10 Things to Do should you be lucky enough to find yourself in the windy city.
So let's get into it, shall we..
1. Take an architectural cruise along the river
Chicago has the most amazing architecture and there's no better way to see it than by boat! We took a Chicago Architecture Foundation River Cruise aboard the First Lady which was excellent value and excellent viewing. The tour  costs about $40, takes about 90 minutes and the CAF volunteer guides know everything there is to know about Chicago architecture. You can book tickets online or at the dock, but whatever you do, don't forget your camera! If you only have time to do one thing in Chicago, do this. It's just awesome!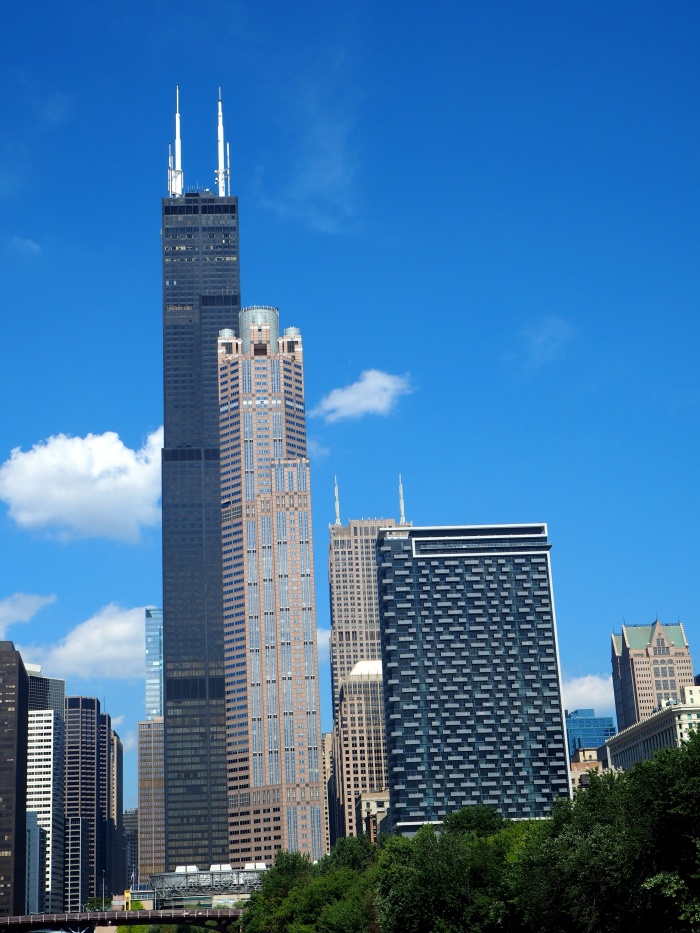 2. Eat a Chicago Dog
We developed quite a thing for Chicago Dogs while we were in town. A Chicago Dog is a beef frankfurter, topped with yellow mustard, white onions, sweet green pickle relish, a pickled dill cucumber spear, tomato slices or wedges and a few sport peppers to finish it off.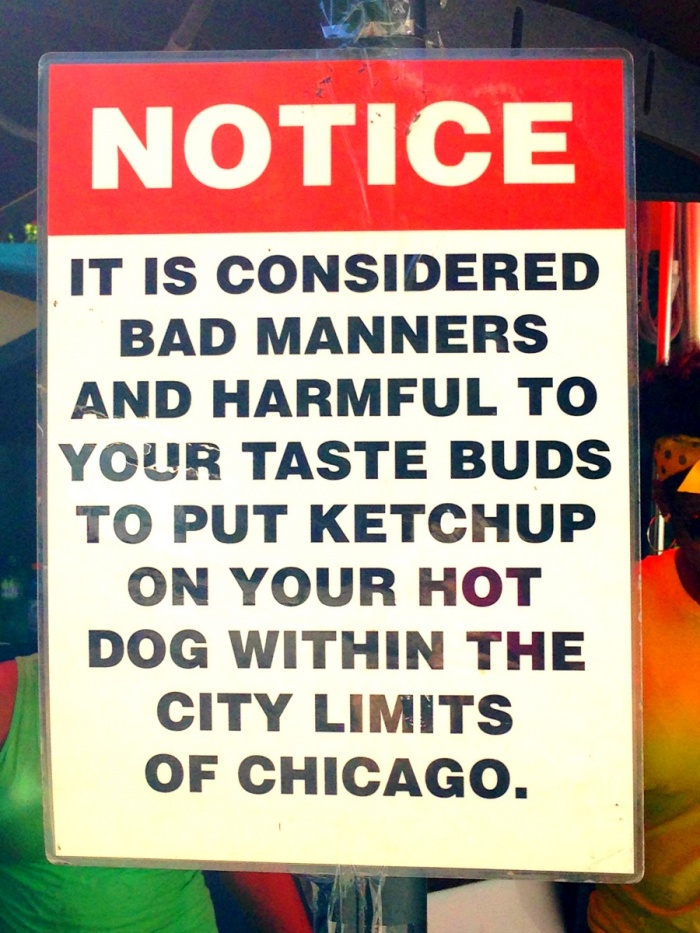 Eat it with etiquette, OK?!
It's difficult to know who serves the best dog in town, because it seems every Chicagoan you ask has a different answer. Well, at least the ones we asked did! Michael our trusty host, says Portillos are the best. In fact, he says if you ask a Chicagoan whether they prefer McDonalds or Burger King, they'll say Portillos because Portiollos is Chicago Fast Food! Their dogs got our thumbs up but for us, the UB dogs  were the Top Dogs in town. Not only are their dogs mighty fine…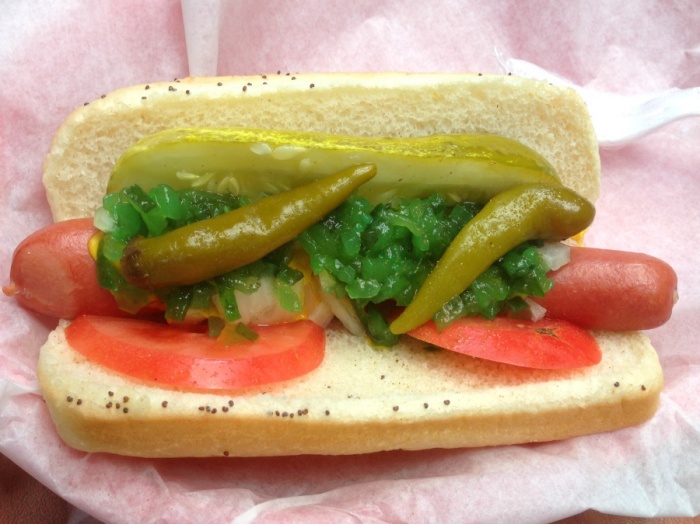 UB Chicago Dog $3.15
…but their chilli fries are a sight to behold. I was naive enough to think that chilli fries were fries sprinkled in chilli salt! Then these babies arrived! How wrong can one person be? (Very, very wrong.) They were as hot, spicy and delicious as they were large.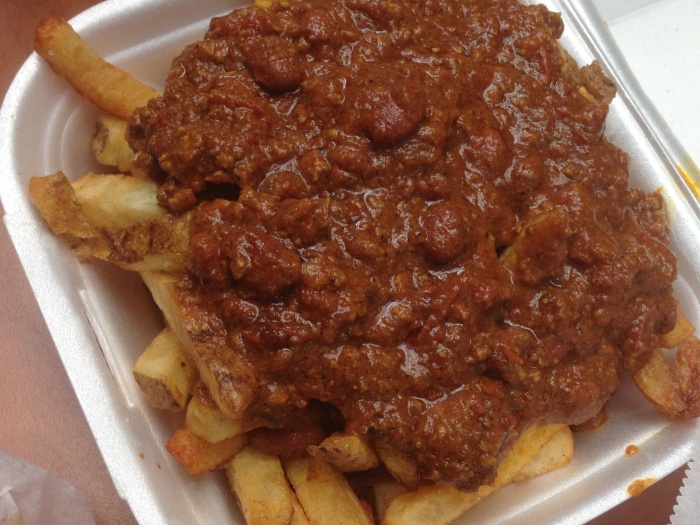 UB large chili fries $3.99
Oh, and the service is great too. Fast, friendly and fabulous!
3. Indulge in Afternoon Tea at the Palm Court, Drake Hotel
Thank you to the lovely Louisa who tipped me off on this one. Apparently High Tea at the Palm Court is Oprah's favourite, and it's easy to see why. Palm Court has also hosted Princess Diana, Queen Elizabeth and the Empress of Japan, so rest assured this really is tea fit for a Queen, or even a king, for that matter.
Afternoon tea is served daily from 1-5 pm, and as it's still so fashionable and so popular, reservations are highly recommended. Each sitting takes about 90 minutes, it will take you at least that long to work your way through the custom-made teas and delicious array of finger sandwiches, breads, scones and pastries. Attentive, discreet staff will refill any plates that you further desire and you can work your way through the extensive tea menu with wild abandon. It really is a snip at $42 per person and there's even a menu for the Little Prince and Princess in your life. Gluten-free tea lovers are well catered for too, just let them know your dietary requirements when you make your reservation.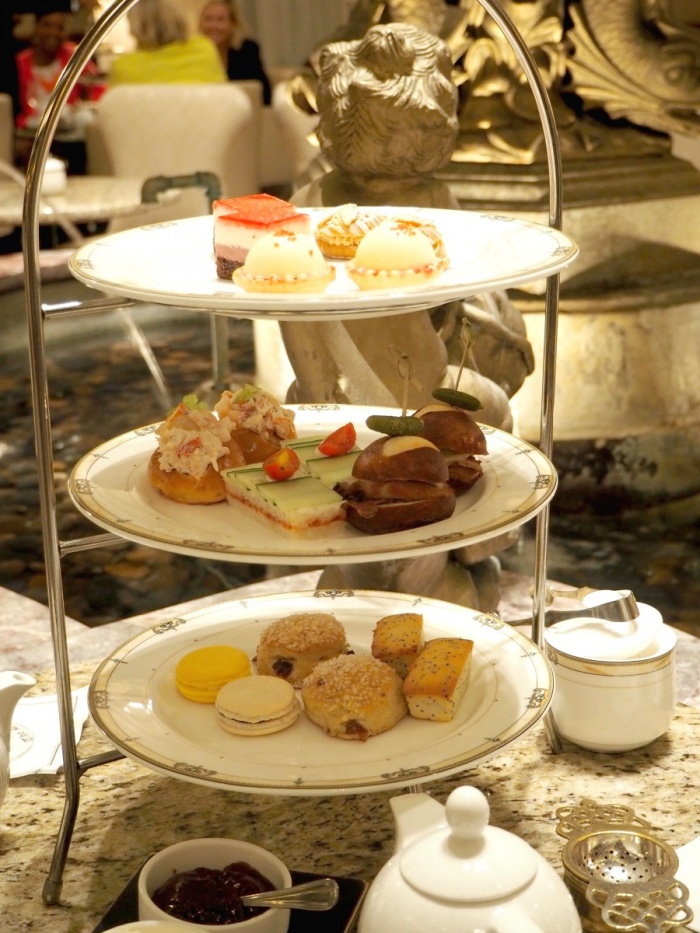 I'm not going to lie, this isn't the most delicious afternoon tea I've ever enjoyed but it's definitely one of the best all things considered, with excellent service, tasty treats, a terrific tea list and an amazing setting complete with a fountain and a harpist. This place is the real deal.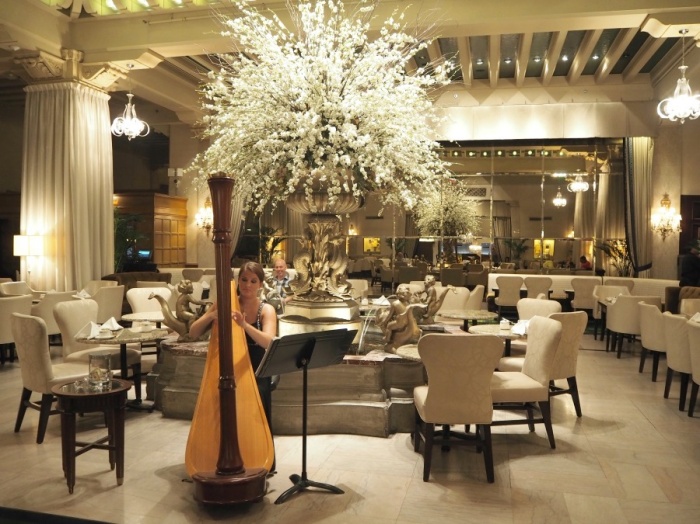 By the by, ladies should make every effort to visit the bathroom which takes powder room opulence to a new level.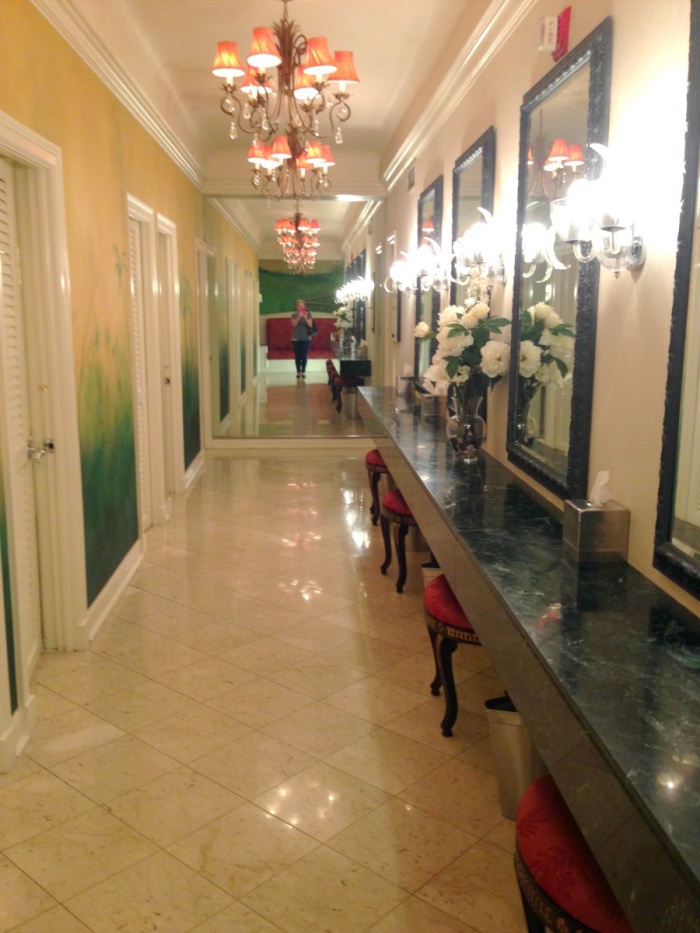 Doesn't everyone take a selfie in the bathroom?
4. Eat Deep Dish Pizza
The main difference between Chicago Deep Dish pizza and other kinds, is that as it's name suggests, the pizza crust is very deep, more like a pie than a flat bread. Although the entire pizza is very thick, in a traditional Chicago deep dish pizza, the base is thin to medium, not to be confused with those thick based deep pan (poor imitation)  pizzas which are produced outside Chicago.
Because a deep dish pizza takes longer to cook than it's regular cousin, the toppings are assembled in reverse so that the cheese doesn't burn. The cheese is on the bottom of the pizza, then topped with various other fillings and finished off with tomato.
Now we popped our Deep Dish Pizza cherry at Due's  which is a mere block away from it's sister restaurant Uno's where Deep Dish pizza was invented way back in the 1940's.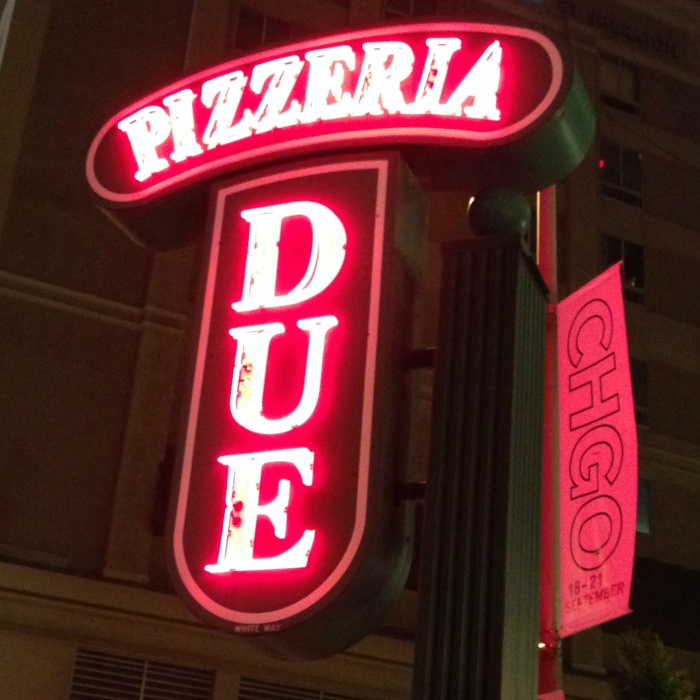 It's actually hard to get Chicagoans to agree on who serves the best Deep Dish Pizza but Michael our host, told us that when his dad was at law school in Chicago he used to take half baked frozen Due's pizza for his mom when he used to visit her on the weekends at the University of Michigan. This place is an oldie but it's still a goodie because the place is busy pretty much all day, especially in the evening when people queue for both take out and to dine in.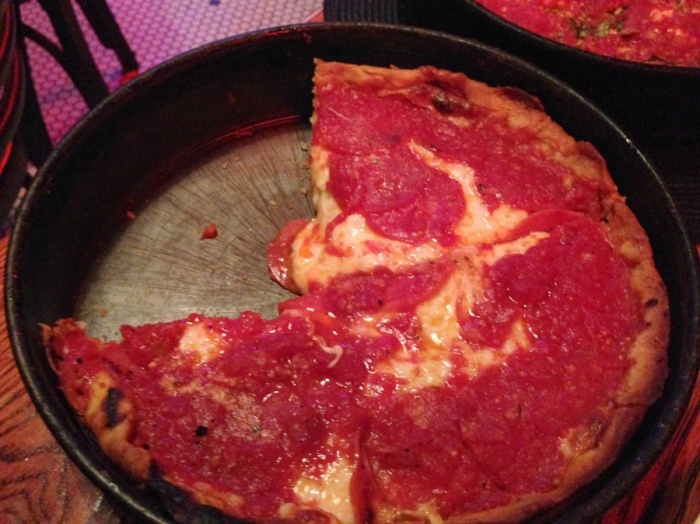 It's may not be the prettiest pizza I ever tasted, but this pepperoni deep dish is one of the most delicious!
A word of warning. Deep Dish pizzas are uber-filling even if like me, you have a black hole for a stomach. This is the only time in my life, I've ordered a small pizza and not been able to finish it in one sitting. I can however vouch that it tastes great for breakfast the morning after the night before.
5. See the sunset
We caught quite a few sunsets from our balcony which were beautiful to behold. Other top spots include The J. Parker, The Urban Roofscape at the Godfrey Hotel and believe it or not, Wrigley Field.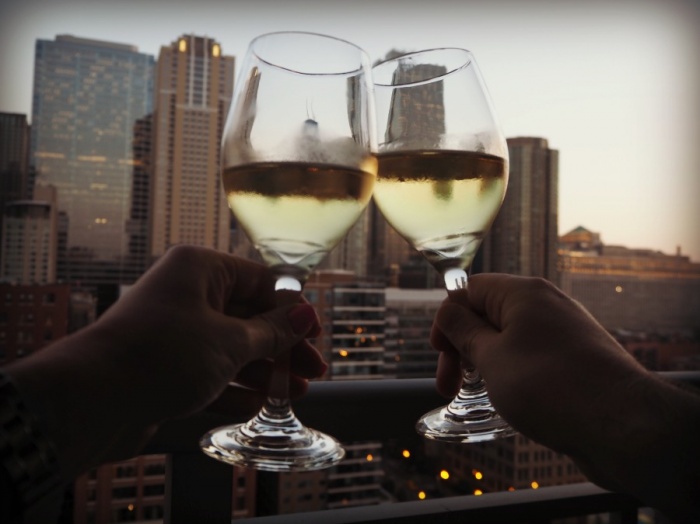 6. Go to a high bar
Chicago has more rooftop bars than you can shake a stick at and we were hard pressed to visit them all, even though we gave it our best shot. In fact, Chicago high bars deserve a blog post of their own but in the meantime,  here's a sneak peek at what you get  from one of our favourites, the J Parker.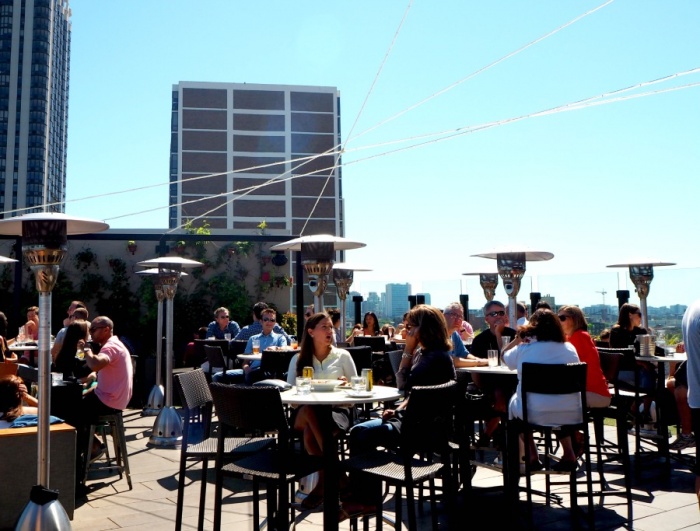 The views over Lincoln Park are awesome.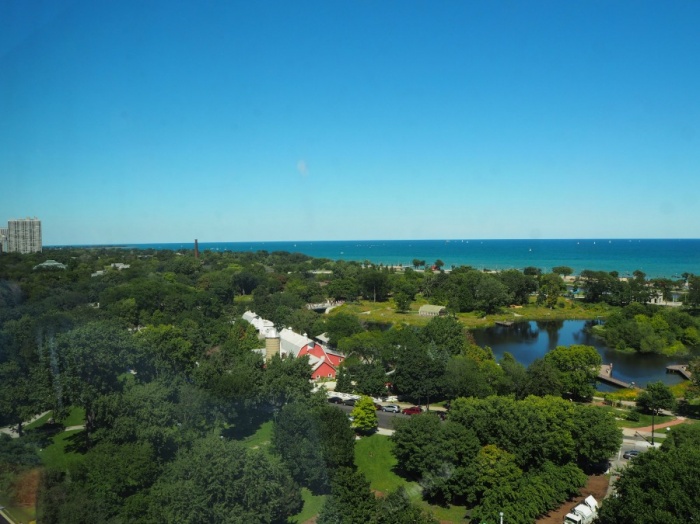 7. See some sport
With championship winning teams in baseball (Chicago Cubs April to October), basketball (Chicago Bulls late October to April) , American Football (Chicago Bears September to February) and ice hockey (Blackhawks October through April) you're pretty much spoilt for sporting choice in Chicago and can get in on the action whatever time of the year you're in town. We had a ball (excuse the pun) watching the Chicago Cubs at Wrigley Field.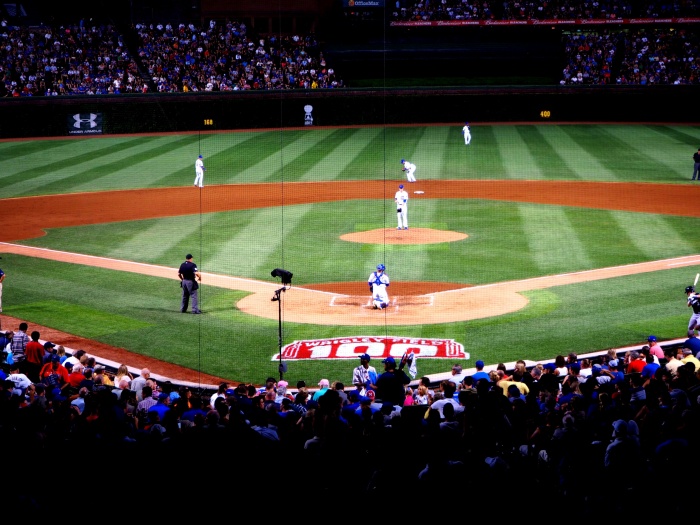 8. Shop the Magnificent Mile 
This is the place to give yourself and your credit card a good workout. It's magnificent by name and it's magnificent by nature. Just leave some room in your luggage, OK? Because Chicago shopping is just too good to resist. I defy you to leave empty handed!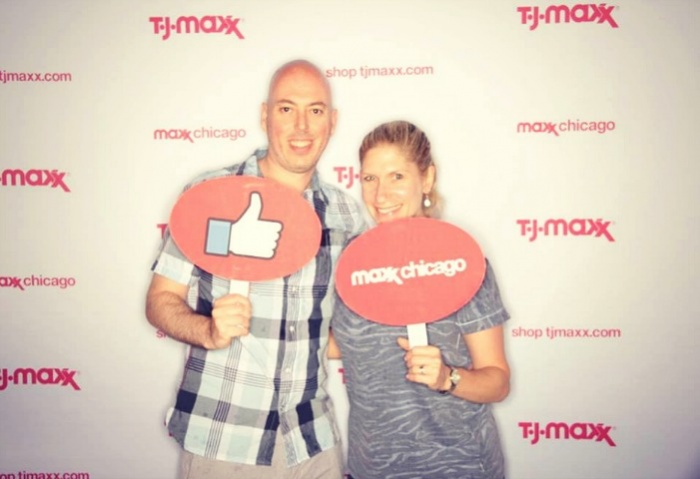 9. Take a selfie at The Bean
A visit to Millenium Park is a must. Cloud Gate, better known as The Bean, is really a sight to behold. Don't forget your selfie!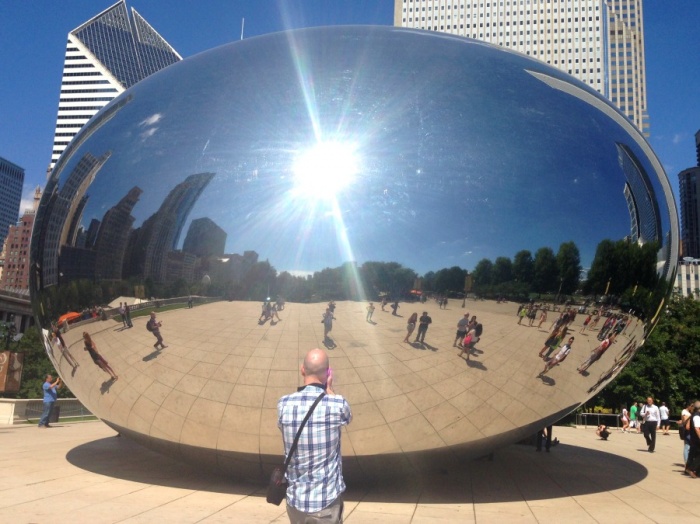 10. Visit the Art Institute of Chicago
It's more than 30 years since Ferris Bueller took the day off but you can still follow in his footsteps around this amazing art gallery. The ladies at the information desk have folders full of information on what Ferris saw and how you can find it, which gave our self guided tour fancy twist. If you need to refresh your memory, check this clip out.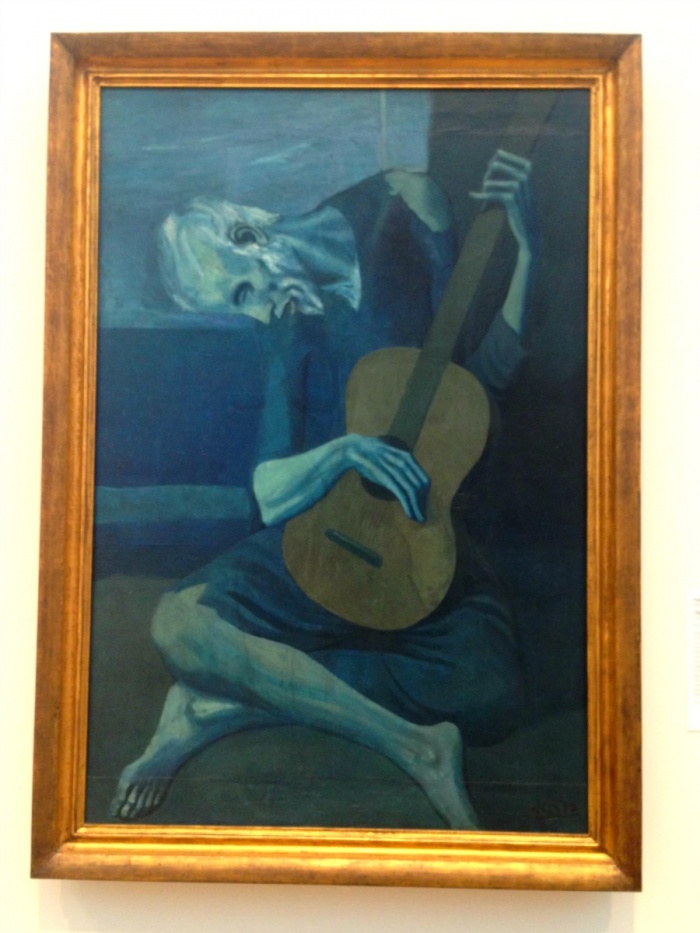 Pablo Picasso's The Guitarist 
If you're not a fan of Ferris, you can rent an audio guide or take advantage of the Institute's free wifi and download one of their free apps that include loads of cool stuff with everything from tours to slideshows.
Adult admission is a snip at $23 and kids under 14 are free. If like us, you're big fans of Ferris, you should also  go to Skydeck at the Willis Tower to see what he saw. In fact, even if you don't give a fig about Ferris, a trip to Skydeck should be your highest priority, if only because the views from the 103rd floor are breathtakingly awesome. The combination ticket is a bargain at $39 (but it's only available for adults.) You can buy tickets online here.  
I know one thing for sure, whatever you do in Chicago, you certainly won't be bored!
Have you been to the Windy City? What did you love the best? Is there anything you can add to the list? Have you ever left your heart in a place you travelled to?