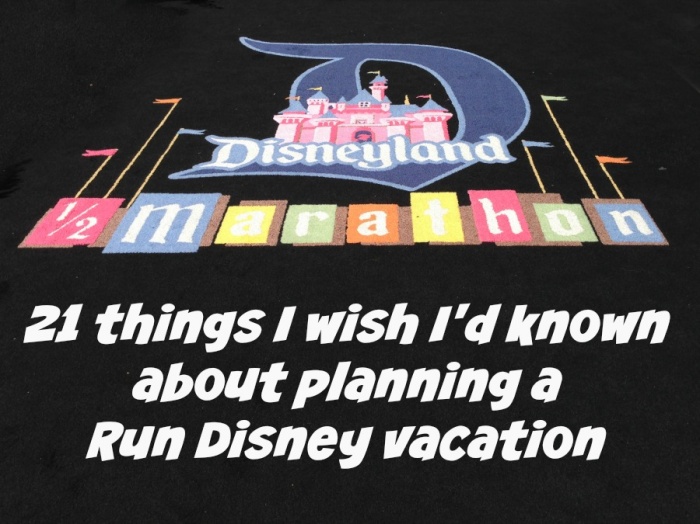 Last year, I ran at the Disneyland Half Marathon weekend. I  popped my Run Disney cherry and ran my dream into reality, but I wasn't the only one.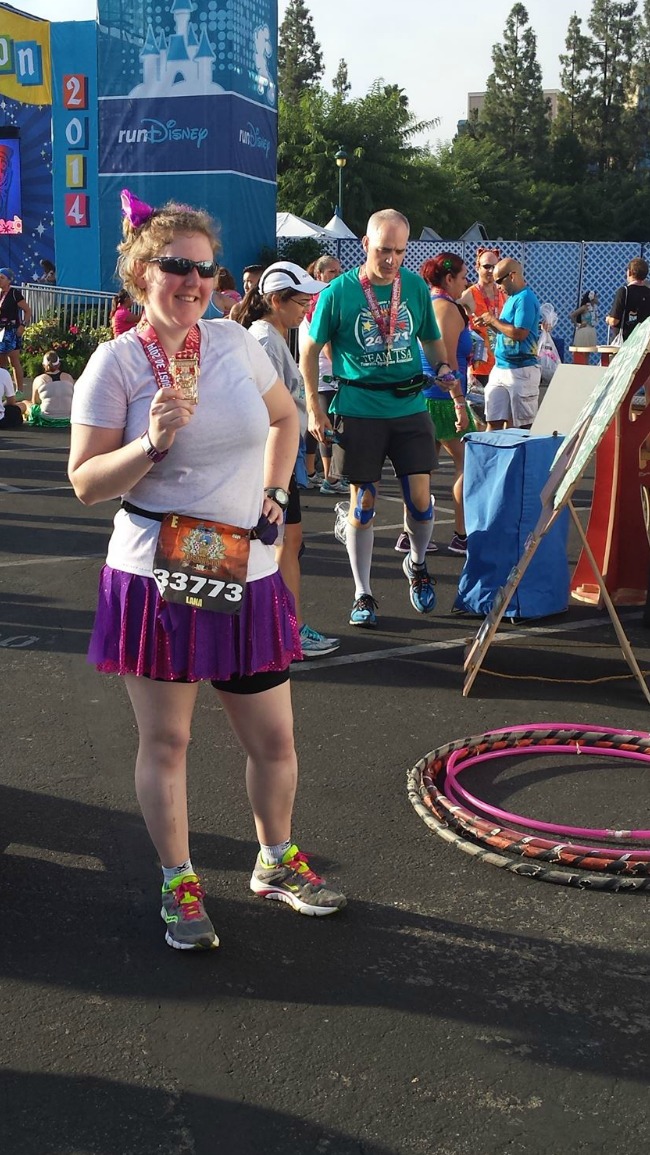 Let me introduce you to Lana, a fellow Aussie,  who I met in a friendly Facebook group before the race and in real life after it, who also ran for the first time at the Happiest Place on Earth.
For the first timer planning a Run Disney race-cation is a marathon in itself, but fear not, because Lana and I have compared notes, and made a comprehensive list of 20 things you need to know if you want to make the epic voyage to Disneyland to  Run Disney for the Disneyland Half Marathon Weekend.
So you want to Run Disney?
1. Find your information sources,  Disneyland Half Marathon Facebook Group,  the official Run Disney Facebook  page, Mickey Miles podcasts and W.I.S.H sub-forum at Disboards.com are fonts of all knowledge.
Where to stay?
2. Book accommodation early to have the most options because once registration opens they book out quick. We actually booked our digs before we even registered. There was a 100% refundable cancellation policy so it was a win win.
3. Choose a Disney hotel (even if it's just for the night before Race Day/s) if funds allow. This won't save you money but it will save you a whole lot of time and energy on Race Day!
4. When picking out accommodation it is useful to map the walk from the accommodation to the start of Magic Way, as that's where the corrals are. Some good options include Harbor, opposite the main entrance (about a 20 min walk); either end of Walnut, on Katella or Ball (15-20 min walk.) There are also vacation condos off Walnut (10-20 min walk.)
5. Book the nicest and most convenient hotel you can afford.
6.  If you do choose to stay a bit further away, be aware that the ART transport system will be operating early for runners, and is free for the run weekend. However, buses can be either packed and/or hard to come by on Race Day so be prepared to walk to the start line. We had a 20 minute walk each way.
How to register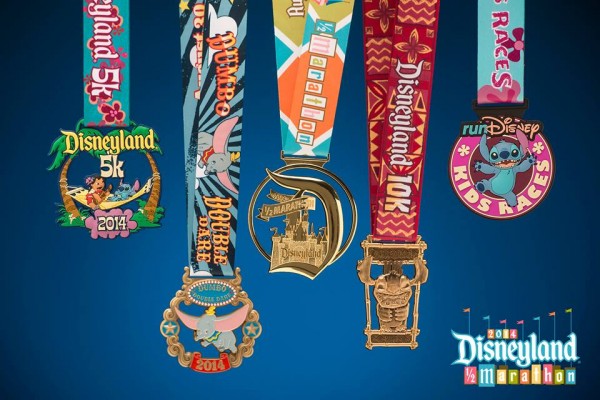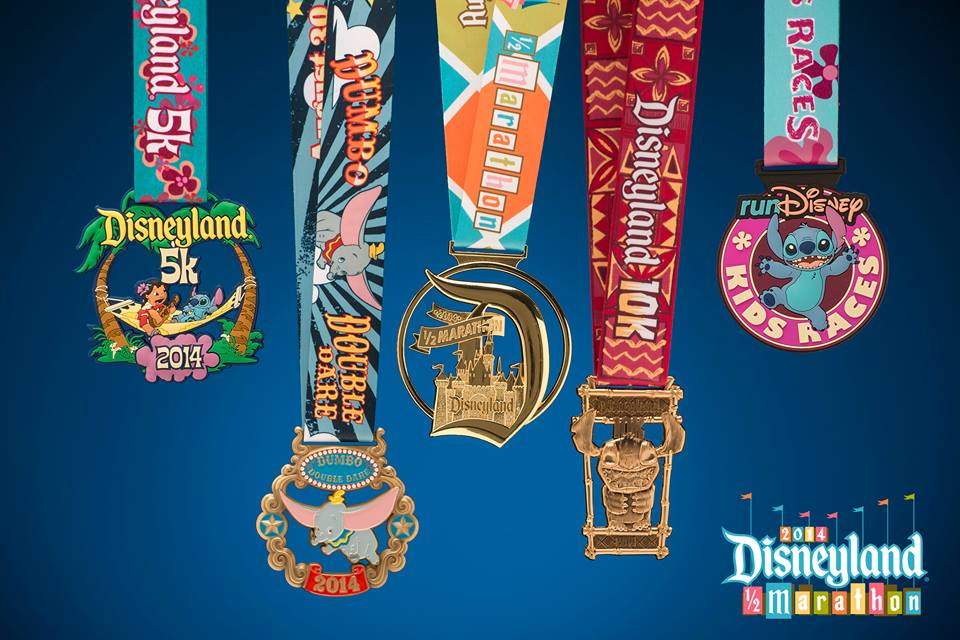 All these medals could be yours!
7. Prepare for registration day (10th February 2015). The events sell out faster than you can spell out Disneyland so find out the date and time of registration and use an online tool to convert that to your local time. Be online before registration opens so that you are ready to go.
You need to know the following:
– which events you want to register for
– whether you are going to pre-order any commemorative items (it's totally worth doing if you know you want one)
–  all the necessary details for everyone you're registering (date of birth, full address, emergency contact etc)
– if you're running in the half marathon, you will also need the date and finish time of your last half marathon for corral placement
8.  On registration morning, set at least 2 alarms for at least half an hour before registration opens – you'll need to be fully alert by registration time. Remember, you need to be online before registration opens so that you are ready to go.
9. It's worth registering  on www.active.com in advance, and go directly there on registration morning because the RunDisney website often crashes
10. Hedge your bets and have your information sources going (facebook  groups and any forums) on in the background so you don't miss out on up-to-the-minute important information.
11. Set your computer up and just keep refreshing until you get in – if you have more than one computer, it's worth having them both going, this is especially important if you're making multiple entries.
12. Remember the website is American and when you fill  in your date of birth, remember to write the dates with the month first, otherwise it will be really hard to locate your waiver further down the track.
13. Do your pre-orders if you've decided that you want to, if you haven't decided, just skip it, there's no time for indecision.
14. If you don't get in, don't despair. There are options available through travel providers (try GET Travel) and charities – these are listed on the RunDisney website.
Planning your Racecation (yes, that's a thing!)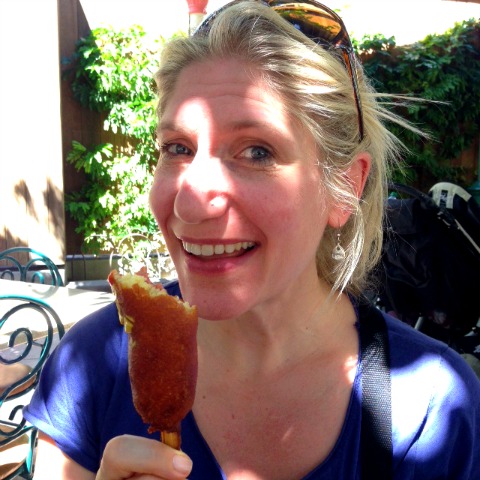 15. When planning your racecation, try to start with the races, any other activities/travelling  will be much more enjoyable after the run.
16. If budget permits, fly business class flights to save your legs. Fiji Airways can be a good value option.
17. Allow plenty of time before the event for race delays, recovering from the flight and acclimatising – this will be different for everyone depending on the distance you need to travel. If you're flying from down under, you should try to arrive at least 2 days before the event.
18.  You can buy discounted park tickets through Get Travel which are valid for the run weekend. Australian and New Zealand residents are eligible for a special 10 day pass – it's worth spending as many days there as you can so that you don't feel like you have to rush.
19. Disney restaurants are super busy on race weekend. It's worth making your dining reservations in advance on the Disney website. Reservations can be made up to 60 days in advance. If you're planning to have a special meal after the race, reservations are a must, just remember to allow enough time to get showered and changed and back to your dining destination.
20. Disneyland parks get incredibly busy over race weekend, because it's Run Disney and it's Labour Day Weekend. The place is packed to the rafters. You'll do well to avoid the parks at the busiest times and hang by your pool or go shopping instead.
If there's anything else you need to know about the Disneyland Half Marathon Weekend, hit me up! And if you think there's something very important that we missed,  please let me know.
Stay tuned for more run downs on race-cations with everything you need to know  for a run-tastic weekend!