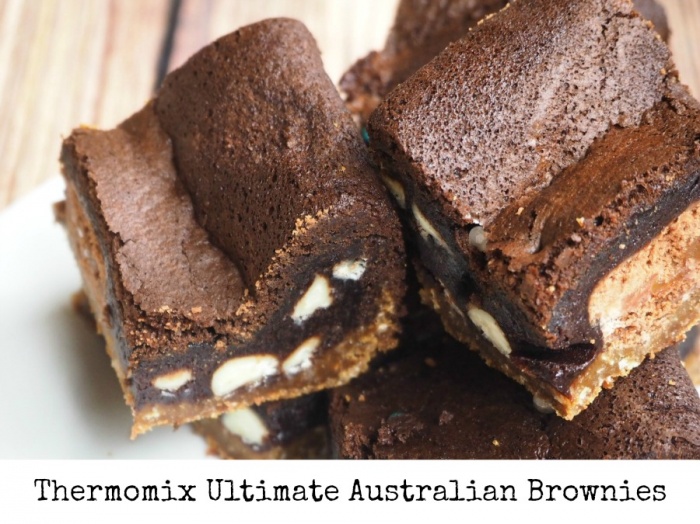 It's the  Anzac base and Tim Tam middle that makes these the Ultimate Australian Brownies!
I have made no secret about how much I loved the Town Bike Brownies that I first saw and raved about over at Champagne and Chips. Pop on over to Nicole's blog for the original recipe, the story of how these Brownies got their name and a crash course in Aussie slang!
As you know, I am way too lazy to sweat over the stove, even for Brownies, so I took Nicole's recipe and thermified it. The results are outstanding and the response has been rapturous. David says that this is the best thing I've ever made which when you consider how many things I have made, is a pretty big call. These brownies are a feast for the senses, they smell ah-mazing, they taste totes awesome, they look the business and they're gooey and chocolatey and finger lickin' good. You should totally try them. That is all! Not only I have changed the method but I also changed the name because for me, these brownies are all about Australia. I hope you love them as much as we do!
Ingredients 
ANZAC base
125g unsalted butter, chopped
2 tablespoons golden syrup or treacle
1/4 cup  water
½ teaspoon bicarbonate of soda
220g firmly packed brown sugar
40g desiccated coconut
90g rolled oats
150g plain  flour
Brownies
150g unsalted butter, roughly chopped
300g brown sugar
75g cocoa powder
150g plain flour
1 teaspoon bicarbonate of soda
pinch of salt
4 eggs
1 teaspoon vanilla extract
100g chocolate chips (I used a mixture of milk and white)
2 packs of Tim Tams (I like caramel – gooey deliciousness)
Cachous, for decorating (optional)
How to: ANZAC base
Preheat oven to 120C. Grease 24cm x 32 cm (9 1/2-inch x 13-inch) pan; line base and long sides with baking paper, extending paper 5cm (2 inches) over sides. Alternatively you can use one of those disposable foil pans (no need to line,) or if like me, you have neither use 2  20cm x 20cm greased and lined cake tins.
Add butter, golden syrup/treacle and water to the TM bowl.  Mix for 2 minutes at 70 degrees on speed 2 or until fully melted.
Add bicarb and mix for 5 seconds on speed 3.
Add remaining ingredients and mix for 1 minute on interval speed.
Spread mixture into pan and bake for about 10 minutes. Allow to cool in pan while you make the brownie layer.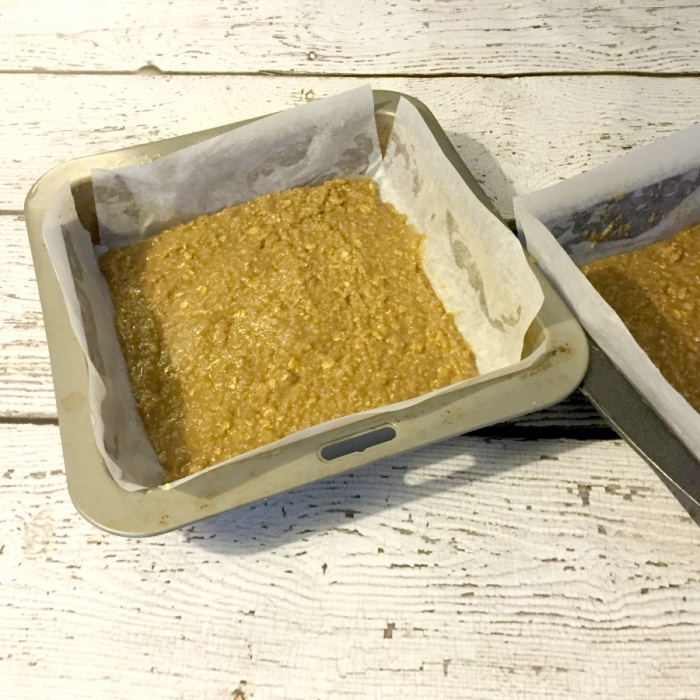 How to: Brownies
Preheat oven to 190C/170C fan-forced. Add butter to TM bowl and melt for 5 minutes at 60 degrees on speed 2.
Add brown sugar and mix for 5 seconds on speed 5.
Add eggs and vanilla and mix for 10 seconds on speed 4.
Add the flour, bicarb and salt and mix for 10 seconds on speed 4. Scrape down the sides and base of the bowl  and mix for a further 5 seconds on speed 4.
Add chocolate chips and mix for 10 seconds on reverse speed 3 using the spatula to assist.
Carefully arrange the Tim Tams on top of the ANZAC base.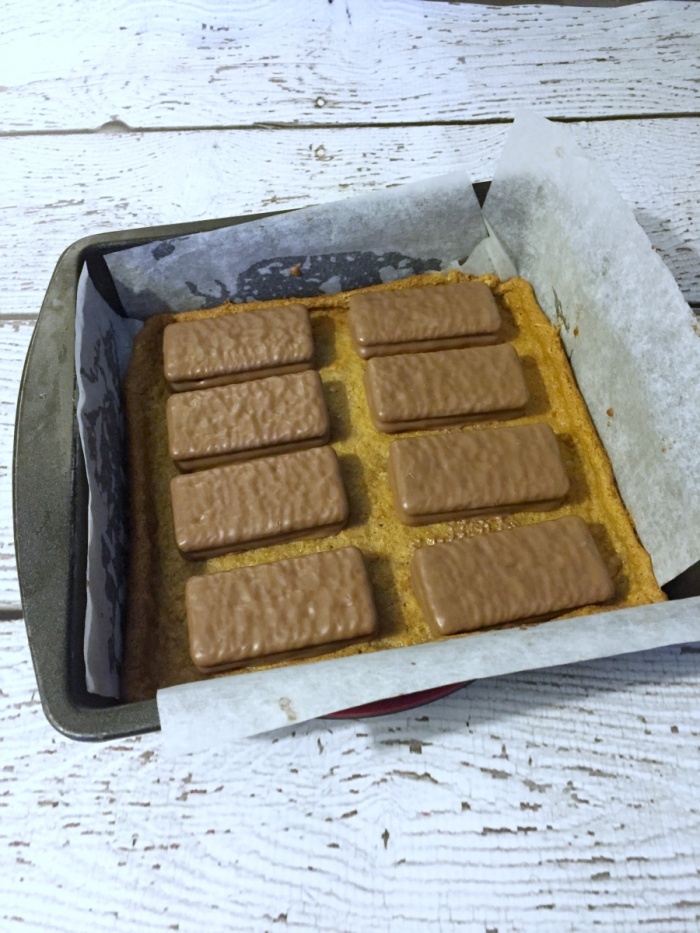 Pour the brownie mixture over the top of the Tim Tams and pop into the oven for 20-25 minutes.
The brownies should look dark and set on top but still feel a little wobbly to the touch. If you insert a cake tester, it shouldn't come out clean. You want your brownies to be dark and dirty!
If you're using cachous, sprinkle them over the top when the brownies come out of the oven while they are still warm.
Cool in tin and cut into squares.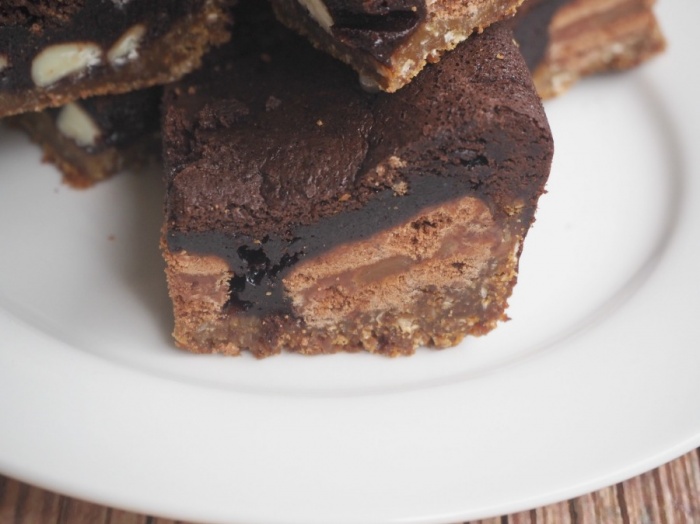 Other info
Prep and cooking time 1 hour
TIPS!
I like using 2 square tins because they're easier to store, transport and to share, but use whatever trays you have to hand.
These brownies are best eaten the day after making (good luck waiting that long!)
I like to sprinkle my brownies with cachous because I like shiny, pretty things but just watch your teeth OK? They're crackers! (Literally!)