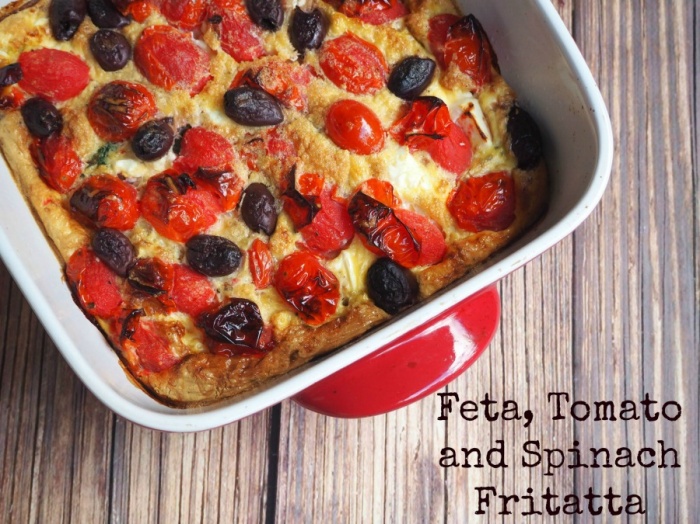 Serves 4
Love me a frittata that I can throw in the oven and this one is full of my favourite things. It makes a lovely lunch, it's a delicious dinner and it's also perfect for picnics. As a bonus, we've discovered it tastes equally delicious hot or cold.
Ingredients
1 tablespoon olive oil
1 large onion, finely sliced
300g cherry tomatoes
100g baby spinach leaves
100g feta cheese
50g olives (optional)
6 eggs, beaten
salad and crusty bread to serve
How to:
Heat oven to 200C/180C fan-forced. Grease a 30×20 rectangular baking tin.
Place tomatoes on a baking tray lined with baking paper and drizzle with olive oil and season well. Cook for 5-10 minutes until softened. Set aside.
 Heat  oil in a large frying pan and cook the onion for 5-6 minutes until softened and a little golden. Remove pan from the heat and stir in the spinach until wilted.
Transfer the spinach and onion mixture to the baking dish. Sprinkle over the feta. Carefully place the tomatoes in the dish and top with olives.

Season the eggs (add some chilli flakes for a bit of an extra kick) and beat well. Pour the egg mixture over the veggies and cheese. Bake in the oven for 20-25 minutes until golden and set.

Serve with crusty bread and salad.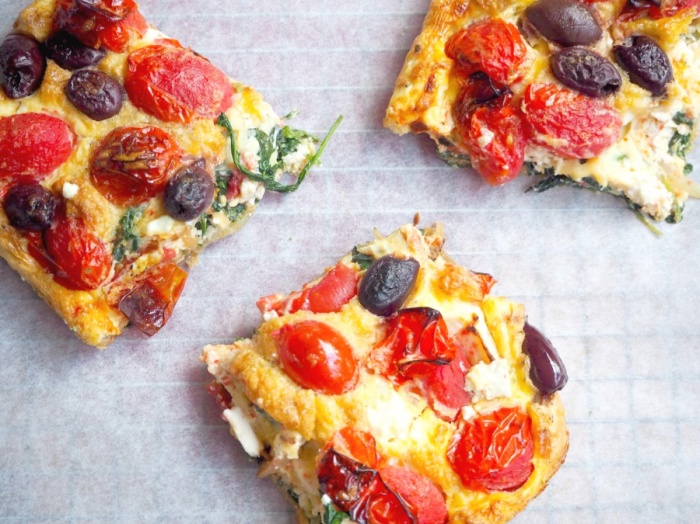 Other info
Preparation Time: 10 minutes  Cooking Time: 35  minutes
TIP: If you don't have the appropriate sized baking tin, any ovenproof dish will do. I used my large square baking dish for a fuller frittata.