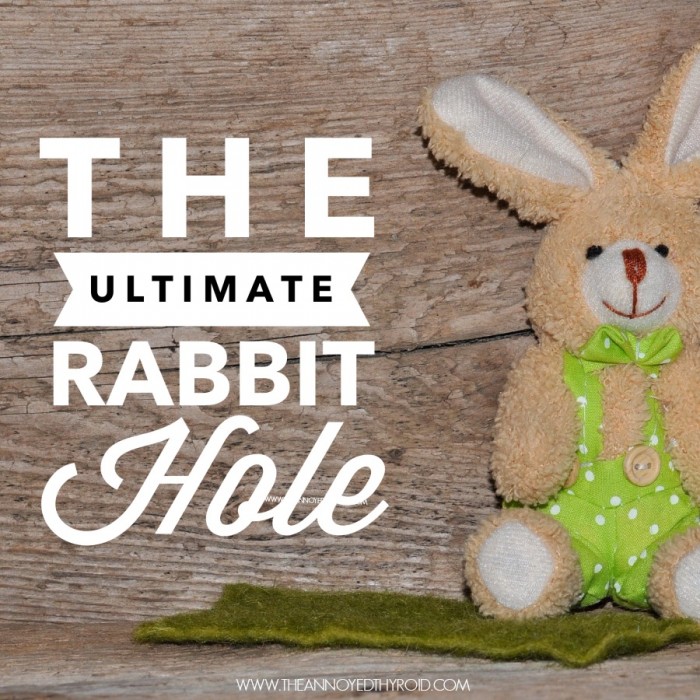 Happy Saturday! Has everybunny had a fun week? I'm apologising in advance about all the Easter word play but I just can't help myself. It's almost Easter and I'm so egg-cited, and I just can't hide it!
So you might be thinking that I'm really bad at maths, and you'd be right. There's a reason I am an English and not a maths teacher.  But worry not, it's not because I'm a crappy counter that the Rabbit Hole jumped 4 editions in one week. It's because the original, inaugural Rabbit Hole is 10 weeks old today, so instead of aligning planets, me, Karin, Jess and Fleur have aligned our numbers so that we're all rooting for the same rabbits so to speak. Huzzah for double digits!
Talking of lovely link ups – Vicki has come up with an inspired idea: a weekly link up for quick 30 minute meals (as in real 30 minute meals, not the 30 minute cooking and 2 days cleaning up Jamie Oliver variety.) Winner, winner, quicky dinners. What's not to love?
I love my Typo light box, but those fiddly little letters not so much. I keep finding them everywhere. But losing letters will be a thing of the past with this  oh-so-nifty light box letter storage shebang.
Following on from my wrap up of the day I was a lady that lunched, I loved Nikki's top tips for how to pose in photos. She is after all the Queen of the Selfie. If you look carefully, you might spot me in some of the shots and if you're lucky, you could win yourself  an Olympus PEN E-PL7, the King of Cameras. Bob on over because remember, you have to be in it to win it!
Yesterday was the International Day of Happiness. I choose happiness every day because it's good for my health but I like that on one day a year at least, our happiness is part of something bigger. This year the focus is working on connections with others and to create more happiness in the world around us. I am going to be all over this! The website has a heap of tips and tricks to help make the world a happier and more connected place, not just today but everyday. Because you can never have too much happy. True story!
Talking of stories, how about I tell you one? One day a Twix met a Snickers and they fell in love, got married and had beautiful chocolate babies. They called them Twickers. Yes, Twickers, that's a thing and a very yummy one too. These ones are healthy and delicious which means you can eat more of them, which can only be a good thing.
So tell me, what's been rocking your world this week? Have you ever made one of Jamie's 30 minute meals in 30 minutes, for realz?  Does your diet have a name? If you had to choose, what would it be Twix or Snickers? Pray do tell!
Here's how  The Ultimate Rabbit Hole works:
Every Saturday morning, we will open up the rabbit hole link up for bloggers to add their link list posts or even just their favourite post (if you are not of the link list kind) for the week.  Do try and pop along to say howdee to some of  the other lovely linkers. Link up here, over at Calm to Conniption, A Little Part of the World or Our Urban Box. It doesn't matter where you add your link because it will appear on all four blogs, as if by magic!  The link up will stay open until midnight the following Monday.
Be a smarty and join this linky party!
Loading InLinkz ...