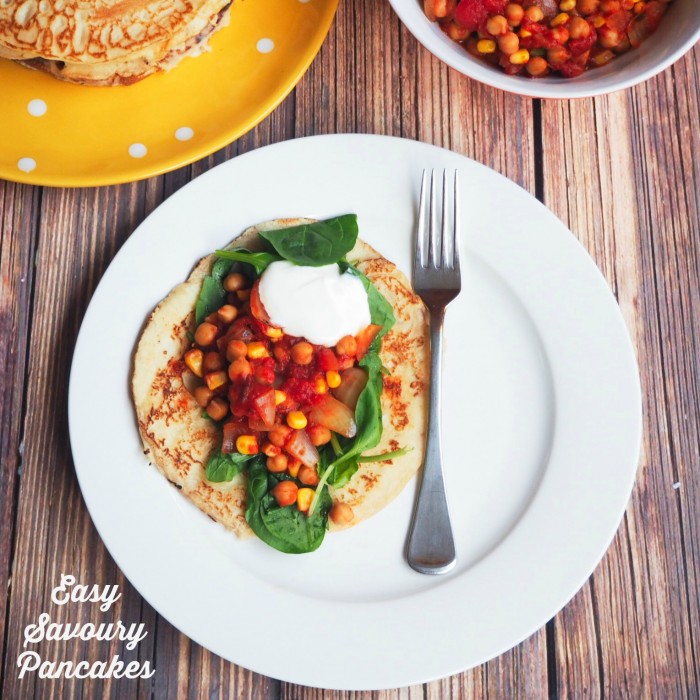 I  missed Pancake Day this year and I've been trying to make up for it ever since. Especially since I bought a shiny new pancake pan from Aldi. It's taken my pancake making to a whole new level. This winner dinner is quick, cheap and easy and it's totes delicious. 
Ingredients – For the Pancakes
250g plain flour
2 eggs
500g milk
1 tablespoon sunflower oil (or other neutral oil)
1/4 teaspoon salt
Ingredients – For the filling
1 medium onion, finely chopped
1 garlic clove, crushed
A pinch of chilli flakes (optional)
1 x 400g can chopped tomatoes
1 x 400g can chickpeas, rinsed and drained
100g frozen sweetcorn
1 tablespoon tomato paste
1/2 teaspoon Harissa paste (optional)
100g spinach leaves
Natural yoghurt, to serve
 How to – For the Pancakes
1. Make the pancake batter at least an hour before to give it time to rest.
2. With a  Thermomix – put all the pancake ingredients into the TM bowl and mix for 2o seconds on speed 6. Transfer to a bowl, cover and put into the fridge.
   Without a Thermomix – sift the flour and salt into a large bowl. Whisk together the eggs, milk and oil in a separate bowl and slowly add to the dry ingredient. Whisk together until smooth. Cover and put into the fridge.
3. When ready to cook, heat an omelette or pancake pan until hot and drizzle in a small amount of oil and tip the pan to swirl it around. Pour a ladle full of batter into the pan and cook for about 30 seconds to a minute on the first side (just until the underside is golden) and then carefully flip with a pallet knife. Cook the other side for about another 20 seconds. Tilt the pancake out onto a plate and repeat.
How  to – For the Filling
1. Heat the oven to 180C/160C fan-forced. Wrap the pancakes in foil and warm them in the oven for 10 minutes.
2. Heat the oil in a saucepan and cook onion, garlic and chilli flakes, if using, for about 5 minutes, until softened.
3. Stir in the tomatoes, chickpeas, tomato and harissa pastes and  bring to the boil. Simmer for 2-3 minutes and add the corn. Remove from the heat.
5. Transfer the sauce to a bowl and serve at the table with the warm pancakes, yoghurt and spinach leaves. Then put your pancakes together by placing some spinach in the centre, top with some filling and then finish it off with some yoghurt. Fold the sides of the pancakes and devour with a knife and fork.
Other info
Prep time: 10 minutes   Cooking time: 20-30 minutes (plus resting time for the batter.)
TIP! Use whatever canned pulses/frozen veggies you have to hand to bulk out this delicious dish.