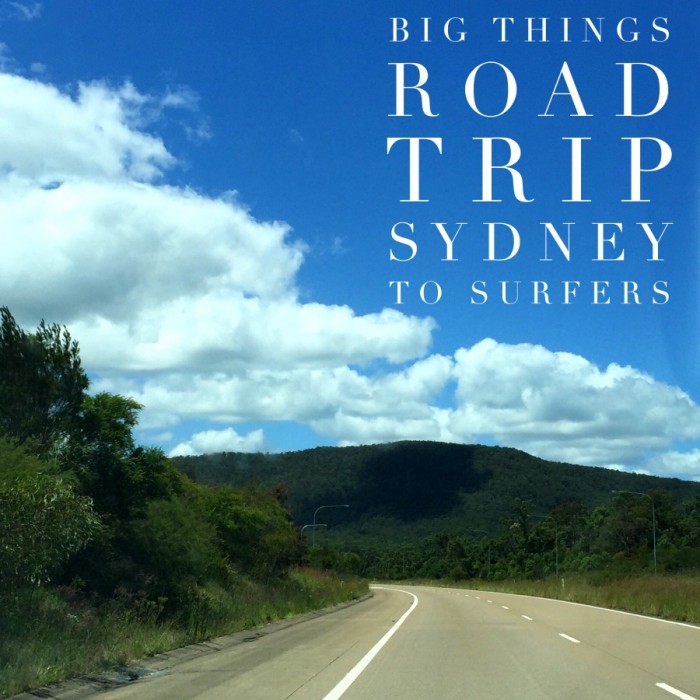 Before I came to Australia, my friend Jo gifted me a copy of Bill Bryson's Down Under. I read that book from cover to cover, and then all over again, and that my friends is how I fell in love with Australia. It was head over heels and love at first sight, or  rather, love at first read. I have Bill to blame for my long lasting love affair with Australia, and also my love of Australian Big Things. You won't be surprised then, to see that a year or so after my first visit, Jo gifted me another book. Best ever (friend and book.)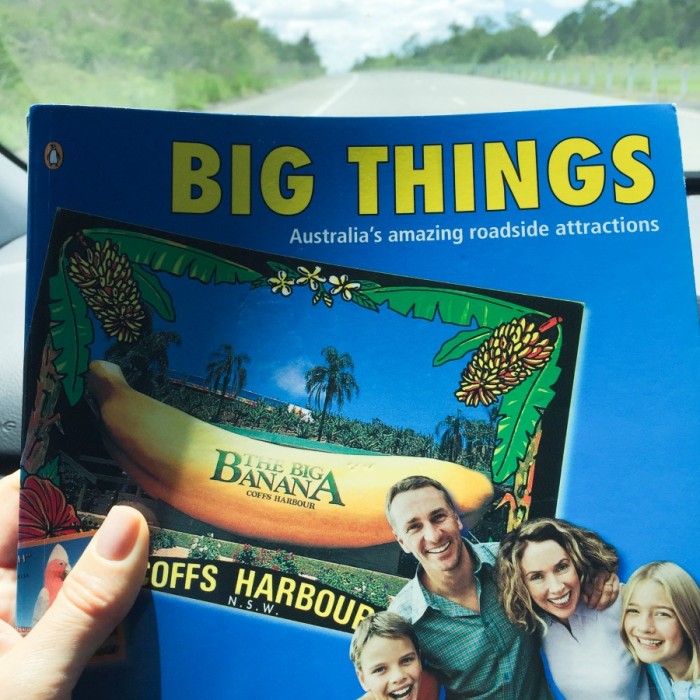 For those not in the know, Big Things are oversized roadside attractions (usually in hard to find places.) Big Things are always artificially made and they are much bigger than the real thing they represent. In the halcyon days when I backpacked around Australia, I saw a fair few Big Things, including the Big Pineapple, the Big Shell and the Big Captain Cook to name but a few, but I was always hungry for more.
Big Things are quite divisive. People either love them or hate them. Clearly, I fall into the Camp of Love and my dream is to travel around Australia and see all the Big Things in their splendour and glory. True story.
It's almost impossible to drive between two Australian cities or on a highway without a Big Things encounter but clearly we don't get out that much and in recent years, I've endured a Big Things dry spell. However, that all changed on our recent road trip from Sydney to Surfers and back again. It was a veritable Big Things fest.
If you're taking a trip up the East Coast you're in for a big treat – here's six Big Things you can see if you drive from Sydney to Surfers.
1. The Big Oyster, Taree
We took a detour to the country town of Taree to get a peek at the giant crustacean that is the Big Oyster. It's a bit out of town and it's a shell of it's former self, now that it's home to a car dealership.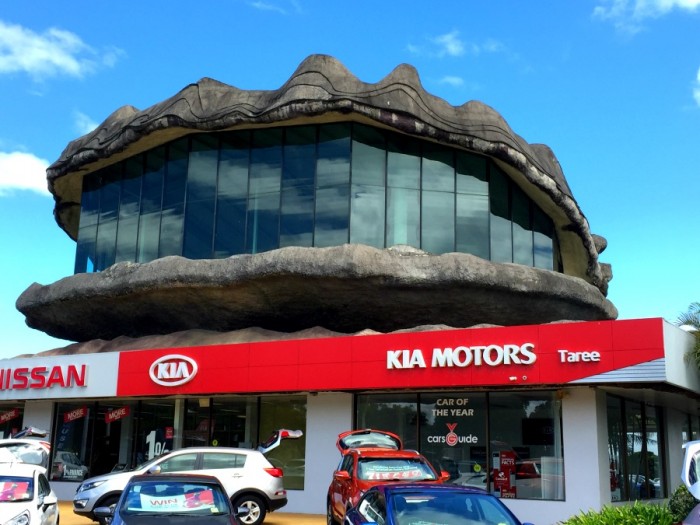 Apparently, it took 3 months to construct the 20 metre high, 27 metre wide, 20 metre long beast which was unveiled in 1990. It's glory days were short lived as the tourist attraction closed in 1995 but the garage has been in business since 2000 and although you can't buy any oysteresque souvenirs, you can still snap your selfie!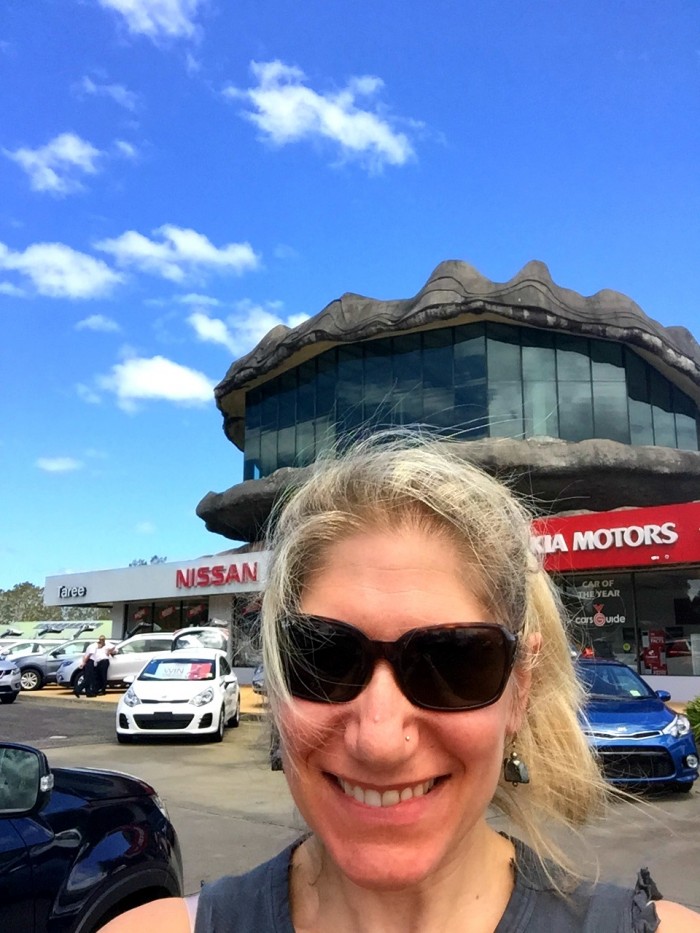 The Big Oyster is located at the Ford Garage, Manning River Drive, Taree North – about a 5 minute drive out of town.
2. The Big Banana, Coffs Harbour
The Big Banana was the first and is probably the best-known of all the Australian Big Things and has attracted millions of tourists since it opened for business in 1964. I'm proud to say I'm now one of them!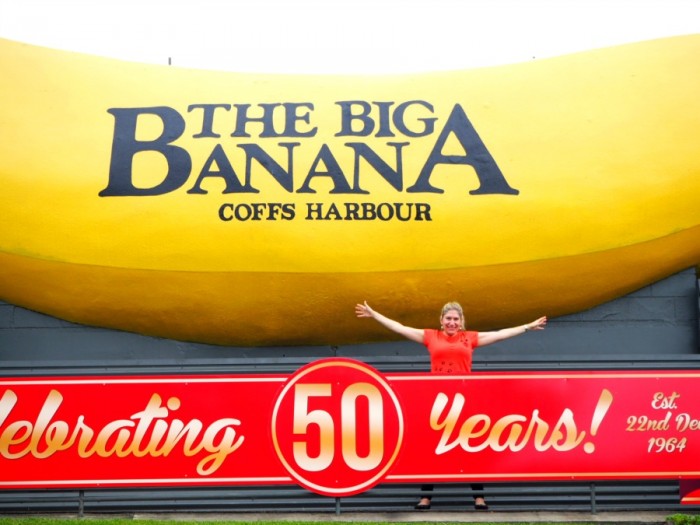 The Big Banana is one of the most photographed objects in Australia and measures in at a tidy 13 metres long, 5 metres high and 2.4 metres wide. The Big Banana is a destination in itself with all manner of rides and attractions, but I just wanted to snap and go. You know a Big Thing is really big when it has it's own website.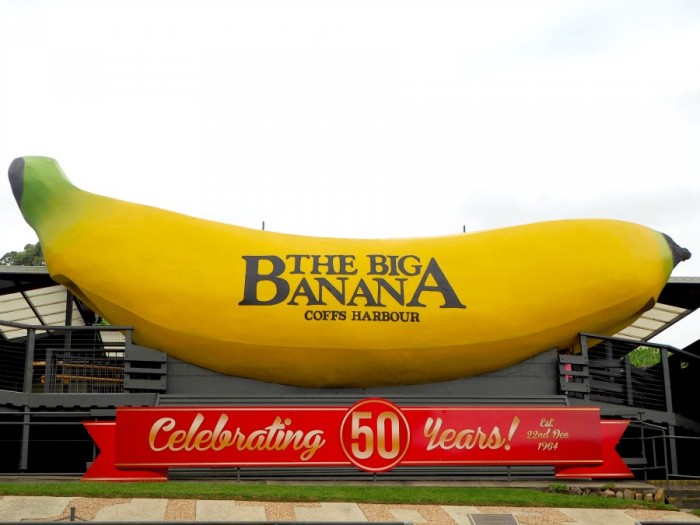 The Big Banana is located on the western side of the Pacific Highway, 3 kilometres north of Coffs Harbour.
3. The Big Axe, Kew
Kew was famous for it's timber industry back in the day so the Big Axe was a no brainer. Unfortunately, the handle of the original axe was devoured by white ants, so the axe head was restored, a new handle was shaped and the new axe was unveiled in 2002.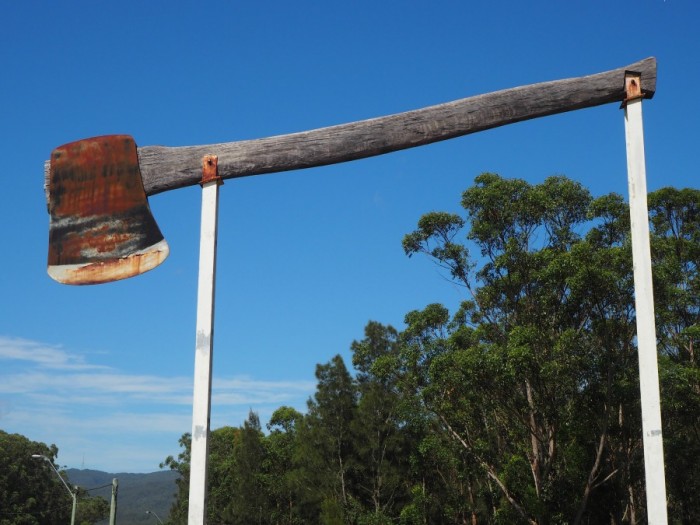 The new handle is a tad smaller than the original, measuring up at a tidy eight metres but as axes go, it's a lot more than I can handle!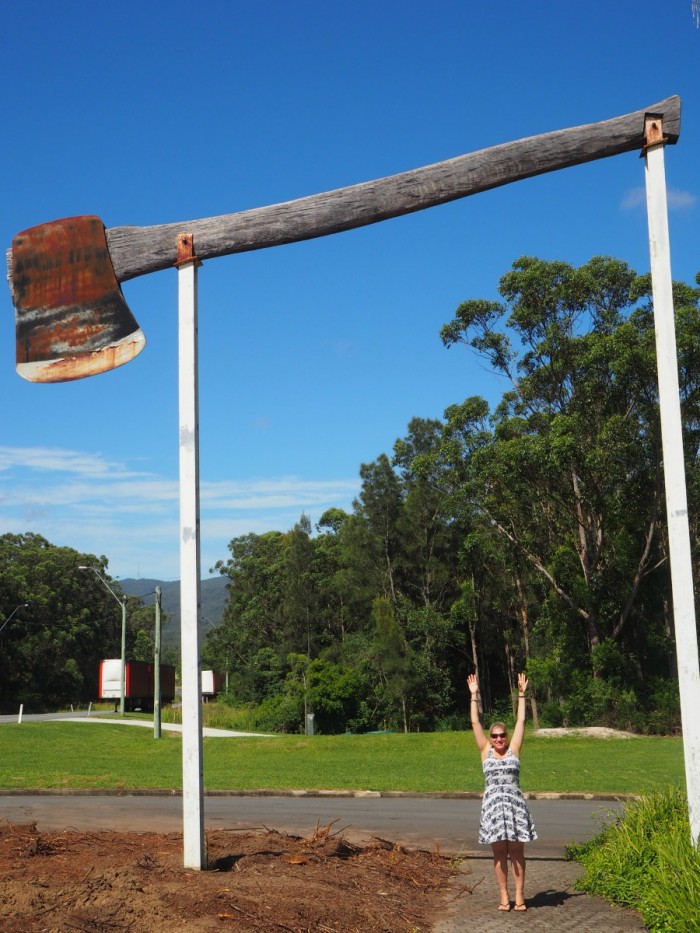 The Big Axe is located outside the Kew Visitors' Information Centre, just off the Pacific Highway on Nancy Bird Walton Drive, Kew.
4. The Big Bowling Ball, Lake Cathie
The Big Bowling Ball at Lake Cathie Bowling Club has been bowling everyone over since 1975. The ball is definitely on the large side with a circumference of 5.983 metres and it tips the scales at 2 tonnes. Wowzers!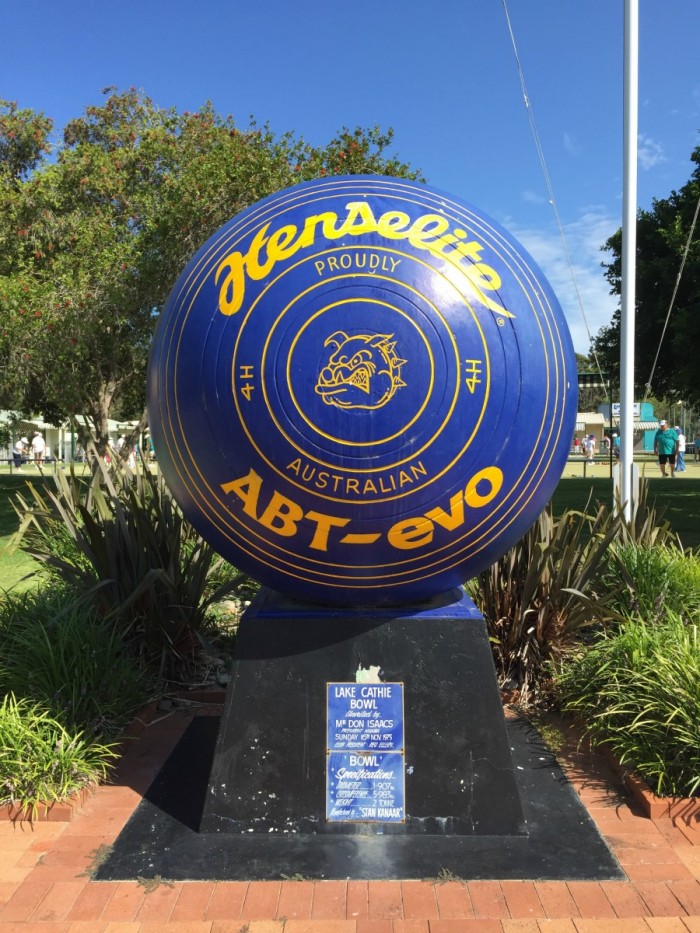 I'm pleased to say the Big Bowl and the Bowling Club are still going strong!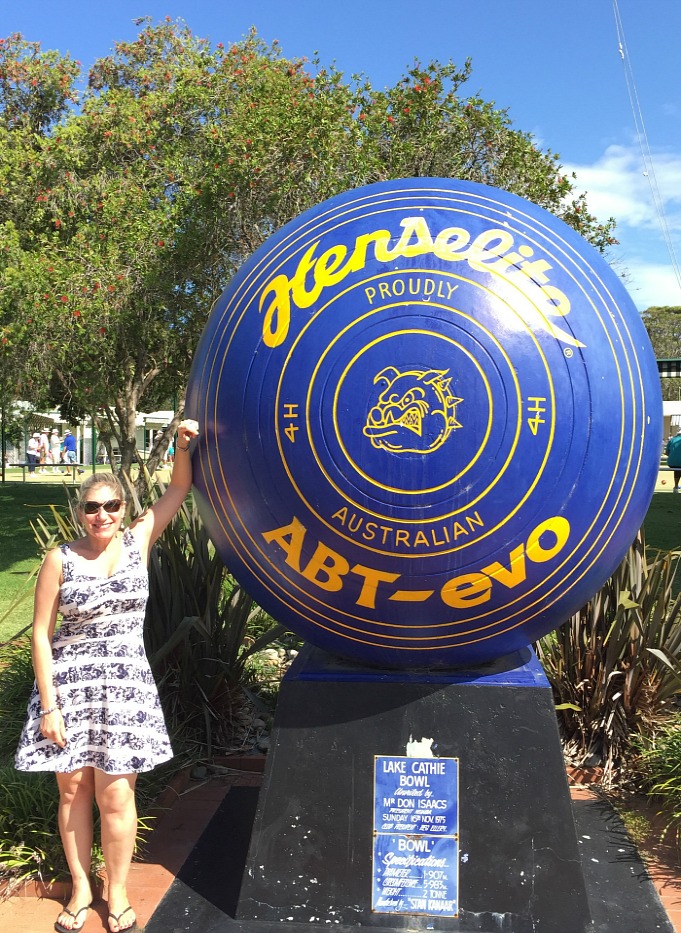 The Big Bowl is located outside the Lake Cathie Bowling Club, 45 Evans Street (corner of Ocean Drive) Lake Cathie
5. The Big Prawn, Ballina
The last time I visited the Big Prawn was in 2004. It's one of my all time favourite Big Things because it ticks all the boxes; it's big, it's tacky and pays tribute to local industry. (If you're feeling a bit peckish, you can pop across the road for your own catch of the day from one of the seafood stores.)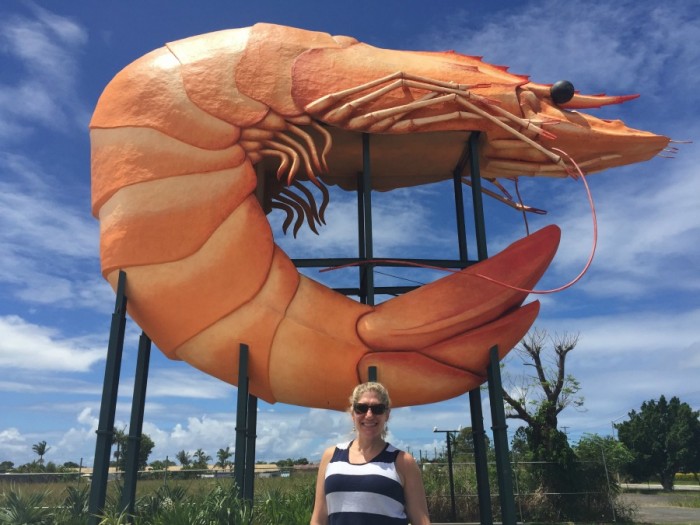 I couldn't find the circa (pre-digital) 2004 pic so here's a more up to date version!
Old prawnie has had an extreme makeover since my last visit and is looking very fresh indeed,  as it should for $400,000. Yes siree, that's how much it cost Bunnings to give the Big Prawn it's much needed nip and tuck! The new look prawn was unveiled in 2013 and standing 9 metres tall and weighing in at 35 tonnes, I'm sure you'll agree, it's still king of the crustaceans!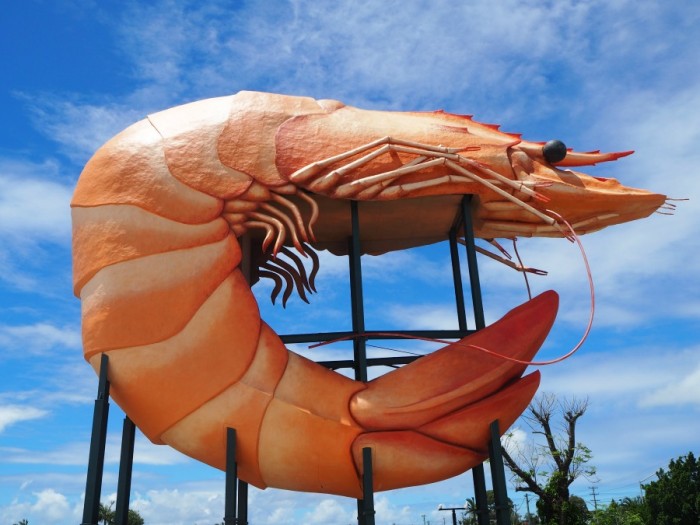 The Big Prawn is located on the Ballina Bunnings Reserve, 507 River Street, Ballina
6. The Big Avocado, Duranbah
The Big Avo has been on my must see list for quite some time and I wasn't disappointed. The 6 metre high fibreglass Avocado has been adorning the entrance of Tropical Fruit World since 1983.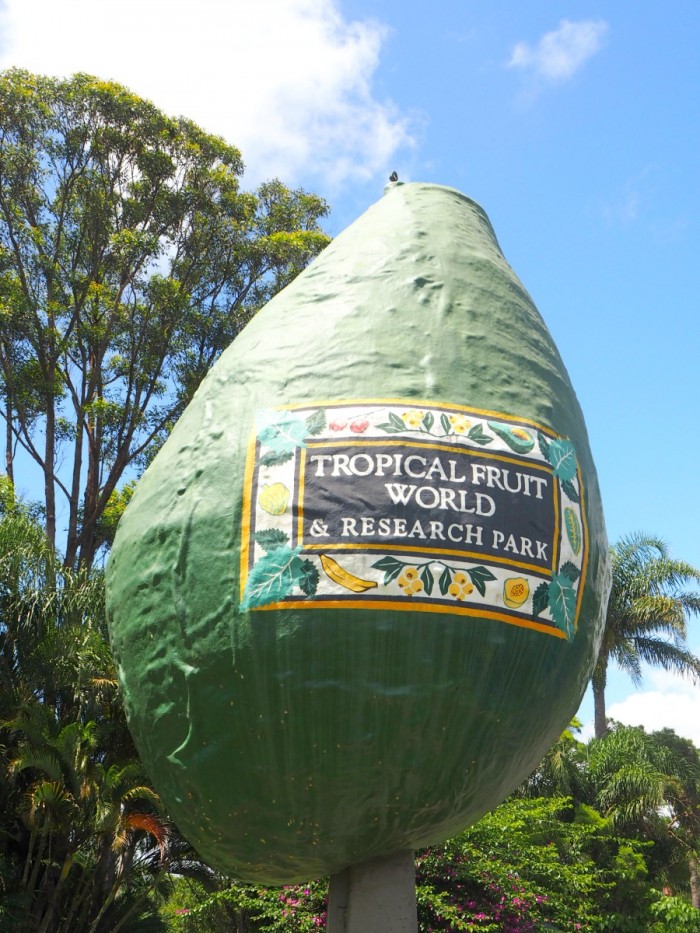 It would seem that the Big Avocado, like the Big Banana is a destination itself. It seems that you need at least a whole day to navigate the wonder that is Tropical Fruit World, with it's miniature train rides, jungle boat cruise, gardens and many other fun things to see and do. You can find out what's what and what's where on the website.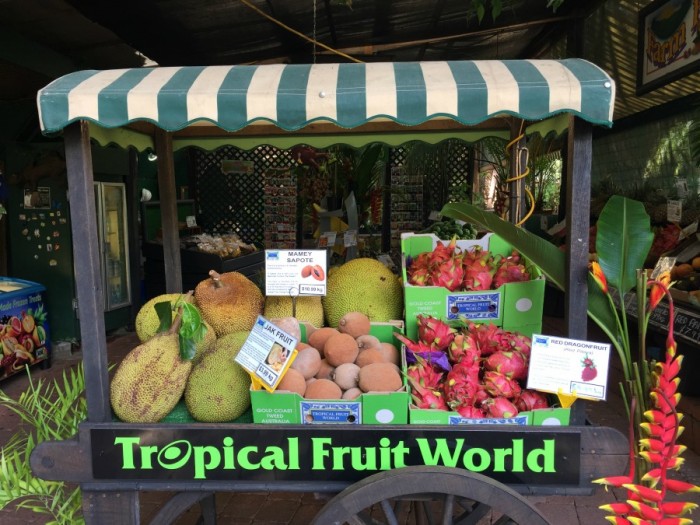 Of course, I couldn't stay long, I only had eyes for the Big Avocado before I was off to the next big thing.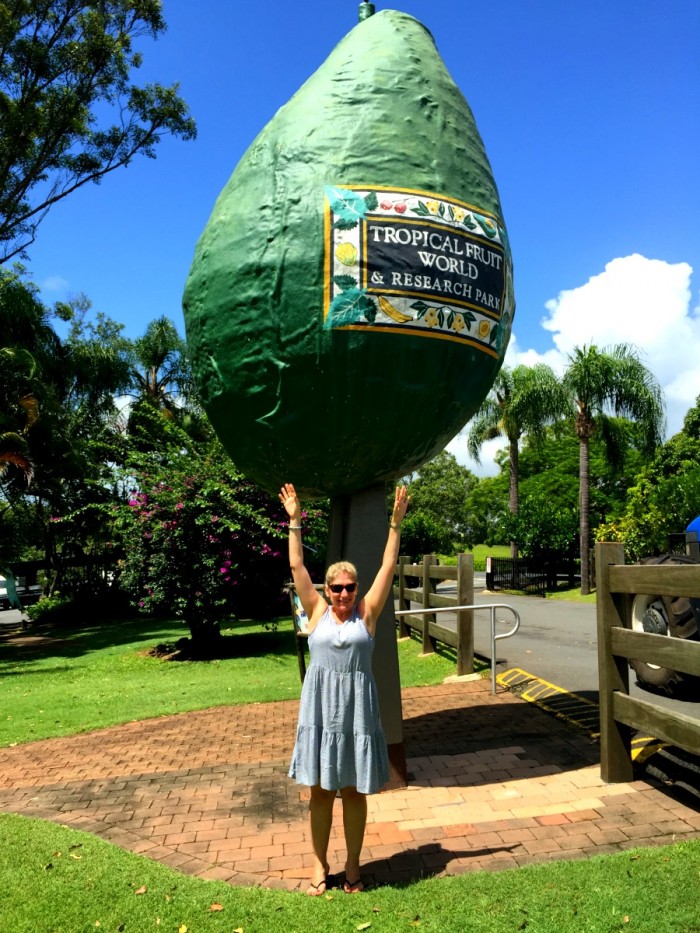 I love road tripping. It's quite the big adventure!
Big Things – do you love them or hate them? What Big Things have you spotted on your adventures? Got any top tips for my next Big Thing?
* Some of the links in this post are affiliate links. If you click to buy the item, I make a little commission but you don't pay any extra.