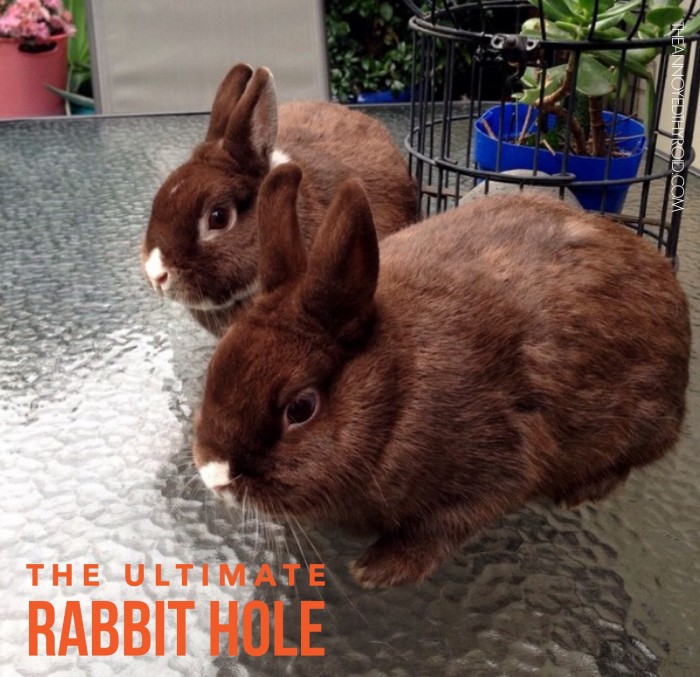 Hello friends! I hope your week was jam packed with awesome. Now, before we get stuck into my best of the web, can we just take a minute to appreciate the HCF (High Cute Factor) of these bunnies. Not only do Bowie Bonbon (front) and Lord Carrot (back) have the best bunny names in the business, they're also famous furry friends, because they belong to Kimbalikes, Queen of Style!
Now, I don't know about your neck of the woods but winter has seriously set in Sydney side. As much as I love summer, I think my heart belongs to winter, because… Frozen, beanies, Christmas in July and  pies to name but a few plus it's just so good for your wellbeing.
Of course, another reason I love winter is because it's slow cooker season. These 20 wholefood recipes will keep my slow cooker busy and my belly full for the foreseeable future.
Remember how I got my knickers in a knot last week about the free range eggs that weren't free range, more like close range? It was all so confusing but not now that I've found this guide on how to choose ethical eggs. It's eggcellent, I tell you!
I'm addicted to kitchen gadgets. Our cupboards are full of them. I had sworn off buying anymore, but that was until I saw the nutella filled donut holes.  Of course,  now I totally need a cake pop maker in my life, because nutella + donuts = happy.
Talking of happy, I wondered if I was trying too hard. This article is totally worth the read but if you're short on time, fast forward to the infographic at the end to get the gist.
Rather than being  try-hard happy people, perhaps the secret to happiness is  to focus on the 3 C's – connection, community and compassion. Huzzah for positive psychology!
I was a little distressed to find out on Wednesday that Tuesday was National Fudge Day. And I missed it. However, in my humble opinion, it's always a good day to eat fudge and I shall be whipping up a batch of my speciality a la maison this weekend. Here's the recipe if you need it. I know Matt Preston dismissed the  Thermomix as little more than an expensive blender this week, but clearly, he has never tasted my fudge. If he had, he would totally be bowing down to his overrated kitchen appliance!
I can't believe I waited a year for the return of Game of Thrones and now it's over. Already. It's all about the boobs and battles and Jon Snow. Praise be to Shannon who linked up last week with this gem which I love so much, I have to re-share. It is pure gold. Just for the record, Cereal Guy is my favourite. Who's yours?
If you could choose a national food day, what would it be? (Mine would be National Dumpling Day -obvs!) Are you a Game of Thrones tragic too? Are you a winter or a summer person? What are the must have pieces of equipment in your kitchen? 
Here's how  The Ultimate Rabbit Hole works:
Every Saturday morning, we will open up the rabbit hole link up for bloggers to add their link list posts or even just their favourite post (if you are not of the link list kind) for the week.  Do try and pop along to say howdee to some of  the other lovely linkers. Link up here, over at Calm to Conniption, A Little Part of the World or My2Morrows. It doesn't matter where you add your link because it will appear on all four blogs, as if by magic!  The link up will stay open until midnight the following Monday.
Be a smarty and join this linky party!
Loading InLinkz ...