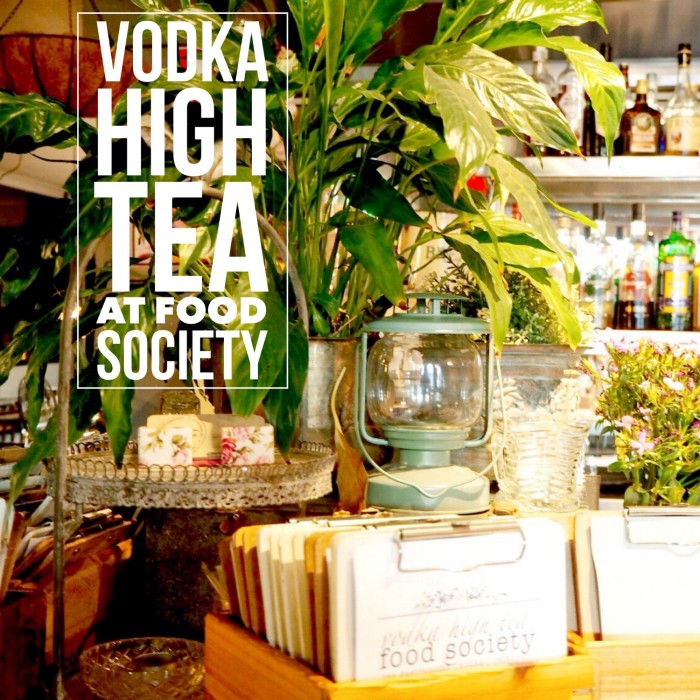 It's no secret how much I love high tea. I would have high tea for breakfast, lunch and supper, if only my waistline would allow it. Moreover, high tea can be an eye opener as much a mouth opener, like that one time I learned a life lesson from a cucumber sandwich.
So I was pretty excited to discover the Vodka High Tea at Food Society which combines my love of tea, canapes, cake and cocktails, because who wouldn't want to try a veritable "degustation of tea gastronomy"?
Food Society looks surprisingly unassuming from the outside, tucked away in a corner of Sydney's Darlinghurst, but venture inside and it's a cross between an Aladdin's Cave of all things vintage and your granny's living room, only with an extremely well stocked bar.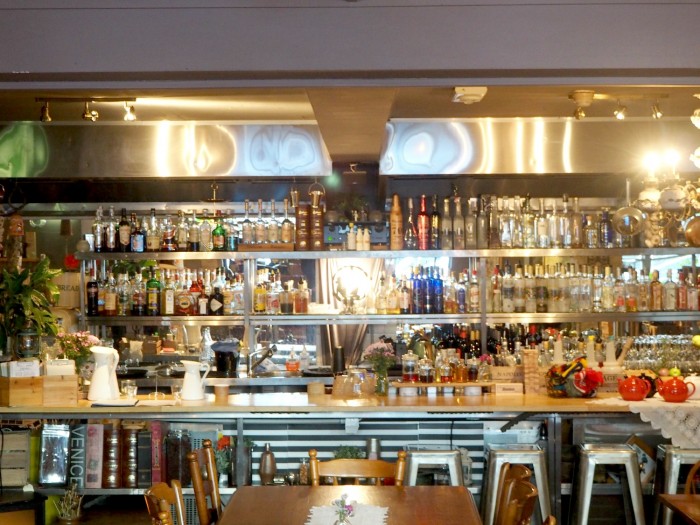 Nothing matches, not the tables nor the chairs, not the plates nor the bowls, not the cups nor the saucers, and that's just what gives this place it's charm.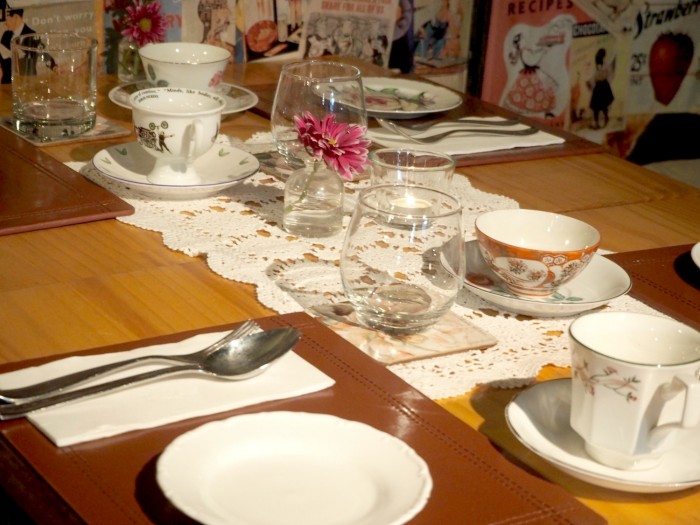 So the Food Society High Tea is a food festival of three parts; savoury canapes, sandwiches and sweets and the only thing old skool about it, is the crockery on which it is served. This is high tea with a 2015 twist.
If you prefer you high tea to be tee total, that's just dandy, you'll be spoilt for choice with the wide selection of premium single origin teas, each served in an old skool teapot with a tea cosy your granny would be proud of.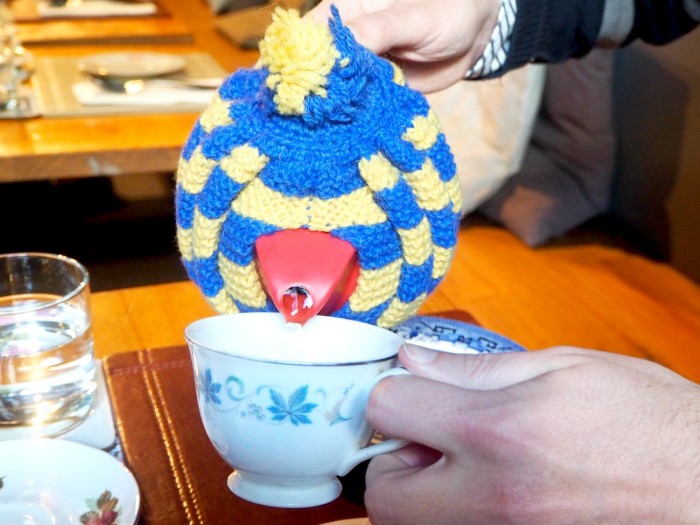 The only problem we had with the long list of signature vodka iced tea cocktails was deciding which one to choose.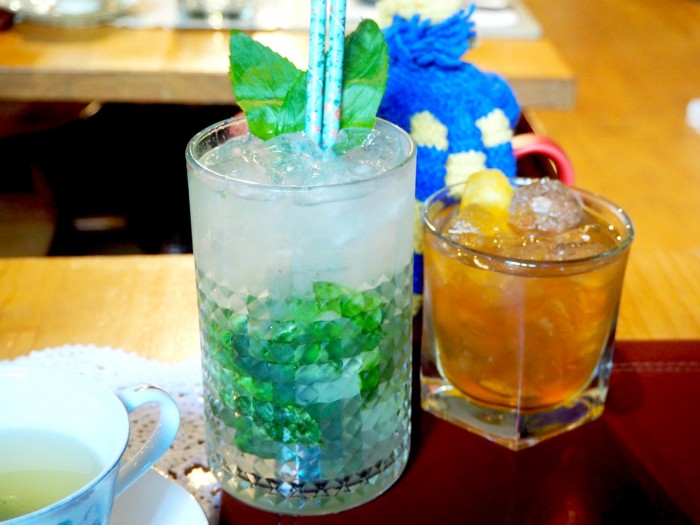 In the end, I went for the Russian Mule and David tried the Old Fashioned Ginger. Both were refreshing and delicious.
If cocktails aren't your thing and you're more of a purist, you might prefer the "vodka sippers" of which you can enjoy four per person throughout the tea experience.
I am so bad at making decisions, it took me almost forever to decide on the cocktail, so I was relieved that we didn't have to choose the tea too. As if by magic, a pot was delivered to our table and when it was empty, it was replaced with a new pot and a fresh flavour. We tried Green Rose, Apple Crumble but they saved the best for last, with the  Strawberry and Cream which was our far and away favourite.
We couldn't wait to get stuck into the warm canapes. First up, was the warm goat's cheese tartlet with goat's cheese, pine nuts and mint, baked and topped with caramelised fennel. There's so much to love about the creaminess of the goat's cheese with the fresh tanginess of the fennel.
The duck vol-au-vent with confit duck, pan fried chanaterelles and chestnut cream was much richer but equally delicious and took the humble vol-au-vent to a whole new level.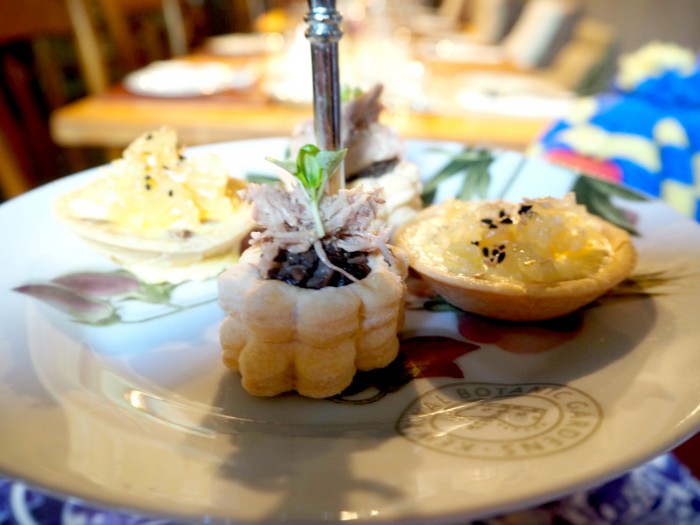 I was too busy feasting to get a good shot of the lower tier of the tea stand in it's entirety but here's the standout salmon pastrami – green tea smoked Tasmanian salmon pastrami, pure chamomile flower jelly, shiso and seablite leaves with celeraic cream on truffle salt toast.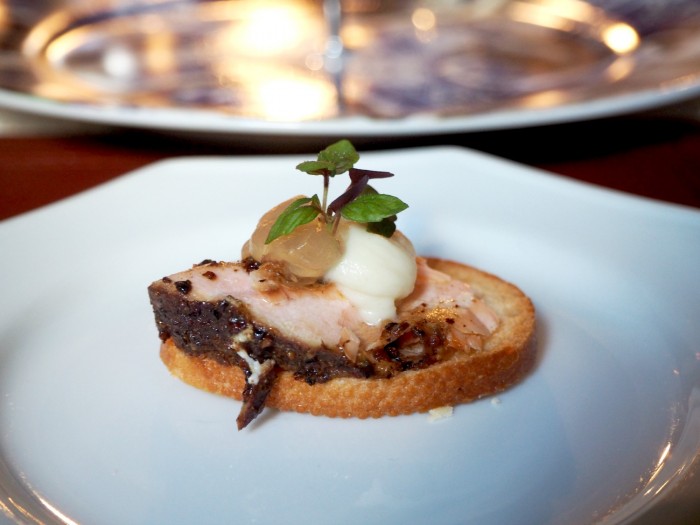 It was quite the mini masterpiece. We didn't just love the way the flavours worked so well together, we loved the variety of the textures; the crunch of the toast, the velvety smoothness of the cream and the cooling of the jelly.
There was also a feta and ricotta triangle which was so good, I ate it before I took a picture of it.
In between savoury courses, we got to try a new concoction. The thing I love about this place is that they don't sit on their laurels. It's not just the food that is fresh, the ideas are too. This is a vodka/dessert/cocktail idea that's brewing right now. We were guinea pigs for this latest creation; vodka steeped in Apple Crumble Tea and then mixed with some caramel vodka. It's sublime, I tell you with rich, caramelly undertones. It was ridiculously easy to drink and reminded me of something I'd love to drink after dinner. It is like vodka's answer to port and it's seriously good. Fingers crossed it makes it on to the menu, because I'd love another shot at it! (Excuse the pun!)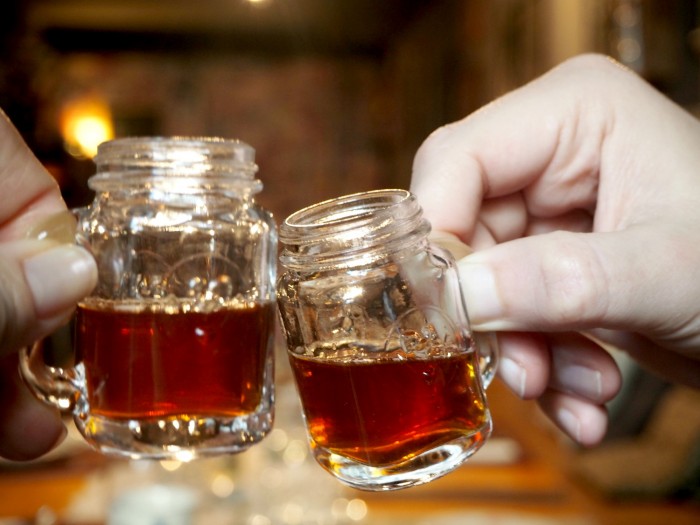 I know we're almost Australian but when it comes to sandwiches we're still quintessentially English. The cucumber sandwich ticked all the boxes; triple decker, loaded with cream cheese, slithers of cucumber and topped with salmon caviar.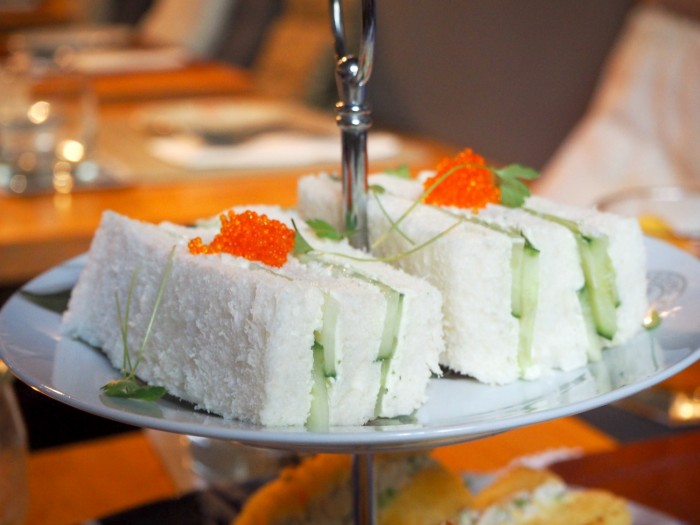 It was love at first bite with the char grilled brioche sandwich which was generously filled with house smoked chicken in a duck egg hollandaise.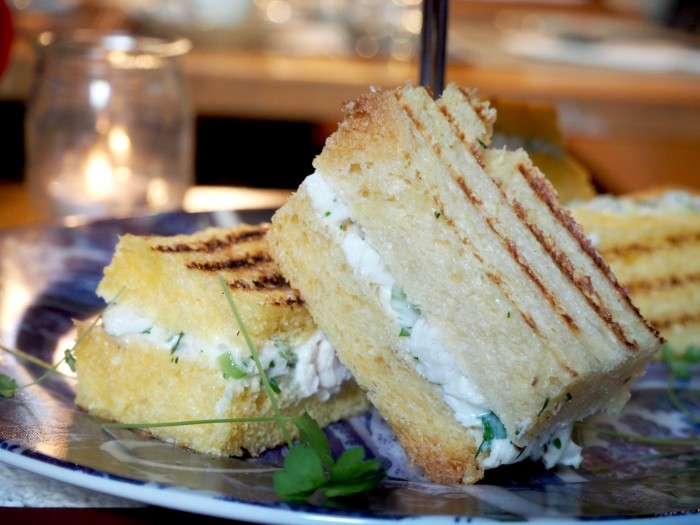 I don't have a sweet tooth, I have a mouthful of sweet teeth so I was eagerly awaiting the desserts. The problem with some high teas is that the desserts are just too rich and/or sweet but that's not the case at Food Society.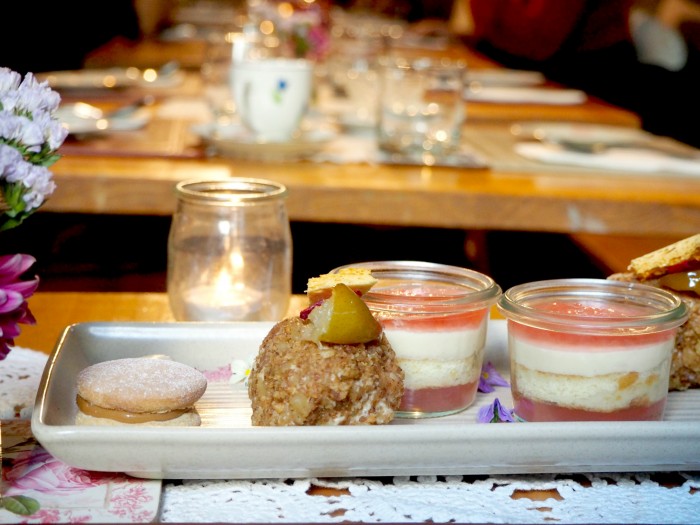 The sweet tea trifle with the rhubarb jelly, pomegranate and acai custard and vanilla sponge is light as a feather and that rhubarb jelly is positively palate cleansing. Plus it looks as pretty as a picture.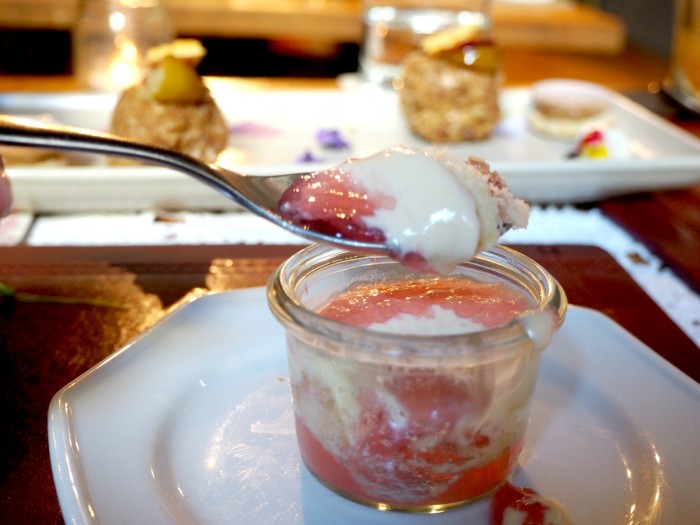 My grandparents and great grandparents came from all over Eastern Europe so I have much Eastern European in me but do you know what? I am happiest when I have Eastern European in my belly! Especially when it looks as good as this Czech Style Honey Cake. The honey cakes I've eaten, known and loved have always been rich, dark, dense affairs but the Food Society version was the light fantastic.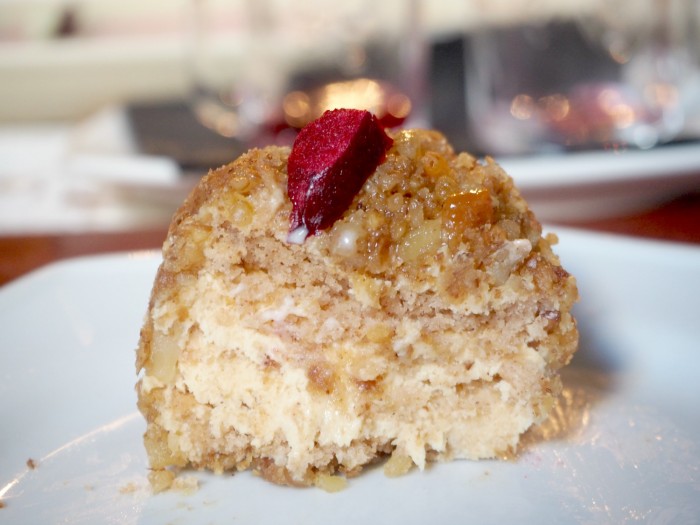 Would you look at those layers of light honey cake sandwiched between salted caramel cream? Let's  not forget the caramelised pear and house made honeycomb, it's the tops! This is a cakegasm on a plate, I tell you!
During dessert, we got to try this, it's actually strawberries and cream tea infused vodka which I'm going to call Berry Nectar and it's totally berry-licious.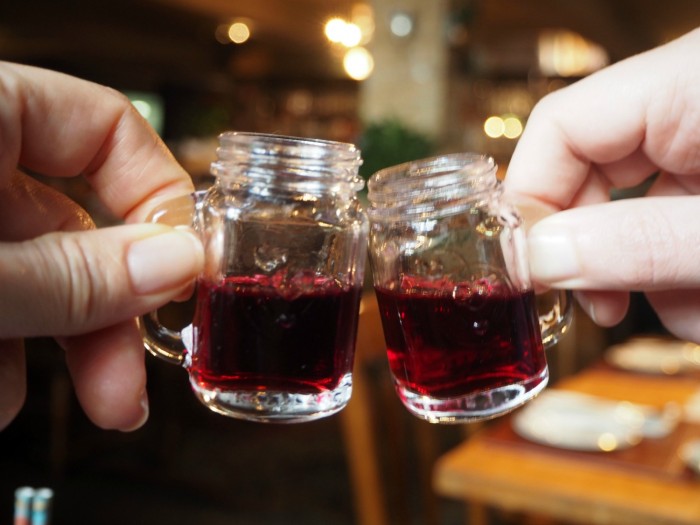 And let's not forget the "alfajores" (shortbread biscuits) which are sandwiched together with dulce de leche and are seriously good.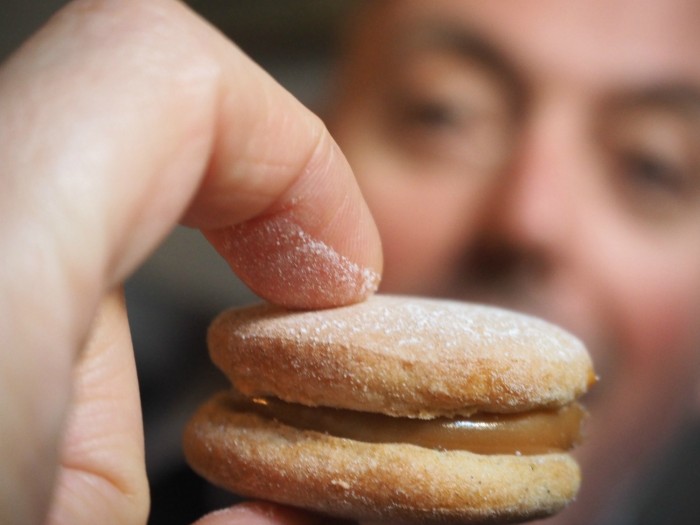 We've eaten a lot of high teas but this is far and away one of our favourites and I promise you with or without the booze, this is a real tea time treat. It's a wonderful way to celebrate birthdays, baby showers, hen parties or simply Satur-yay!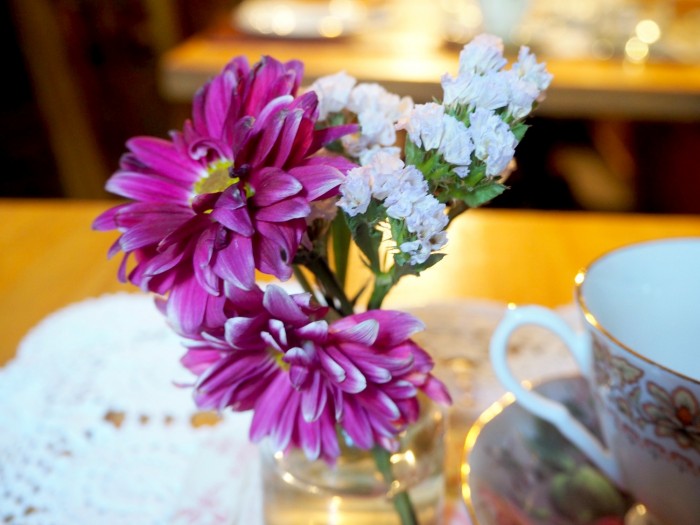 In fact, as we were leaving we checked out the dinner menu which looks uber-appetising. I see a return visit to Food Society in my future, if not for tea, then definitely for dinner.
Have you ever been to Food Society? Are you a high tea lover too? Do you have a favourite tea? What's the one thing you can't resist; canapes, sangas or sweet treats?
Where: Lower Ground Floor, 91 Riley Street, Darlinghurst, Sydney, NSW 2010
When:  Saturdays from 1.00 – 4.30 (bookings essential)
Prices: Canape degustation $45 per person
Canape degustation and one signature vodka iced tea cocktail $60 per person
Canape degustation and four vodka iced tea sippers $70 per person
Bookings:  vodkahightea@foodsociety.com.au
We enjoyed vodka high tea as guests of Food Society but all opinions are of course, my own (and David's).