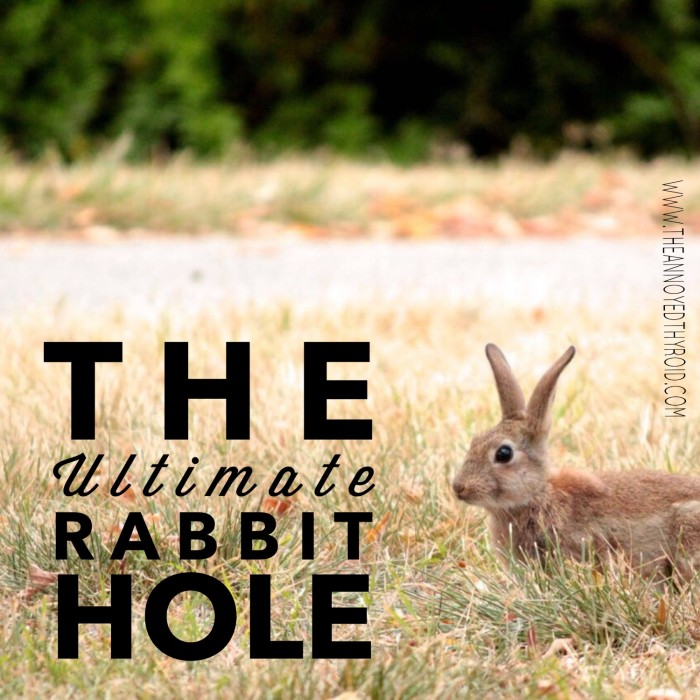 Hello friends! How was your week that was? This week has been full of busy of the best kind; the Christmas tree is up, David's birthday cake is done and dusted and the good times are still rolling!
First off let me say "cheers my dear,"  to the lovely Lauren, for sharing this picture of such a beautiful bunny running wild and free around Canberra. It's a cracking capture, isn't it? Lauren's writing is as brilliant as her photography, only even more so. Be sure to pop on over for some belly laughs!
I can't believe I am leaving for the UK on Monday. Eeeep! David will be home alone and the freezer is jam packed with 3 weeks of freezer dinners because contrary to popular (ie, my husband's) opinion, man cannot live on cheese on toast alone. The more I fly, the more I hate it, especially when I'm on my own and especially when it's a long flight. I'm going to be all over these tips for nervous flyers but I got some happy pills from the doctor, just in case.
When David and I met, I was planning to live out the rest of my days down under and he was applying for  a visa to do the same in Canada. It's a country that will always have a special place in my heart, because some of my favourite people call it home and…  because maple syrup. I've never been to Canada but it is totally top of my places to go. July 1st is Canada Day, if you celebrated, I hope your day was as sweet as maple syrup and as delicious as poutine. Have you ever had poutine? It's basically french fries smothered in gravy and cheese curds, so like chips and gravy taken to a whole new level. I had it once, and I've been salivating about it ever since. And be still my beating heart (and hardening arteries,) because here is poutine 10 ways!
And now it's America's turn to put it's party pants on! Happy 4th July y'all! I love peanut butter and I love jam but only started loving them together as an adult. I totes need to go back to Disneyland just so I can try the Peanut Butter and Jelly Pizza but in the meantime I'm just going to drool over these Peanut Butter and Jam Donuts.
Now let's balance out the poutine and donut combo out with something a little more healthy, shall we? How about some Brussel  Sprouts? They're such a divisive vegetable aren't they? I think you love them or hate them. In our house, I love them and David hates them, but I think I could turn him with some of these recipes. They look positively sprout-tastic!
Now I know I'm jetting off to warmer climes and all, but my peeps in the southern hemisphere will still be chill, so yes, you guessed it here are 10 of the best slow cooker meals, because a week can't go by with a slow cooker link.
I'm usually pretty well organised for a big trip but this time I am totes last minute lady. I'm hoping I can get to the nail bar this weekend and I have all the mani-inspiration I need right here.
I am forever taking photos with my phone and I'm forever running out of storage, so I'm going to go on holiday with a "clean slate" and I'll be checking out these iphone storage hacks for sure. This could be a game changer. "Storage Almost Full" notifications be gone!
Did you hear about the tragic demise of the spearmint leaves and green frogs? If I'm honest, I can take or leave the green frogs, but the spearmint leaves, they're quintessentially Christmas! Christmas just isn't Christmas without spearmint leaves. And don't get me started on the killer pythons. They're more like shrinking pythons now that they have been reduced to almost half their size! This sweet news  has just left me with a very sour taste in my mouth!
I would hate to end this post on a sour note, so I'm going to leave you with something sweet. There has been much talk on the interwebs this week about gay marriage. Lots of people are getting their knickers in a knot wondering how to explain this to their kids, but maybe we've got it all wrong, maybe it's the  the kids who should be explaining  to the grown ups.
That's it from me this week, folks! Flying – does it give you wings or the jitters? Is your iphone full to the brim too? What's your favourite nail colour? And as for those sprouts, are they in or are they out? 
Here's how  The Ultimate Rabbit Hole works:
Every Saturday morning, we will open up the rabbit hole link up for bloggers to add their link list posts or even just their favourite post (if you are not of the link list kind) for the week.  Do try and pop along to say howdee to some of  the other lovely linkers. Link up here, over at Calm to Conniption, A Little Part of the World or My2Morrows. It doesn't matter where you add your link because it will appear on all four blogs, as if by magic!  The link up will stay open until midnight the following Monday.
Be a smarty and join this linky party!
Loading InLinkz ...