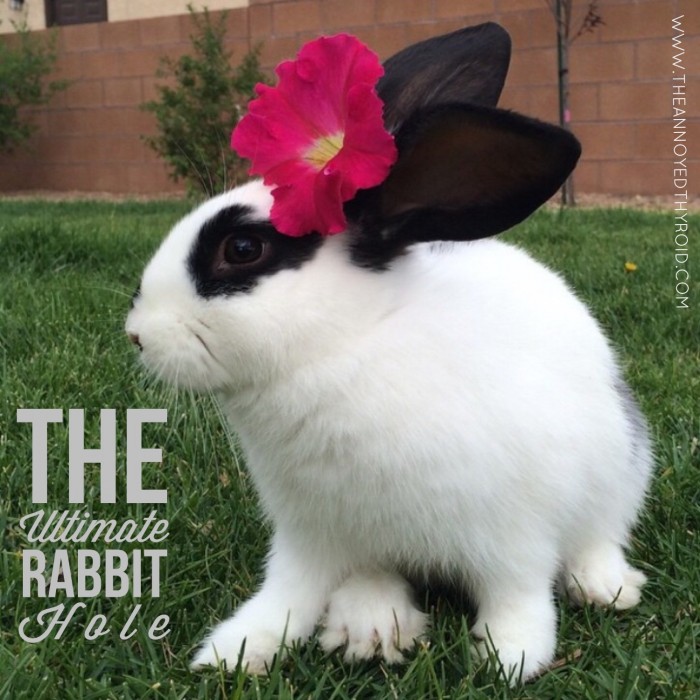 Howdee partners! Happy Weekend! Are you having fun yet? Can you believe the Ultimate Rabbit Hole hits the big Three-Oh today? Oreo Bunny is wearing a festive flower in honour of the occasion, bless her little furry paws. I'm pretty excited, because I'll  finally be able to meet my trusty co-pilots in person at the ProBlogger Conference next week, and together we'll raise a glass to more Rabbit Hole adventures.
The interwebs has been so full of good stuff, it's hard to know where to start! I know! How about with purpose? Because everyone needs a purpose. I know that because they sang about it in Avenue Q. If you're not sure where to look, here's some top tips on how to find your passion and purpose in life.
I can't believe this time two weeks ago, I had just arrived back from holiday. After spending last week with my old friends Jet and Lag, and this week with my new friends, Cold and Cough, I'm desperately seeking a way to beat those post vacation blues.
So for a minute there, I was going to apologise for drowning in my own self pity but then I remembered I am trying not to say sorry, or at least not say sorry as much, because, look, there's a whole list of things we need to stop apologising for. Maybe it's because I'm British, but I am a serial sorry sayer. In fact, if I had a pound for every time I'd said sorry, I'd probably be as rich as Richard Branson by now!
Talking of Richard Branson, he's a wise old soul and his tips for happiness are sure to give you wings!
Wellbeing is so important, yet it's something we so quickly neglect. Here are 5 things you need to stop doing to improve your wellbeing. I'm a bit guilty of all five. These are hard habits to break.
If we hadn't set the world to right's over a few dozen dumplings with Mr and Mrs Romance the other night, I wouldn't have know that August is the month of Romance Awareness. Oh, I just love love and I also love these 7 ways to be romantic from Mr and Mrs, who are romance in name and romance by nature!
While we're on the subject of special dates, 3 August is National Watermelon Day and what better way to have a belated celebration than with (what must surely be) the World's Cutest Watermelon Cupcakes  or if you want to release your inner Masterchef, how about this cake based on the Black Star Pastry legendary bake of the same name.
I am a sucker for a kitchen gadget, and always have been. I bought a popcorn machine so long ago that I forgot I had it, but recently it's been making a bit of a kitchen comeback. As it goes, I'm a bit of a popcorn purist and just inhale my popcorn au naturel. At least I did eat my popcorn plain, but then I saw this. Salted Caramel Popcorn for the win!
And because it's still cold, and because I'm always hungry when it's cold, and because I share a love of both slow cookers and sweet stuff, here's some slow cooker recipes to satisfy the sweetest of teeth.
Well, that's about me done and dusted for this week, peeps. Have you got any secret tricks and cunning plans this weekend? Have you found your purpose? Are you a serial sorry sayer too? What's your top tip for happiness? Oh, and one last thing, thanks for joining me, Karin, Jess and Shannon on all our Rabbit Hole adventures. Without you it would be nothing!
Every Saturday morning, we will open up the rabbit hole link up for bloggers to add their link list posts or even just their favourite post (if you are not of the link list kind) for the week.  Do try and pop along to say howdee to some of  the other lovely linkers. Link up here, over at Calm to Conniption, A Little Part of the World or My2Morrows. It doesn't matter where you add your link because it will appear on all four blogs, as if by magic!  The link up will stay open until midnight the following Monday.
Be a smarty and join this linky party!
Loading InLinkz ...