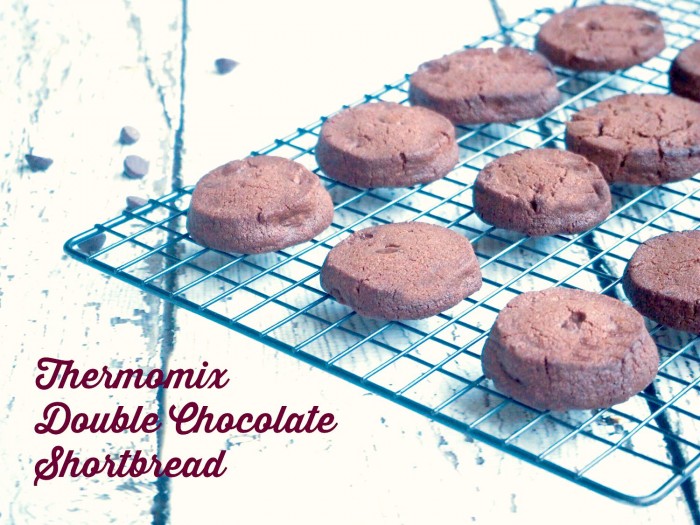 Makes 24
I first made these biscuits in the days before my Thermomix and you can find the original recipe here. With only five ingredients, they're super easy to make yet deliciously good to eat!
Ingredients
200g plain flour
20g cocoa powder
75g raw sugar
175g butter, at room temperature
190g combination of milk and dark choc bits
How to
Mill sugar for 10 seconds  on speed 9.
Add butter, flour, and cocoa to TM bowl. Mix for 10 seconds on speed 10.
Add the chocolate chips and, set the TM to the closed lid position and combine for 1 minute  on interval speed.
Use a spatula to remove the mixture from the TM bowl. Then using hands, bring the mixture together to form a dough on a lightly floured work surface.
Divide the  dough into two equal portions. Shape each portion into a log 5cm in diameter. Wrap in plastic wrap and twist  the ends to secure. Put into the fridge for 1 hour.
Preheat oven to 180C  or 160 fan. Line two baking trays with baking paper. Cut the two remaining logs into 1cm-thick slices. Place on prepared trays 3cm apart. Bake for 10-12 minutes, until lightly coloured.
Remove from the oven and cool  on trays. Serve, or store in an airtight container for up to 1 week.
Other info
Prep Time: 2 minutes  Chill: 1 hour   Cooking time: 10 minutes
TO FREEZE  The logs can be frozen at the end of step 5. Simply, label and date and freeze for up to 3 months.
HOW TO COOK Thaw logs at room temperature for 10 minutes so they are easy to cut, but still hold their shape . Continue recipe from step 2.