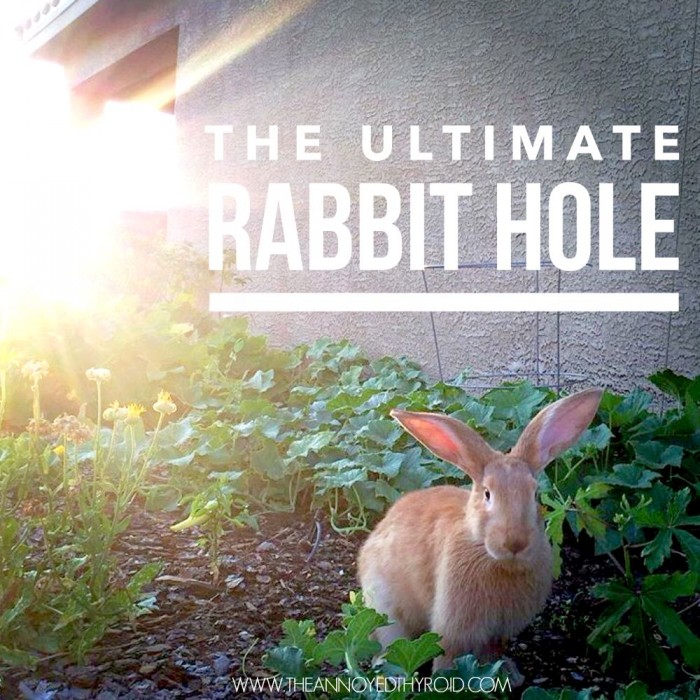 Praise be for the weekend! This one felt like it was a long time coming! I've been flat out at work and now I'm ready for some adventures down the Rabbit Hole, so just like Bubbles bunny, I hope you're all ears!
Do you ever have weekends where you feel like you're Sleeping Beauty because you could sleep for at least  100 years? Or is that just me? I for one will be trying these 9 ways to make the most of my weekend.
Sometimes I lose my mojo and I don't know where to find it. Here are some great ideas on how to get inspired and stay that way.
It's been a while inbetween blood tests and doctor's appointments, and in the joy of everyday life and the beauty of the mundane, I sometimes forget I ever had cancer. However, if you ever wanted to know what it's like and how it feels to be the person on the receiving end of a cancer diagnosis, you might want to check this out. It's beautifully and powerfully written, and there's an amazing message at the end, and it's one that I make it my business not to forget.
Talking of being inspired, how wonderful are these words from children's books. They're oldies but goodies.
So we've been Australian for just over a week and I want to make ALL the Australian things… starting with this Golden Gaytime Cake!
It's no secret that I married a fruit-o-phobe but I'm trying to turn him. Inspired by Kim from Land of Zonkt's #appleaday hashtag on Instagram, we've been having just that. Turns out the hubster loves apples after all. I love a happy ending but I don't love all that crapola they spray on the apples so  I'm definitely going to give this DIY fruit and veggies wash a go because I'd like my fruit without the side of chemicals, thanks very much!
Father's Day is fast approaching and some of my mates have been sharing their dad's (now not so) secret recipes. Be sure to check out Erin's dad's Pork Ribs, you'd be hard pressed to get more Aussie than Danielle's dad and his fantabulous Turkey and Bacon Rissoles  and let's not forget Babs' dad's Stuffing.  And for just desserts, how about Amanda's dad's Currant Pie? It's been bringing smiles to dials since 1976. True story.
Of course, being from a single parent family and being so proud of it, I've never really done Father's Day but high five to you if you've got an awesome dad and hugs for  you if you've lost one. Praise be to the single mummas too, love your work ladies!  Let's face it, there's something for everyone to celebrate, isn't there? Today is Satur-yay, tomorrow you've got Father's Day and Monday is Napoleon Day!
Shall I tell you a secret? I didn't know what a Napoleon was until I googled it, and guess what? It turns out Napoleon is just American for my favourite dessert in the world… Mille Feuille! (Pronounced Mill Foy in my Cockney-French dialect.) I've been loving on these layers of puff pastry, creme patissiere and that top layer of icing since I first went to Paris with my mum circa 1979. I can remember three things about that holiday; we got pickpocketed at the Eiffel Tower, I got so sunburnt our French host gave me a bath in vinegar (don't try that at home folks,) and I ate my first Mille Feuille. Of course, it wasn't my last! Don't be fooled by the faux feuilles, if you're going to make and bake a Mille Feuille you need it to be the real deal, something like this.
So that's it from me. I'm off to lose myself in lovely links (and dream about Mille Feuilles)… How are you going to make the most of your weekend? What do you do to stay inspired? Do you have a Classic Dad Recipe? Have you ever fallen in love with a pastry? Tell me everything!
Every Saturday morning, we will open up the rabbit hole link up for bloggers to add their link list posts or even just their favourite post (if you are not of the link list kind) for the week.  Do try and pop along to say howdee to some of  the other lovely linkers. Link up here, over at Calm to Conniption, A Little Part of the World or My2Morrows. It doesn't matter where you add your link because it will appear on all four blogs, as if by magic!  The link up will stay open until midnight the following Monday.
Be a smarty and join this linky party!
Loading InLinkz ...