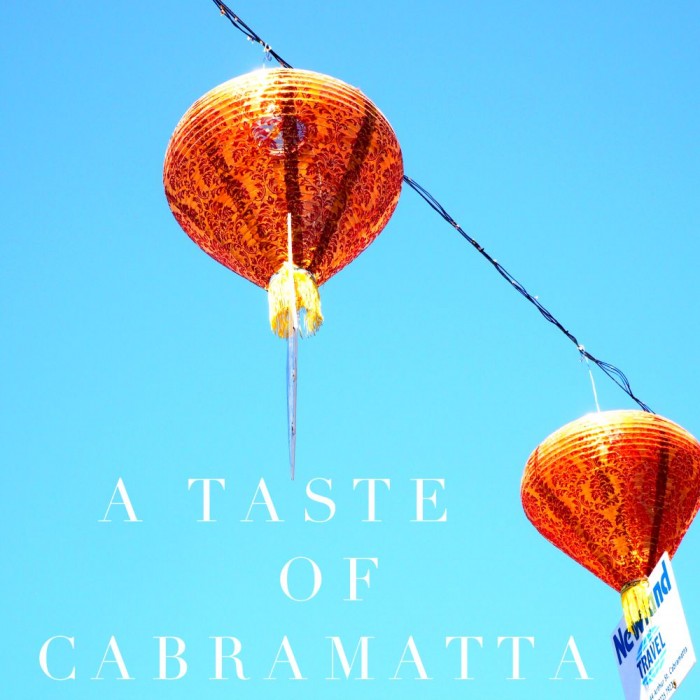 I love my hood. In fact, I love it so much that I hardly ever venture out of it. There's plenty here to keep me fit, caffeinated and well fed and watered but even so, it's always good to have a new adventure.
I love adventures. Especially when there's food involved. For me, the joy of travelling, isn't just seeing and doing all the things, it's eating all the things too.
I love South East Asian food but I've haven't been to South East Asia (yet.) But guess what? It turns out that you don't need to leave the country for authentic South East Asian food, heck, you don't even need to leave the city, you just need to head out west to Cabramatta and join a Cabramatta Signature Dish Food Crawl. The only thing I love better than a bar crawl is a food crawl. True story.
How it works is like this. Local restaurants are invited to nominate the finest on their menu and then your trusty tour guides take you to taste them. You don't have to worry about food envy, what to order, waiting for your food or whether you can get in, because everything is organised for you. A food crawl is like a degustation on the move, except you don't just get to try a variety of dishes, you get to try a variety of restaurants too.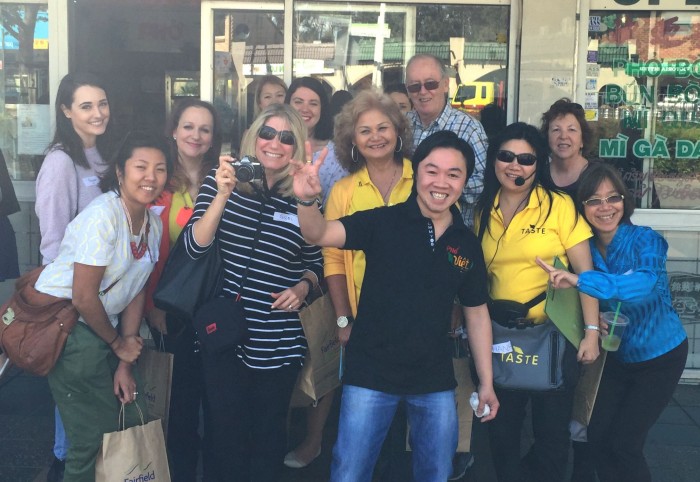 Last week, I was lucky enough to get an invite for a sneak preview of the taste tours  last week. Do you want to see what I thought, where we went and what we ate? You do? OK, I'll show you!
First stop, Vinata's Hot Bread 13/1 Hughes Street
Vinata came down under as a refugee and 26 years later she's still making some of the best Banh Mi in Sydney and it's easy to see why.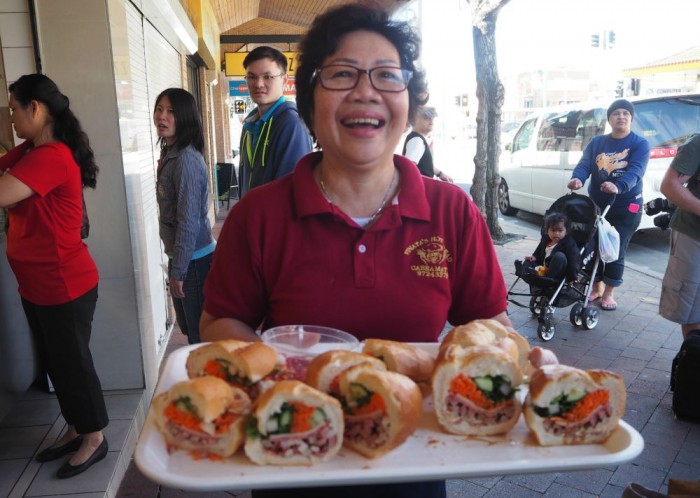 The bread roll is fresh and crusty and it's packed with meat, fresh and pickled veggies and the all important chicken liver pate, mayo and sauce are all made in house.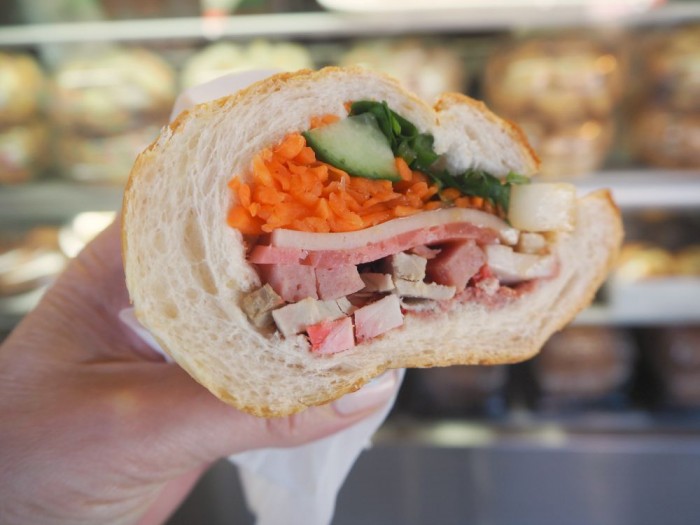 Next stop, Shikumen Shanghai, Shop 10, BKK Shopping Centre
These little babies are called Sheng Jian Bao. The dumpling dough is thicker than that of the hot soupy Xiao Long Bao, and they're pan fried in oil and water, with delicious results. The inside is hot, soupy and flavoursome.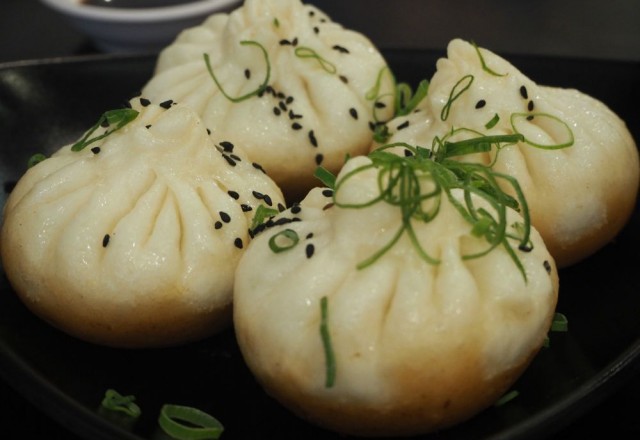 At only 7 months old, Shikumen Shanghai is relatively new on the Cabramatta dining scene, high five to owner Michelle for some of the most delicious dumplings in town.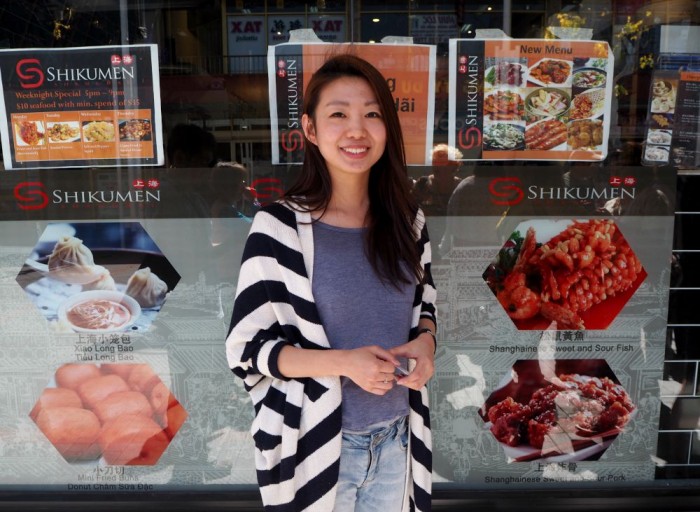 Then on to…  Huong Xua Vietnamese Restaurant, 54 John Street
The family ties here are strong. James' granny used to have a stall selling food outside her house in Vietnam, his dad opened up their first restaurant in Cabramatta in 1998 selling food just like grandma used to cook, and now the family empire includes the Cabramatta restaurant, another in Canley Vale and a commercial kitchen in Fairfield. I love that they're keeping it local and keeping it in the family. Even the Mayor, Frank Carbone popped in for a visit.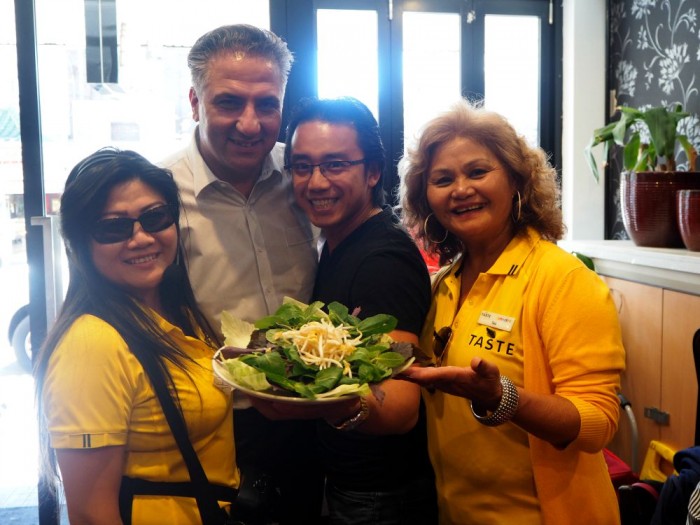 I hoovered up these Rice Vermicelli with Spring Rolls which were so tasty, especially when dipped in a bowl of house made fish sauce. Incidentally, this one of James' dad's specialities from Hanoi…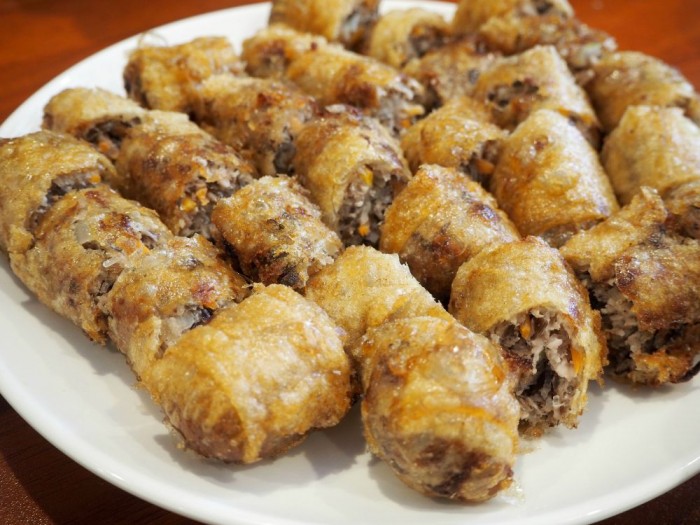 And the tasty beef wrapped in wild betel leaves, was one of his mum's recipes. Unfortunately, I was too busy enjoying them to take a picture. I was particularly intrigued by the Huong Xua Pho Challenge, where if you can polish off 0.5 kg of meat, 0.5 kg of noodles and 1.5 litres soup in 11 minutes or less, you get your pho for free and you get to take the bowl home with you. That's souper!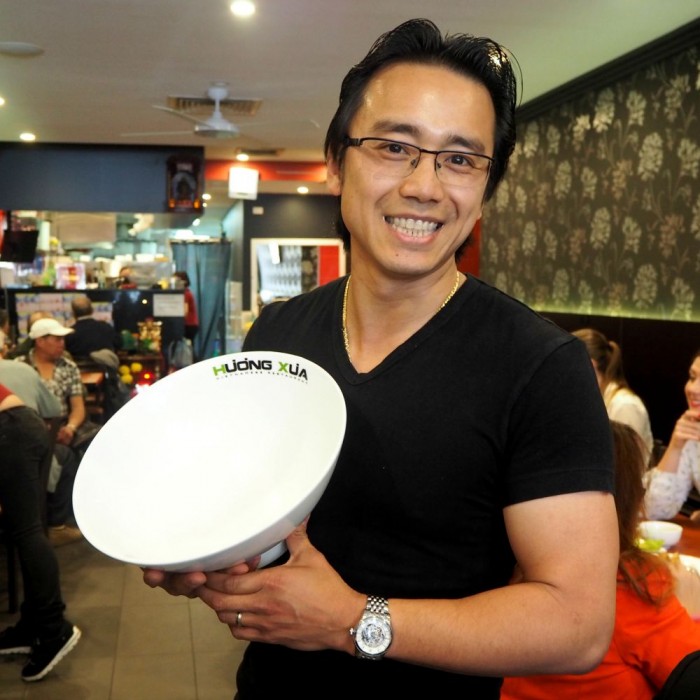 There was more at Quan An Bau Trong, 42 John Street
We stopped here for some of the special Raw Salmon Salad which is made with coriander, mint, paw paw, carrot, green apple or mango, and of course, raw salmon, which was just like smoked salmon without the smoke. It really was a sight to behold.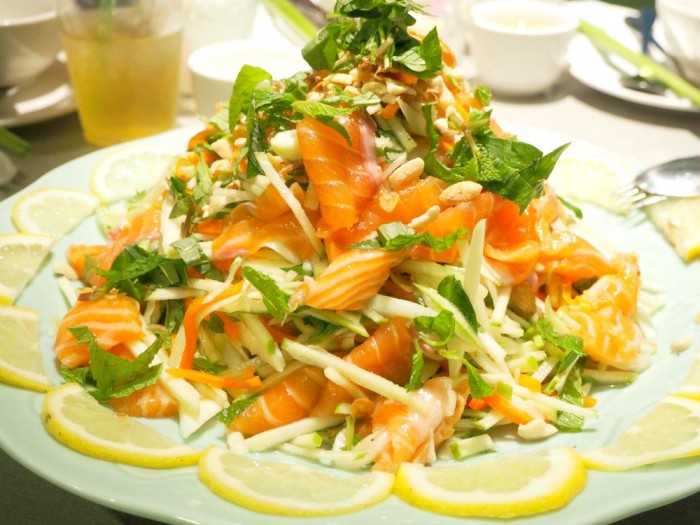 It's the dressing that sets this salad apart and the fish sauce is the key ingredient. Together with the fish sauce, the sourness of the vinegar, the sweetness of the sugar, and the zestiness of the lemon, it makes for a thoroughly refreshing dressing. Our trusty guide Teo showed us the best way to enjoy the salad, by delicately placing pieces atop a cracker, and not forgetting the chilli!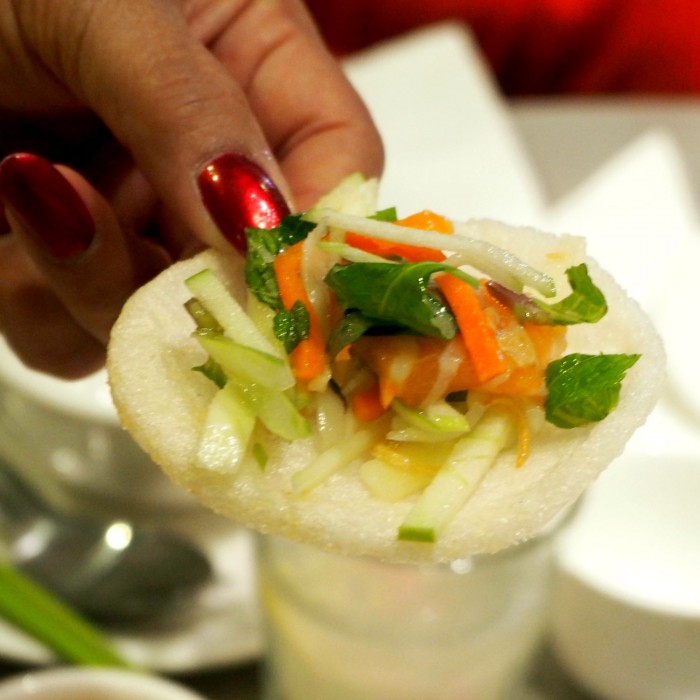 Michael's mum came to Australia at the tender age of 24 and the family has had a restaurant in the area for almost 20 years, and they have now expanded with eateries in Cabramatta,  Canley Heights and in Marrickville. What a delicious empire if ever there was one!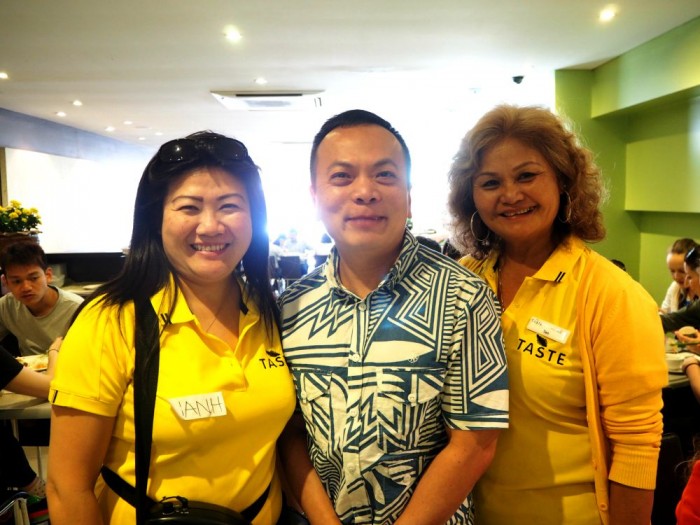 Last but not least, Pho Viet, 11-15 John Street
The Prawn, Meat, Crab and Pork Handmade Noodles (Mi Quang Nam) were like noodles but not as you know them. Silky smooth and coloured with turmeric this bowl was just full of delicious goodness. I knew we were onto something good, when I saw almost everyone else in the restaurant order this too.

Tri Phan now takes care of the restaurant that was opened by his grandfather in 1993 – these noodles are certainly a recipe for success.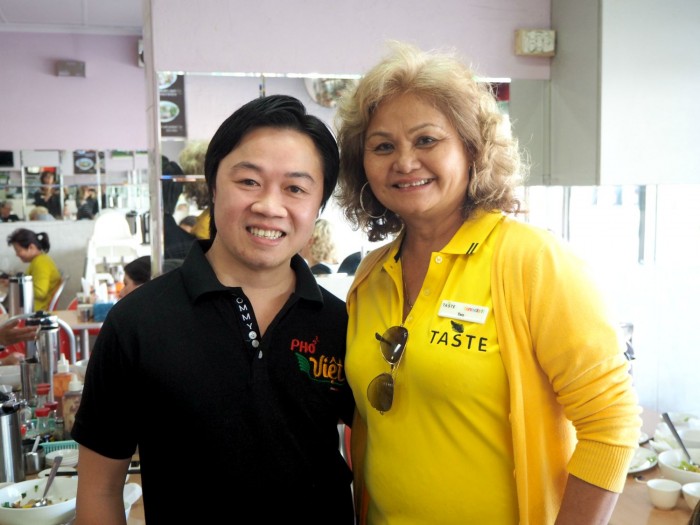 Now you too can experience a Taste of Cabramatta on one of the Cabramatta Signature Dish Food Crawls which are taking place during Taste of Asia, an open air food fair to celebrate Good Food Month (on Saturday 10 and Sunday 11 October.) 1n 1 hour you visit five eateries, where you eat the food and meet the owners, all for just $15. Bargain! You can get all the juicy details here – these tickets will sell like hot cakes (or hot dumplings) so get in quick! Bookings are essential.
But that's not all, this weekend on Sunday 27 September from 9am – 8.30pm, get yourself to Cabramatta to get in on the action celebrating the Moon Festival. Aswell as the lighting of the symbolic lantern, there will also be a children's lantern parade, lion dancers, dancing performances, cooking demonstrations and wait for it… the setting of a new Australian record for the largest moon cake (the current record weighs in at a hefty 60kg!)
Here's to new moons and new adventures!
Have you ever been to Cabramatta? Are you good at adventures? Have you ever eaten Moon Cake? If you could go on any type of food crawl, what cuisine would you want to eat?
To find out more about Taste Tours visit the website