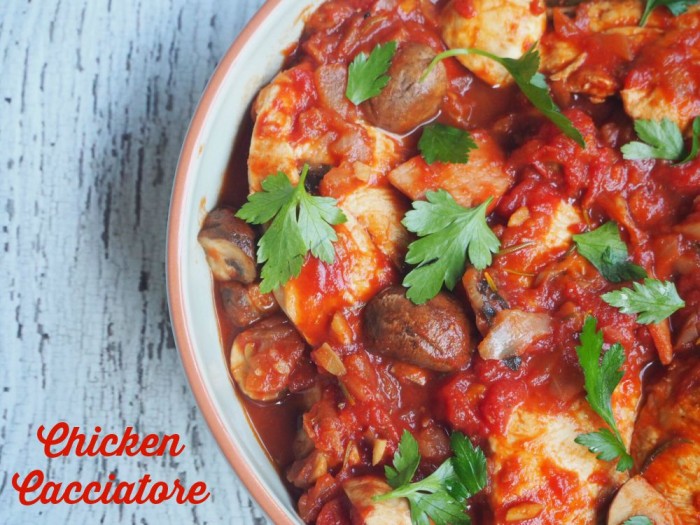 Serves 4
Do you know I've never made Chicken Cacciatore? Until now, that is! The last thing I want to do after a long day at work is get busy in the kitchen but neither do I want to eat out or eat processed food. I'm always on the lookout for freezer friendly dinners that I can whizz up at the weekend and enjoy at my leisure for midweek winner dinners. And this my friend really is a winner dinner. It's full of flavour, rich,  super hearty and a most welcome addition to my kitchen repetoire. I wanted to reduce the fat content so have used chicken breasts, but thighs would work just as well. 
Ingredients
1 tablespoon olive oil
100g shortcut bacon, rind removed
1 medium onion, chopped
2 garlic cloves, crushed
Pinch chilli flakes (optional)
2 sage sprigs
2 rosemary sprigs
4 skinless chicken breasts (about 125g each)
150ml dry white wine
400g can diced tomatoes
1 tablespoon tomato paste
250g brown mushrooms, halved or quartered if big
30g kalamata olives, pitted (optional)
Small handful of fresh parsley, chopped
How to
Heat the oil in a large non-stick frying pan. Add the bacon and fry for a couple of minutes until starting to crisp. Remove with a slotted spoon, allow any fat to drain back into the pan and set the bacon aside.
Put the onion, garlic, herbs (and chilli, if using) into the pan and fry for 3-4 minutes.
Spread the onion around the pan and lay the chicken breasts on top. Season with pepper and fry for 5 minutes on a medium heat, until the chicken starts to brown on both sides and the onion is caramelising. Remove the chicken and set aside.
Turn up the heat on the pan, give the onions a quick stir and when the pan sizzles, add the wine. Let it bubble for 2 minutes to reduce slightly.
Lower the heat to medium, return the bacon to the pan, add the tomatoes, tomato paste and mushrooms. Spoon 4 tablespoons of water into the empty tomato can, swirl it around and then tip it into the pan. Cover and simmer for 15 – 20 minutes or until the sauce has thickened and reduced slightly. Then return the chicken to the pan.
Cook the chicken, uncovered, for about 15 minutes until cooked through. If you want to add olives, add them 5 minutes before the end of cooking.
Season well and scatter over the parsley to serve. It's delicious dished up with some new potatoes and green beans.
 Other info
Prep time: 15 minutes   Cooking time: 50 minutes
TIP! If your chicken breasts are big, just cut them in half.