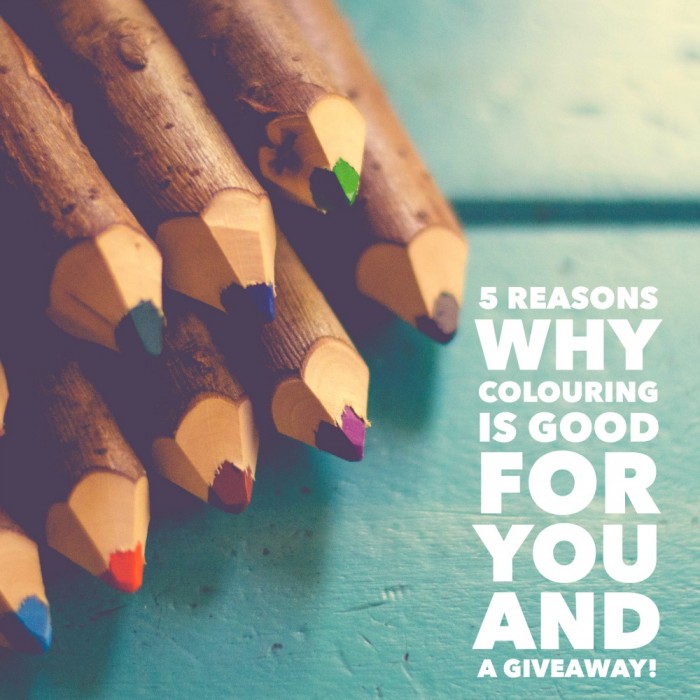 My uncle was an accountant and taught me everything I know about football. I can't really remember what I did yesterday or what I did last week, but  the one thing I can remember about my uncle is that when I was a kid, my uncle really loved to colour in. He was really good at it too, with a great eye for colour and his works was always beautifully neat. He was my colouring-in hero. I always wanted my picture to look like uncle's. (For the record, it never did.)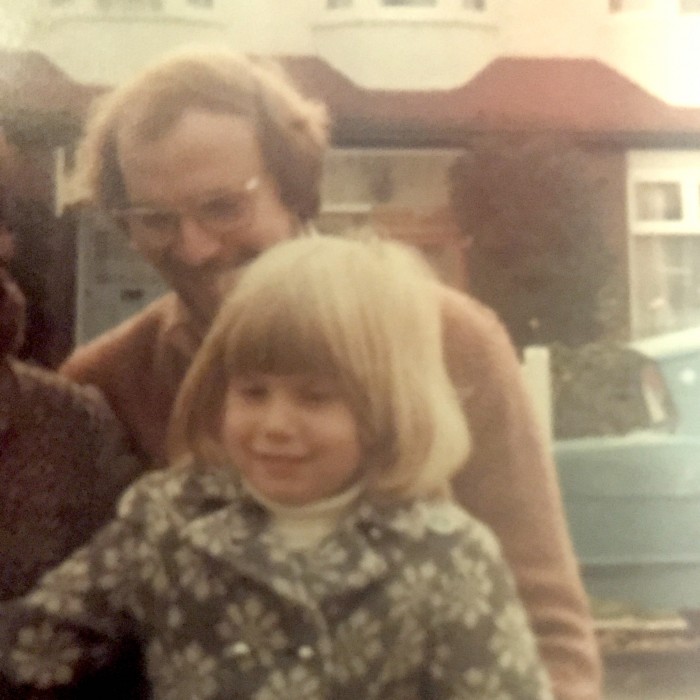 Uncle and me circa 1974
Things were different back in the good old days, we thought it a little strange that my uncle loved to colour but we were wrong. My uncle was just ahead of his time. Adult colouring in is so in right now. My uncle would have been in his element.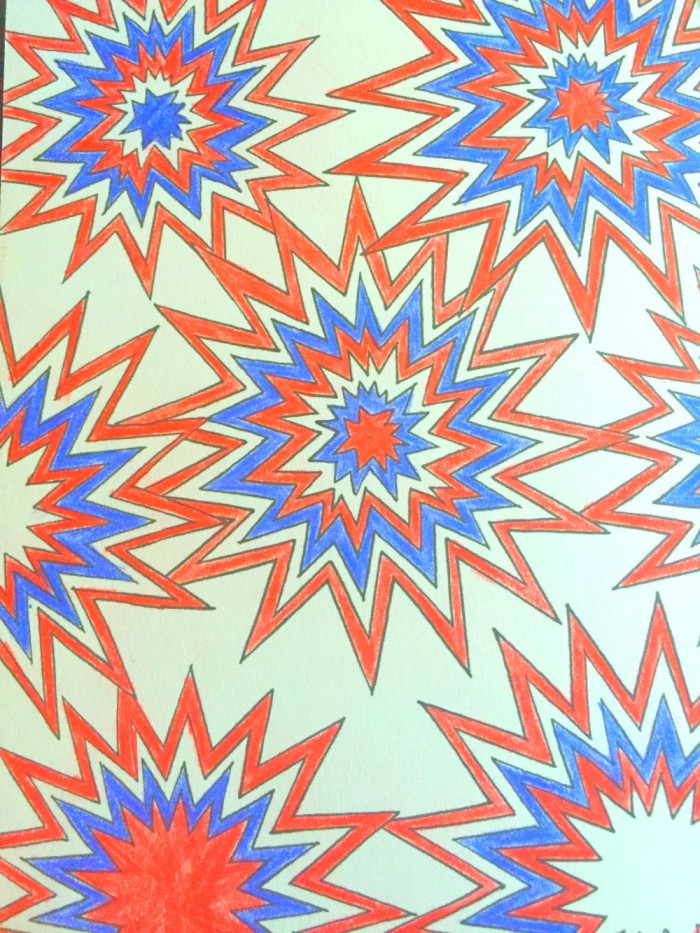 Exhibit A – I call this Red, White and Blue
I inherited my uncle's blonde hair, blue eyes and his love of colouring (but sadly not his skillz) but  I wanted to know if other people shared my love of the humble colouring-in book and if so, why. Of course, I did what any normal person would do, and asked my Facebook friends why colouring is so cool, just in case, you didn't want to take my word for it.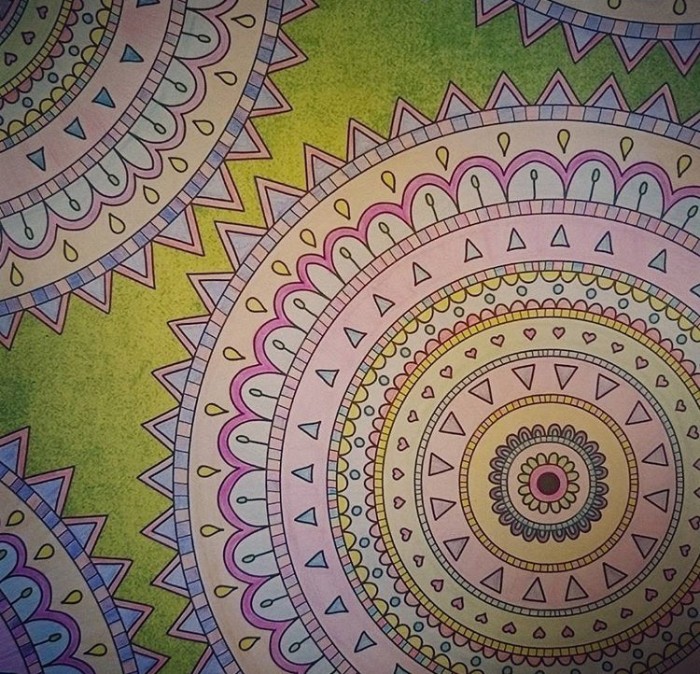 Exhibit B – courtesy of Malinda
It turns out there are heaps of reasons why colouring is good for you but here are my favourite five.
1. Colouring soothes anxiety and eliminates stress
Did you know that colouring allows the fear centre of your brain to relax, thereby relaxing you, and not just when you are colouring. And when you relax, good things happen! By taking a few minutes out of your day, you can colour your way to peace and calm.
2. Colouring helps you to be more mindful
Malinda likes colouring because she can "switch off." In many ways, colouring in is an exercise in mindfulness that draws upon your creativity and hones your focus. In today's fast paced world where there is just so much to do and so little time in which to do it, colouring trains your brain to focus and allows you to put all your other thoughts aside while you're doing it. Karrine loves the freedom of "playing with colour and the feeling of finishing a page in the book."
3. Colouring improves motor skills
When you colour, the two hemispheres of your brain have to communicate which improves your fine motor skills and even, your vision. Best of all as  Tash said there's  also "that sense of achievement when I colour within  the lines." Colouring like crossword puzzles and Sudoku aren't just therapeutic, they're like a workout for your brain and can delay or even  prevent the onset of dementia.
4. Psychologists have prescribed colouring for patients for more than 100 years
Carl Jung, the super famous psychologist was a bit like my uncle and ahead of the game. Apparently, he was getting his patients to colour mandalas as part of their therapy and that was at the turn of the last century. I have to say, I haven't read about this in my counselling books yet, and my own psychologist didn't give me a colouring book for homework, but I sure wished she had!
5. Colouring is completely You-nique
Colouring allows you creative freedom – it's your book and you can colour it however you like. The only limit is your imagination! Each of my Facebook friends said they loved the feeling of unleashing their creativity and creating something pretty.
Now, here's the fun bit. Thanks to my lovely friends at Pan Macmillan, I've got two awesome colouring books to give away because I love colouring so much and I want to share the love with you too.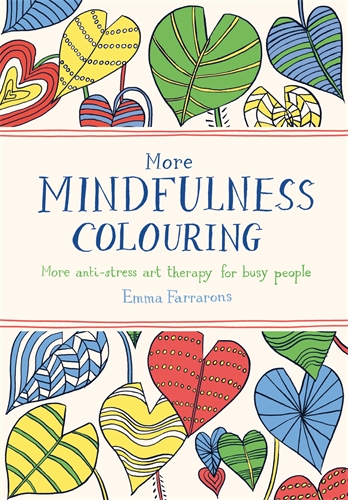 I popped my colouring in book cherry with the wonderful Mindfulness Colouring Book, so can you imagine my delight when I discovered that Emma Farrarons, has produced a sequel More Mindfulness Colouring which means more anti-stress therapy for even  more busy people. Just like the first book, More Mindfulness Colouring offers hand draw scenes from nature and the decorative world that you can mindfully and creatively colour to your heart's content. Two mindfulness colouring books, thanks, Emma, that's twice as nice.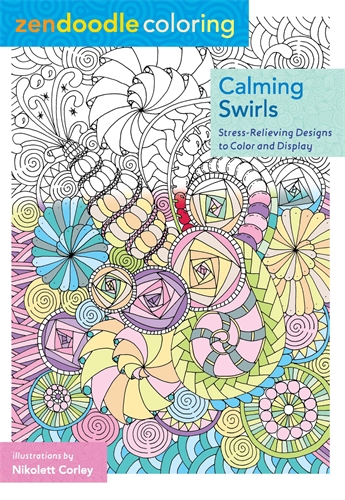 Colour away your stress with these 60 original, relaxing, abstract drawings of calming swirls. The designs by self-taught artist Nikolett Corley are both inspiring and unique and offer a calming escape from the busy-ness of our day to day lives.
The Giveaway has now closed. Many thanks to Rebecca from Pan Macmillan for helping me choose (because it was just too difficult) and congratulations to Jess and Kristy who have each won a beautiful colouring book! Keep Calm and Colour On!
All you have to do to be in with a chance of winning one of these beautiful books is to leave a comment, sign up to my newsletter (because if you haven't already, you are totally missing out)  and answer the following question: Apart from colouring, what calms you  when you feel stressed?
Now for the boring bit… the Terms and Conditions
1. There will be a total of two prize winners judged from  the eligible entries. The prize is one colouring book either  More Mindfulness Colouring or Calming Swirls.
2. This is is a game of skill. Chance plays no part in determining the winner. Each entry will be individually judged, based upon individual creative merit.
3. To be eligible you must leave a comment and also sign up for The Annoyed Thyroid newsletter.
4. Only one entry per person.
5. The giveaway is open to Australian residents only (sorry!)
6. The giveaway opens Tuesday 13 October 2015 and closes midnight Tuesday 27th October 2015.
8. The winners will be announced on the blog and notified via email.
No payment was received for this post. I'm just sharing the love. Pan Macmillan kindly sent me these books to review and promote.