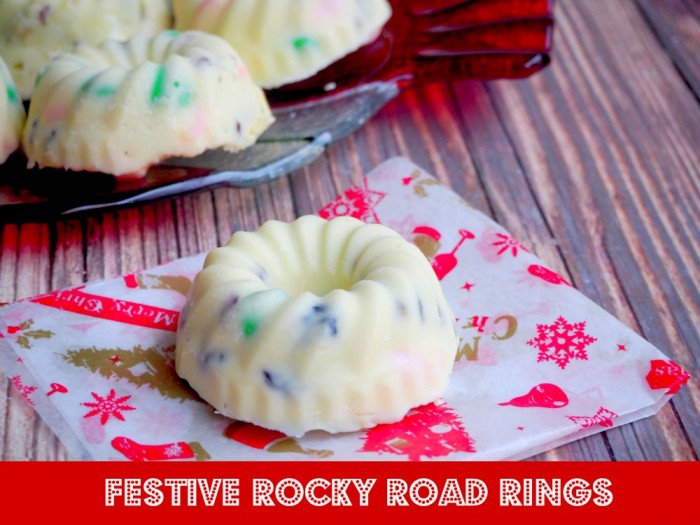 Makes 9
These individual Rocky Road rings are the ultimate sweet treat. They're as cute as they are delicious and packed with all things red and green! They make perfect individual Christmas gifts too or just treat yo'self!
Ingredients
1/3 cup  mini marshmallows, halved
1/4 cup red and green, M&Ms
1/3 cup dried cranberries
1/4 cup pistachios
400g white eating chocolate, melted
How to
 Grease nine holes of a mini bundt pan really well with butter (or oil spray.)
Combine the M&Ms, marshmallows, cranberries and pistachios in a large bowl.
Stir in the chocolate.
Use two teaspoons to divide the mixture between the prepared moulds, then smooth the tops and then tap the tray on a hard surface to get rid of any air bubbles .
Put in the fridge for at least 2 hours or until firm. To remove the Rocky Road Rings, invert the tray over a chopping board for a few minutes and then using a small palette knife, carefully prise each ring out of the tin.
Other info
Prep and Cooking time: 15 minutes (+refrigeration)
To store…  Store the Rocky Road rings in an airtight container in the fridge for up to a week (as if they will last that long!)