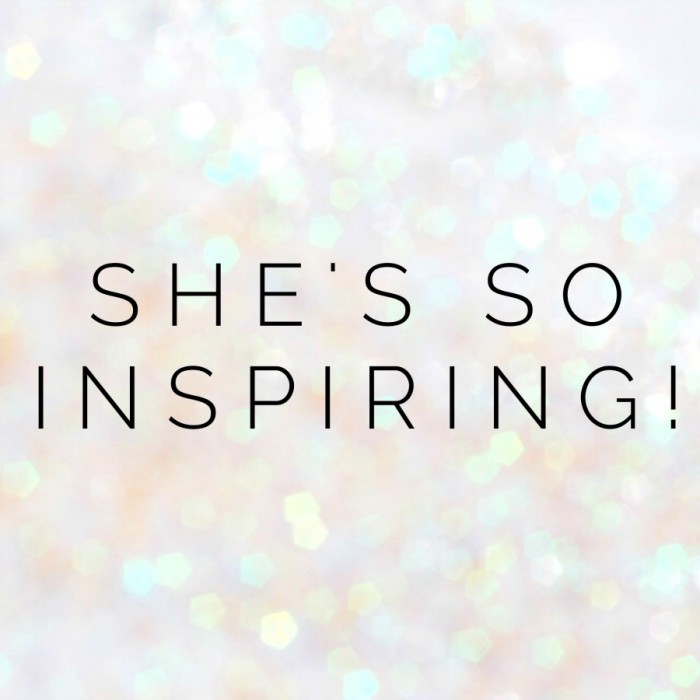 My life has been touched by some uber amazing women whose passion for life and the way they  choose to live it have really inspired me. Some are bloggers, some are not, their lives are all different and  they are all special. I feel honoured and privileged that they are sharing their stories and sprinkling a little bit of their awesome right here. May you be wom-inspired!
Meet Patricia Tracey.
Pat shot to fame after appearing in a number of posts on Woogsworld. Pat is Mrs Woog's aunty, so it goes without saying that awesomeness runs in that family. I am a big fan of Aunty Pat and especially love her annual Christmas address… Let's just say Queen Liz could take a leaf out of Pat's public speaking book! (Scroll down to see her 2015 address to the Woogsworld nation.) As Pat doesn't have a computer, we conducted this interview by phone and never has the old dog and bone been so much fun. Pat has lived a full life and at the tender age of 87 continues to do so… Nothing is going to stop her now. In fact her social life is so busy it was quite hard to pin her down! Meet Aunty Pat – she's got some stories to tell and she's so inspiring!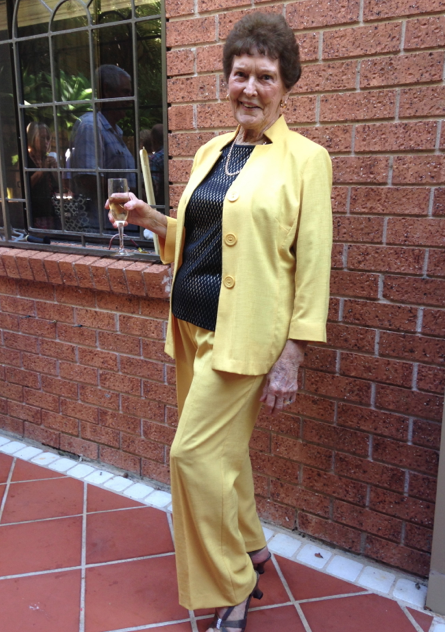 Tell us a bit about yourself.
I've been married twice, I was born in Hurstville 12th June 1928.  Now I'm the ripe old age of 87 I'm  not worried about age, just glad to have reached this age. My father was a schoolteacher so I have lived in lots of country areas such as Narrandera, Minto and two places out of Liverpool. I was educated by the nuns at the Brigadine College, Randwick but only to year 3 then I did one year at the Metropolitan Business College and became a secretary. I have one sister and one brother, both younger so I'm the matriarch of the family. I've  been married twice and widowed twice, unfortunately. I first got married in 1950 and was married for 15 years during which we had two lovely sons. My husband was an ex-soldier and died of a severe heart attack. After that I thought life would be a lonely path however, I met another wonderful man and married in 1968.Then to my great surprise, I had another son after 16 years and I thought what I have done to deserve this? But God knows best, and my son kept us young at heart and fully occupied for another 21 years until my husband died. Then, my son and I stayed on in the home and when he married, I finally moved to the retirement village in North Parramatta which I really love. I really feel like I'm in God's waiting room but I'm still having lots of fun and enjoying life.
Tell us 3 things you are and 3 things you're not. 
I am happy and have a good disposition. I am a grateful person for all my blessings. I can cope with whatever life deals out to me.
I am not a crank or a winger. I am not bad tempered. I am not stingy or mean.
Complete this sentence, ____________________  changed my life. How and why?
The passing of my loved ones changed my life. My father had 3 years in hospital and because I was the one who lived nearer, I was the carer for my mother, father and my husband and they all died in the same year. My father died on 25th April 1990 and my mum died exactly one year later. That had a huge effect on me. Inbetween that my husband died, and that was so hard. After about a year, I  thought to myself, well I've been left here, and I have to get on with my life… So I did. My faith and my lovely family have really helped me through.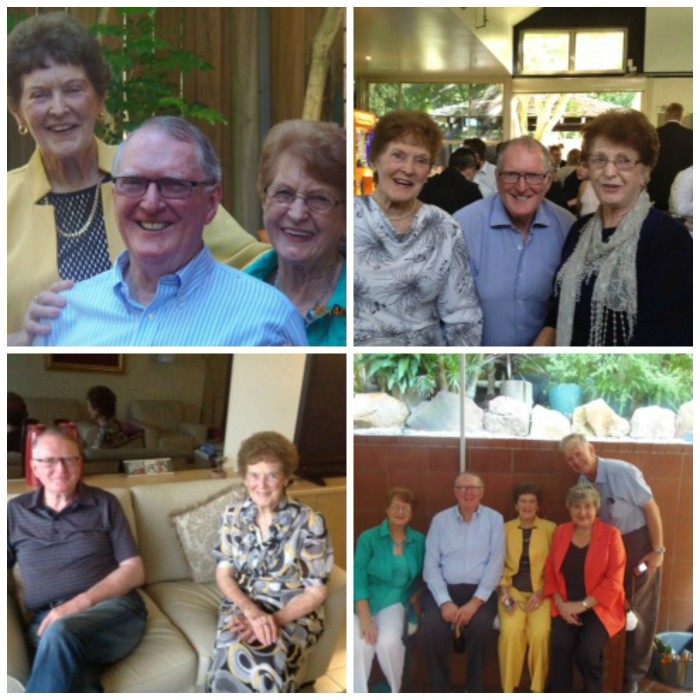 What has been life's greatest lesson?
I never plan too far ahead as one does not know what tomorrow will bring, so enjoy each day and be prepared for the unexpected.
What is your biggest achievement?
I found this question a bit difficult to answer and when I asked my son, he said, "Mum, you have been the most wonderful mother a son could ever have." 
I have helped my husbands in three successful businesses, a paper shop, a delicatessen and a hotel. It's a  hard question. However, upon reflection  the biggest achievement was agreeing to take on a hotel in Yass. My husband always wanted to run a hotel and as a dutiful wife I agreed. We worked very hard, but reaped rewards and it really taught me how the other half lived. My  first words in the workman's bar were " I don't like swearing and I don't like dirty jokes, but I'll sing and dance you with you whenever you like." That earned their respect from day one.
Oh, and I also taught my three sons to drive and they all passed first pop!
What has been your toughest obstacle and how have you overcome it?
I had a stroke two years ago. It was frightening and after 9 days in hospital I recovered and was well enough to go home. My specialist was amazed at my recovery. However, I really think God wasn't ready for me as he probably thought I'd disrupt the place…  That's heaven, I hope!
Viktor Frankl says "Those who have a 'why' to live, can bear with almost any 'how." Everyone needs a purpose, what's yours?
Well, I have  a schedule. You must have a purpose otherwise you wouldn't want to get up, would you?! Mondays I do ballroom dancing and latin american (and I'm a pretty good dancer) on Tuesdays I volunteer at Vinnies (I've been doing that for 20 years) and Wednesdays I  go square dancing and play cards. On Thursdays I go to a Probus Club and Friday is my day off. Saturday and Sunday I spend time with my family – whatever turns up!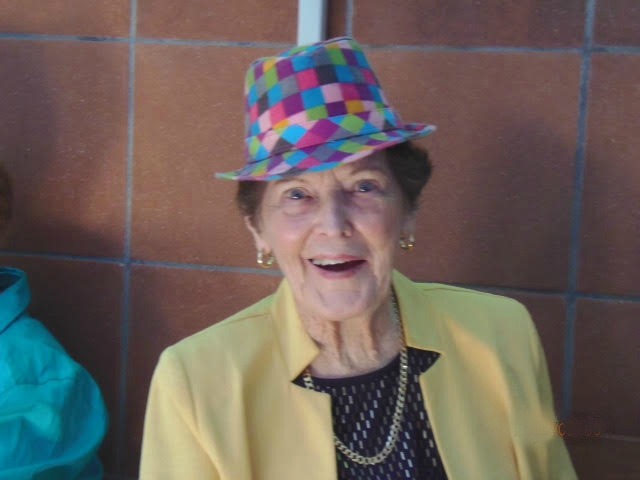 What are your words to live by?
The 3 G's "Get up, get dressed and go out!"
If you could have any mentor, alive or dead, who would you choose and why?
I'd choose Mother Teresa who lived for others and to make poor, unfortunate people feel loved. She was a rare and marvellous woman. Not many people can do what she did.
If you could play hookie for a day what would be on your list to do?
I'd like to go to a great restaurant with a good dancing partner and wine, dine and dance the night away.
You give so much to others, what do you do to take care of yourself?
I do aerobics, I have the old videos, so  I do that at home. I also do the dancing and I try to eat healthy. I like to keep myself slim. I like to read and play the piano and watch TV. I have my special shows. I like "Foyle's War"and I have a lot of DVDs of Andre Rieu – he's my pin up boy!
Thank you for sharing, Pat.
If you want a little more Pat-tastic in your life click her annual Christmas messages (the first is a golden oldie from 2014, but it's pure gold!)
You won't find Pat around the interwebs, but she will be checking on the comments (after I print them out and send them to her!)
Special thanks to Mrs Woog's Dad, James, for connecting me to Pat and all the photographic evidence. I told you awesome runs in that family!