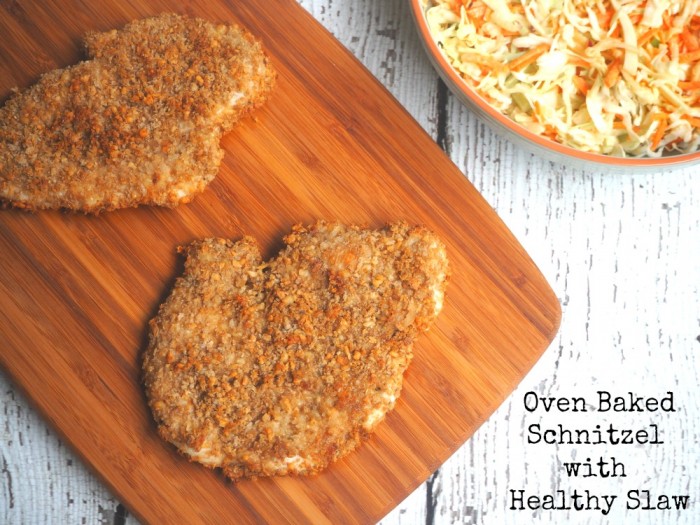 Serves 4 (easily halved)
I have to admit some of my favourite foods are  not the healthiest. Rather than rule out the these naughty but nice foods completely, I much prefer to enjoy them in a healthier incarnation. Take these chicken schnitzels for example, they're baked not fried and are covered in homemade breadcrumbs and some value added parmesan, because parmesan makes everything better, don't you think? The slaw is healthy too, not that you'd know it, because the yoghurt and Dijon combo is deceptively creamy. If you don't have time to slice your own  slaw, grab a bag of the ready made stuff from the supermarket and douse it in the dressing anyway! I promise you, you won't regret it!
Ingredients
140g breadcrumbs
3 tablespoons grated parmesan
a generous pinch of dried oregano
4 skinless chicken breasts
1 egg, lightly beaten
FOR THE COLESLAW
300g white cabbage, shredded
2 large carrots, peeled and grated
6 spring onions, chopped finely
1 red skinned apple, grated
150g natural yoghurt
juice 1/2 lemon
2 teaspoons Dijon mustard
How to
 Heat oven to 200C/180C  fan-forced and line a baking tray with baking paper.
For the coleslaw mix all the ingredients in a large bowl and set aside.
Lay the chicken between two pieces of plastic wrap, place on a chopping board and bash with a rolling pin to flatten (very good for stress relief!)
Mix the breadcrumbs, oregano, parmesan and a little seasoning on a plate. (If you want to make the breadcrumbs and the coating in the Thermomix, see tip below.)
Pat dry the chicken, dip into the egg, then roll in the breadcrumb mix. Arrange on the baking tray, then bake for 25-30 minutes, turning half way through cooking. The schnitzels are ready when golden and cooked through.
Serve the chicken with the coleslaw.
 Other info
Prep time: 20 minutes   Cooking time: 30 minutes
TIP! If you want to make the coating in the Thermomix, break 140g frozen bread into chunks and place in TM bowl. Chop 40g  parmesan into chunks and add to TM bowl. Blitz for 10 seconds  on speed 8.