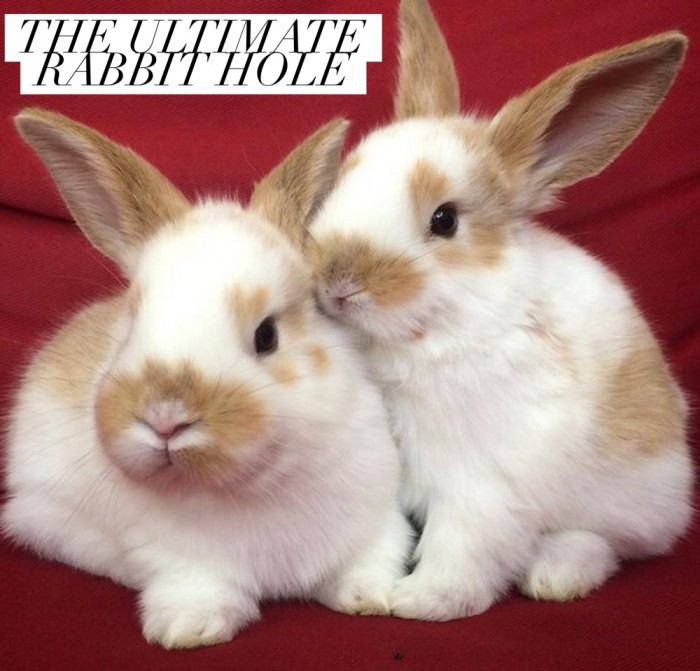 Freckles, Hash Brown and I would like to officially welcome you to the weekend! Freckles and Hashbrown are the baby bunnies of Oreo and Bubbles. The bonny bunny genes are strong in that family, don't you think?
Anyway, today is National Croissant Day which is perfect timing because today my friend Cathy is arriving from France. I love how we can be world's apart but the internet can bring us together. We're going to pick her up from the airport and then we're going to come home and have a croissant-fest because as it is the national day and all, it would be rude not to! I might even make my own, because I who can resist 3 ingredient croissants and not just because one of the ingredients is Nutella! Personally, I think "leftover" croissants are an urban myth, but it might be worth letting a couple go stale just so you can make this Caramel Croissant Pudding!
Let's stick with the French theme for a minute, shall we? I learned a lot from these  5 Fabulous Life Lessons from the French (number 4 is my favourite, what's yours?) and  if you want to dress like a French girl – here's how! C'est magnifique!
Talking of foreign lands, we've had a busy week planning our big overseas adventure and we've sealed all the deals. I really wish I'd read how to make the most of  your frequent flyer points before I splashed my cash on flights because travelling Business Class is totes on my bucket list! Choosing airline seats can be as complicated as choosing a destination (for us anyway!) I am an aisle person through and through, but David loves the window, and  usually takes the role of RPP (Resident Plane Photographer.) I love me a good plane window photo and with these 10 Tips, we'll be snapping our sky high shots like a boss!
It's been 1 year, 3 months and 8 days since David had his stroke (not that I'm counting or anything!)  and not a day has gone by that I haven't worried he's going to have another one. You can't predict a stroke, but you can do lots of things to prevent one. The National Stroke Foundation has launched a programme called Know Your Numbers. If you only read one of my links this week, please, let it be this one.
Talking of stroke prevention and taking care of yo'self, I'm all over these 9 ways to stick to a fitness routine. Starting a routine is easy but sticking to it is more of a challenge. It's all about keeping it real, baby!
I started with 8 herbs in my balcony garden and now I'm down to just three. The demise of my herbs is largely due to the hungry caterpillars feasting on my greenery but also down to my lack of green fingeredness. I'm not much better indoors either having just murdered an orchid. I do love plants though, so I'm going to check out these 5 Almost Indestructible Indoor Plants and see if they're Sam Proof.
If you're bored of the same style, shake it up one or all of these 35 ways in 2016. I see a major wardrobe overhaul in my future!
This week has been crazy busy and it's taken all my energy just to keep up. Even when my body is tired, my brain is still running a marathon! Do you ever get like that? I think I need to try and get into these healthy habits that shift crazy busy into sweet serenity.
OK before I go, tell me, have you ever been to France? Do you love all things (or anything) French (including croissants)?  Have you got green fingers? Have you ever flown Business Class? Are you an aisle or a window person? What secret tricks and cunning plans do you have this weekend? Hope your Saturday and Sunday are full of sweet serenity!
Every Saturday morning, we will open up the rabbit hole link up for bloggers to add their link list posts or even just their favourite post (if you are not of the link list kind) for the week.  Do try and pop along to say howdee to some of  the other lovely linkers. Link up here, over at 
Calm to Conniption
or
My2Morrows.
It doesn't matter where you add your link because it will appear on all three blogs, as if by magic!  The link up will stay open until midnight the following Monday.
Be a smarty and join this linky party!
Loading InLinkz ...