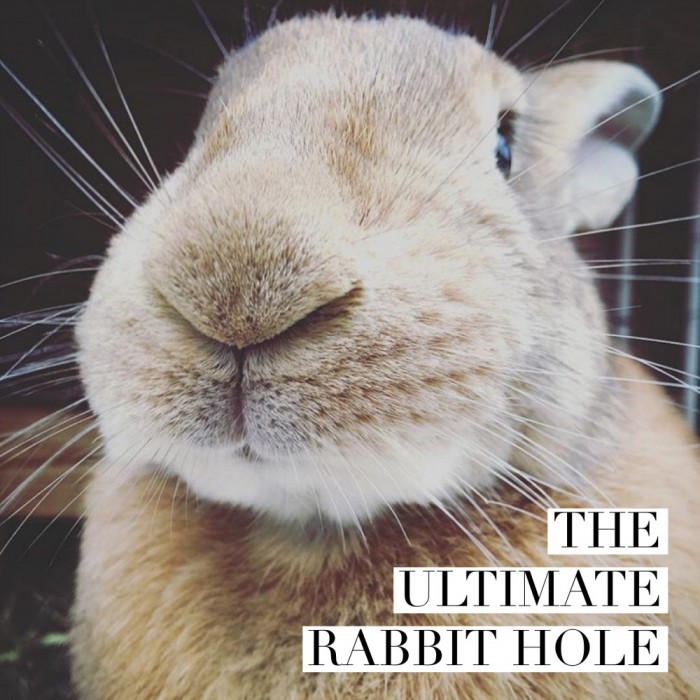 Hello friends! Happy Weekend! As this post is published I'll be huffing and puffing my way around Sydney's Northern Beaches in the 10km Sun Run. I might as well get used to the huffy puffy because we've just signed up to run the 5k, 10k and the Half Marathon on three consecutive days, in Disneyland. Oh, the things I do for Mickey! I'm trying not to panic because we have until September to get race ready! Forget the wet look, I hope the sweat look is in!
Anyways, enough about me! Let's hope on down the Rabbit Hole with Bubbles bunny and see what's in store, shall we?
Today is National Frozen Yoghurt Day which is just as well because it's been hot enough to melt here and I could do with cooling down! Check out these 15 Frozen Yoghurt Recipes  you can make in your blender and when you're done with those, how about some Superfood Nice Cream Recipes?
If you want to be a boss in the kitchen, check out these 10 amazing graphics that will make you a baking expert. They are just genius!
If you're looking for the best of the web in the Happiness and Wellbeing department then check out these 3 Expert Happiness and Wellbeing websites, I'm so pleased to see that one of my all time favourites Action for Happiness made the cut!
Talking of getting out happy on, I'm loving this list of 5 Ways to Feel Fab Before 9am. While we're on the subject of healthy habits, check out these 10 great habits you can build around food, which includes eating dessert! That's my kind of advice!
I'm totally getting into podcasts. Now that Serial  is going bi-weekly, I've been looking for something to entertain my ears. Right now I'm loving Straight and Curly with the lovely Smaggle and Kelly Exeter. As you would expect from a podcast with these two woman wonders – t's full of top tips, good chat and life hacks.
I'm a professional worrier. Sometimes, I worry that I have nothing to worry about. I used to have a set of worry dolls but they went AWOL… At least they were kind enough to take some of my worries with them. Anyhoo, if you or someone you know has some worries that need to be gone,  check these out. They're the real deal.
Did you know about these 13 uses for shampoo? Aside from washing your hair, of course!
I'm very grateful that I have a lovely place to call home but gee, it's so brown.  I think I notice it more now I'm at home most days, it's like being in a poo vortex. We keep toying with the idea of renovating and transforming Brown Town to White City but that means splashing a lot of cash and when it comes to choosing between money spent travelling or money spent renovating, I'll choose an adventure every time. That said, I'm loving these 40 ways to change your home because a small change can make a big difference.
So tell me, what's the weather like where you are? What podcast should I listen to next? Have you got a good baking tip to share? Tell me about your home, is it like Brown Town or White City? Or something different entirely?! Tell me all the things!
Every Saturday morning, we will open up the rabbit hole link up for bloggers to add their link list posts or even just their favourite post (if you are not of the link list kind) for the week.  Do try and pop along to say howdee to some of  the other lovely linkers. Link up here, over at 
Calm to Conniption
or
My2Morrows.
It doesn't matter where you add your link because it will appear on all three blogs, as if by magic!  The link up will stay open until midnight the following Monday.
Be a smarty and join this linky party!
Loading InLinkz ...