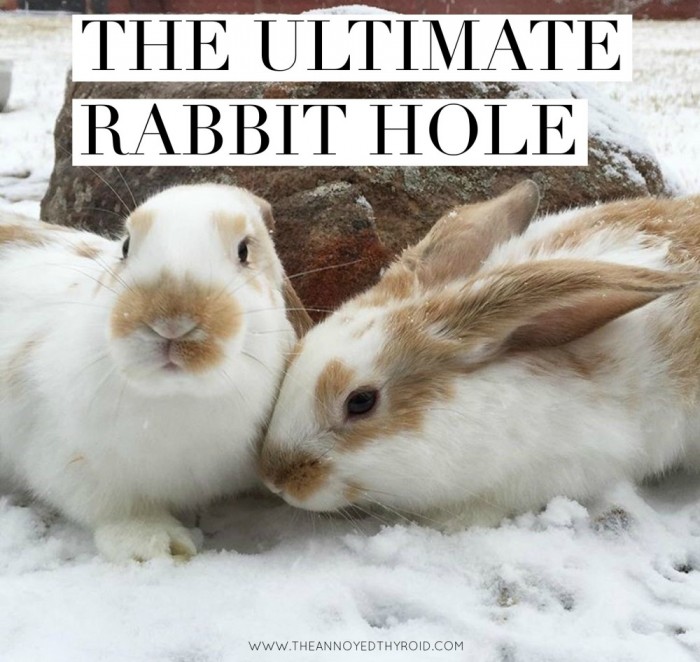 Greetings and welcome to the weekend and another sojourn down the Rabbit Hole. Freckles, Hashbrown and I are so pleased to see you. While Freckles and Hashbrown are chilling out, I'm trying my hardest not to melt here in Brisvegas.  I've been fortunate enough to spend the last few days with some of my favourite bloggy buddies, the lovely Nicole and my trusty co-pilot Karin and a very merry time we've had too.
Anyhoo, this is a kind of tri-trip and I'm in Brisvegas for 3 reasons; to see my friends in my computer in real life, to hotfoot it to a Jamberry event and last but not least enjoy some belated anniversary celebrations. That's thrice as nice! Anyways, enough about me, let's hop on down and see what's happening down the Rabbit Hole, shall we?
Today is National Cherry Pie Day. I  love cherries and I love pie and I love them together even more! If you want to get your bake on, you should totes check out my Brown Sugar Cherry Pie recipe because it's as pretty as a picture and it tastes cherry-licious!
There's been a lot of yumminess around the interwebs this week. This healthy homemade pot noodle is just genius as are these easy 10 minute cake balls which are amazeballs by name and amazeballs by nature! We're making a big effort to learn to love salad and eat more veggies every day and this Sweet Potato Salad with Crispy Noodles totally hit the spot! I'm pretty confident it will be a regular feature on our dinner menu!
I spent one of the happiest years of my life on a kibbutz in Israel in the nineties. I loved everything about kibbutz life, except the one day weekend. I'm not sure that one day actually counts as a weekend, but it certainly made me grateful for the two days that I now get to enjoy. As much as I'm grateful for two, I'd really love to have a 3 day weekend, and now the science has shown that  every weekend should be a 3 day weekend – and here's why!
We've decided to make our bedroom technology free and here are 11 reasons why. After reading and listening to a lot on the subject, to coin one of my mum's favourite phrases we've decided to "suck it and see." I figure good sleep hygiene is one of the nicest things you can do for yourself. I will report back, watch this space!
Talking of screens, there's something for everyone on this cracking list of 17 Apps and Websites That Will Change Your Life. 
As much as I love technology and all that it can do, I can't help but look back fondly on the good old days, before texting, emails and social media when, if we wanted to communicate, we simply talked to each other.  Here's to the art of real conversation. We all need  more of that.
My big holiday may be still six months away but of course I'm already dreaming about it. All the time. I found these 25 facts about airline food you should know before you travel fascinating and funny all at the same time while these tips on What to Pack for a Holiday should come in very handy, because I am the world's worst pack.
My mum taught me how to iron as soon as I was old enough to do so without setting the house on fire. However, old habits die hard and I am one of those people who still irons but guess what?! Ironing could be a thing of the past now that I have these tips how to never iron again.
And last but not least, next time you're wearing your cranky pants, check out these 13 Simple Ways to Improve Your Mood.
Is your bedroom technology free? What's your favourite app? Have you got a salad recipe that I can learn to love? And tell me, can you travel light? What secret tricks and cunning plans do you have for the weekend? I'm off  to pump up the jam and feel the love in the bright lights of Brisvegas – whatever you do this weekend, I hope it makes you happy!
Every Saturday morning, we will open up the rabbit hole link up for bloggers to add their link list posts or even just their favourite post (if you are not of the link list kind) for the week.  Do try and pop along to say howdee to some of  the other lovely linkers. Link up here, over at 
Calm to Conniption
or
My2Morrows.
It doesn't matter where you add your link because it will appear on all three blogs, as if by magic!  The link up will stay open until midnight the following Monday.
Be a smarty and join this linky party!
Loading InLinkz ...