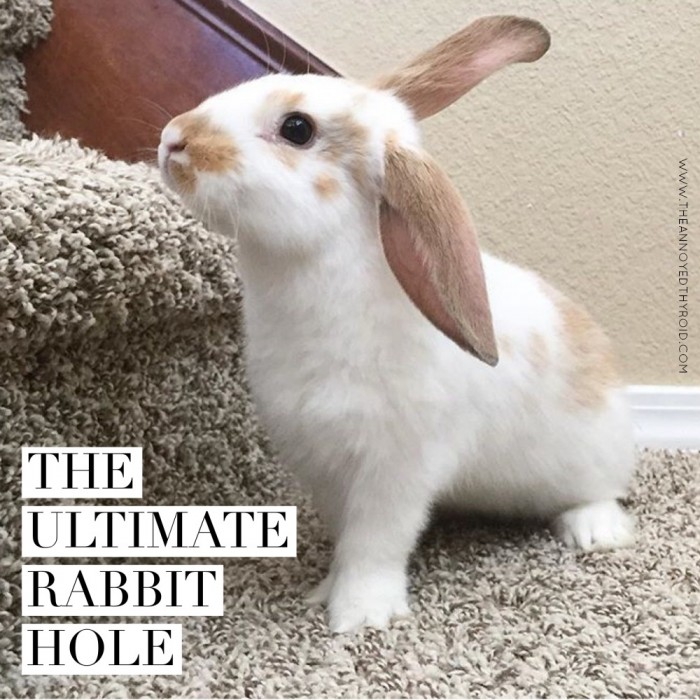 Hello friends! Freckles and I would like to welcome  you to the weekend! Are you ready to hop on down the Rabbit Hole? I've been busy burrowing around and here are my favourite finds!
It's National Kahlua Day today! In the olden days, I was rather partial to a Black Russian cocktail but these days I much prefer my Kahlua in a coffee… at least I did until I saw these Mini Kahlua Cheesecakes and these Kahlua Chocolate Truffles. I'm sure one of them has my name on it!
These 15 Psychological Tricks Everyone Should Know are pretty neat, especially the one about the mirror! While we're on the subject of tips and tricks, this simple kitchen hack will make strawberries last longer. 
I had such a fun time hanging out with my friends last week and some of my friends homes doubled up as my hotel. Next time, I'll have read a these 5 Tips On Being A Good Houseguest before I go!
It appears I'm not the only one with travel on the brain. The interwebs is full of top travel tips this week, like What To Pack In Your Travel Beauty Bag  and What To Wear On A Plane. My top tips for plane travel include taking a roll on perfume in your handbag (I have the Urban Mum to thank for that and it's been a gamechanger) and to always pack some socks if it's summer or you're going somewhere hot, because contrary to popular belief, cold feet are not cool! Now that we've got our clothes and make up sorted, let's talk entertainment. Here's Everything You Should Download Before Your Next Flight.
When I was growing up (I use the term loosely) in the mother country, I learned everything I knew about Australia from "Neighbours" so of course, I believed that home in Australia has a pool. To say I was a tad disappointed when I realised this isn't the case, would be an understatement. We don't have a pool, but luckily I have friends who do and are good at sharing. I'm totally bookmarking these 12 Pool Party Essentials  for if and when I'm invited to a party poolside!
I want this year to be the year that I get off Auto and actually learn how to use my camera – I'm so pleased I found these 5 Best Free Websites to Learn Photography Skills Easily – I think they're going to come in very handy indeed!
Now I'm at home, I get to enjoy quite a home cooked lunch every day, but I love how these coworkers eat homemade lunch every day but only cook once each week! How cool is that?
And lastly as a nod to my heritage, I love these 17 Examples of British Slang That Are Simply Awesome , in fact I love them so much, that I use almost all of them almost every day!
So tell me, what do you pack in your travel beauty bag? Have you got a pool? Do you know your way around a camera? Hit me up with your favourite slang (Aussie or English, I'm not picky!) and tell me what's happening this weekend! Whatever you do, hope it makes you happy!
Every Saturday morning, we will open up the rabbit hole link up for bloggers to add their link list posts or even just their favourite post (if you are not of the link list kind) for the week.  Please link up
only one post
and do try and pop along to say howdee to some of  the other lovely linkers. Link up here, over at 
Calm to Conniption
or
My2Morrows.
It doesn't matter where you add your link because it will appear on all three blogs, as if by magic!  The link up will stay open until midnight the following Monday.
Be a smarty and join this linky party!
Loading InLinkz ...