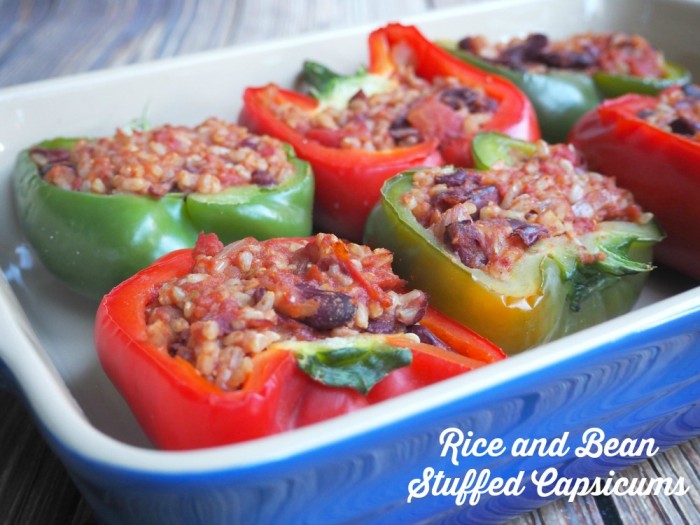 Makes 6-8 halves (depending on the size of capsicums)
I know, I know, it's been a while inbetween Meatless Mondays, hasn't it? It's not that we haven't been eating meatless meals, we just haven't been eating any new ones, but we have had such delicious fun eating our way thorough the archives.
The other Saturday we went to the supermarket late in the day just to pick up some random item that I'd forgotten. Clearly the planets were aligned that day because the $3 trolley got wheeled out right to where I was standing? You know the $3 trolley, don't you? That's where you get a bag and you can fill it with as much stuff as you can cram in, all for $3. I don't need any encouragement where bargains are concerned and this occasion was no exception. I filled my bag with gusto, and to bursting point and came home with enough fruit and veg to open my own stall.
Included in my $3 bounty bag were a whole heap of capsicums and that's how this recipe was born. The best thing about this recipe is that it can be enjoyed on the low iodine diet, even though it contains kidney beans. Apparently, the original National Institutes of Health guidelines suggest avoiding red kidney beans, but recently the NIH diet and other diets don't limit beans in any way. If you want to be a low iodine purist, just swap the kidney beans for chickpeas instead. Indeed, pretty much any kind of bean goes in this recipe, although you can't beat the colour pop of a kidney bean, can you? This recipe uses cooked rice, so this is a cracking way to upcycle  leftovers too!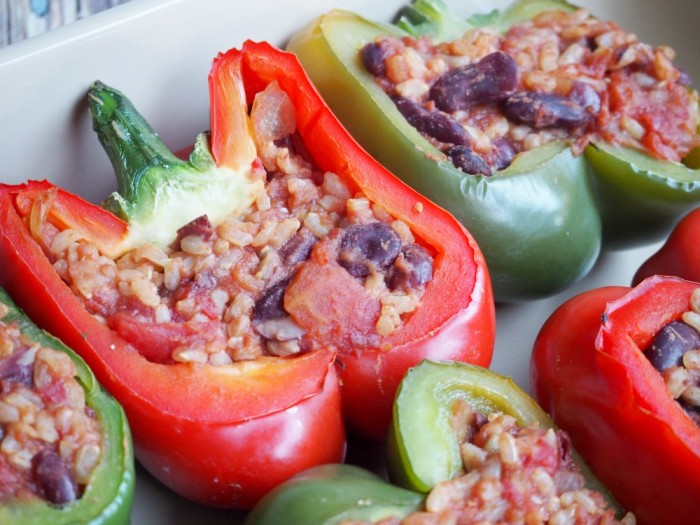 Ingredients
90g brown rice (or 270g cooked rice)
4 medium peppers/capsicums (or 3 large)
1 tablespoon olive oil
1 onion, finely chopped
2 garlic cloves, crushed
1 can chopped tomatoes (no added salt, if eating low iodine)
1 tablespoon chopped fresh basil
1 can red kidney beans, rinsed and drained (use no added salt or chickpeas, if eating low iodine)
Greek yoghurt, to serve (not low iodine)
Rocket and shaved leaves, to serve (rocket only for low iodine)
How to
Cook the rice. Drain and set aside.
Halve the peppers, remove the seeds and membrane but try to leave the stalks in tact. You can trim them if they're too big.
Blanch the peppers in boiling water for about 3 minutes and then drain upside down in a colander.
Preheat oven to 190C/170C fan-forced. Line a baking tray with baking paper.
Heat the oil in a medium saucepan and stir in the onion and garlic. Cover and cook gently for 5 minutes or until the onion softens and then uncover and add the tomatoes.
Cook uncovered and until the sauce has reduced and thickened. Season and add basil.
Mash half the kidney beans to a rough paste and stir into the sauce, along with the whole beans and the rice.
Place the peppers in an ovenproof dish and fill them with the filling.
Cover the dish with foil and bake for 20-25 minutes until the dish is piping hot and the peppers have softened some more.
Serve the peppers hot with a side of rocket and if you're not on a low iodine diet, a dollop of yoghurt.