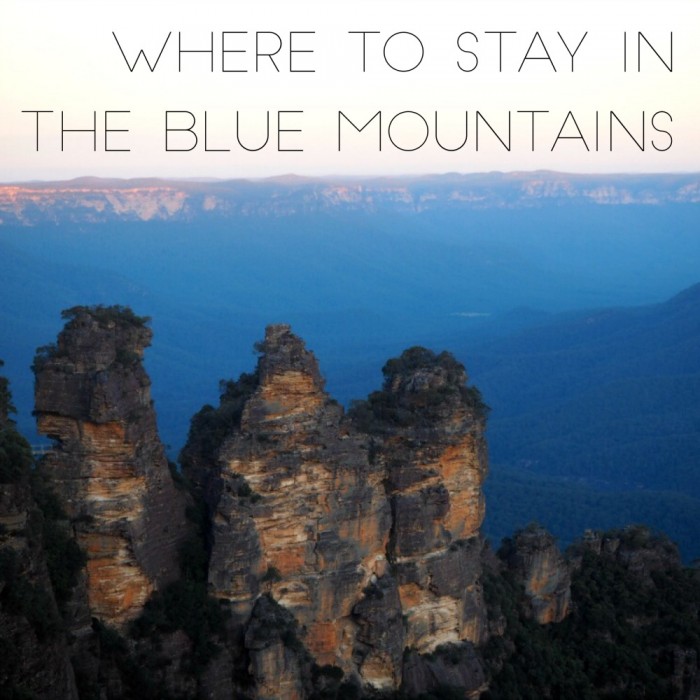 I love the Blue Mountains, I think it's my spirit place. Not only is it stunningly beautiful with heaps of things to see, eat and do, it's also easily and quickly accessible from Sydney by both train and car. That's why the Mountains are my weekend getaway destination of choice, I like to visit at least once a year, if not more, and it's my "must take place" for interstate, overseas and even NSW visitors. In fact, I've been so many times, I've actually lost count of how many visits we've made in the last eight years, and almost every time we've stayed at Shelton Lea.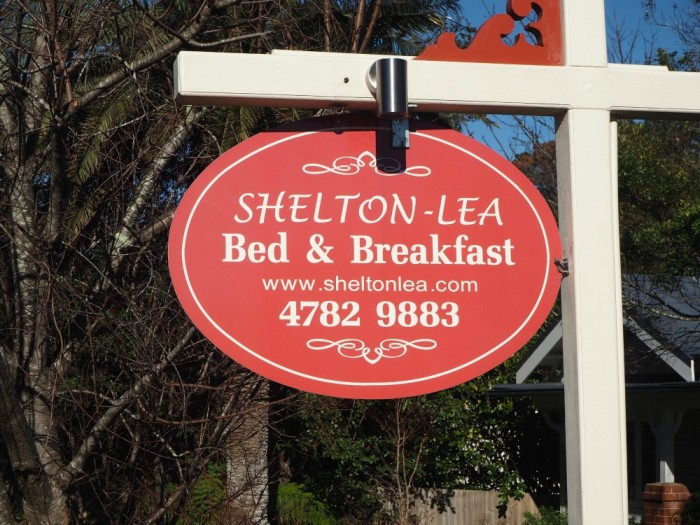 Located in the capital of the Blue Mountains, Katoomba, this delightful B&B ticks all the weekend (and even midweek) getaway boxes. The Californian bungalow has been lovingly restored with olde worlde charm but with heaps of  value added modern luxuries.
Shelton Lea is brilliantly located;  within walking distance of both Katoomba's main drag, Echo Point and even the train station. Other areas of the Blue Mountains are easily accessible by car, and even without. I once stayed at Shelton Lea with my bestie, and we got around everywhere on foot or by train with Shelton Lea as our base.
The thing that makes sets Shelton Lea apart from other B&B's is not only Jenny and Paul's first rate hospitality, but that each of the three suites is completely private and totally self contained. Each suite has it's own "front door" it's own bedroom, living area,  en suite and a kitchenette, so although you can't cook (why would you want to on holidays?) you can reheat food, prepare snacks and make a cuppa.
I've stayed in every suite at Shelton Lea, so I feel fully qualified to take you on a guided tour… Let's go!
This is the bedroom of the Allambee Suite, which will always have a special place in my heart because it was the first suite we ever stayed in.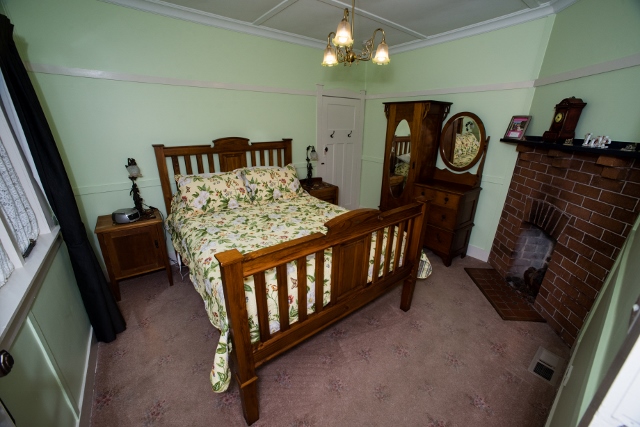 Here's the cosy kitchen area with a fridge, microwave and more tea and coffee essentials than you can shake a stick at. There's even hot chocolate with marshmallows!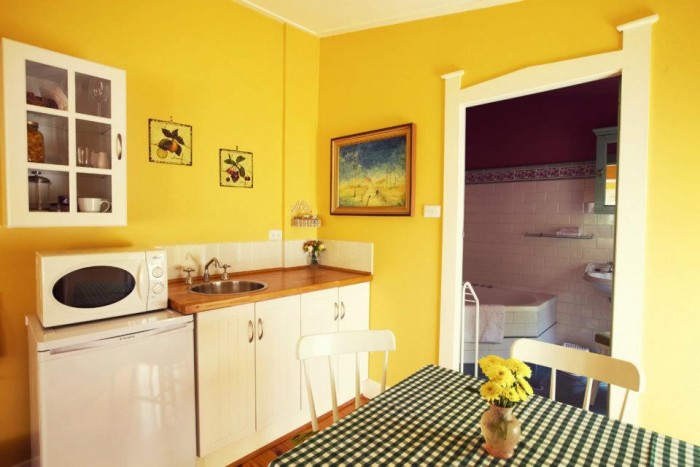 There's a lounge area too. It's the perfect spot to chillax, watch a movie or play some board games. Out the front, there's a little terrace where you can sit and watch the world go by, weather permitting!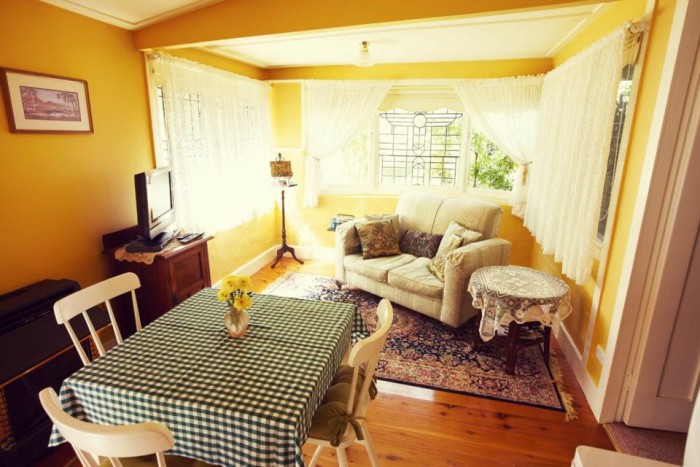 Here's the bathroom with the outsize spa bath. This is just what the doctor ordered after a day of bush walking!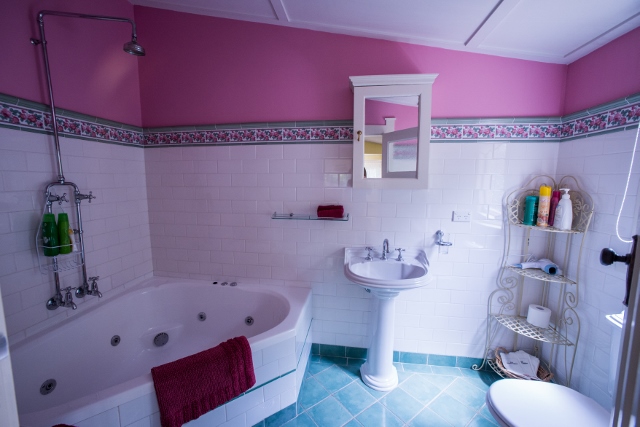 The Allambee Suite is connected to the Bakana Suite. The Bakana is perfect if you're travelling with friends, and want to be together but  also want some privacy. We've  stayed  here heaps of times with friends next door, and on our own too. I'm pleased to report that it still feels wonderfully private even with  guests we don't know on the other side of the wall.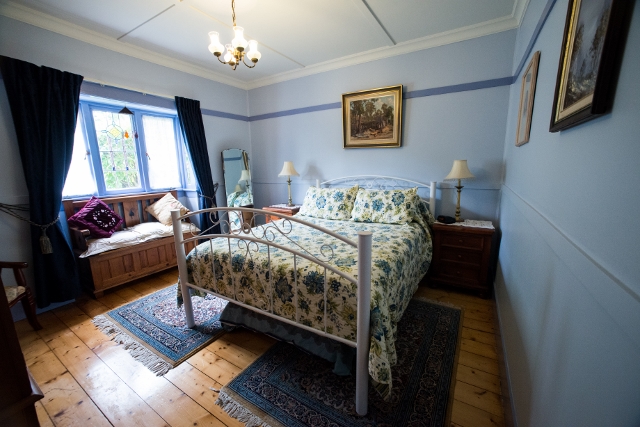 There's no spa bath  in the Bakana Suite but there is a bathroom with a shower. The spacious sitting room is where it's at with this suite. This is where breakfast is served in the morning and where books are read, the fire dances and the wine flows at night!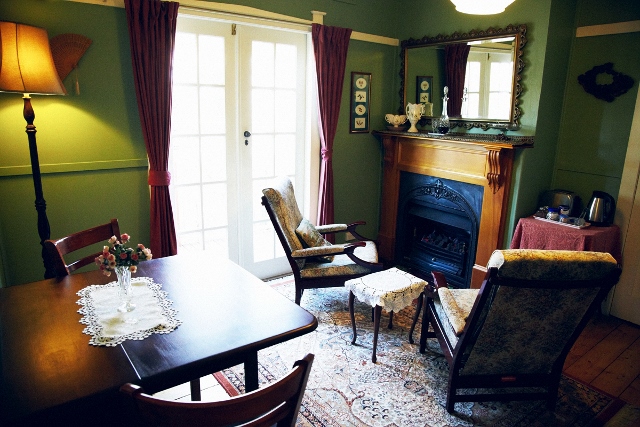 I love all the suites at Shelton Lea but if I had to choose one to be my favourite, it would have to be the Amaroo Suite. Nestled at the back of the house, it is in  my opinion, the most romantic of all. It's the stuff art deco dreams are made of.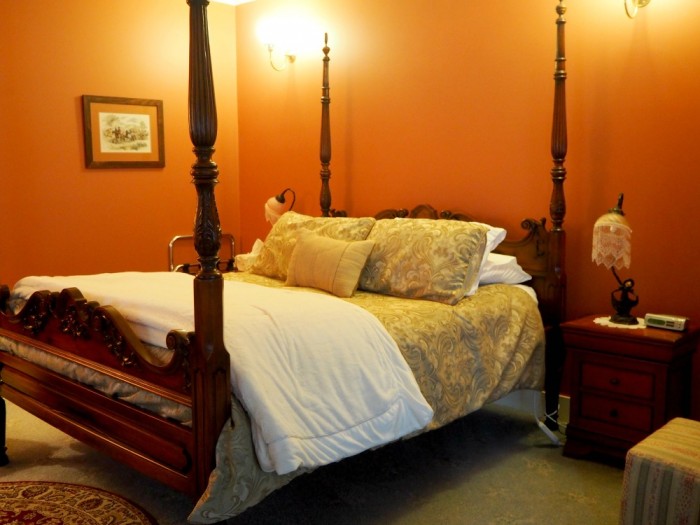 Check out the fireplace. I've lost count of how many glasses of wine, I've consumed here! This suite is just cosy PLUS!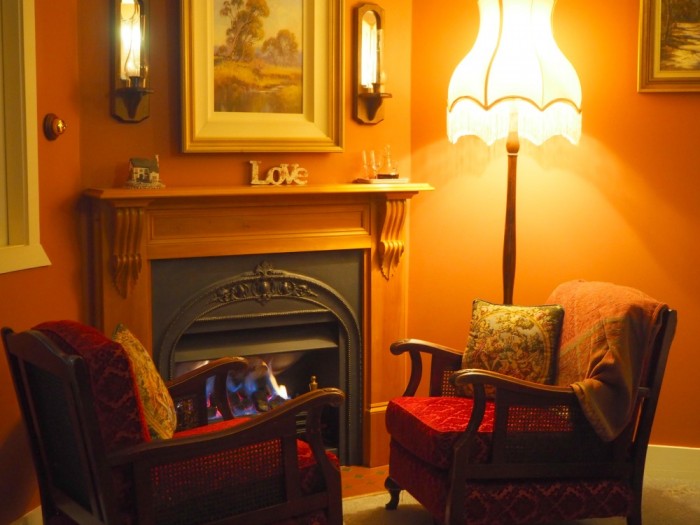 Of course, just like the other suites, there's a sitting area to watch TV, good luck with that, though. The bed is so comfy you won't want to get out. Just sayin'. Of course, there's a place to eat and a kitchenette too.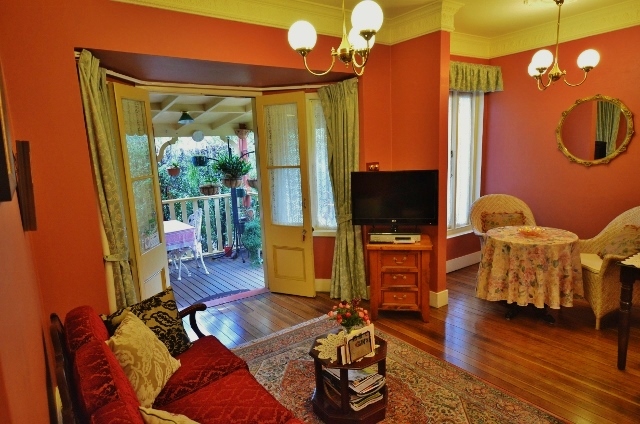 And what's a romantic getaway without a spa bath?!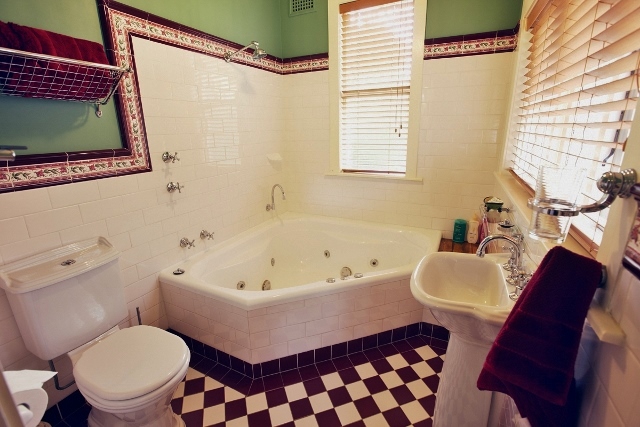 It's not just the uber charm and cosiness of the suites themselves that makes a stay at Shelton Lea so special, it's the charm and friendliness of the hosts themselves. Not only are Jenny and Paul a mine of information about the local area, they are also the owners of the cutest dog ever… Can we just take a breather for a minute to coo over Belle, a true canine princess?! Isn't she adorable?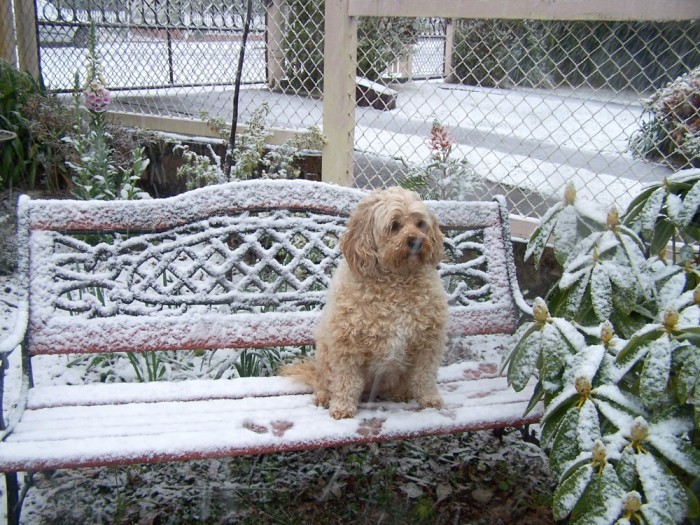 Anyhoo, back to Jenny and Paul, it's the little things they do that mean a lot. I don't know many establishments that leave port and chocolates out for their guests, do you?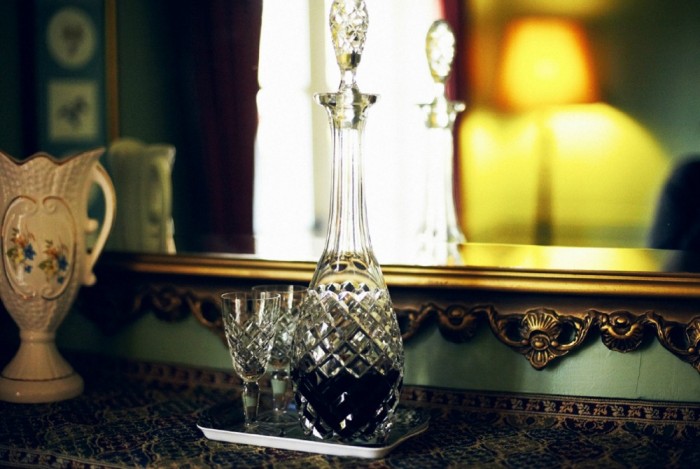 Indeed I don't know many establishments that leave freshly home baked treats out for their guests. If you don't believe me, you'll find some of my favourite "Jenny recipes" on the blog, like these Cranzacs, for starters. I actually have a whole heap of Jenny recipes that are in my "to-blog" folder! Here's the Date and Walnut Loaf she left us last time we stayed. It was so fresh and so warm, it was steaming up the cloche it was nestled under!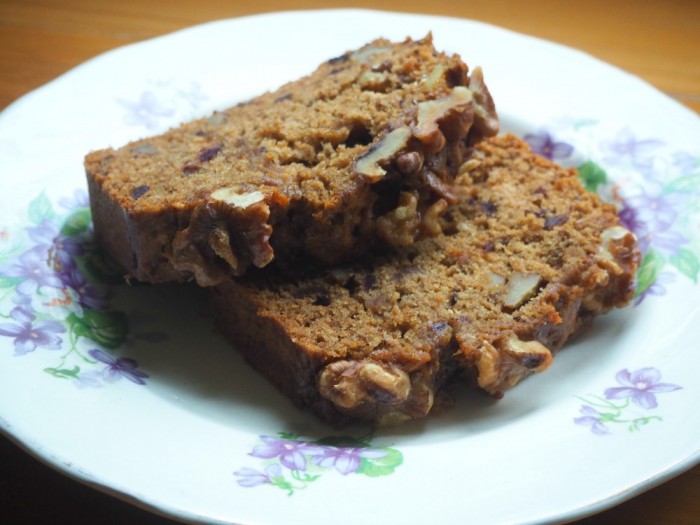 Staying at Shelton Lea has spoiled me for life because being self contained means there's no communal dining at breakfast, so eating brekkie with your beloved or your besties in your suite, in your PJs and with bed hair is totally legit. You pre order brekkie the night before choosing what you want to eat and what time you want to eat it and Jenny or Paul deliver it to your suite, like real life breakfast fairies. Alternatively if cooked breakfast isn't your thing, you can have a continental breakfast in your suite and you won't be disturbed at all!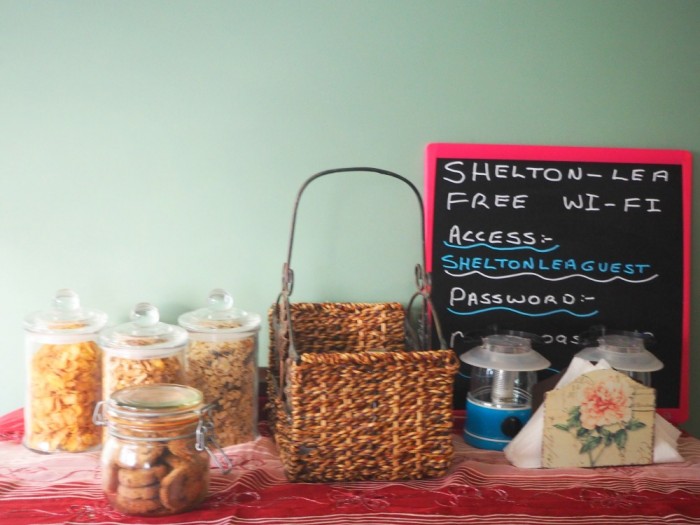 I've stayed at Shelton Lea in all four seasons, and I'm pleased to report it's cool in summer and with heating, roaring fires and electric blankets, it's totally toasty in winter too! Even when it's snowing! In fact, it's like the Goldilocks of holiday accommodation, it's not too hot, not too cold… It's just right!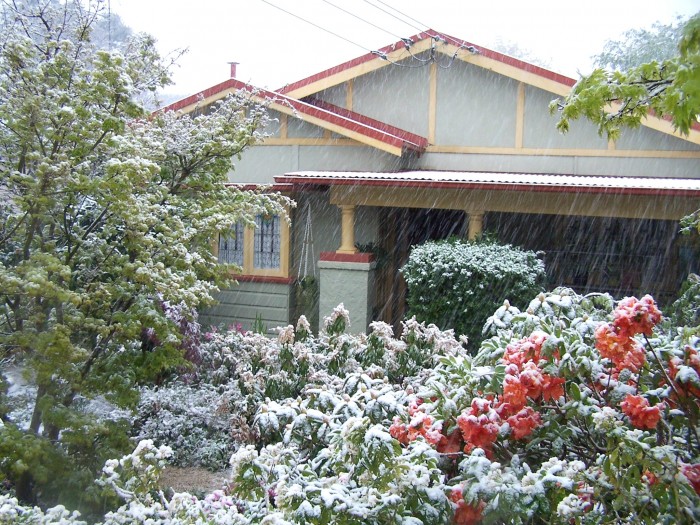 And if that's not all, Shelton Lea is now offering personalised tours to the Mudgee wine region – another one of my favourite places and the perfect excuse to go back for a visit!
To find out more or make a booking, visit  Shelton Lea  and be sure to say I sent you!
Have you ever been to the Blue Mountains? What's your go-to destination for a romantic getaway? Which Shelton Lea suite is your favourite?
This post is not sponsored in any way. I've just had such wonderful experiences, I wanted to share them!
Linking up with Essentially Jess for IBOT