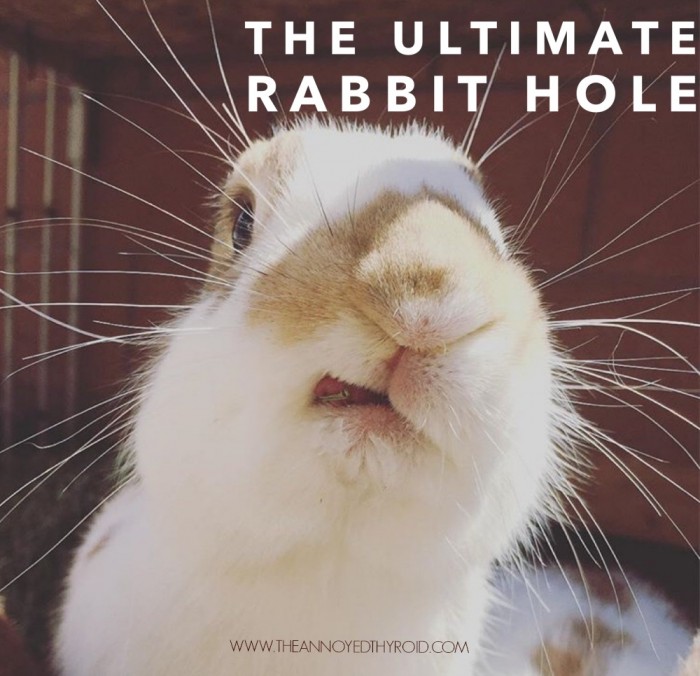 Well, hello there!
I am so excited for the weekend! It's been a big week here – big runs because Run Disney is only 4 weeks away, big excitement because we have a visitor from the mother country and because of said visitor, a big adventure to the Blue Mountains, albeit for one night only. Right now though,  I'm excited to hop on down and see what's down the Rabbit Hole! Won't you join me?
Before we get stuck in, can we just rewind to Thursday which was National Chocolate Chip Day. You only have to type "chocolate chip" into the search bar on this blog to see how much I love chocolate chips. Can I interest you in some Triple Chocolate Chickpea Cookies? (Yes, you totally heard that right!) Or maybe these Pumpkin Chocolate Chip Cookies will tickle your fancy? However, if you're  in the mood for cake, you might want to try my All-in-One Chocolate Chip Cake. It's full of yum!
The closer we get to Disney, the more we run. This weekend we ran a 6km, a 10km and a 16km on 3 consecutive days. Physically we felt a bit under par at the end of it, but mentally we were on good form. I've always maintained running helped me as much as any medical intervention during my cancer treatment, because it kept my body in good condition and my mind tip top… Exercise for mental health treatment is totally a thing.
Last week we talked about my theory that a glass of red wine a day keeps the doctor away. Well, that glass of wine just got some value added,  because did you know that scientists say a glass of wine before bed can help you lose weight? Clearly, I need to drink more wine!
Every time you open a cupboard in this house, you're in danger of being trapped under a junk avalanche. Decluttering is top of our list of things to do when we get back from holiday. In the meantime, I'm bookmarking these 10 easy tips to instantly declutter your home. It looks so easy even I can do it!
Talking of decluttering… First, there was the digital detox and then there was the digital declutter. Yes, that's a thing and a simple thing that will make more time in your day.
Still on the subject of more time, I definitely need that because I procrastinate like a boss. I totally put the "PRO" in procrastination  with procrastibaking and procrastifacebooking being my particular areas of expertise. What's yours?
I am the ultimate lazy girl when it comes to washing my hair. There's so much of it, the less I wash it, the happier I am. Dry shampoo is my new best friend, but I only just found out how easy it is to make my own. Check out these 3 DIY Dry Shampoo Recipes – too easy! And still on the subject of hair, check out these 10 hacks for hair happiness so every day will be a good hair day!
Four weeks until the big trip and I'm already thinking about packing. Eager much? I'm a serial over packer but at least I can encroach on some of David's case space in the likely event that I run out of my own! In the meantime, I'll contemplate this tips on how to avoid overpacking.
It wouldn't be a real rabbit hole adventure, if I left you without a dog post and this one is a cracker. Check out these 7 doggy before-and-afters that will make your heart squirm… For realz! Biggie Smalls gets my vote. Who gets yours?
So tell me, are you in need of a digital declutter too? Are you a fan of dry shampoo? Are you an over packer too? Can you procrastinate like a boss? What's the current state of your cupboards? What do you like to drink before bed? Tell me all the things and have yourself a very jolly weekend!
Every Saturday morning, we will open up the rabbit hole link up for bloggers to add their link list posts or even just their favourite post (if you are not of the link list kind) for the week. Please link only one post. This makes it fair for everyone and allows more posts to be read. Talking of reading, do try and pop along to say howdee to some of  the other lovely linkers. Link up here, over at Calm to Conniption or The Geeky Shopaholic. It doesn't matter where you add your link because it will appear on all three blogs, as if by magic!  The link up will stay open until midnight the following Monday.
Loading InLinkz ...