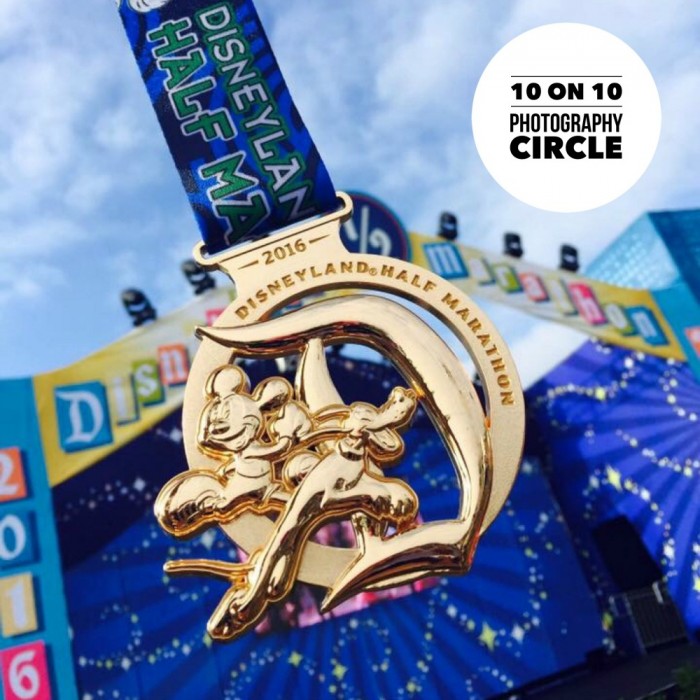 You know what it's like when you're on holi-yays, you totally lose track of time… So the fact that it is the 10th of the month already has come as quite a surprise.  Of course, that means I couldn't not join in with this month's Clever Cookie Photography Circle, because as the great Magnus Magnusson on Mastermind used to say, I've started so I'll finish!
As much as I'm loving Toronto, I think I left my heart in Disneyland so it seems only fitting that for this month's photo circle I'm sharing my favourite pics from the Disneyland Half Marathon Weekend. To quote Cher, if I could turn back time… I would. I'd do it all again in a heartbeat!
A photo circle isn't a photo circle unless I bend the rules and this one is no exception! These photos are basically a portrait medley; taken by me, taken by David, some were even taken by random photographers and the title pic was taken by Luis. I know that that's technically cheating but it's really hard to take action shots when you're the one in action! You'll also have to forgive the quality of some of these shots because many of them were taken in bad light with wobbly legs and sweaty palms (and sweaty everything else really.)
Don't forget, when you've finished checking out my pic picks, be sure to hop on over and say g'day to my mate Jen  and see what she's been snapping. She's from the deep south in the good old US of A and her photos are always fabulous!
Anyhoo, let's get stuck in shall we? So we leave Sydney Wednesday morning, arrive in Disneyland Wednesday morning and run the 5k on the Friday morning which is what I would loosely describe as a tight schedule. Jet lag totally makes us her bitch and we rock up at the start line for the 5k at 5am bright eyed, bushy tailed and looking mouse-tastic despite having had only 4 hours sleep between us. No sooner do we cross the start line, than we zoom into Cars Land and just have time to stop for a selfie!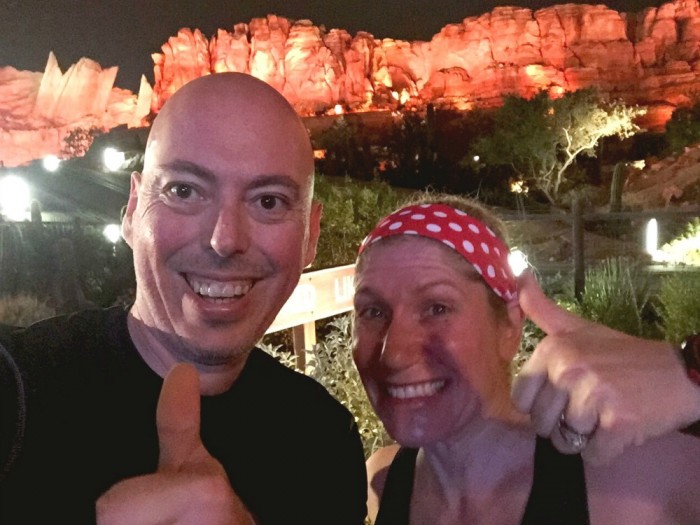 However, the 5k is really just an excuse to stretch our legs and stretch our legs we do! We don't go to Disney to run a personal best in terms of time, but we do go to run a personal best in terms of fun, and in that respect we totally succeed. Running through the castle is far and away our favourite part of the course! Can you tell?!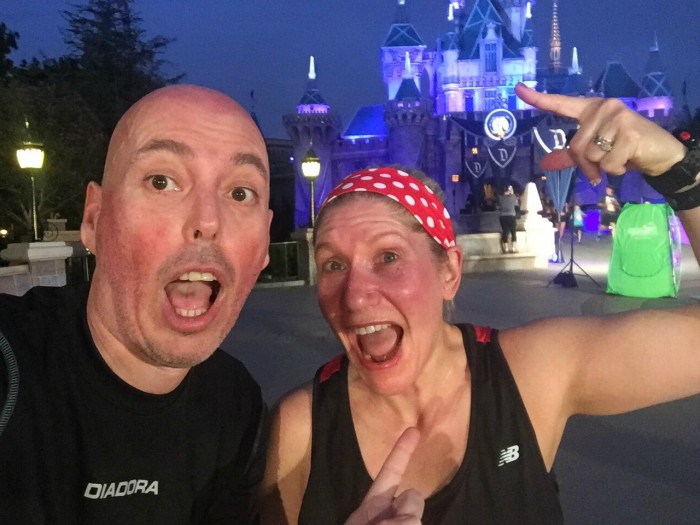 The theme for the 5k is Country Bears which I find especially difficult to get excited about. But of course that all changes when I get my hands on my bling. I can bear-ly contain my excitement! On a side note, my Minnie Mouse game is on point, especially in the nail department! I'm all about the matchy matchy.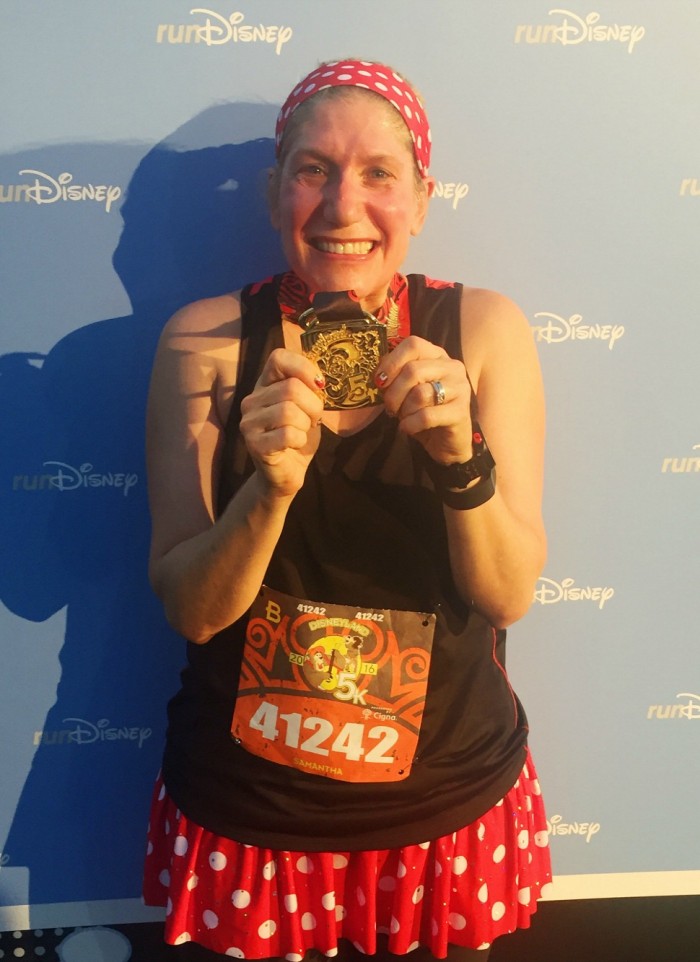 We spend the day "recovering" in the parks and gear ourselves up for the next day's 10k. We have a change of outfit but unfortunately there's no change in our sleep pattern but that doesn't matter because we have prince and princess power! The picture is lacking in quality, but thankfully our running isn't! On a side note, can we just take a moment to admire David's epaulettes? Our friend Leda made David's Prince costume so charming, it's magic, don't you think?!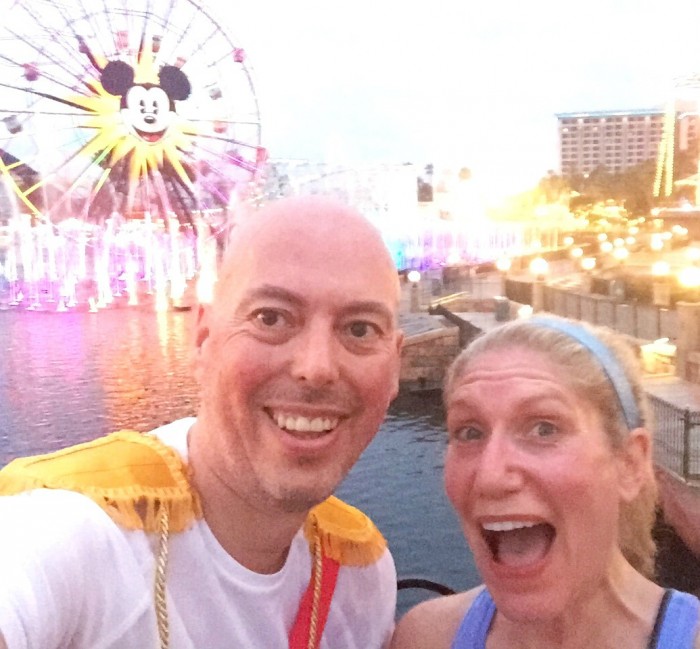 Maths has never been my strong point, so you can imagine that running a race measured in kilometres with mile markers, sends me into quite a spin! Luckily, every mile marker is different which is a pleasant distraction from the kilometre crunching!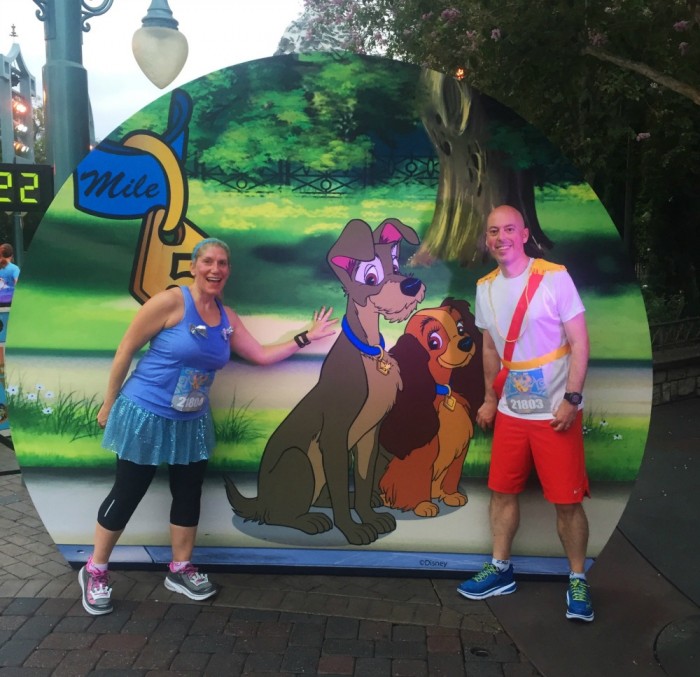 The medals we receive at the end of the race are the most pleasant distraction of all and ensure that we live happily ever after. At least for today!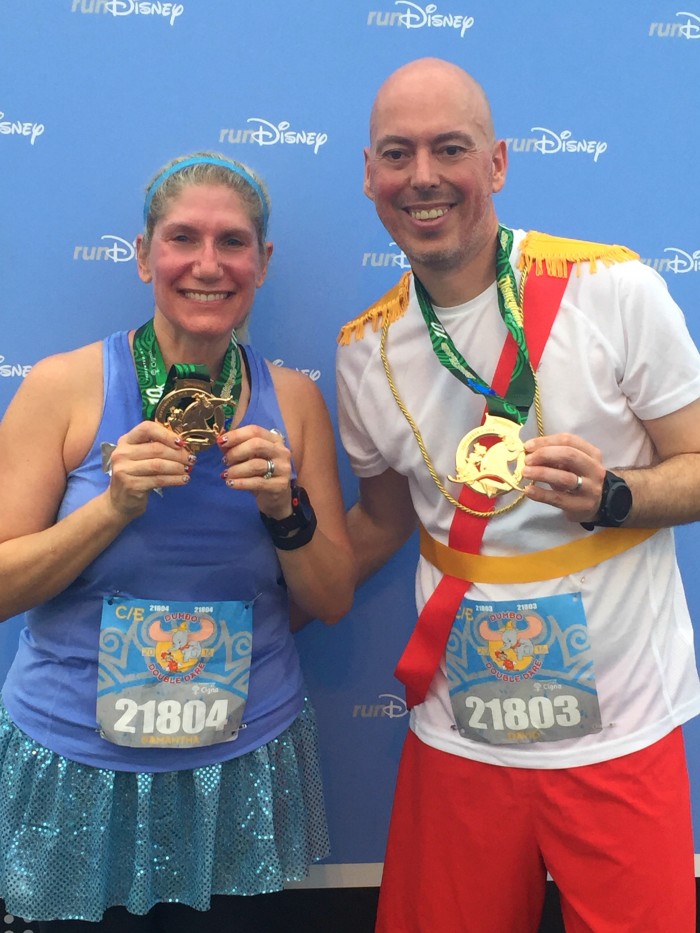 By the time Sunday rolls around, we are running on almost zero sleep which on the flip side means there is no chance of us missing our 4am wake up call. We get up extra early to make sure we make it into our starting group and not only do we make it, but we make it to the front of the group which means when we get to the start line, we get to score a snap with Mickey and Pluto. Winning!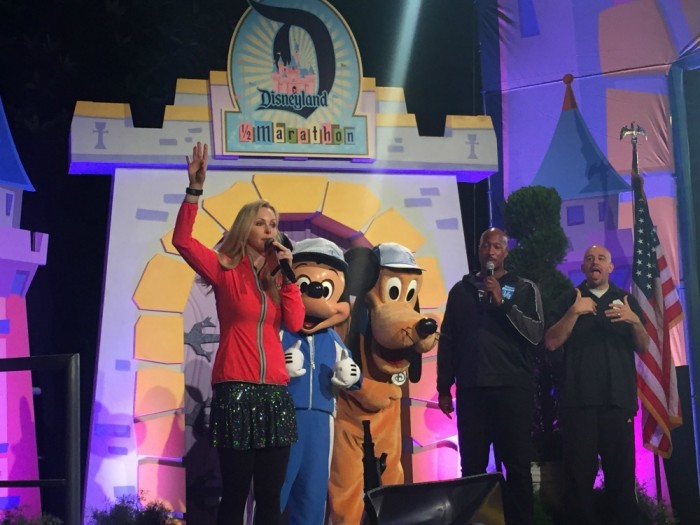 The theme of the half marathon weekend is dynamic duos which I think sums up Mickey and Pluto, and indeed me and David perfectly. Modest much?! At 21km the half marathon is definitely the longest and most challenging of the three races and the one which we run most of outside of the parks. There's plenty to keep us interested though, from cheerleading squads to brass bands, to locals supporting the strangers on the streets and one of my favourites, a whole block of classic cars! This is my pick of the hot wheels and I can't help but stop for a surf!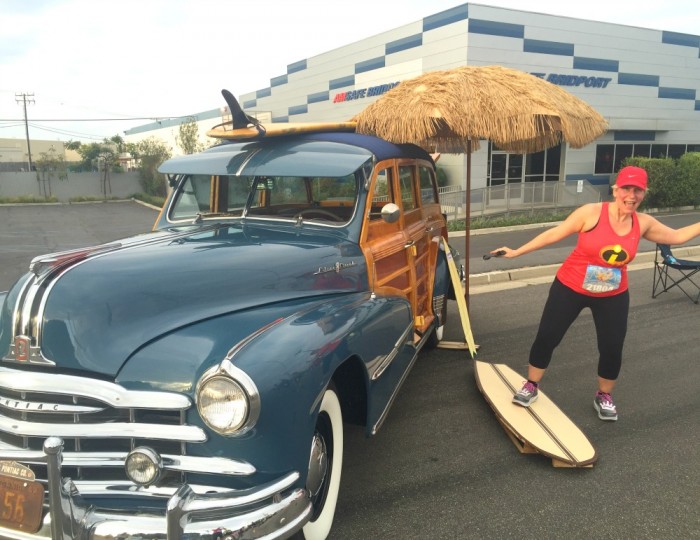 Another highlight of the half marathon course is running through  Angels Stadium. The stands are full with youth groups cheering us on and the atmosphere is electric. After so much selfie action our arms are nearly as tired as our legs, so we ask an angel (AKA someone who works at the stadium) for some photographic assistance. See that sweat? That's my fat crying. For realz!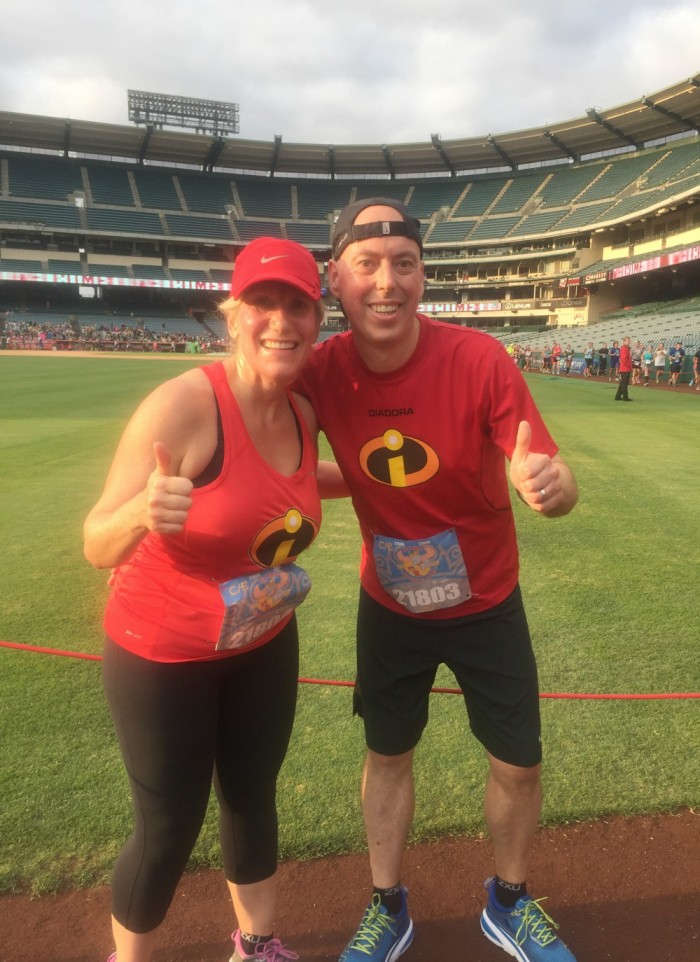 It isn't long to the finish line, where we collect our last bits of bling; a Half Marathon medal and a Double Dare medal for completing the half marathon and 10k on two consecutive days. Asking us to decide which medal we love more is like asking a parent which is their favourite child, but  the ears on Dumbo actually move! Just sayin'! Clearly, the novelty of winning a Disney medal never wears off!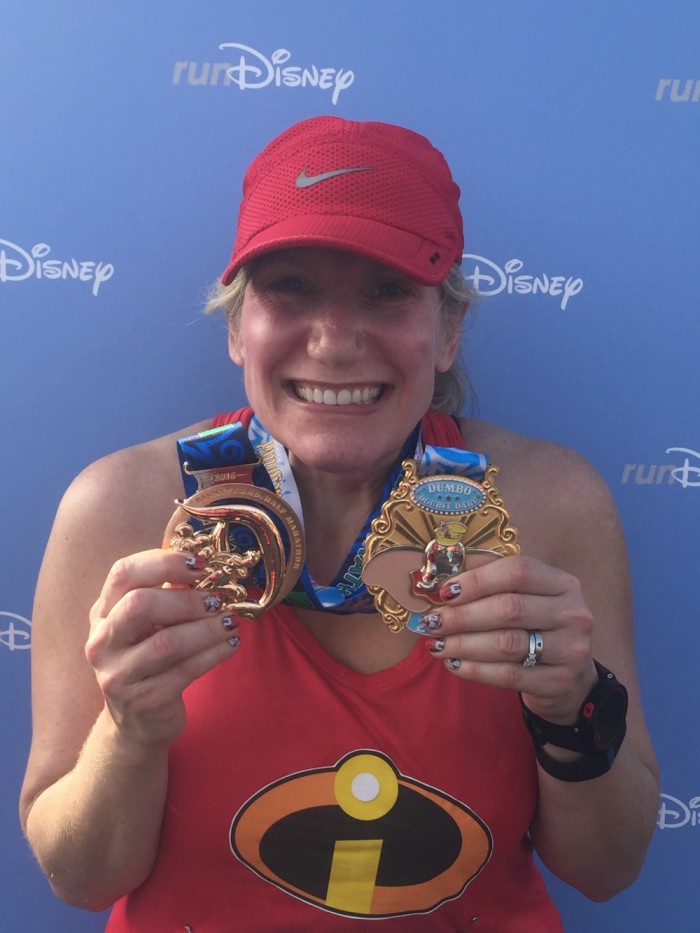 And with that, just like that the runs are done but gee, were they fun!
Now remember friends, the fun of the photography circle doesn't stop here. Do pop on over and  say g'day to Jen.  Be sure to check out her super snaps, and then follow the circle to meet all the other fantastic photographers and see what they've been clicking on their cameras. Enjoy the photo fest!
Tell me, if you could turn back time, where would you go? Are you good at maths? If you were dressing up for a Run Disney event, who/what would you be?!