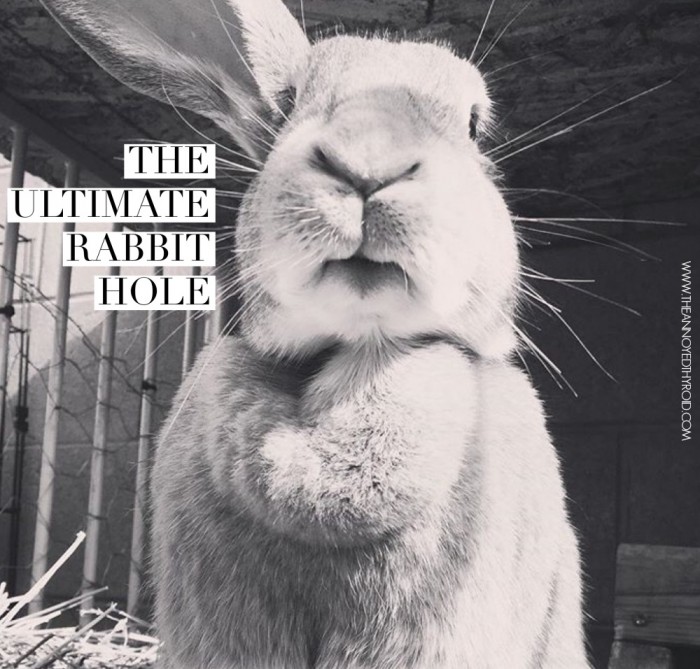 Well hello there! I'm back and I missed you!
Long time no see! Holidays are fun and all but there really is no place like home (unless of course, home is Disneyland.) Things I'm loving so far are sleeping in my own bed, jet lag dodging, cooking and of course, being back down the Rabbit Hole. I must give a massive high five to Shari for keeping my seat warm while multi tasking baking her baby to perfection, she's a dead set legend!
Well, what do you know!?  Today is World Vegetarian Day and guess what! You don't have to be vegetarian to celebrate! I'm a huge fan of meatless meals and if you want to get on the veggie train, here are 23 easy vegetarian recipes with 5 ingredients are less so they're easy to make, yummy to eat and perfect for your Grand Final snack degustation. Doesn't everyone have that or is that just me? I'll be celebrating with a batch of my Vegetarian Sausage Rolls which we actually prefer over meat any day of the week but especially on Grand Final day! I'm all about the red and white today, and you?
It is  good to be home as especially as our beautiful neighbour left us a homemade quiche, cake and milk in the fridge (because a homecoming is not a homecoming without a homemade cup of tea ) folded all our washing and made the bed which we had to resist falling into immediately because… Jet lag! I've missed home but I haven't missed housework, washing up or meal planning. Choosing where to eat is much more fun than choosing what to cook! That said, check out these 17 habits of people who cook dinner every night.
I wish I had as much enthusiasm for meal planning as I have for baking! I wanted to bake within hours of our homecoming only the butter was too cold and the kitchen looked too tidy… So I waited until the very next morning. That's willpower. If you're on school holidays or even if you're not, you might want to have your own School Holiday Bake Off. Talking of bake off, did you hear about the Great British version? It's changing channels and as a result, changing guard! Surely the Great British Bake Off minus Mary Berry is not the Great British Bake off at all! In the meantime, I'll console myself with  Mary's Top Ten Baking Tips – she's the Baroness of Baking!
There was heaps of feel good stuff around the interwebs this week. I loved reading about the school that swapped detention for meditation,  Ellen's  views on kindness, we should go through life not just looking at how we can make the world better for ourselves, but how we can make it better for others as well. On the subject of being kind here are 24 ways to say those five all important words – I am here for you.
I am really not joking when I say, I think there are almost as many dogs as people in North America, or maybe even more dogs than people. There was canine eye candy everywhere and if patting random dogs is your thing (it is mine) you're pretty much in heaven and apparently it's all because millennials are picking pets over people. Maybe they've discovered these 10 truths about living with dogs. I wish Australian stratas were as accommodating as their US counterparts, and then I could really put these truths to the test!
Working on the premise that there's no such thing as too many dog related posts, here's what our very own Paula learnt about blogging from her chihuahua, Buffy. We humans think we teach dogs but I think it's the other way round.
That's it from me. I've got some jet lag to beat off, a Grand Final to watch and some veggie delights to eat. So tell me, have you got a favourite vegetarian recipe? If so, please share it in the comments! Will you be watching the Grand Final this arvo? Are you an avid meal planner? Is it school holidays with you? What's your favourite recipe to bake off? Have you learned any important life lessons from your pets? Tell me all the things!
Every Saturday morning, we will open up the rabbit hole link up for bloggers to add their link list posts or even just their favourite post (if you are not of the link list kind) for the week. Please link only one post. This makes it fair for everyone and allows more posts to be read. Talking of reading, do try and pop along to say howdee to some of  the other lovely linkers. Link up here, over at Calm to Conniption or The Geeky Shopaholic. It doesn't matter where you add your link because it will appear on all three blogs, as if by magic!  The link up will stay open until midnight the following Monday.
Loading InLinkz ...