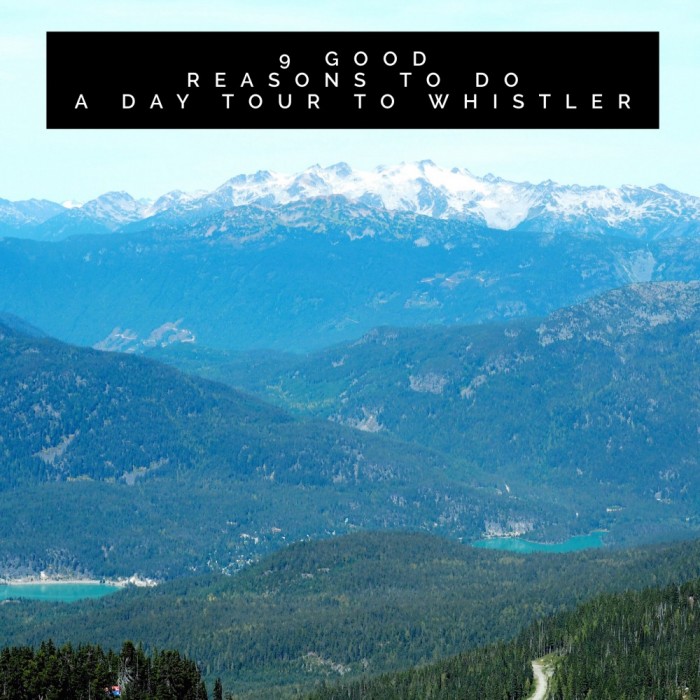 Whistler was a non-negotiable must do for us in Vancouver so we booked ourselves a spot on a tour with Landsea Adventures. It turns out great minds think alike because there were another two Landsea groups Whistler bound on the same day which wasn't a weekend or peak season. Clearly, Whistler is the place to be!
Of course, Whistler is a holiday destination in itself but if like us you are tight for time, a day trip is the way to go. Now, I'm a big fan of day tours and not just because I don't drive and love being chauffeured around. Here's 9 reasons why a day tour to Whistler is always a good idea!
1. You don't have to plan a thing
One of the best things about this tour is that all the planning is done for you. You don't have to book tickets, make a schedule or decide what to see or do, Landsea Tours does all that for you. All you have to do is book your spot, rock up  to the bus and enjoy the ride which brings me rather neatly to my next point…
2. You can see the Sea to Sky
The  road to Whistler is called the  Sea to Sky for a reason, and that reason is that the views are sublime. When the views are this good, you don't want to miss them so having a dedicated driver means everyone in your party can sit back, relax and enjoy the drive with a view. Power napping and bus window photos are of course, optional. Day touring is thirsty work so if the complimentary bottled water on the bus doesn't quite quench your thirst, you can have something a little stronger to drink at Whistler, because you don't have to drive!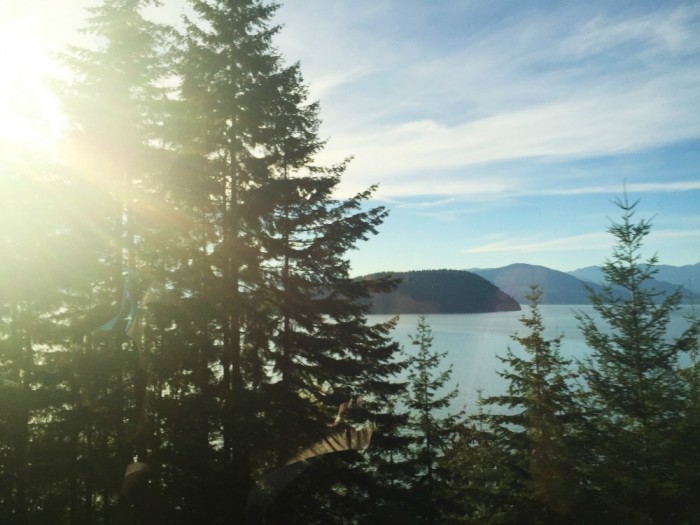 My best bus window photo to date
Most Landsea Tour buses can accommodate 24-30 people but because our group is small (but perfectly formed) so we travel in a mini van with our delightful tour guide Jana at the wheel. By the by, for the best views en route to Whistler try to pick a seat on the left hand side of the bus.
3. You're tour guide knows all the things
I don't think there is anything that our tour guide Jana, doesn't know, from how Whistler got it's name to springboard logging (yes, that's totally a thing.) I learn more about Whistler, Vancouver and Canada from Jana in one day, than I have from secondary resources in forty five years. I kid you not.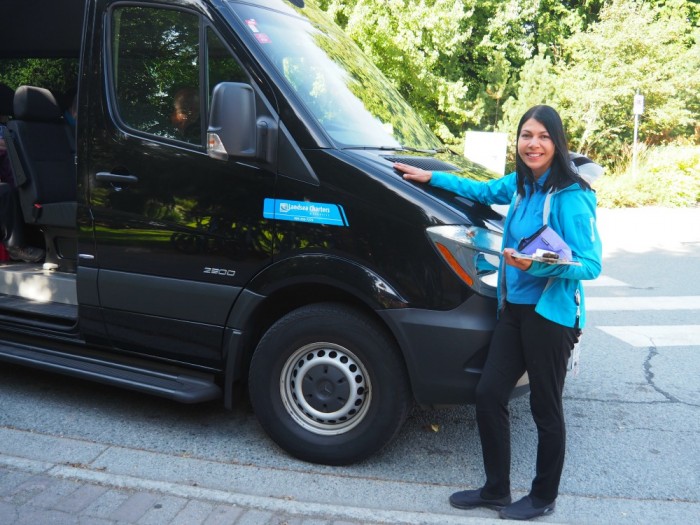 Incidentally if you want to know how Whistler got it's name, check out these little critters called marmonts who inhabit the area and who are famous for whistling and now famous for giving the mountain it's name! If you're lucky, you might spot a marmont atop the mountain. We do but it's clearly not in the mood for whistling.
4. You get breaks from the bus
Every view comes with a toilet stop, or every toilet stop comes with a view. If like me, you have a weak bladder and also like me, struggle to sit still for more than half an hour at a time, then this tour is for you, because it's a road ride with breaks, each one more picturesque than the last. Spending most of the day out of the bus and not on it is a big bonus!
Ladies and gentlemen, I present to you Exhibit A. Porteau Provincial Park.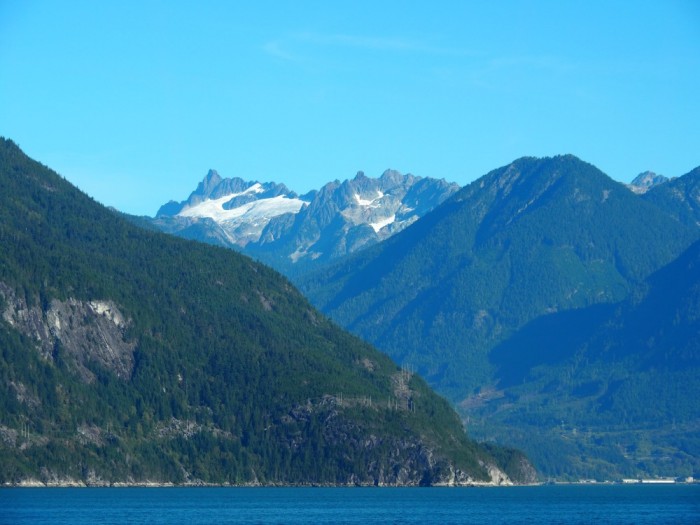 And Exhibit B. Brandywine Falls Provincial Park. Best name ever huh?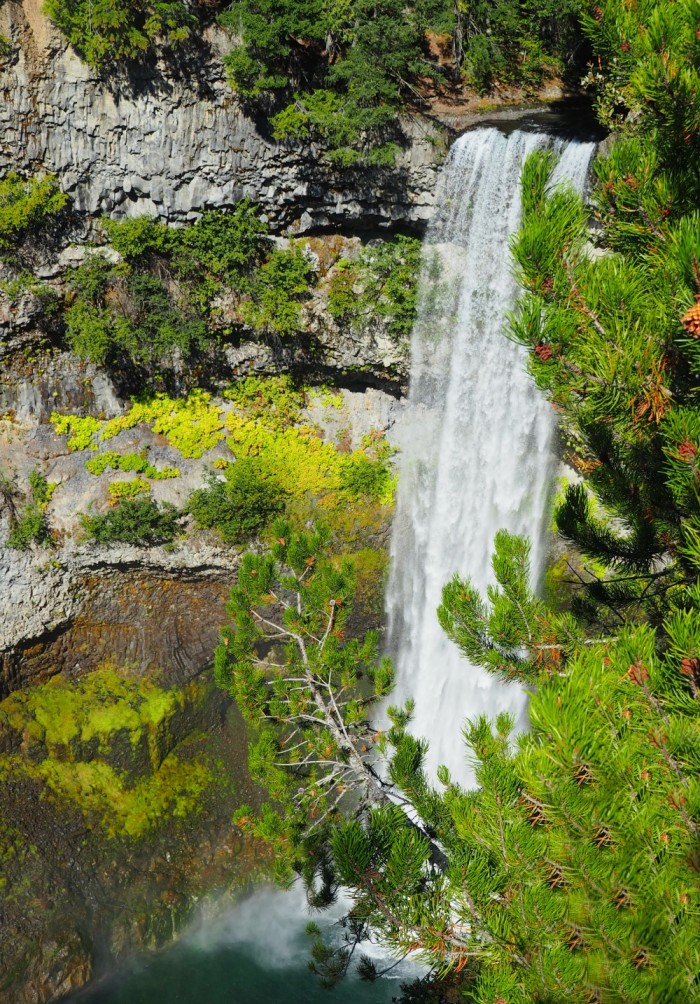 We also stop at Squamish Recreational Centre which isn't nearly as picturesque but does have great coffee and an awesome gift shop which kind of makes up for it. Looks aren't everything, y'know.
There's plenty to see on the way home too. We have a quick pit stop at the Tantalus Mountains which are  popular with photographers, filmmakers and climbers. My beginner camera skills are no match for the serious sun flare so you'll just have to take my word for it, the mountains are spectacular.
And Exhibit C. Saving the best for last, we stop at  Shannon Falls which at 335m high, is the third highest waterfall in British Columbia.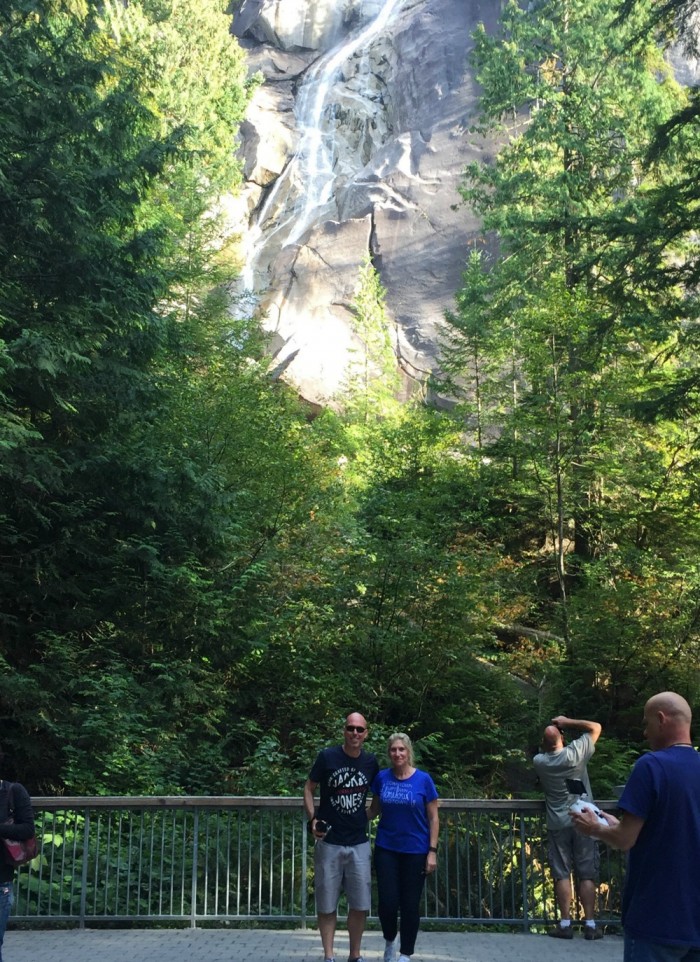 Jana shows us these stumps that are more than 1300 years old and are fascinating examples of springboard logging which was a practice lumberjacks used here in the olden days.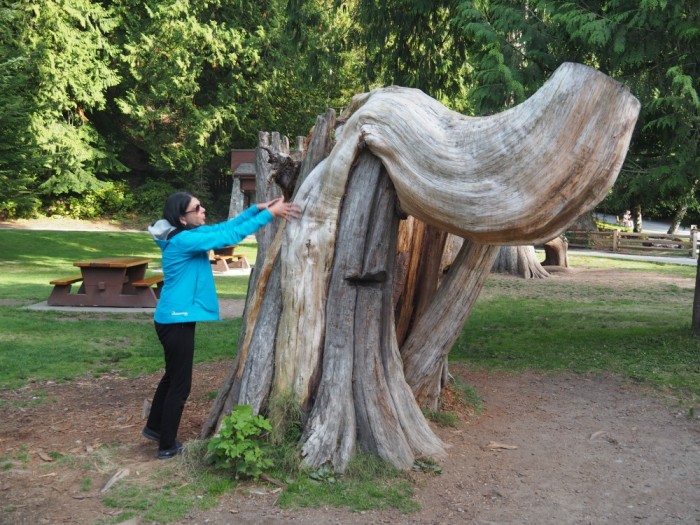 We take a walk on the wild side through the park and see lichen on the trees which is Mother Nature's pure air detector. It only grows where the air is squeaky clean and only 1mm a year at that!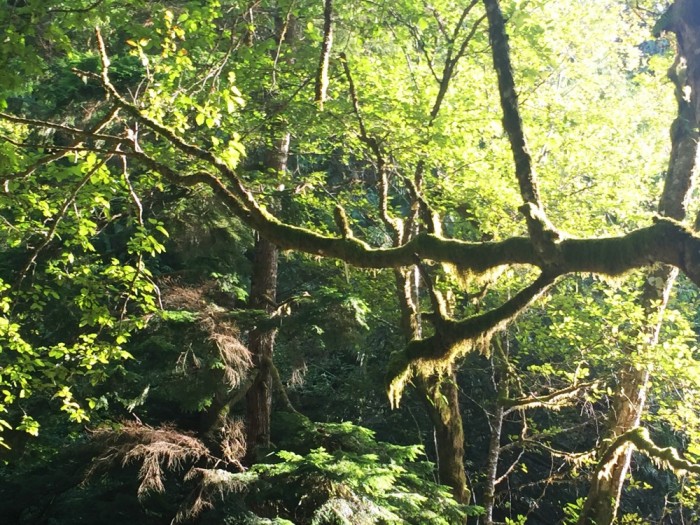 5. You get to decide how to spend your day
I know heaps of peeps  don't like organised tours because they feel like sheep being herded around. Baaaaa!
The best bit about this tour is that when you get to Whistler your time is your own – all 4-5 hours of it.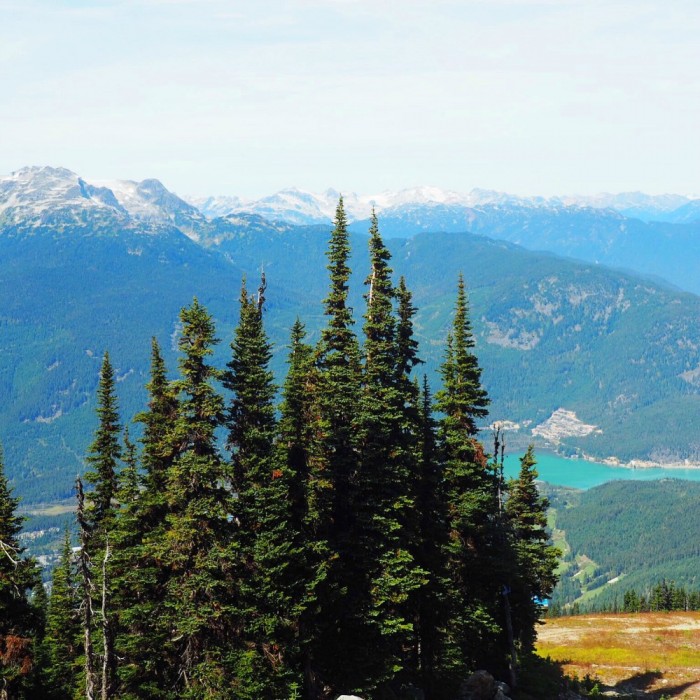 If you don't like being in a group, it's easy to do your own thing and if you do prefer to be part of a pack, you can hang out with your new friends. There's plenty of time to shop, eat and explore the village of Whistler at your leisure. However, if you're after something a little more adventurous, there are all kinds of options and add ons to your time in Whistler and the best bit is, that you don't have decide until the day so you can see how both you and the weather are feeling.
Whistler is super accessible whatever your needs. There's wheelchair access pretty much everywhere and it's very kid friendly. We decide to ride the Peak to Peak a tri-cable gondola lift that connects Whistler Mountain and Blackcomb Mountain. It's the first lift in the world to join two mountains side by side and the highest lift of it's kind. If like me, you're afraid of heights, the thought of the 90 minute round trip is  terrifying, but once you're up, up and away, you can't do anything except enjoy the ride and of course, the 360 degree views. Once you get to the top, you literally  feel on top of the world. It's totally worth it.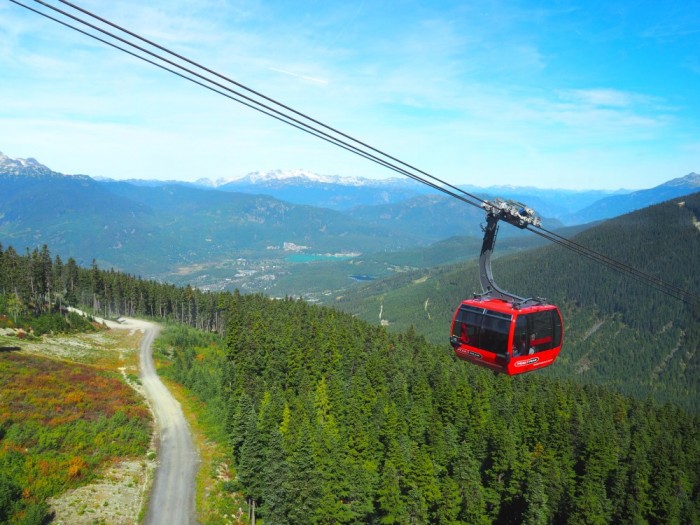 Add ons are largely determined by the weather. September isn't really the weather to join a snowmobile guided tour and given my fear of heights and flying, I decided to pass on a scenic flight. Whether you choose an add on or whether you don't, whatever you do, don't forget the obligatory photo by the Olympic Rings!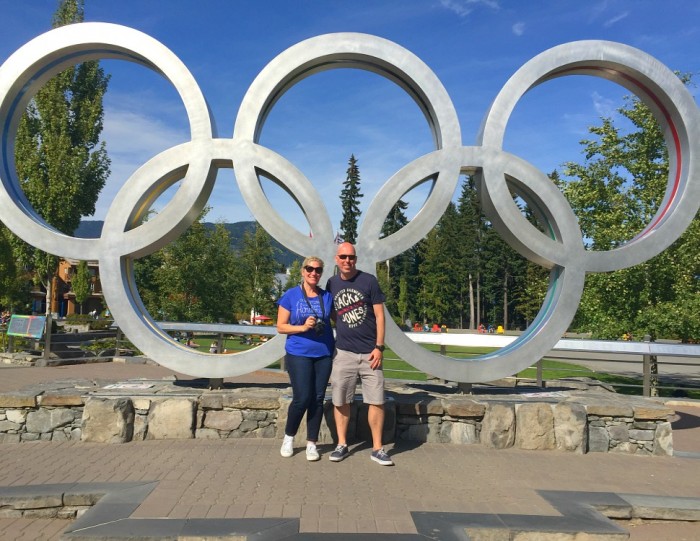 6. You have a friendly photographer
When you get Repetetive Strain Injury from taking so many selfies, your helpful tour guide can step in and take a proper picture. Jana snapped this one for us at Brandywine Falls – this one would definitely go in the pool room if we had one. Not only is your tour guide know how to get a great shot, they know all the best places where to get a great shot.  If there's one thing you can be sure of, your camera will get a thorough workout throughout the day.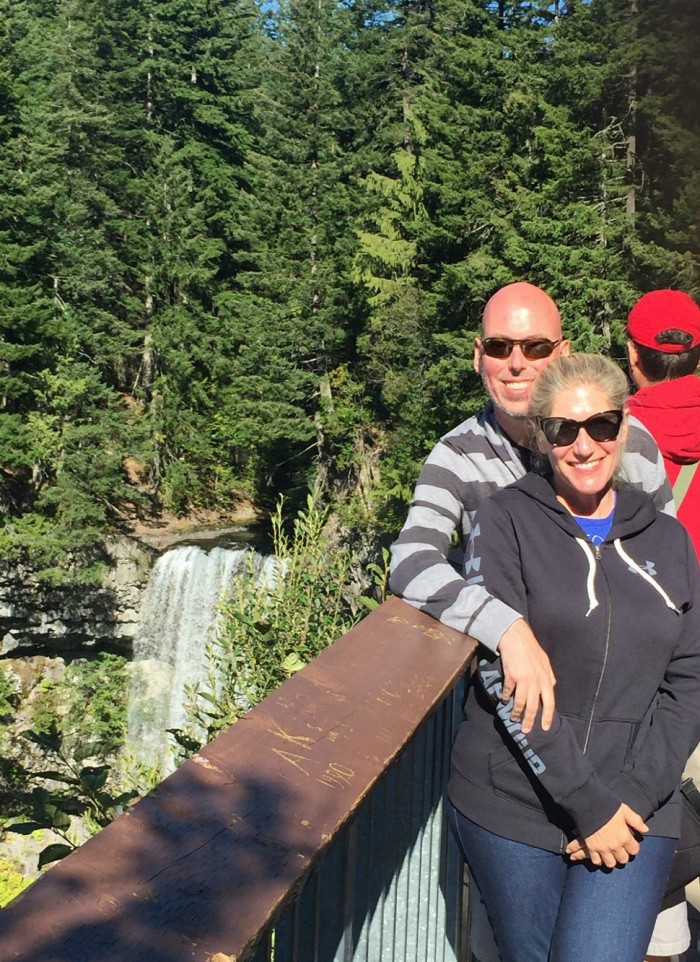 7. You spend money, but you save money
Of course, you have to splash some cash to take the tour in the first place, but being part of a group can actually save you money. If you're out of town, hopping on board means you don't have to pay for car hire or fuel and buying a discounted Peak2Peak ticket from your driver, saves a few dollars and every penny counts, right? Plus, the tour price includes admission into the new Aboriginal Culture Centre and Museum too. We don't have time to visit but if the inside looks as awesome as the outside, it's well worth a visit!
8. You're environmentally friendly
Touring is like car pooling, it 's kind to the environment and by taking a tour,  not only are you guaranteed an ace day out, you are reducing your carbon footprint. This also means you get to go in the bus lane too which is a definite bonus in Vancouver traffic which has to be seen to be believed!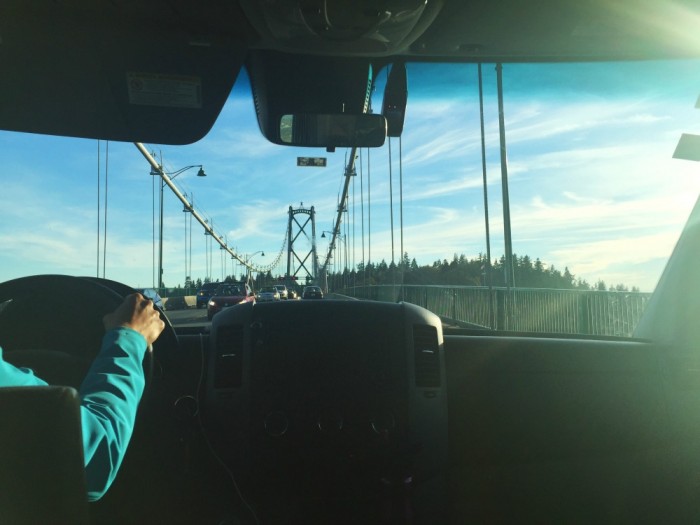 9. You get so much more
A day trip to Whistler is so much more than a visit to the resort. You get to see, find out about and do so much more than just Whistler including some of  Vancouver's harbour, bridges and beaches as well and British Colombia's aborginal culture.
Have you ever been to Whistler? Are you partial to a  day tour? Peak2Peak, yay or nay? 
Landsea Tours Whistler Mountains and Adventure Tour is priced from $140. Find out more here
This is not a sponsored post. I travelled as a guest of Landsea Tours but paid for my own Peak2Peak ticket. All opinions are my own.