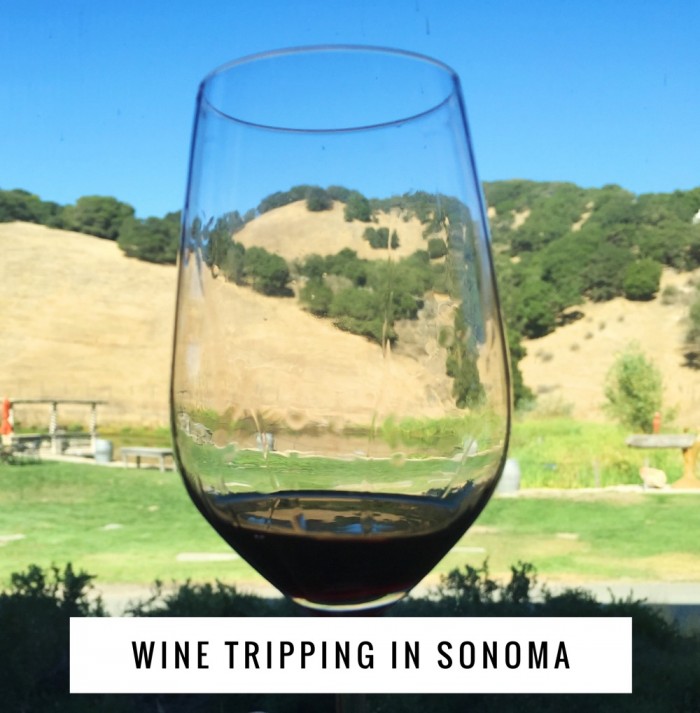 I love wine. And I love a day tour. So of course, when I can combine my love of wine and day tours, I think that's twice as nice.
I consider myself something of a wine tour veteran; I've tasted my way around some of Australia's finest vineyards, adventured around South Africa's wine country and even had a 40th wine tour birthday party with a minibus full of mates and a jolly around the Hunter Valley. I wasn't joking when I said I was a fan of wine tours!
After our epic trip hot footing it around North America, we hadn't really made any plans for our last but no means least stop, San Francisco. There was one exception, though, we wanted to see the beauty of and taste the wine in California's wine country.
I've said it before and I'll say it again, hopping on a tour means that everyone gets to enjoy the experience. This has never been truer than true for a day tour to the wine country because if you want to drink, you can't drive, and isn't the drinking kind of the idea?
We hopped aboard a Green Dreams Wine Tour for the day  for a number of reasons. First up the maximum group size is 14 which is the Goldilocks number of group members, not too many, not too few, just right. Second, they also offer a range of tour options, Napa, Sonoma or for those who can't decide, Napa and Sonoma. There's even an Alcatraz and wine country combo. Plus they pick up from hotels and residences in the San Fran area, because doesn't everyone like door to door service? And if that's not all, they are green by name and green by nature, eco-friendly and 100% carbon neutral.
With so many tour options, it is hard to decide, but decide we do, and before we know it, we're all booked in and aboard the bus to Sonoma.
As we head out of the city, Barbara our trusty tour guide breaks the ice on the bus and we all introduce ourselves and say where we're from (Australia, the UK and all over the states, if you're interested.)  As we drive out of the city, Barbara tells us heaps of fascinating facts about the local area and of course, there's a Golden Gate Bridge stop for the quintessential San Francisco selfie.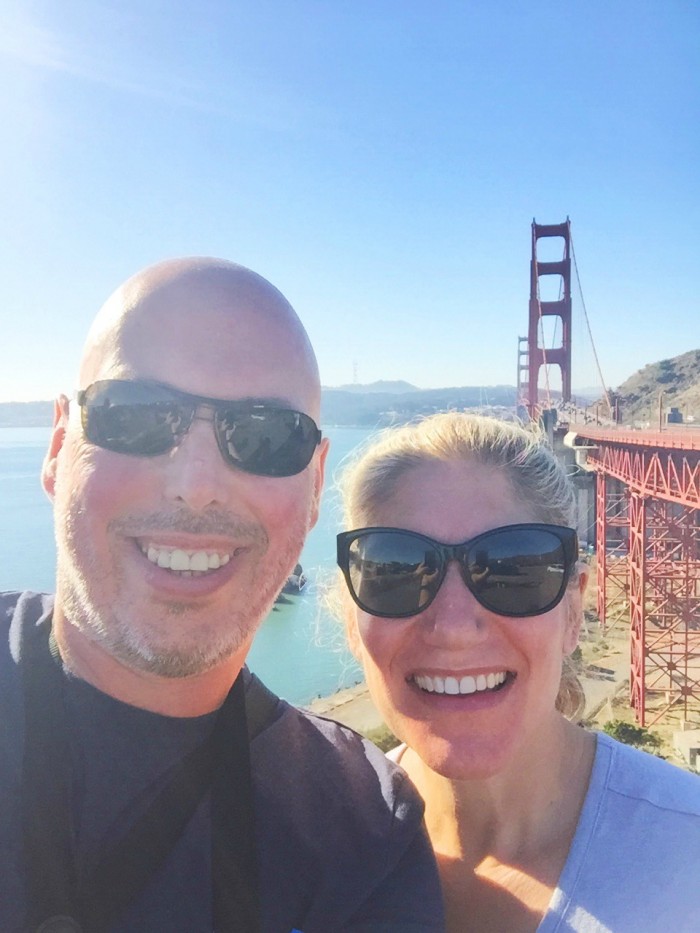 Our first stop is Robledo Family Winery. Renyaldo Robledo's story is the vineyard version of the American dream. In 1968, 16 year old Reynaldo  left Mexico to work in the vineyards of the Napa Valley. He worked hard over the next 30 years, and  gradually started to acquire some land,  launched a vineyard management company and became a successful vineyard consultant. Fast forward to today, and Mr Robledo has 9 children (all of whom are in the wine business) an award winning winery and the family now owns over 350 acres of vineyards. How's that for a happy ever after?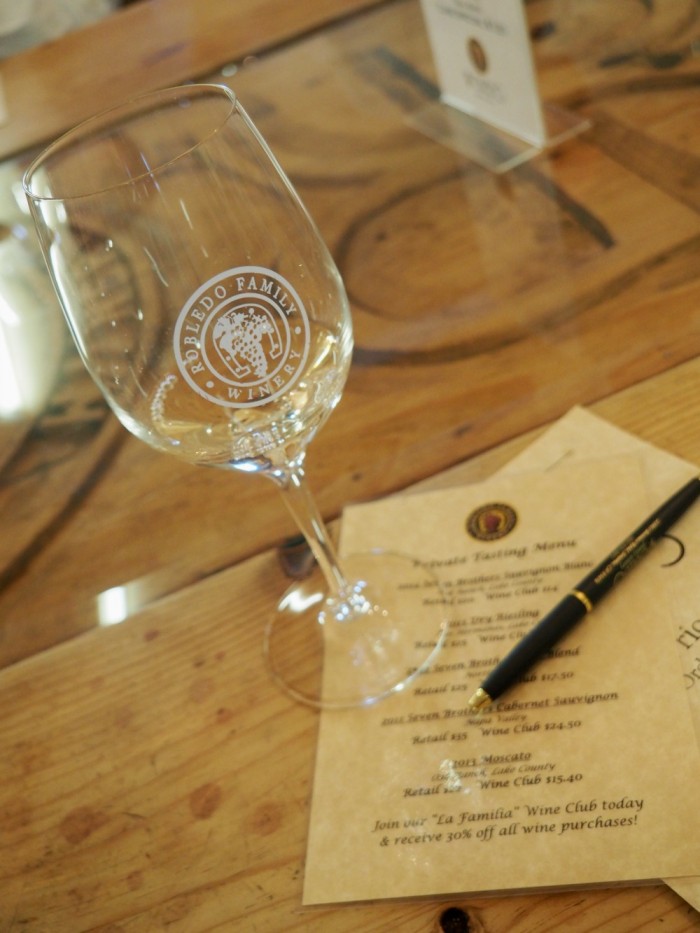 Although Robledo sells most of it's fruit to other wineries, they still have an impressive selection of premium wines and we thoroughly enjoy tasting them,  especially the award winning Sauvignon Blanc. As if that's not enough, they make their own olive oil too!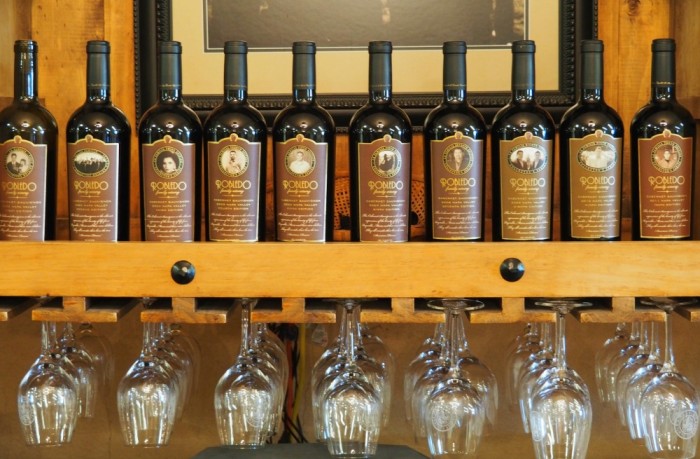 The thing I love most about this trip to Sonoma apart from the wine, is the relative proximity of wine country to the city (it's just over an hour away)  and more than that, the relative proximity of the vineyards to each other (minutes away.) This makes for less slippage time and more sippage time which can only be a good thing on a wine tour, am I right or am I right?
No sooner have we bid adios at Robledo, than we arrive at the Larson Family Winery which back in the day, was home to the largest rodeo in Northern California. If you don't believe me, there's plenty of  rodeo related memorabilia in the barn turned tasting room where we are greeted by Bob. You know you're in good hands when you're host is wearing a shirt that says "it's 5 o'clock somewhere."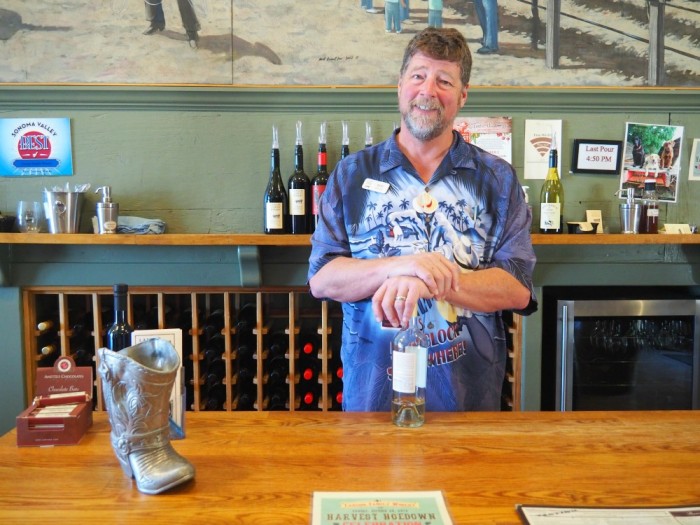 I don't know why Bob is working in a winery apart from the fact that his love and knowledge of wine knows no bounds, because quite frankly he should have his own stand up comedy show. His jokes are as full bodied as a fine red wine, and clearly aged to perfection.
It wasn't until the 1970's that the family planted their first vines,  to make some home wine. Those 40 acres have grown into 400, and they're still family owned and run,  hence the Larson motto, "we drink what we can, and sell the rest!" We taste five delicious wines here but to be honest, I'm a bit distracted by the three wine dogs in residence; Buster, Pete and Bubba. When it comes to labs, the Larson family have their bases covered with one yellow, one chocolate and one black. There's a lot of labrador love here, not only are the dogs part of the winery experience, they even have wines named after them!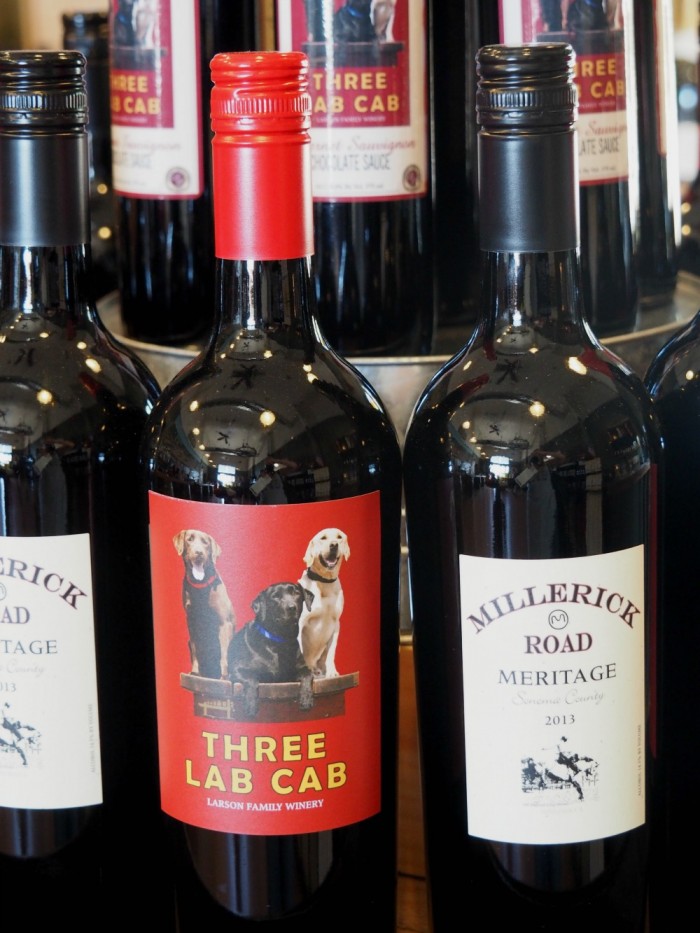 We also try the chocolate pinot noir sauce with a red wine chaser, and it's as delicious as it sounds only more so! We also try the Chardonnay Wine Brittle which is so delicious, we buy some to bring home. It's got more chance of surviving a long haul flight than one of these beautiful bottles.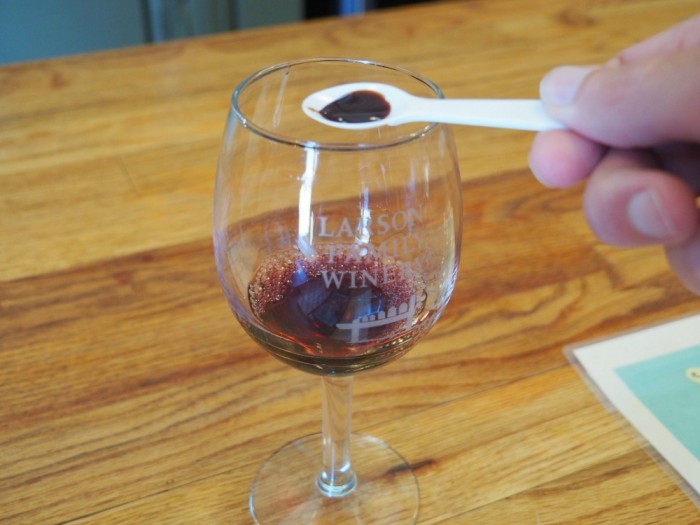 By the by, have you noticed the size of the servings in Sonoma wineries? We're used to wine tasting in much smaller "tasting" glasses and are pleasantly surprised at the full sized glasses and the amount of wine poured into them. That said, the tour has been precision planned with  evenly spaced winery stops throughout the day because let's face it when you're on a wine tour, you don't want to peak too early. After our tastings, we head out to the back pad and check out the stunning vineyard views.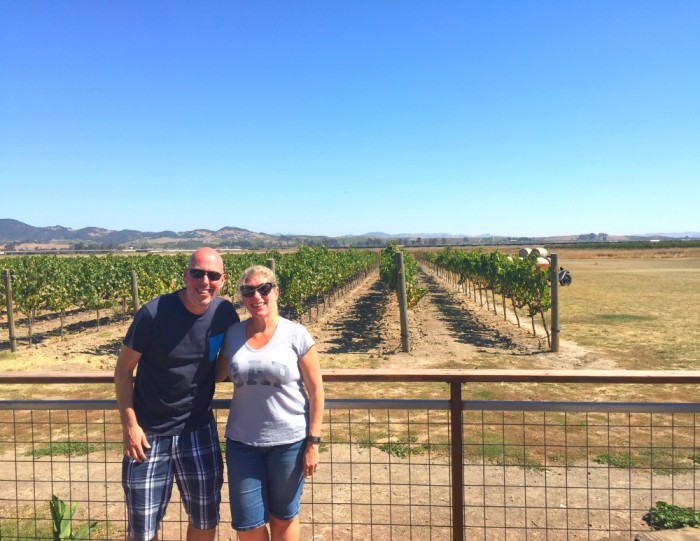 Larson Family Winery is one of the few vineyards where you can bring your own picnic and Barbara's brought ours! She magically produces some delicious sandwiches, sides of salad and giant cookies, and if you feel in need of some liquid refreshment, you can always buy a bottle from the tasting room. We enjoy a leisurely lunch but if you prefer a bit more action you can always have a game of bocce (which is kind of like boules) or if like us, you don't know the rules, a simple game of beanbag toss might suffice.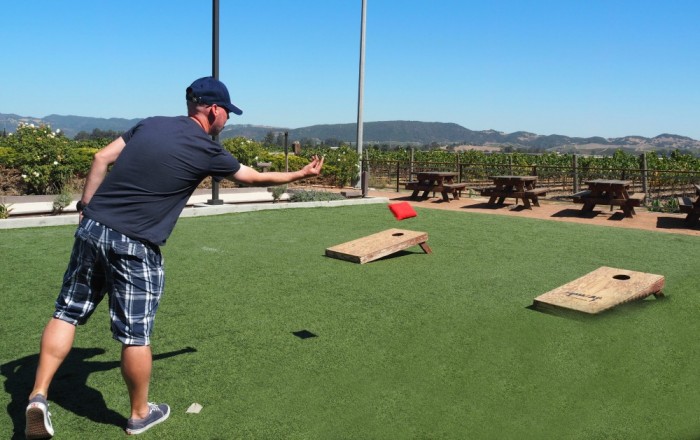 After lunch we head to Sonoma itself which is as pretty as a picture.  This historical town is famous for it's Mexican colonial past, historic town plaza and for being the place where the bear flag was first raised. We have grand notions of checking out the quaint shops and art galleries,  and exploring the Old Town Square and the Mission Solano, but it's way too hot to do anything except find the nearest cafe with air con and drink cold, soft drinks. However, we can't leave town without a quick pic of the bear flag and the mission and we get back on the bus without melting. But only just.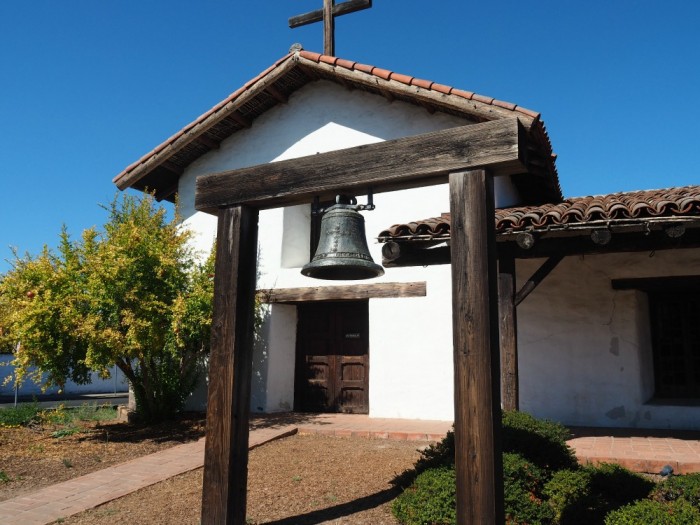 Lucky Barbara has an ice box full of cold water. And mints. And crackers. Everyone needs a tour guide like Barbara in their life. You may notice that our tour bus is a tad smaller than usual, that's because the regular ride is out of action. Let's just say this minibus is very cosy inside. Lucky we all get on well and praise be to the powerful air con, that's what I say!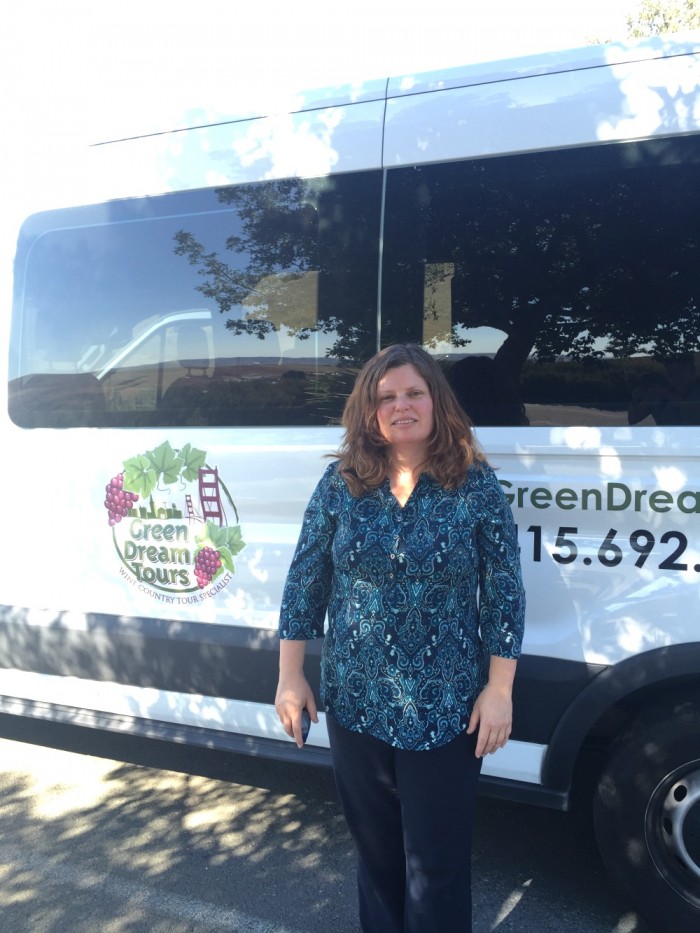 We visit only three wineries but we love that each boutique winery is completely different from the other; in their setting, their stories and their variety of wines. One thing that is common to all three though is that they all produce mighty fine wine.
Finally we stop at Nicholson Ranch. It's 100 degrees plus outside so a vineyard tour is off the agenda. Instead we keep cool inside and see where and how the wine is made and taste it where it's made too!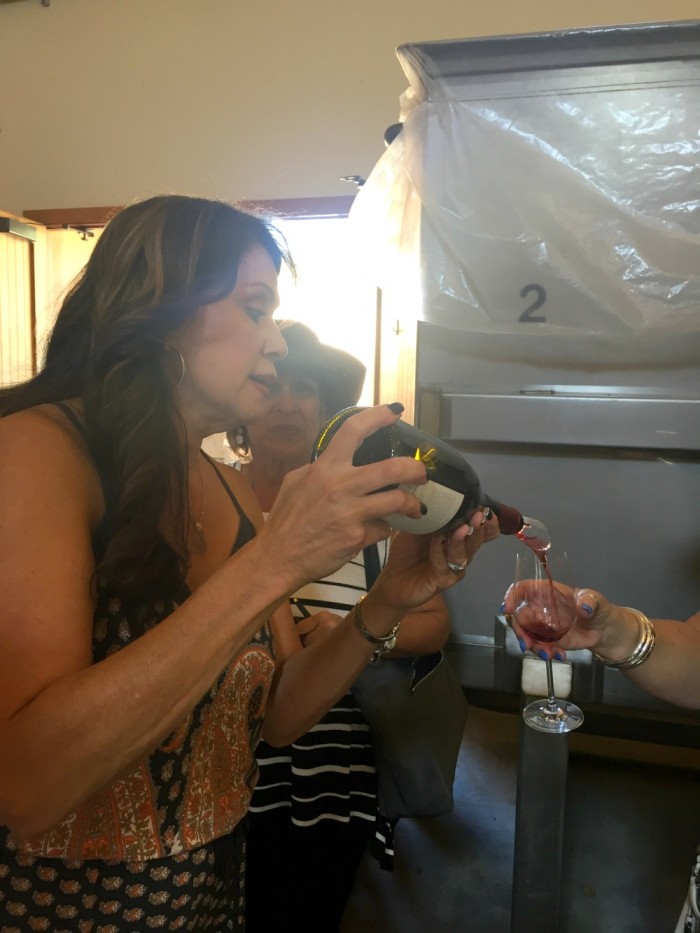 Here at Nicholson, they don't add any additives to their wine, it's the fruit, the whole fruit and nothing but the fruit and yes, you can taste the difference. Nicholson is  famous for their exquisite Chardonnay and Pinot Noir and we're a tad jealous of our American friends who can get these wines delivered to their door. The FOMO is real. The  ranch sits atop 10,000 square feet of wine caves and has some distinguishing features, most notably the mini amphitheatre and the little chapel located on the hill above the winery.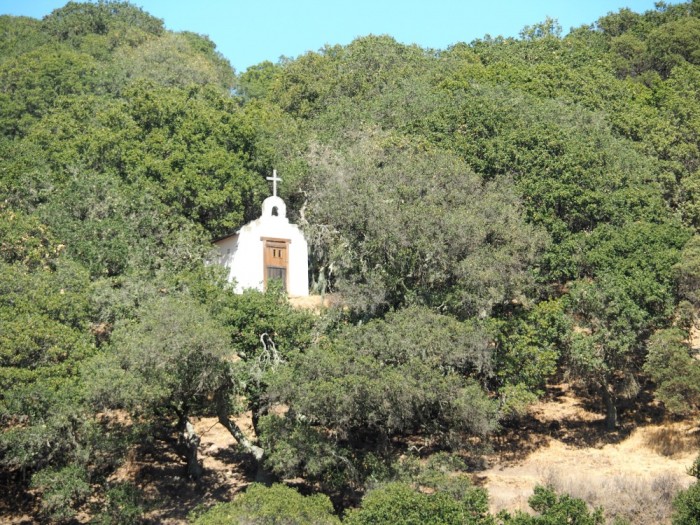 By the end of the day, the ice has been well and truly broken, the wine has been tasted and a merry time has been had by all. We just have time for one group photo. Everyone smile and say "winery!"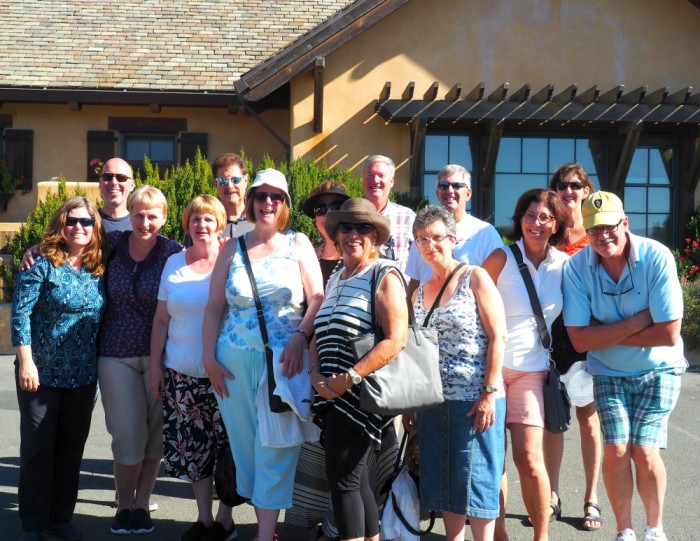 Do you love wine too? What's your favourite? Have you ever been on a wine tour?
I travelled as a guest of Green Dream Tours but all opinions are my own.
Linking up with Kylie for IBOT