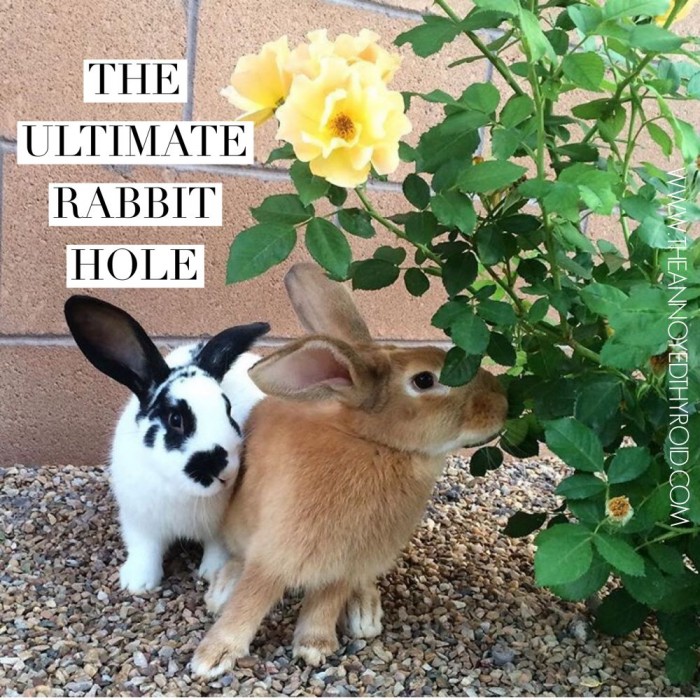 Howdee rabbit holers? I do hope things are tickety boo with you. I'm taking the rabbit hole on tour this week as I'm up the coast enjoying a weekend getaway at a place where there are no cars and no internet! But there is still a rabbit hole!  Let's get lost in lovely links!
Tomorrow is National Peanut Butter Fudge Day, now that's something I could really go nuts for! Since I came back from the States I've been a bit obsessed with Reese's Peanut Butter Cups and I just ate my last one this week (wah!) so I'm uber excited about this Reece's Peanut Butter Fudge. If you want something simple and speedy, you're going to love this 5 Ingredient Quick and Easy Peanut Butter Fudge and because the weather is warming up nicely, how about some Chocolate Whoppie Pies with Peanut Butter Fudge Ice Cream Filling? Yumbo! Talking of fudge, did you see my latest fudge recipe? It doesn't contain peanut butter but it does have three kinds of chocolate which more than makes up for it. Let's just say, a fudgegasm is guaranteed!
Now that the tree is up, I'm cranking up the Christmas tunes, cooking all the Christmas things and combusting with excitement at all the Christmas goodness around the interwebs.  First up, I think these 12+ popular spots to hide Christmas and birthday gifts are detailed with children in mind, but I think they'll do the trick for some unsuspecting adults too.
If you want to get a head start with your Christmas shopping and you want to shop small, you'll want to check out these 30 independent online retailers. I'd also like to add Little Paper Lane  AKA Stationery Heaven to the list. Karin and I had the pleasure of visiting the real life store last week, but rest assured your credit card will get a thorough workout in the online store too. Just sayin'!
My feet are always itchy and especially so after looking at these 10 extraordinary places to stay – the arctic resort is top of my list, what's at the top of yours?
While we're on the subject of lists, here are ten lists you need in your life. For realz! And how about a list of the musical kind? Here are 30 kick ass songs to inspire you to love and accept yourself. Boom! Still on the subject of self, a timely reminder how important it is to define your own success and that for each of us, greatness looks very different.
Now if you've been following along on social media, you will have known that we found three kittens in our courtyard last weekend, which is pretty unusual given that we live in a flat (albeit on the ground floor.) Fortunately, my vet nurse friends came and rescued them and took them to work, where they were named Cinnamon, Chia and Nutmeg and are being looked over until they can be found fur-ever homes. As cute as they were, I couldn't help but wish they were puppies! It made me think of this sausage dog's maternity shoot – it's about the cutest thing I ever did see!
So tell me, what's happening in your world this weekend?  Are you a gift hiding ninja? Where's your best secret spot to squirrel gifts? Do you like to shop small? Have you got a song to add to the playlist? What's the strangest thing you've ever found in your back yard? Whatever you're up to, I hope your weekend is as cute as a baby kitten!
Every Saturday morning, we will open up the rabbit hole link up for bloggers to add their link list posts or even just their favourite post (if you are not of the link list kind) for the week. Please link only one post. This makes it fair for everyone and allows more posts to be read. Talking of reading, do try and pop along to say howdee to some of  the other lovely linkers. Link up here, over at Calm to Conniption or The Geeky Shopaholic. It doesn't matter where you add your link because it will appear on all three blogs, as if by magic!  The link up will stay open until midnight the following Monday.
Loading InLinkz ...