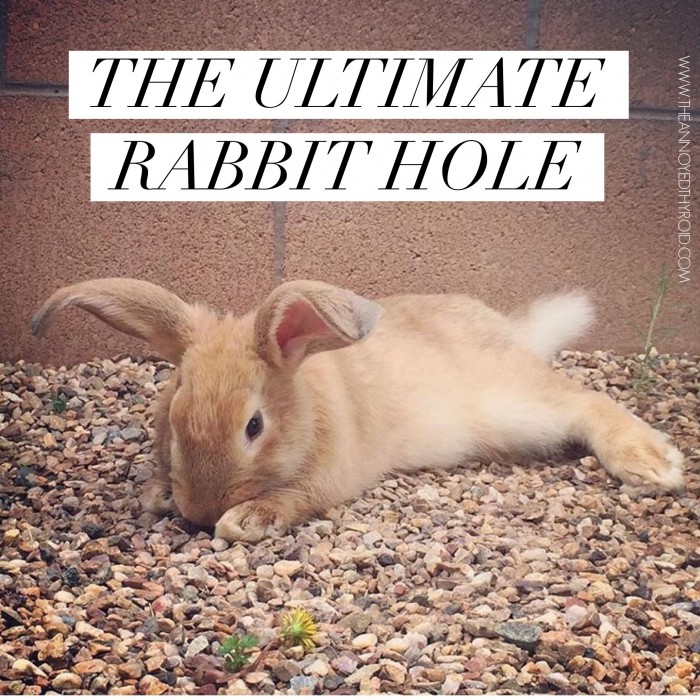 Hello there! Welcome to you, to a brand new year and welcome back to the rabbit hole. I hope your 2017 has been pretty awesome so far and that your year ahead has much magic in store.
Talking of magic, I've got some fantastic finds that I can't wait to share with you, so let's get stuck in but before we do, let's just stop and savour the moment, this is the first Rabbit Hole of the year and the last Rabbit Hole adventure to only have double digits because next week, will be the centenary edition! How exciting!
First things first, tomorrow is National English Toffee Day. Apparently, English Toffee is an American thing (go figure!) and  a very delicious thing at that! If you're keen, here's how to make perfect English toffee and if you want to think/bake/eat outside of the box, then you need to check out these English Toffee Cookies, this English Toffee Cheesecake and these English Toffee Scones. So much yum!
I like to start the year with some positive self-talk and if you do too, you'll love these 17 freaking awesome affirmations for 2017. While we're on the subject of wise words, how about some from Winnie (as in the Pooh)  the wisest bear in the world? These 10 Winnie the Pooh quotes will instantly make you feel better about life.
Keeping with the inspiration theme, check out these 16 women who totally kicked arse in 2016. It's inspiring stuff! Let's not forget the women of the She's So Inspiring series too. I want to bring that series back so much!
Over the holi-yays, I watched the Minimalism documentary, "a documentary about the important things"  and it was a real eye opener. Have you seen it?  The doco inspired me to declutter as if my life depended on it. I still have a long way to go though, but I can totally see how you can live more with less.  If you want to get on the living more with less train, this list of 60 things to toss out in the next 60 days  is a great place to start!
Still on the subject of decluttering, check out these 8 hidden things to clear up and clear off your computer. Pure genius!
When I'm stressed I usually either bake or run, but not at the same time. That would be a recipe for disaster. I've always maintained how important physical exercise is for mental health, but can you imagine how thrilled I was to read that scientists say that baking and cooking could help you feel better. I was right all along, baking really does make me happy!
If you're still looking for a calendar, look no further, here are 6 printable calendars that you will love. So much pretty!
I've started giving myself workout tips, every time I do a workout, I pop a gold coin in a jar that way I can train hard and save hard at the same time. I was totally inspired by another Sam who saved thousands without even realising it.  I'm totally taking some fiscal leaves out of her book this year!
Now I know Christmas has been and gone and all, but this clip of shelter pets choosing gifts from underneath the Christmas tree is too good to miss. There's more cuteness and wagging tails than you can shake a stick at.
That's it from me. We've got a busy weekend running and funning and catching up with friends. What are you up to? Have you ever tried English Toffee? Minialism – is it for you? What keeps you calm when you feel stressed? Are you good at saving? What's on your 2017 agenda? Tell me all the things!
Every Saturday morning, we will open up the rabbit hole link up for bloggers to add their link list posts or even just their favourite post (if you are not of the link list kind) for the week. Please link only one post. This makes it fair for everyone and allows more posts to be read. Talking of reading, do try and pop along to say howdee to some of  the other lovely linkers. This week, you can link up here or bob on over and say hello to Karin at  Calm to Conniption. Paula at  The Geeky Shopaholic is moving house but will be back down the rabbit hole very soon. It doesn't matter where you add your link because it will appear on all three blogs, as if by magic!  The link up will stay open until midnight the following Monday.
Loading InLinkz ...