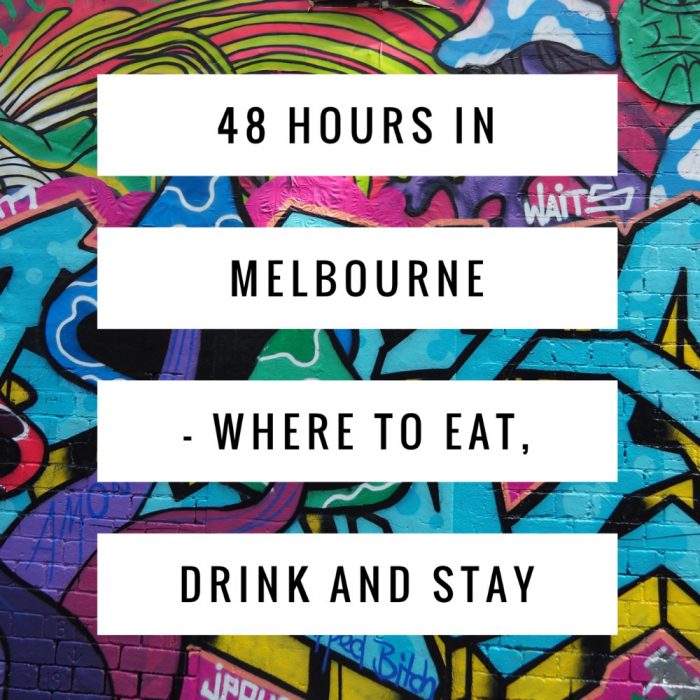 It's been five years in between visits for Melbourne, so we had a lot of catching up to do on our recent weekend away and not a lot of time to do it in.
I should add a disclaimer that for us, half the fun of travelling is eating, trying new places and eating new things, and there's no better place to do that than in Melbourne! Sightseeing is grand too, but the purpose of our weekend was to be rested and relaxed and not run ourselves ragged which is why we've ended up with  a long list of places to eat and drink and a much smaller (but just as perfectly formed) list of things to do. If you're wondering how to fit it all in in just 48 hours, here's how we did it.
Where to Stay
Friday 1pm – Check in to the Grand Hyatt Melbourne
You can't beat a night or two at the  Hyatt. It's location, location, location and luxury, luxury, luxury (right down to the marble bathrooms!)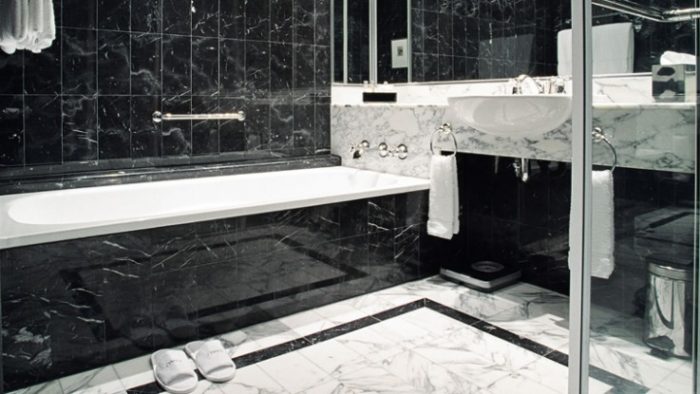 photo credit Grand Hyatt Melbourne
Located in the heart of the CBD with more amenities than you can shake a stick at, super friendly staff and breathtaking views of the city, the Hyatt is the perfect base from which to eat and drink your way around Melbourne.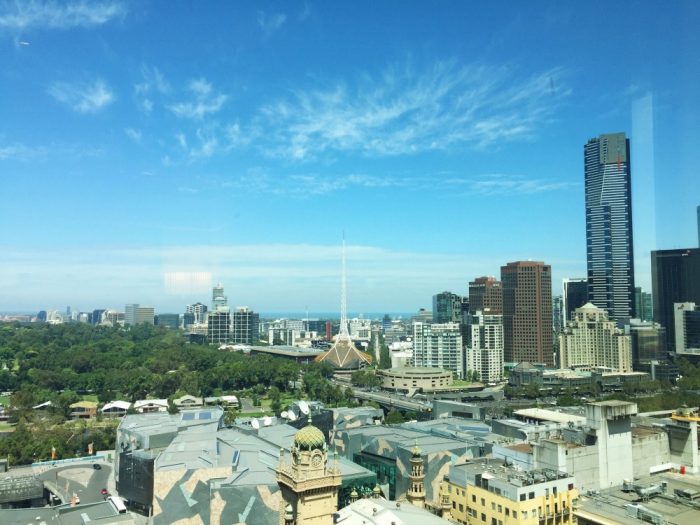 Where to Eat, Drink and Things to Do
Friday 1.30pm – Lunch at Supernormal, 180 Flinders Lane
You can make lunch reservations but it's open all day, and it's easy to grab a spot for a late but leisurely lunch, even on a Friday.
You do not want to leave town without a Supernormal fix. Andrew McConnell's new restaurant in Flinders Lane is light, airy and modern – think communal benches, neat little booths, an open kitchen and a cool vibe. The food is next level delicious and is designed for sharing but if you can't decide what to order the friendly wait staff will see you right. Basically, everything is good, so you can't go wrong. These pickled mussels with potato, kimchi mayonnaise and lap cheong were a big hit.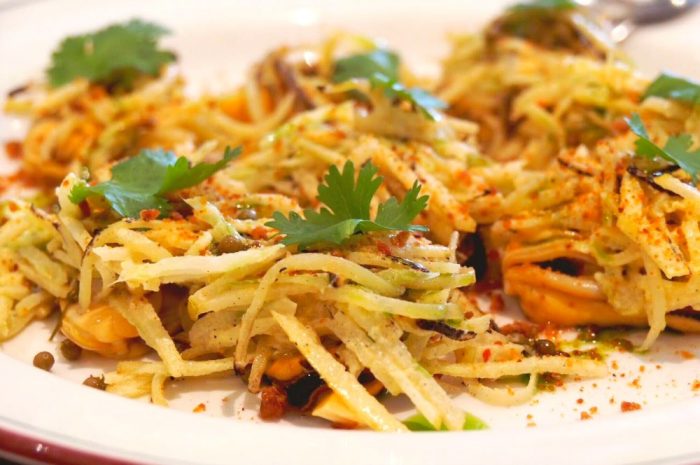 Whatever you do, don't leave town without a serve of the Duck Bao; a twice cooked duck leg (steamed and then deep fried) vinegar and plum sauce. To avoid dining regret, just make sure you leave room for dessert. I have heard amazing things about the soft serve.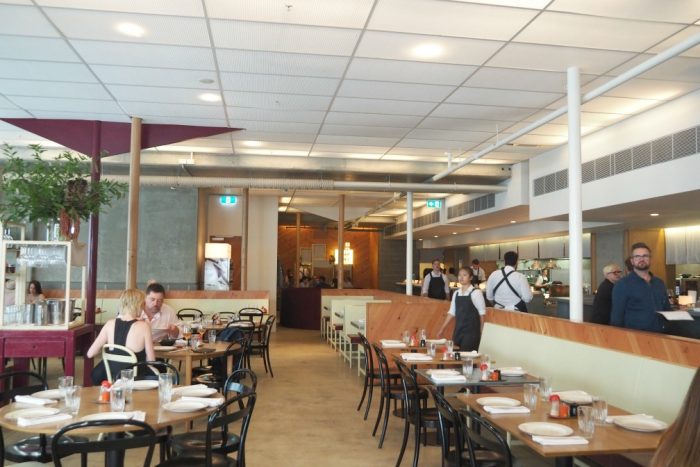 Friday 2.30pm – Checking out  street art in Melbourne's lane ways.
Melbourne has more street art than you can shake a stick at. There's urban arty goodness everywhere and the art in some streets and laneways is a tourist attraction in it's own right. Some places, like Hosier Lane will be busier than others!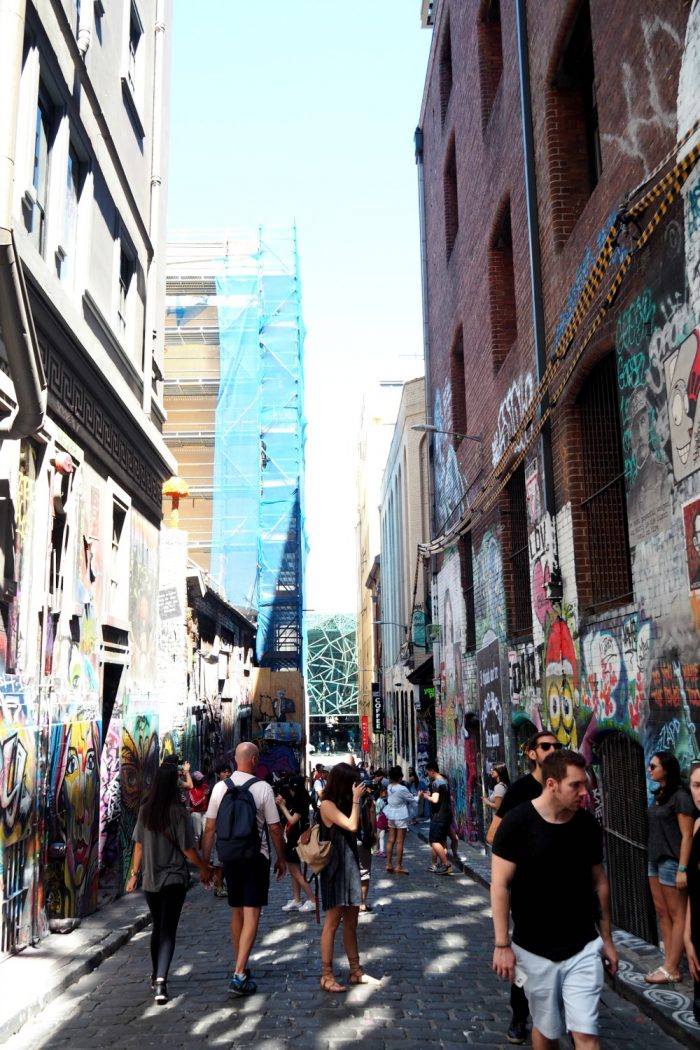 Friday 3.30pm   Liquid refreshment at Madame Brussels 59 Bourke Street
Madame Brussels is more than a bar, it's an experience and one you don't want to miss! Take the lift to the 3rd floor building and you'll be transported into a world of the garden party with quirk, sass and plenty of tongue in cheek.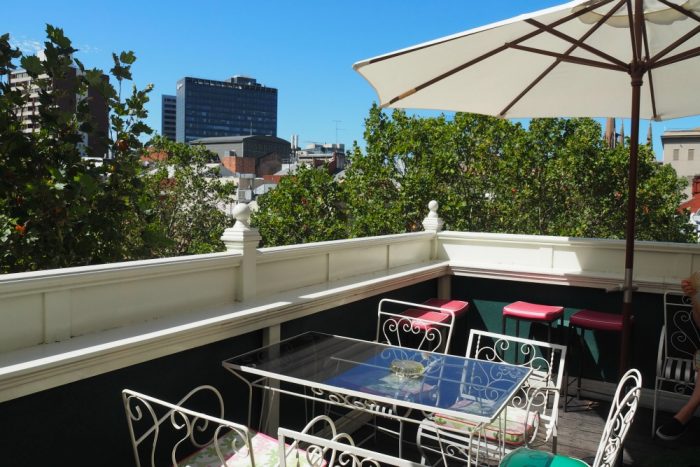 There's a hedged bar and indoor garden "think Peggy Gugenehim in the 50's" an outdoor terrace complete with divans and fans and some corking views over the city.  There's a varied menu with everything from cracking cocktails to light bites.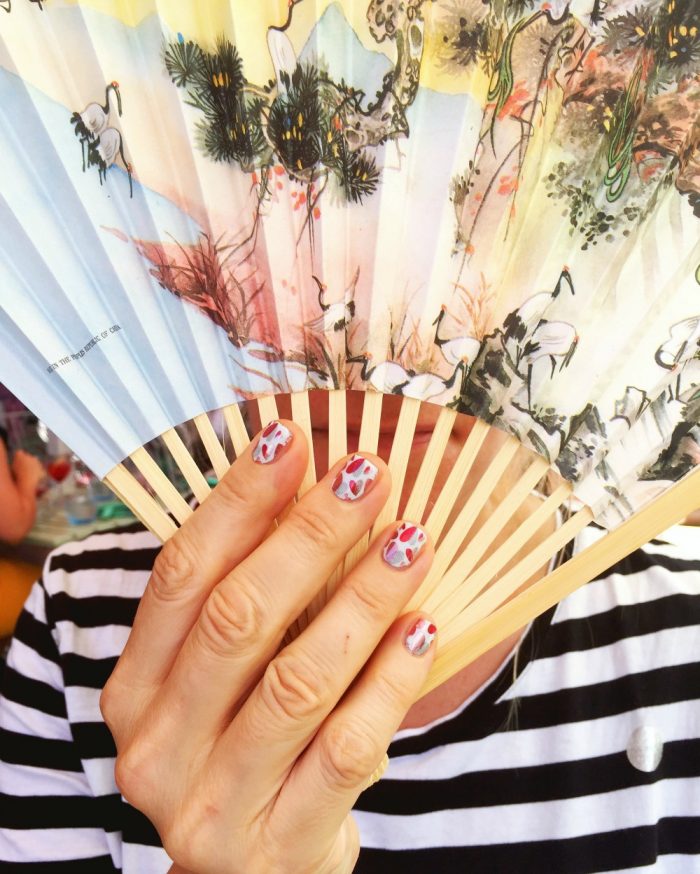 Friday 6.30pm Pre-dinner drinks at Lily Blacks 12 Meyers Place
The cocktails are where it's at in this quirky, art deco lane way bar. Perch yourself up at the bar or get cosy on one of the candlelit tables and quench your thirst in style.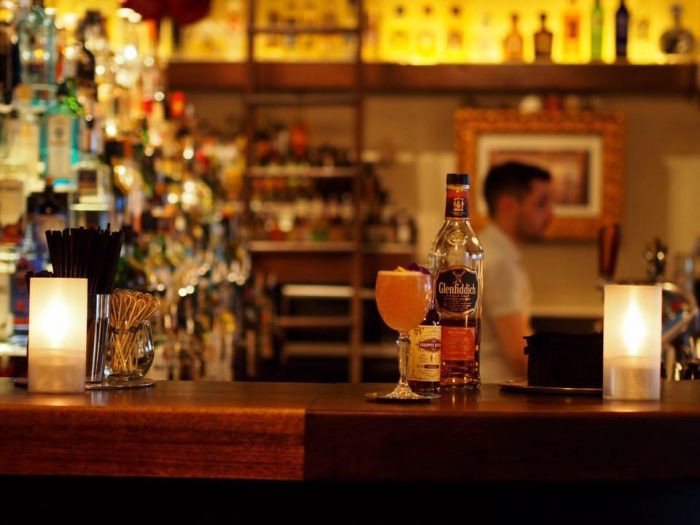 photo credit Lily Blacks
Friday 8pm – Romantic dinner at Punch Lane 43 Little Bourke Street
Punch Lane is billed as a "Melbourne institution" AKA an oldie but a goodie. Here you'll find a vast selection of wines, a fabulous, seasonal modern Australian menu, a relaxed vibe and great service. Food and wine here is not cheap but you certainly get what you pay for, and with the wood panelled interior, dim lights and wine racks for miles, Punch Lane ticks all the boxes for a great date night or special occasion.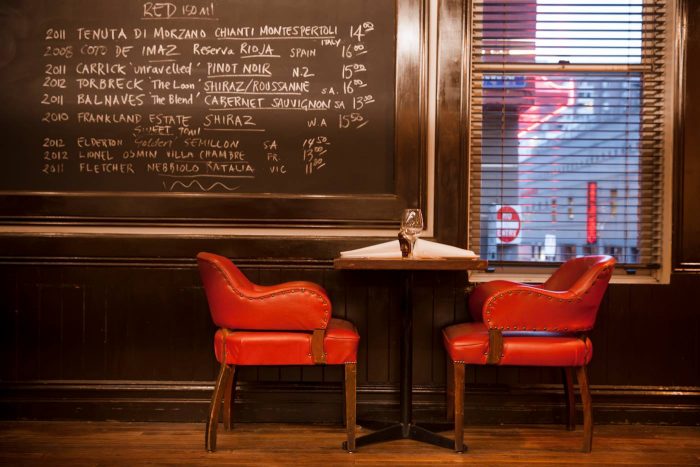 photo credit Punch Lane
Saturday 9am – Leg stretching with a walk to Queen Victoria Market
Measuring up at around 7 hectares, the Queen Victoria Market is the largest open air market in the southern hemisphere. It's a veritable smorgasboard and when it comes to what to eat you will be deliciously spoilt for choice. If you're self catering or just very hungry, you'll be able to choose from every kind of fruit and vegetable that you can think of as well as meat, poultry, seafood and a tastebud tickling array of gourmet delicatessen foods and delicacies. It really does have to be seen to be believed.
You can't miss the original 1950's  American Doughnut Van van or the queue that always runs alongside it. The van  has been serving soft, pillowy, jam stuffed morsels fresh from the fryer for over 50 years.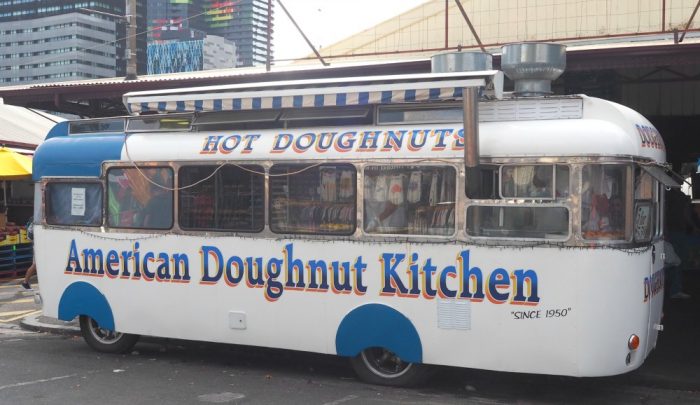 It's a Melbourne institution and one taste of those doughnuts and you'll know why. If you're nosey like me, peek through the window to see the dough(nut) magic happen. They really are finger lickin' good.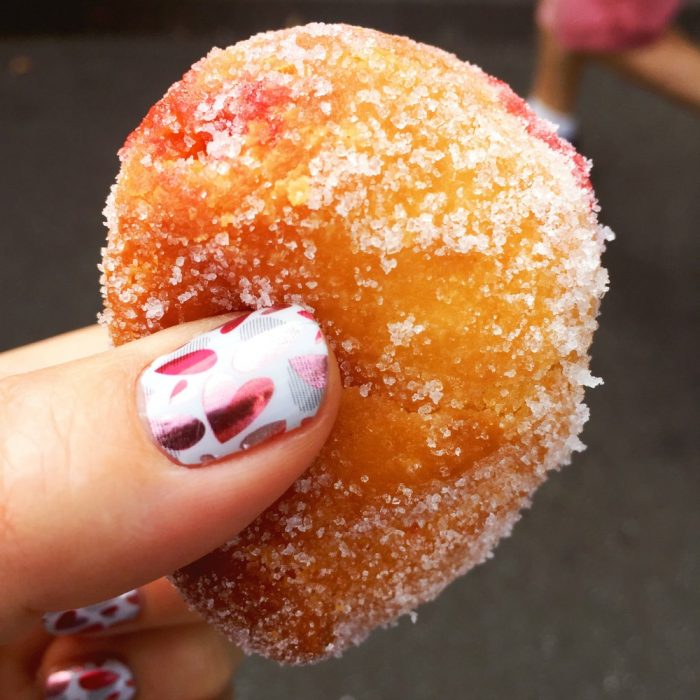 If you're looking for a caffeine fix, you've come to the right place. The market is home to Market Lane Coffee, a Melbourne born and based specialty coffee roastery, cafe, and retailer where coffee is a most serious and most delicious business. It's all about the coffee and nothing but the coffee. This one is for the coffee purists.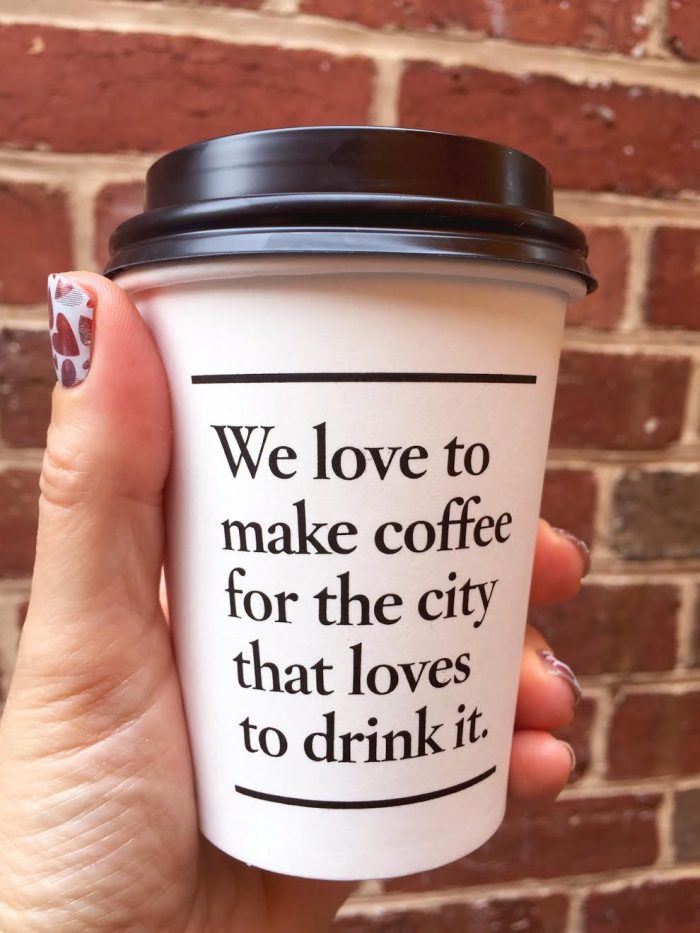 I like to balance my sweet with my savoury and if you do too, head on over to the Borek Shop for yes, you guessed it boreks. At just $3 a pop you can gorge yourself on some of the tastiest morsels in town straight out of the oven. There's a variety of combos to choose from including lamb, potato and vegetables or cheese and spinach, although the latter gets our pick.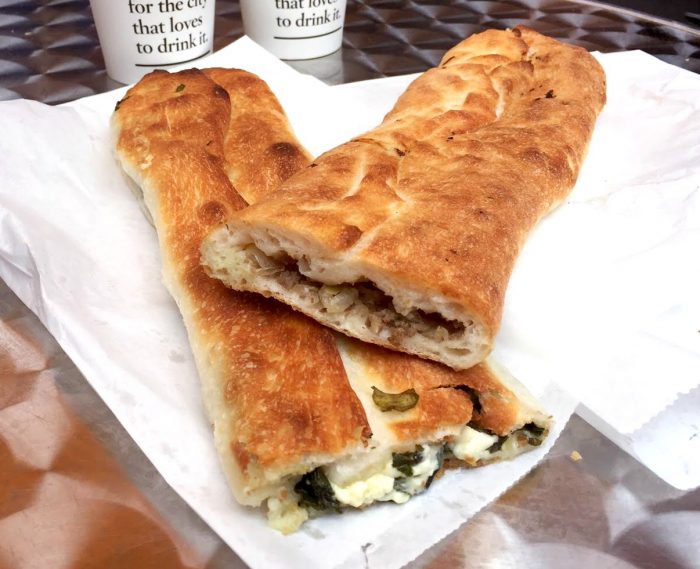 Saturday 11am Visit the National Gallery of Victoria International 180 St Kilda Road
We're not culture vultures by any stretch of the imagination but I can never resist a visit to the NGV when I'm in town,  especially when David Hockney's "Current" exhibition is on featuring 1200 of his works from the last decade. It is a festival of vivacity and colour and includes paintings, digital drawings and video works.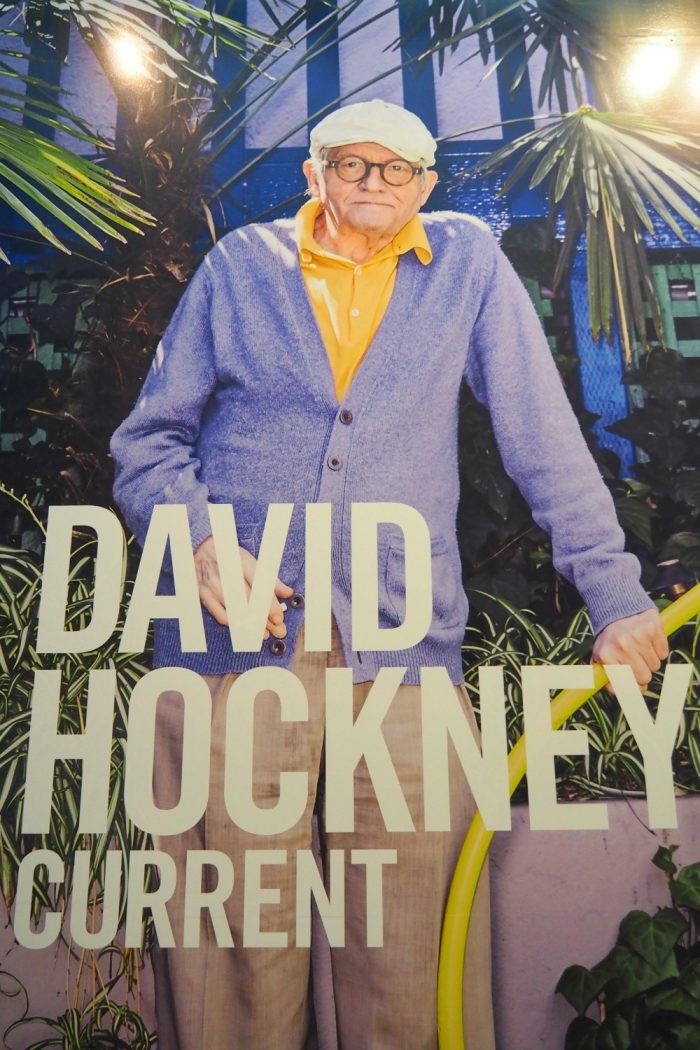 Most fascinating of all are his animated ipad digital drawings of still life, portraits and landscapes. You can see how each image was created from start to finish – it's just like magic.
There are often multiple exhibitions on at both the NGV International and the NGV Ian Potter Centre. You can score a bit of a bargain if you buy tickets for multiple exhibits at either gallery. We were lucky enough to swoon over David Hockney's work and then check out John Olsen's work in "The Beaut Country" before it closed. The David Hockney exhibition finishes on 11 March 2017, so if you want tickets, run don't walk!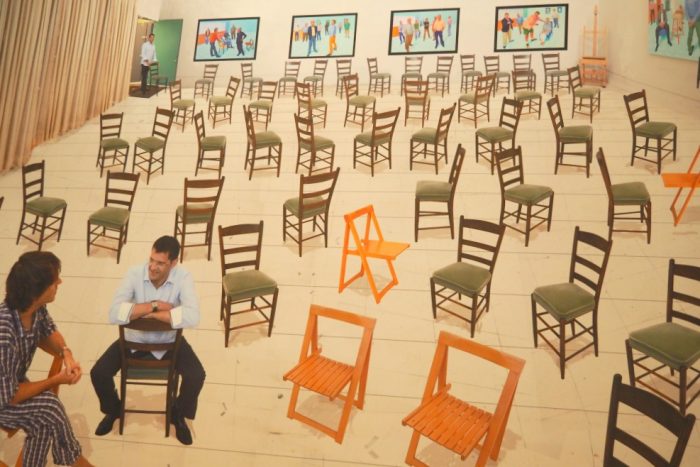 Saturday 1.30pm Lunch at Bowery to Williamsburg 16 Oliver Lane
This wood panelled diner with patio tables is like a little slice of New York (and the subway) in the middle of a Melbourne lane way. Think New York style sandwiches, burgers, salads and thick shakes of your dreams and you kind of get the idea.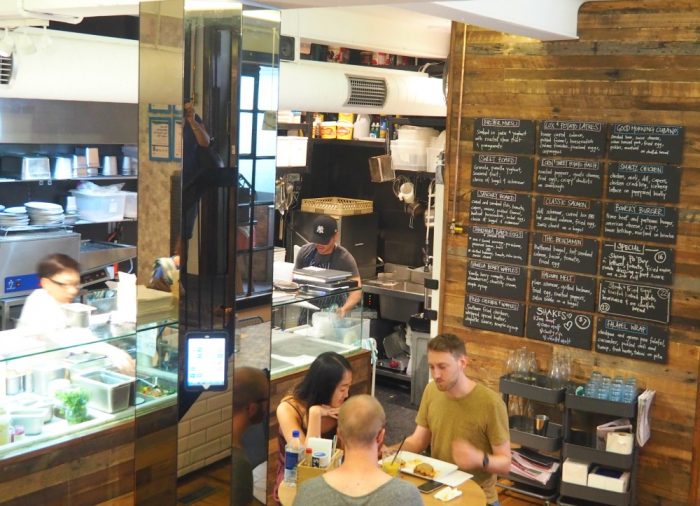 The sandwiches are epic and easily big enough to share (although the food is so good, you really won't want to part with it.) Sides include some of the best Mac and Cheese we've eaten outside of the US, pretzels and pickles. Because there is no such thing as too many pickles. The Reuben is one of their best sellers and now I know why.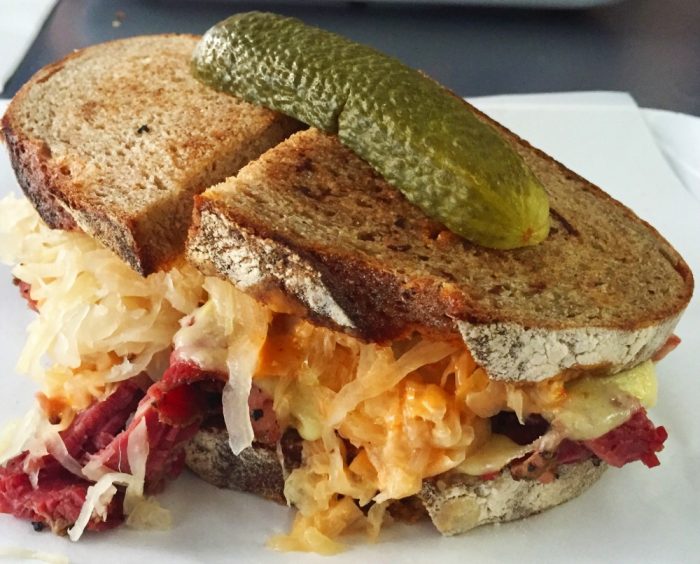 In fact,  the only regret you'll have about coming here is that you don't have time to eat everything on the menu. And the service? It's as good as the food.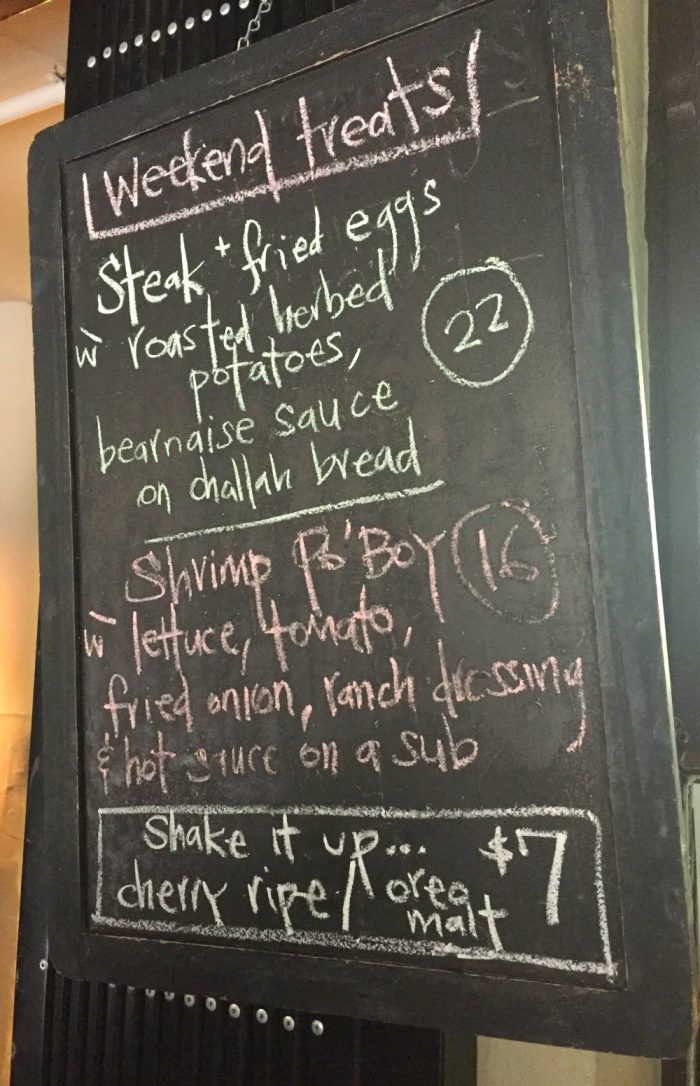 Saturday 2.30pm Chilling out  Riverland Bar Vaults 1-9 Federation Wharf
This relaxed, urban beer garden is perfectly located just under Federation Square on the banks of the Yarra River with awesome views of the Arts Centre and South Bank Precinct. The riverside seating is the perfect spot to enjoy some summer sunshine and there are heaters to keep you warm and toasty in the winter months.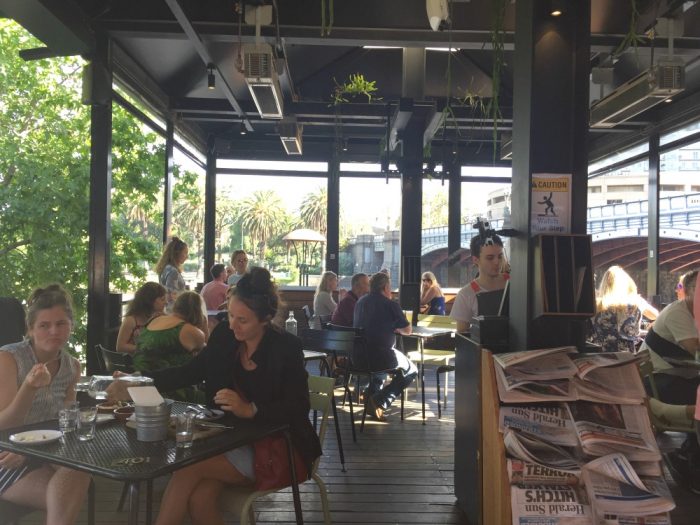 Although our cocktails are sadly lacking, the beer and the wine is cold and the food looks decent. The riverside location makes it the perfect place to catch up with friends or simply sit and watch the world go by.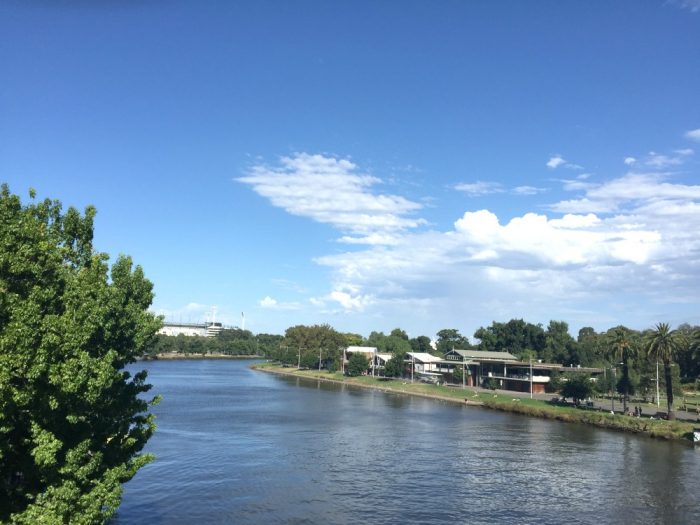 Saturday 6.30pm  Pre-dinner drinks at Lane's Edge Cafe and Bar 39 Bourke Street
Head to this hidden beer garden/courtyard for drinks that won't bust your budget, faux foilage and cheap eats. There's a friendly, relaxed vibe here and it's the perfect place to stop for a pre-dinner drink. The courtyard can get a bit smoky so choose your seat wisely!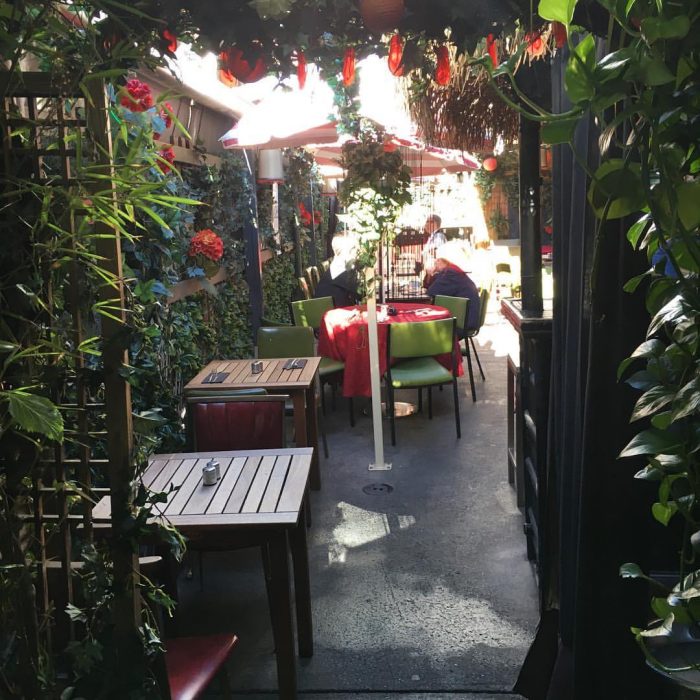 photo credit Lanes Edge
Saturday 8pm – Dinner at Tipo 00 361 Little Bourke Street
When we asked our friends for their Melbourne must eats, everyone without exception raved about Tipo 00, whether they lived in Melbourne or not. The reasons for this are three fold – supreme Italian cuisine, outstanding customer service and a relaxed and friendly vibe.
The menu is small but perfectly formed and the pasta is the star of the show.The wagyu beef in the parpadelle with tomato and confit chilli literally melted in the mouth. A pasta-gasm is guaranteed!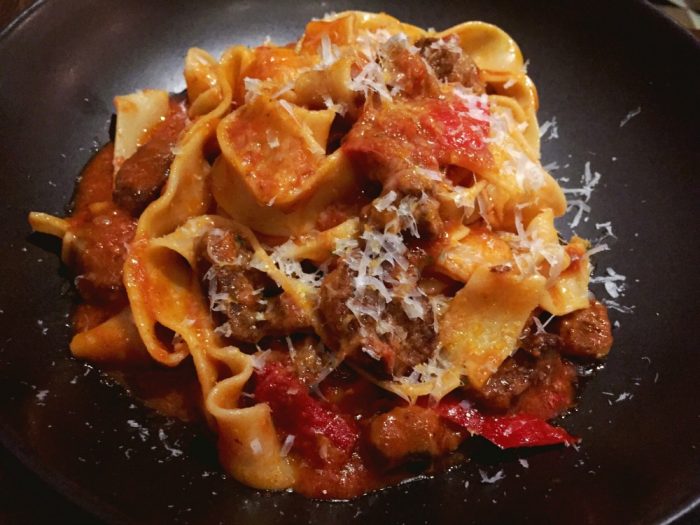 If you're teeth are sweet, you'll definitely want to try the Tipomisu, which chef plated for optimum sharing. The salted caramel sauce is next level. The restaurant is small and intimate and as you would expect, when the food is this good, it's always packed so book ahead to avoid disappointment.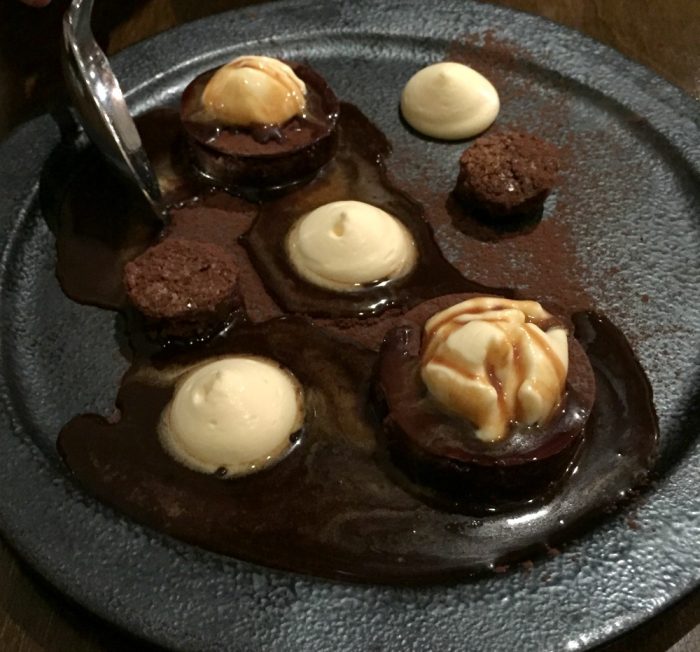 Sunday 10 am – Breakfast at Hardware Societe 120 Hardware Street
Walk down this lane packed with eateries and you might just miss this culinary delight, although you won't miss the queue or the throng of people waiting to get in. Word on the street is that this is one of the hottest breakfast spots in Melbourne and clearly, delicious news travels fast! Don't worry, you can get  a caffeine fix while you wait.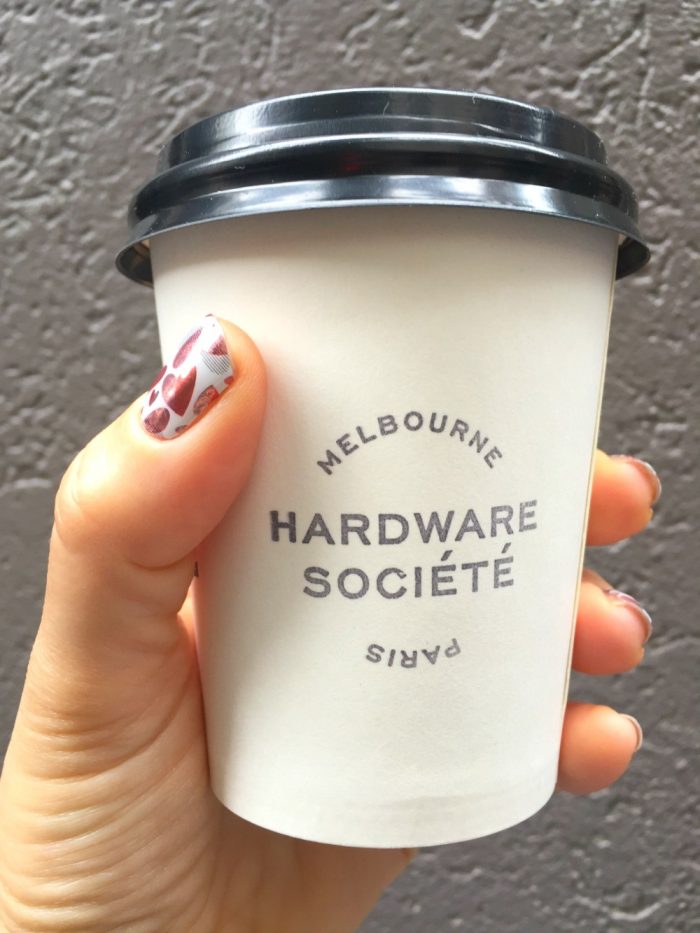 Think french toasts, baked eggs and eggs benny that dreams are made of. You'll find all this and more on the all day menu and it's all delicious… Especially the braised hamhock with poached eggs and cider hollandaise. Just sayin'!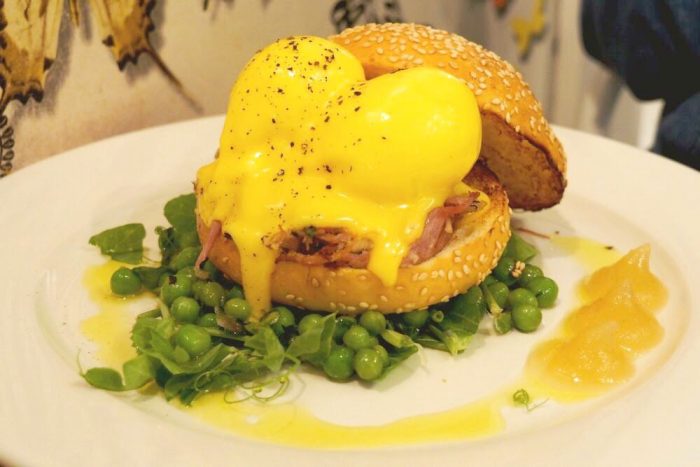 There are shared tables, individual tables and seats at the bar of the open kitchen where the magic really happens. Service is efficient and friendly, the coffee is great and you'd be forgiven for thinking you'd teleported from Melbourne to Paris given the cake and macaron selection.
Sunday 11.30am – Window shop through the city
If shopping is your cardio, you can rest assured that you (and your credit card) can enjoy a thorough workout in Melbourne. I love exploring all the lane ways and  the beautiful old arcades are also well worth a visit, if only for the architecture alone. The Royal Arcade is the longest standing arcade in Australia and the Block Arcade dates back to 1892. It really is a step back in time. If your stomach is all out of space, at least press your nose to the window of the Hopetoun Tea Rooms and allow yourself a minute to drool over their cake display in awe and wonder.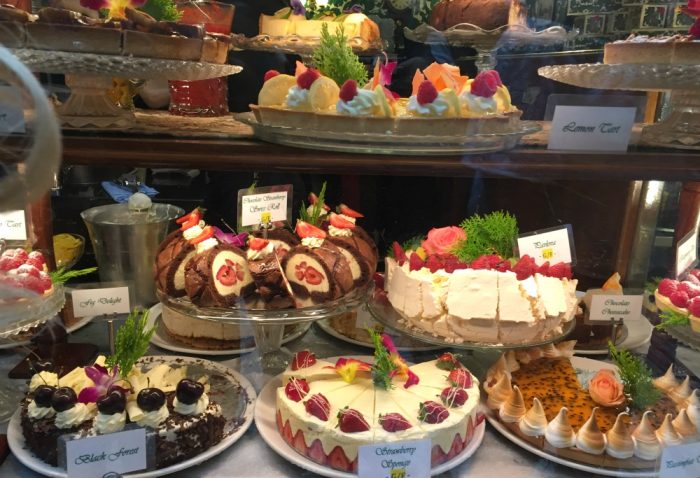 Sunday – 12.30pm Stroll along Degraves Street and get your caffeine fix at Degraves Espresso.
I've been loving on Degraves,  it's wood panelled bar, European feel and the prime position it affords for people watching since my first visit to Melbourne in 2003. I'm always torn between a seat nestled in the  cosiness of the bustling, grunge-chic interior with it's old cinema (or are they train?) seats and the superior people watching from one of the tables in the lane way. Decisions, decisions!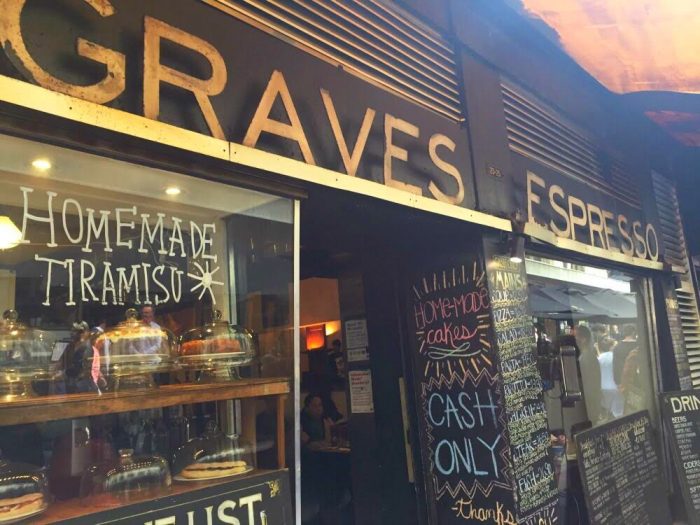 Sunday 1.30pm  Have one for the road at the QT Rooftop Bar 11/133 Russell Street
I love me a rooftop bar and the one at the (relatively) recently opened QT is well worth a visit. It's hugely popular but it's pretty easy to score a seat so early on a Sunday afternoon.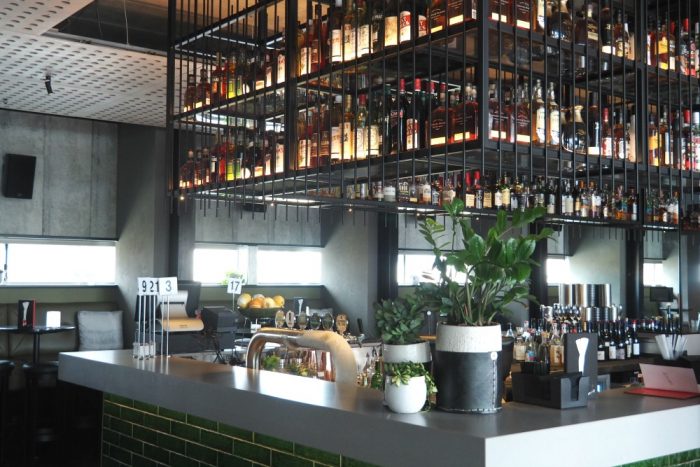 The bar is cool, fun, stylish and the drinks are well stocked. Inside it's all black and red and leather seats. The outside deck is large, open and has a  great view of the city. It's the perfect place to have one last drink for the road. So long, Melbourne, you've been grand!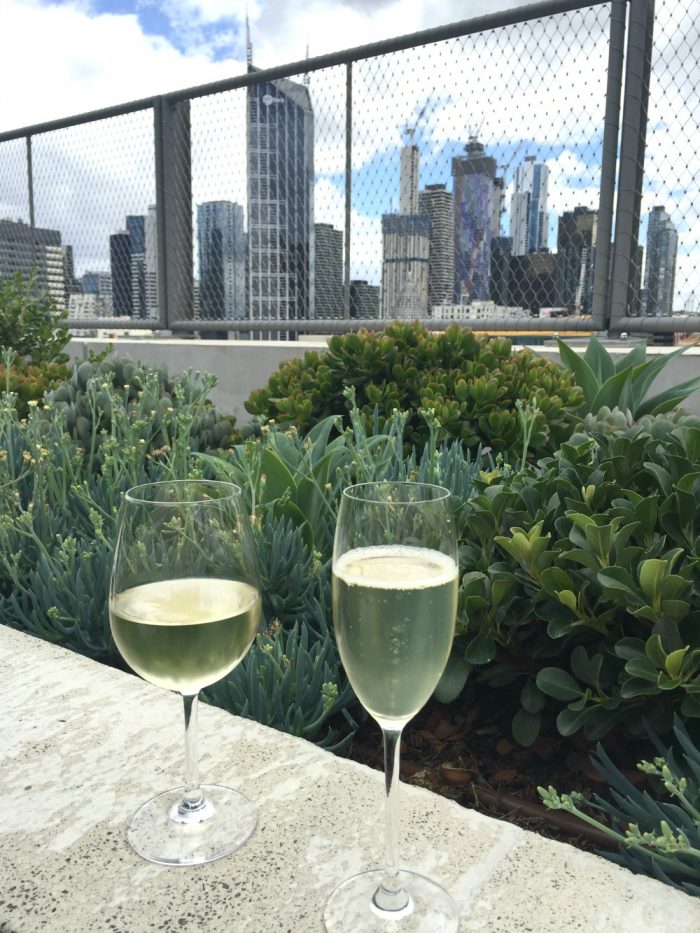 So, tell me what did I miss? I already have a long list of things I want to see, eat and do next time. Because there will be a next time! What's your idea of a perfect weekend away?
All food, drinks and accommodation were thoroughly enjoyed and independently paid for.
Linking up with Kylie for IBOT and  Van, Marcella, Lauren and Isabel for Wanderful Wednesday.