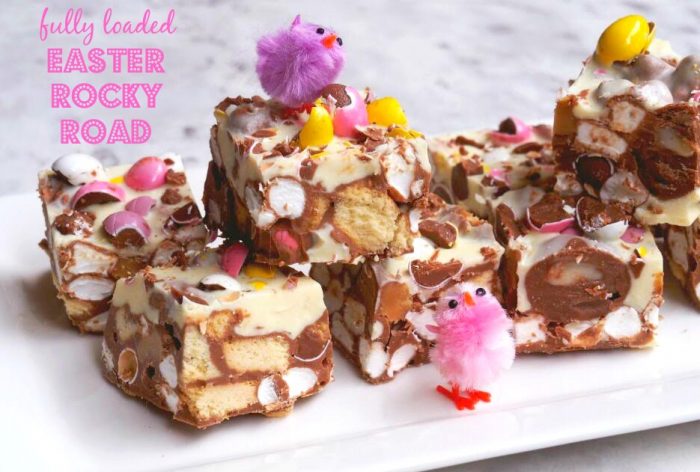 Makes 24 squares
This is like the sweet treat of my dreams, it contains all my favourite things; milk chocolate, white chocolate, cookies, marshmallows, creme eggs, mini eggs and FUDGE! It's not called fully loaded for nothing you know.
I first made this to take to friends. I only made it so I could give it away because this rocky road is way too delicious and way too tempting to keep at home. But then I got sick so we couldn't see our friends. And me and David had to eat the rocky road all by ourselves. Let's just say it was not Weight Watchers approved.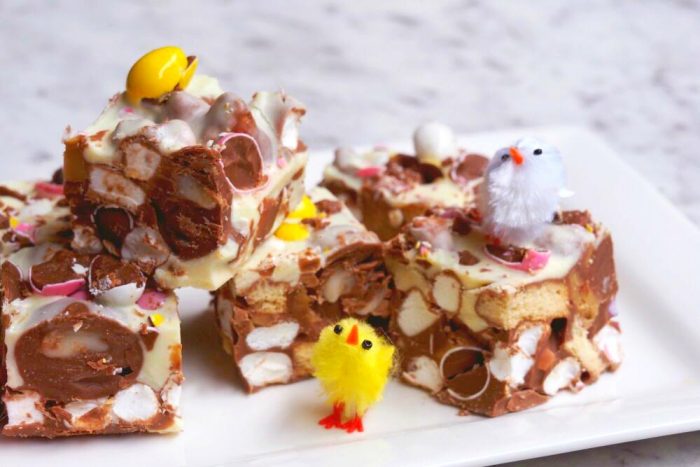 Of course, we rescheduled our meet and greet with our friends and I made more rocky road, but then our friends were sick! I think the universe was trying to tell me something, and I think that something was that me and this rocky road are destined to be together.
In case you're wondering, we did finally get to see our friends and they did finally get to taste the rocky road and of course they loved it, because let's face it there's a lot to love about this rocky road. Visually it's cracking (see what I did there,) with the milk chocolate base and white chocolate top and it's just choc full of sweetie goodness. It's quite irresistible. You won't want to leave a bit of this rocky choccy goodness, even the crumbs. Insider tip – the crumbs double up as sprinkles, and go great over some ice cream.
This rocky road is your Easter one tray wonder!
What's the one sweet treat you can't resist?
Ingredients
500g milk chocolate
150g scotch finger biscuits, roughly chopped
100g fudge or chewy caramels, roughly chopped
100g mini marshmallows
6 mini creme eggs
2 x 225g bags mini eggs
300g white chocolate, melted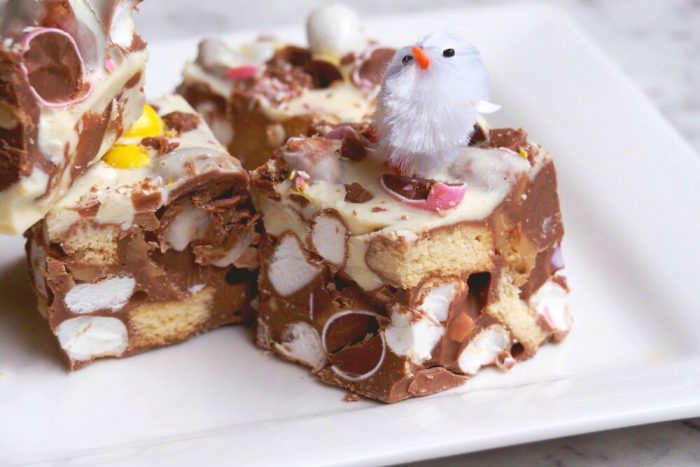 How to
Line a slice pan with with baking paper, extending the paper over the sides.
Combine biscuits, fudge, marshmallows, creme eggs and one bag of mini eggs in a large bowl.
Melt the milk chocolate in the microwave in 30 second bursts until just melted. This should take 2-3 minutes (depending on the strength of your microwave.) Stir chocolate until smooth.
Stir the chocolate through the biscuit and egg mix, making sure everything is covered in chocolate.
Working quickly, spread the mixture into the pan and smooth the surface.
Allow to cool at room temperature for about 10-15 minutes.
Set aside half the mini eggs from the remaining packet and place the other half in a ziploc bag. Crush the mini eggs until they are cracked into various sized pieces.
When the rocky road is ready, melt the white chocolate in the microwave in 30 second bursts. When it has almost all melted, remove from the microwave and stir until smooth.
Working quickly, pour the white chocolate over the top of the rocky road, using a spatula to assist with spreading. You can also tilt the tin back and forth to distribute the white chocolate evenly. Sprinkle with the remaining whole and crushed mini eggs.
Put in the fridge for 2-3 hours or until completely set. Cut into squares with a sharp knife.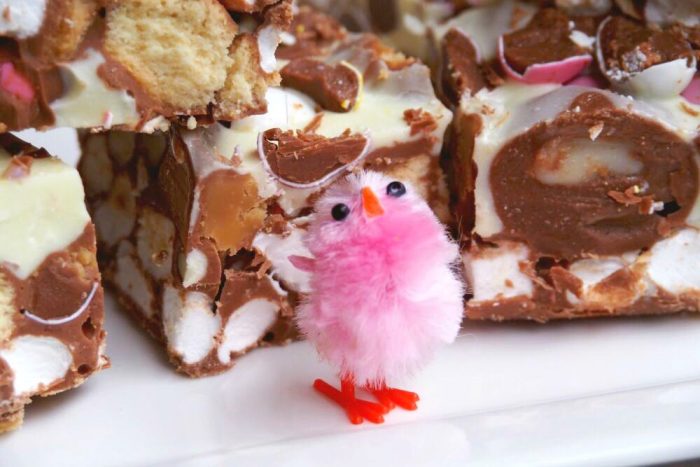 Other info
Prep and Cooking time: 15 minutes (+refrigeration)
To store… Store this rocky road in an airtight container in the fridge for up to a week… Good luck though! You'll be very lucky if it's not all gone by then!