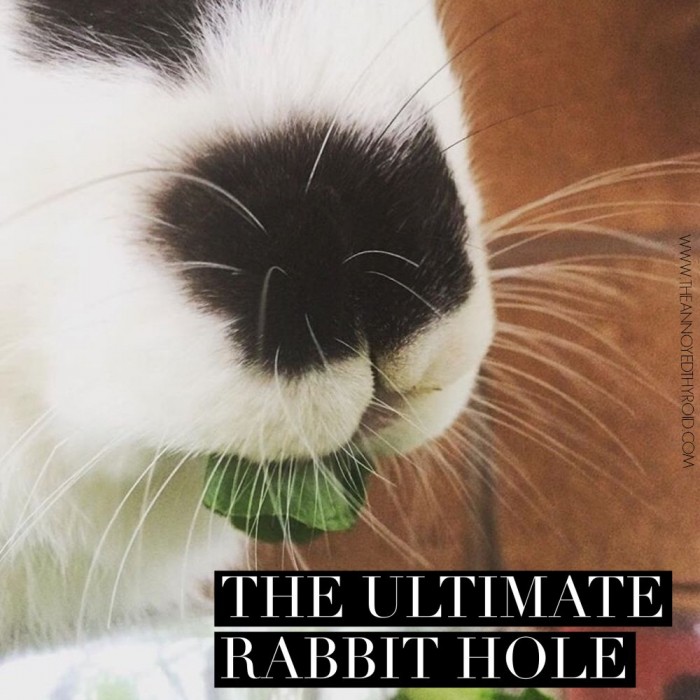 Greetings from the mother country, What a difference a week makes… Mum is home and out of hospital, the sun is shining and Calvin the dog is in da house. All is well with the world, at least in my little corner of it.
Anyhoo, I realised this week that when my trusty co-pilots, Shari, Jess and Paula came on board to help us navigate our rabbit hole adventures in January, I never really introduced them. That's totally my bad and something I plan to recitfy in this week's sojourn down the rabbit hole because although I'm the longest serving bunny holer, when it comes to hosting the link up, it really is a team effort. So let me introduce you to Team Rabbit Hole!
Jess is a clinical psychologist and blogs at Confident Life. She writes about relationships, self esteem, strengths, careers, values, and mental health issues and shares posts that cover all these topics and lots more down the rabbit hole every Saturday. Some of my favourite Jess posts include 7 strategies optimistic people use,  6 ways to be mindful if you hate sitting still, (that is SO me) and 21 self care strategies for the mind, body and soul.
Paula blogs at The Geeky Shopaholic from the good old US of A where she writes about faith, feminism, blogging and pretty much everything in between. Her rabbit hole posts are jam packed with awesome and are a font of bloggy knowledge. Some of my favourite Paula posts include why small town people voted for Donald Trump, how to adult with your finances and My Reverse Bucket List.
You'll find Shari over at Good Food Week where she blogs about food, motherhood, kids stuff and life in general. Not only is she a stay at home mum to three young (and very gorgeous) boys, she's also building a new business with her hubby, Mr Perkins in Bondi. Hop on down the rabbit hole with Shari on a Saturday and you'll find posts about parenting, food and pretty much everything in between. I love Shari's recipes, some of my favourites include Ricotta, Lemon and Blueberry Waffles, Apple Fennel and Pork Sausage Rolls and she's the queen of the sheet pan dinner… The Spicy Chicken Sheet Pan Dinner gets my vote.
If you're new here, I'm Sam and I blog about food, travel and living on the bright side. My all time favourite posts are The friends in my computer, My emotional raincoat and of course, the Fantastic Fudge.
I think that's what I love about Team Rabbit Hole, that the four of us are so diverse, we each bring something totally you-nique to the link up party. If you don't believe me, go check out our links for yourself!
Talking of awesome links, there were some crackers linked up last week. Michelle's little story about finances  inspired me to buy a book, Erika's 40 days of yoga inspired me to try some yoga at home, and Tania inspired me in the kitchen with the promise of perfect pancakes every time. Yes, please!
Because I'm bending all the rules in this week's rabbit hole adventure and I'm at my mum's it seems only fitting that I end on a link my mum sent me about Darius the world's biggest bunny. I'm not sure what tickled me most, the size of this enormo-bunny or the choice naming of pets – Darius is the dad and his son is called Jeff! The size of these guys has to be seen to be believed!
I hope you have fun hopping around the rabbit hole and have a very merry weekend. What's on your weekend agenda? Pray, do tell!
Every Saturday morning, we will open up the rabbit hole link up for bloggers to add their link list posts or even just their favourite post (if you are not of the link list kind) for the week. Please link only one post. This makes it fair for everyone and allows more posts to be read. Talking of reading, do try and pop along to say howdee to some of  the other lovely linkers and my awesome co-hosts. This week, you can link up here or bob on over and say hello to Paula at  The Geeky Shopaholic, Jess at Confident Life and Shari at Good Food Week. It doesn't matter where you add your link because it will appear on all four blogs, as if by magic!  The link up will stay open until midnight the following Monday.
Loading InLinkz ...