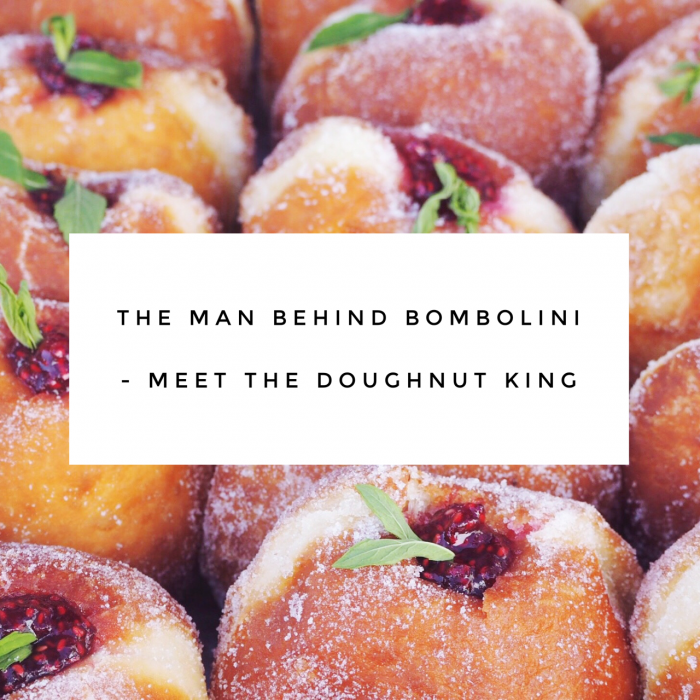 I grew up in London in  the olden days when my hood was full of thriving small, local businesses; a bank, a grocery store, a butcher, a newsagents and of course, a bakers. The bakers was definitely my favourite. There's nothing more droolsome than a British bakery window.
I fell in love with doughnuts at a young age. The doughnuts of my youth had none of this hole in the middle business, they were soft, pillowy rounds of deliciousness, full of sweet strawberry jam and they were slathered in sugar. Sometimes me and my friends would set doughnut challenges to see who could eat a whole doughnut without licking their lips and/or their fingers. It was so much fun and  quite impossible!
So when I discovered Bombolini artisan doughnuts at last year's Forage event in Canberra, it was love at first bite. I've been dreaming of those doughnuts ever since. It's not surprising that the Bombolini doughnuts remind me of the deliciousness of the doughnuts of my youth, because Geoff Whittall (whom I have dubbed the "Doughnut King") also hails from the UK and like the doughnuts of my childhood, his doughnuts  are fluffy, sugary and jam packed (sorry, couldn't help myself) with filling. Of course, the Bombolini fillings are way more sophisticated than (but not excluding)  just jam, taking the doughnuts to the next level.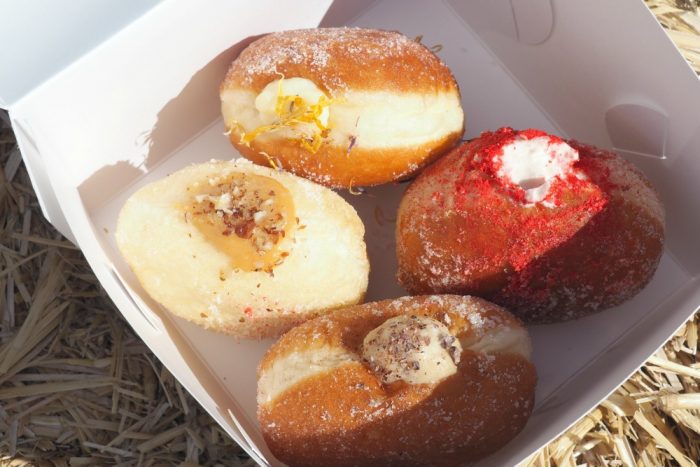 I was keen to know more about (and eat more) Bombolini doughnuts so, in between baking and sugaring the doughnuts, Geoff was kind enough to answer some of my burning questions.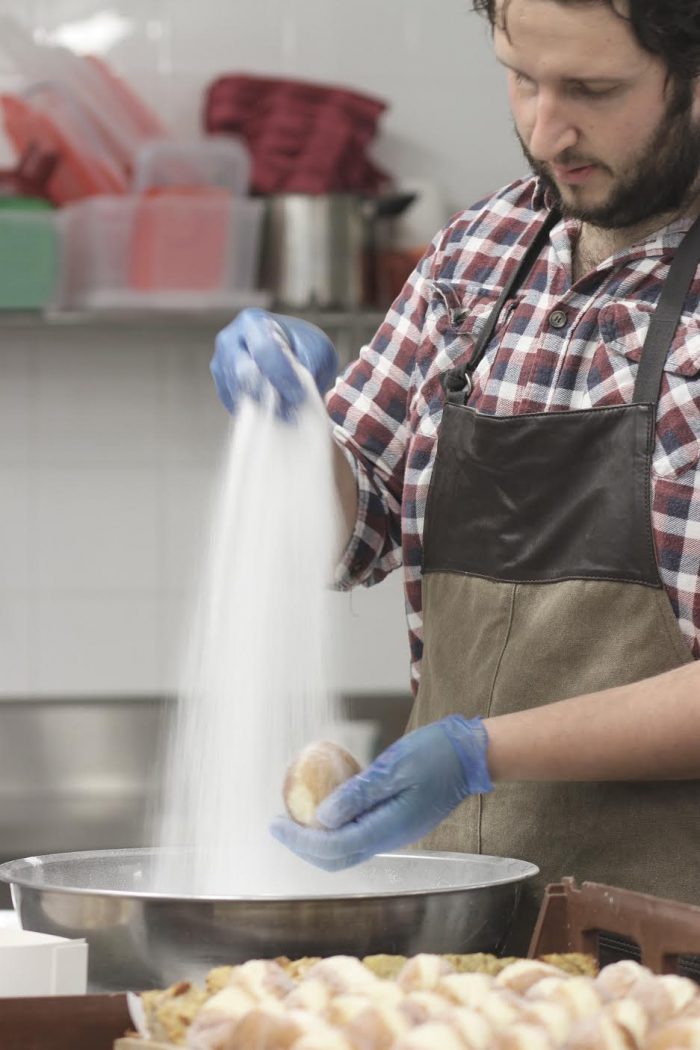 photo credit: Bombolini 
Did you always dream of making doughnuts and what inspired you to start?
I had always dreamed of starting my own business and loved making my own breads and working with dough. I am obsessed with food and chefs and so  the idea of Bombolini doughnuts was formed.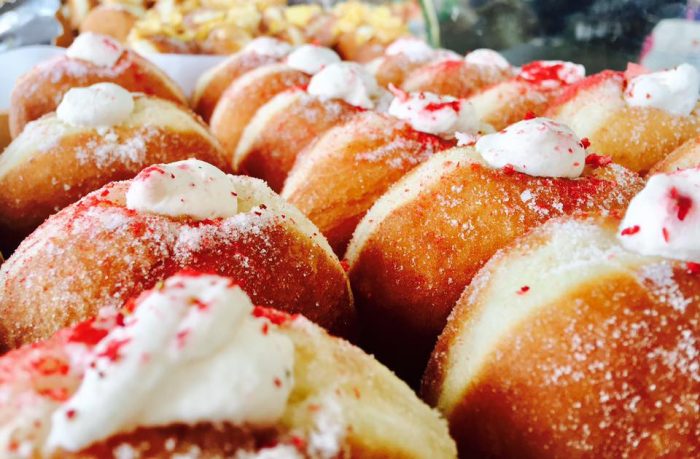 photo credit: Bombolini 
How did Bombolini get it's name?
I worked with a Spanish baker in Edinburgh called Alberto, and he called these mini doughnuts he made bombolone. I just preferred the sound of bombolini, so I changed it.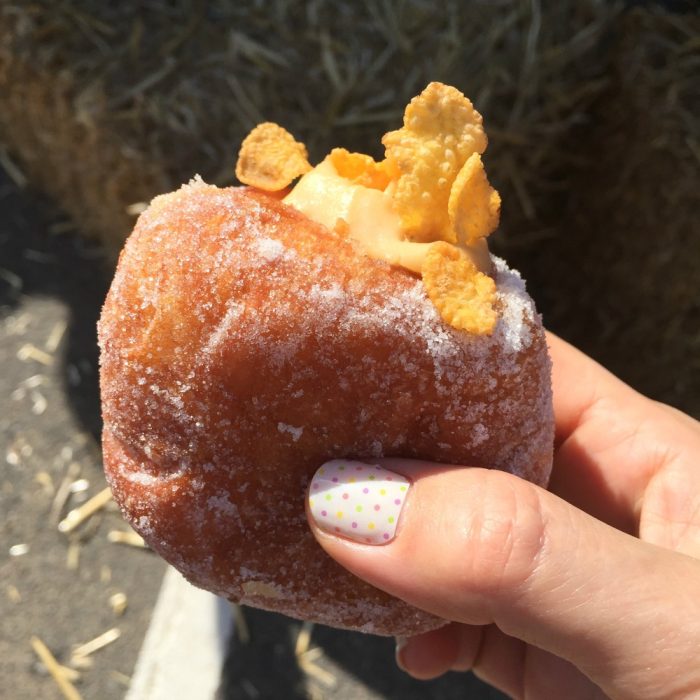 What's the best and worst thing about being a professional baker?
The best thing is learning constantly, pushing yourself and playing around with ideas and creating something that is an expression of yourself.
The worst thing is getting up in the middle of the night to work, especially in a Canberra winter…I prefer working through from evening till morning! It is all part of the package though 🙂
How long did it take to perfect the Bombolini recipe?
I am constantly evolving and making minor tweaks to better it.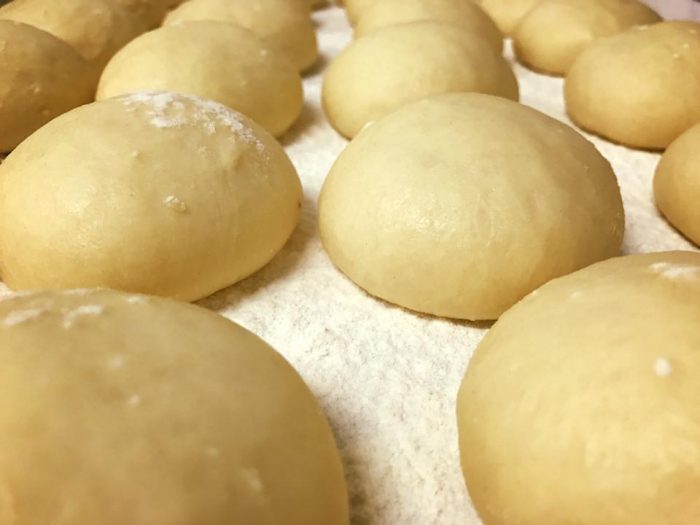 photo credit: Bombolini 
What do you think is the secret to the perfect doughnut?
Great ingredients, a light fluffy doughnut with depth of flavour.
There's always such a variety of flavours. How do you dream them up?
I am always buying and reading cook books so ideas are always in my mind, I always try a create a balanced menu (as such) each week, and also take inspiration from ingredients I see and find. I try to let the seasons help me by using what is available at the market.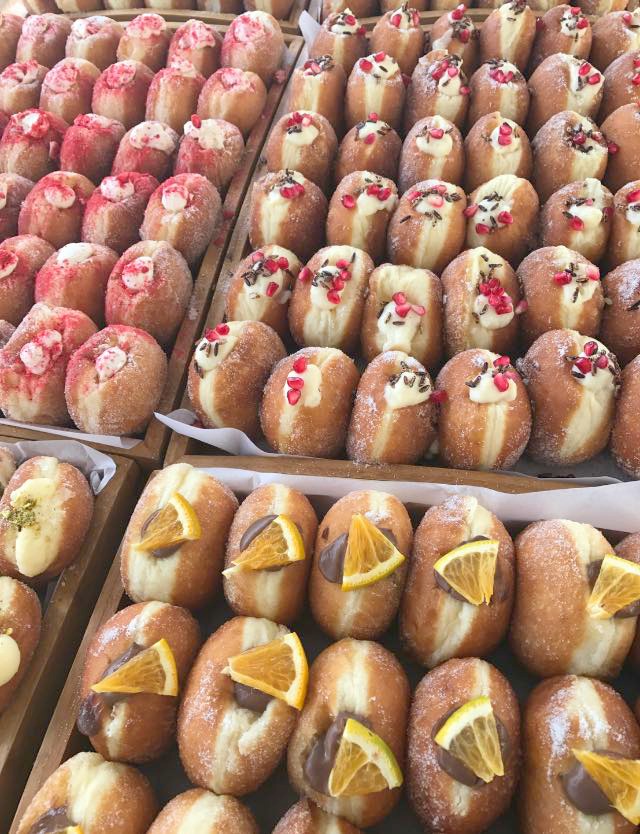 photo credit: Bombolini 
What is your favourite all time flavour?
I love strawberries and mascarpone, so indulgent, but have loved playing with making yuzu curd, and tonka beans too. I used Australian whisky and that seems to make anything better 🙂 I try and keep a mix of what people have really pushed for me to keep coming back and mixing flavours around. It is a surprisingly hard balance.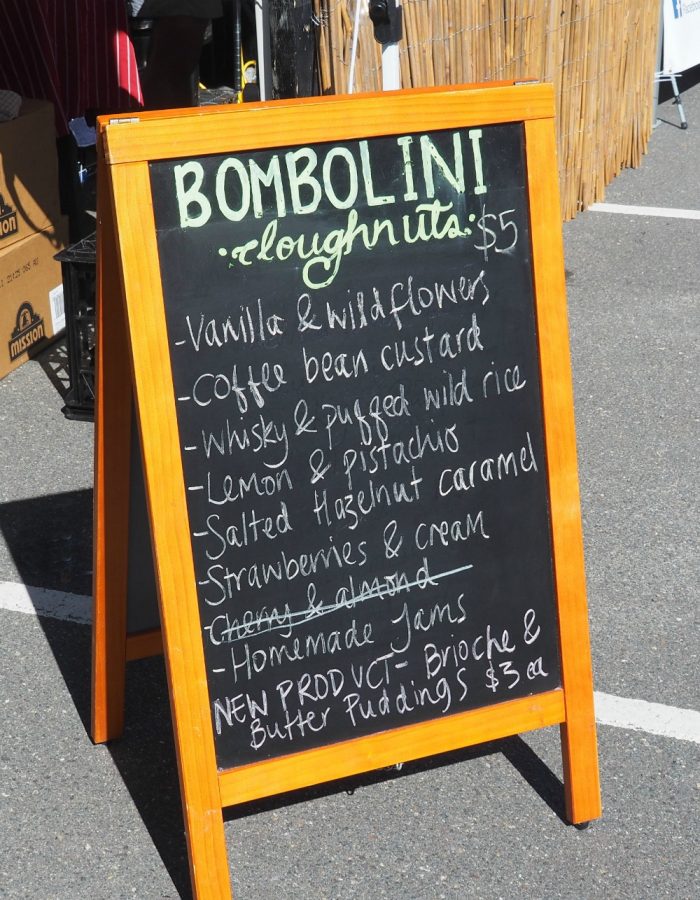 How many doughnuts do you sell a week? How has the business grown?
I sell around 800 a week nowadays and weeks with events can be 2-3000. There was a point where I could not make enough even when I was making nearly 2000 a week. It has grown from a trendy food craze to an amazing stall where I love working, with a huge amount of regulars that I chat to and give me great feed back. I have not actively worked to grow, but rather to improve what I have been doing, as I had to have a break to go to the UK, and now I have a kid on the way. Also I felt I needed to make improvements to recipe development, get the right equipment and set it up, which I have done. I'm now feeling happy with how everything is for the first time since setting up.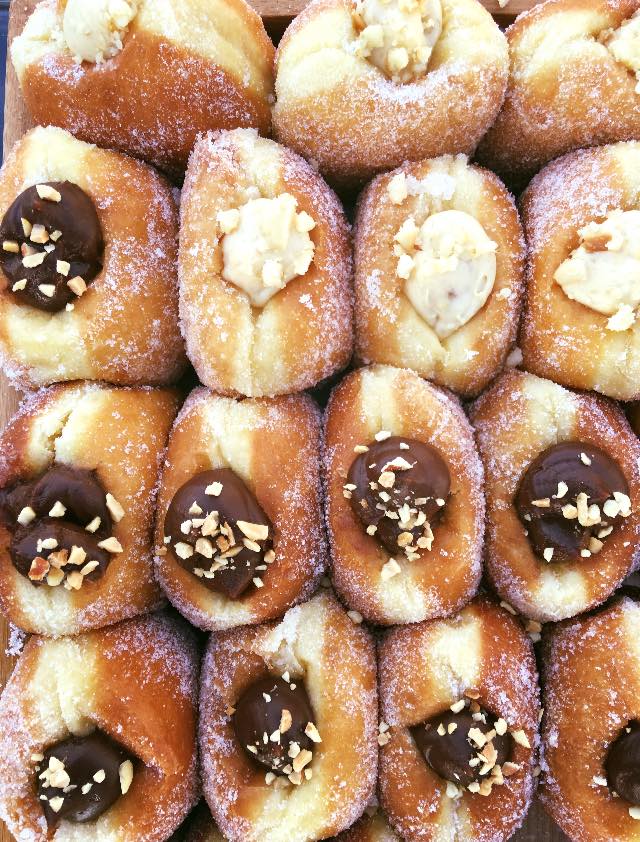 photo credit: Bombolini 
Where can we find Bombolini doughnuts?
I do 3 markets; the Friday evening farmers and foodies market at Kingston Old Bus Depot, Capital Region Farmers Market at Exhibition park on Saturday morning, and Sunday morning at Southside Farmers Markets at Canberra College.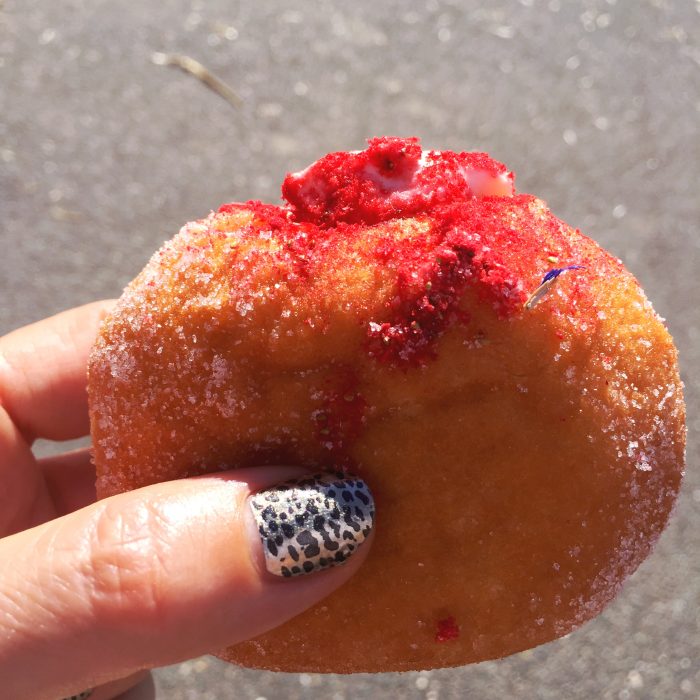 What next? Do you have plans for doughnut domination? (Side note: I really hope these plans involve Bombolini in Sydney!)
I love the business as it is, I have great support from a small team of helpers and it is really enjoyable, I would love to take it to the next level by starting a cafe/restaurant (my background is as a chef), but first I am waiting for my child to arrive in September. I definitely have itchy feet to start something new/grow the business. I would not rule out taking the business to Sydney one day, but I need to build a business big enough to cope with any scaling up, and get some more people around me. I am playing around with other products in the kitchen which might come to the Bombolini stall in the meantime.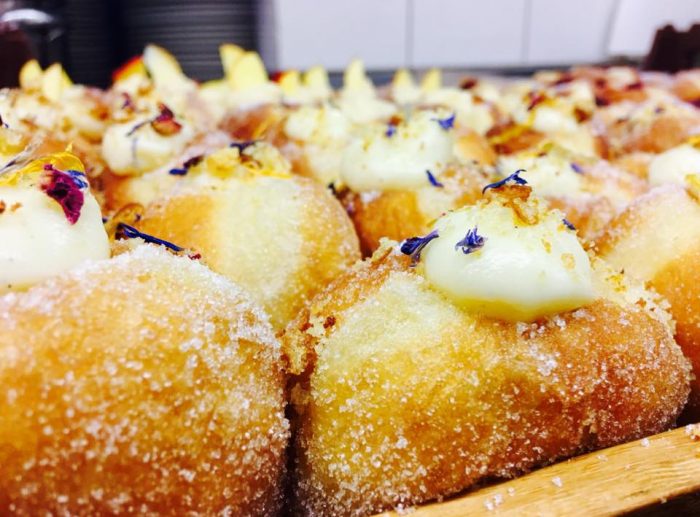 photo credit: Bombolini 
So, if you're in Canberra or just visiting, donut miss out on your Bombolini fix. Bombolini doughnuts are baked fresh, sold fresh and made by the Bombolini team so it's not surprising that they sell like hot cakes and quickly sell out. I promise you, these doughnuts are worth visiting Canberra for.
Do you love doughnuts too? Have you ever eaten a Bombolini?  What would be your dream flavour combination? If you could have your own business, what would it be?
To keep up with all the Bombolini deliciousness, follow along on Instagram and Facebook
Linking up with Kylie for IBOT