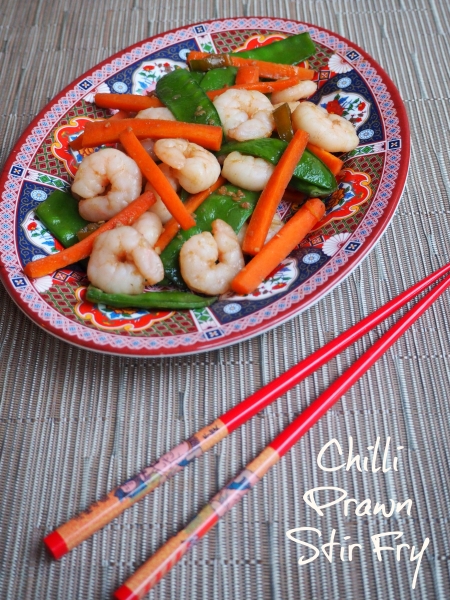 Serves 2
One thing is for sure, that I haven't quit sugar (or fish and chips) this holiday. I'm looking forward to going home and eating oodles of fresh food, full of flavour. I think this stir fry is going to be on high rotation on our dinner menu because it's so quick, healthy and super yum!
Are you a fan of the stir fry too? What do you put in yours?
Ingredients
2 small carrots, cut into thin strips
100g snow peas, trimmed
1 teaspoon olive oil
1 large garlic clove, crushed
1 large fresh green chilli, finely sliced
2 tablespoons soy sauce or tamari
1 tablespoon Chinese cooking wine or dry sherry
1 teaspoon sesame oil
250g prawns
How to 
Heat a wok until hot, then stir in the veggies, oil, garlic and chilli. Cook briskly, stirring and tossing for 2 minutes.

Meanwhile cook the noodles in a pan of boiling water.

Mix the soy sauce, cooking wine and sesame oil into the veggies and cook for a minute.
Add the prawns and stir fry for about 2 minutes  until piping hot.
Serve the stir fry with noodles or steamed rice.
Other info
Prep and cooking time: 10 minutes