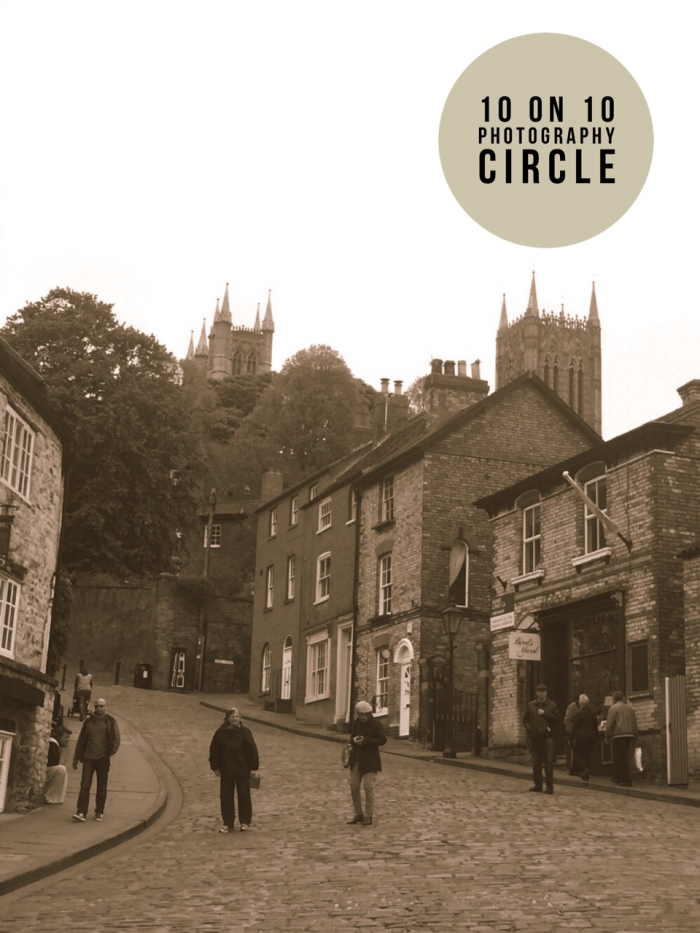 It's been a while since I joined with the 10 on 10 photography circle and now that I'm ready to roll with it, I'm rolling a day late. Of course, I could retitle this post 10 on 11, but I believe life is too short to waste time on technicalities (and to say no to cake.) I'm working on the premise better late than never. As there's only Jen and I playing along this month, I'm not sure we can really call it a circle either, but let's not split hairs, let's get stuck in instead! When you're done here, feel free to bob on over to Jen, say g'day and see what she's been snapping in the Deep South.
Usually when I venture to the mother country, I hot foot it here, there and everywhere catching up with friends and family but on this occasion, I still hot footed it here, there and everywhere but confined my hot footing to the city of Lincoln. I have to agree with Bill Bryson who said in Notes From a Small Island,  "I like Lincoln, partly because it is pretty and well preserved but mostly because it seems so agreeably remote." Although I would like to add, the lovely locals and the warm and friendly welcome that they will extend to you to the list. So here's what went down in Lincoln town.
One of the reasons I don't get to jump into the photography circle in May is because I spend a large proportion of my time either walking the dog or trapped under the dog, not that I would ever complain about either!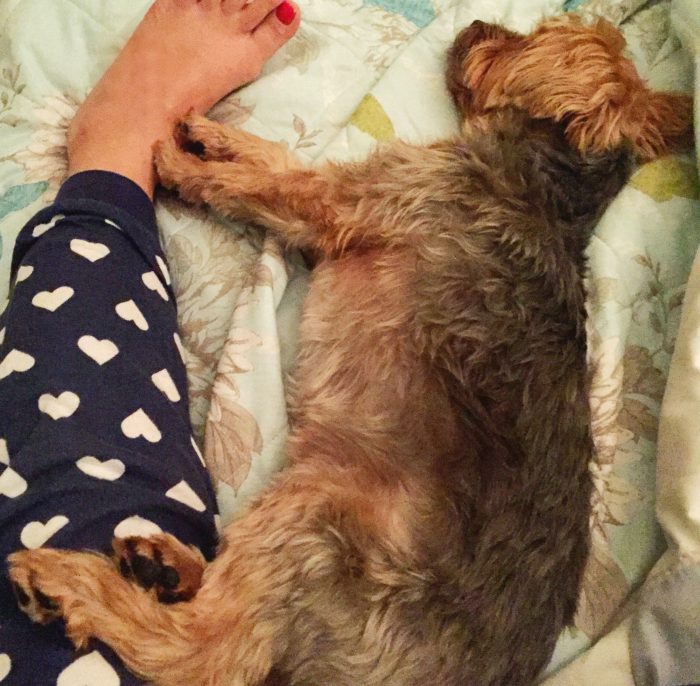 Apart from my furry friend, some of my hoooman friends come to visit which is such a treat and the perfect excuse to get out and explore the beautiful city of mum's. There is much wining and dining and tea drinking, most notably in Lady Rose's Edwardian Tea Room  a place so wonderful, it deserves a blog post for itself. On my first visit with Sarah,  we dine on cheese and pickle sandwiches, eat Lincolnshire Plum Bread, wash it all down with rose tea and feel like extras in Downton Abbey. Spoiler alert: it is my first visit to the tea room but not my last.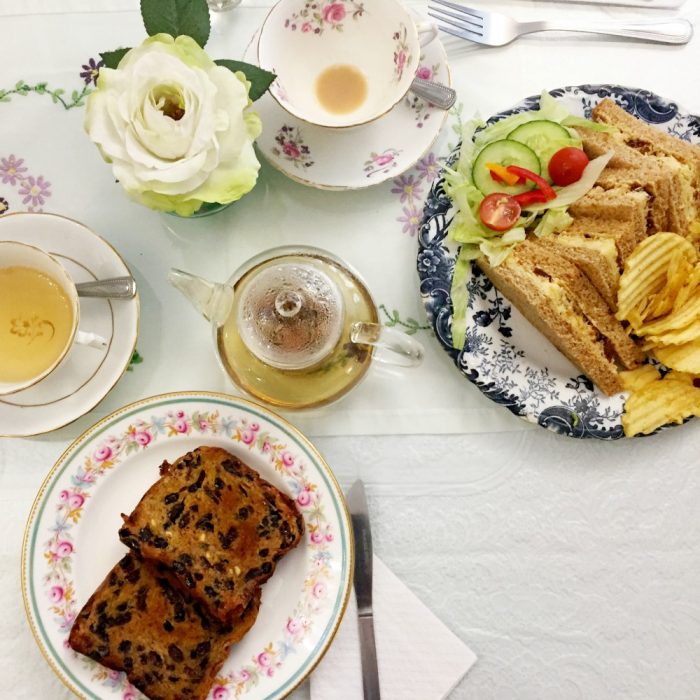 Next to visit is Sam. We've been friends since boarding school, and it can get very confusing having the same name when we're in the same room together. It doesn't get confusing though, because Sam (and everyone else who knew me until the age of 16) calls me Mandy. Strange, but true. The weather is more like winter than spring, but I'll take any excuse to wear a beanie, especially when we can be matchy matchy. We have a glorious time sightseeing and thoroughly enjoy regressing to our 10 year old selves, taking ridiculous (matching beanie) selfies all over town. See what I mean?!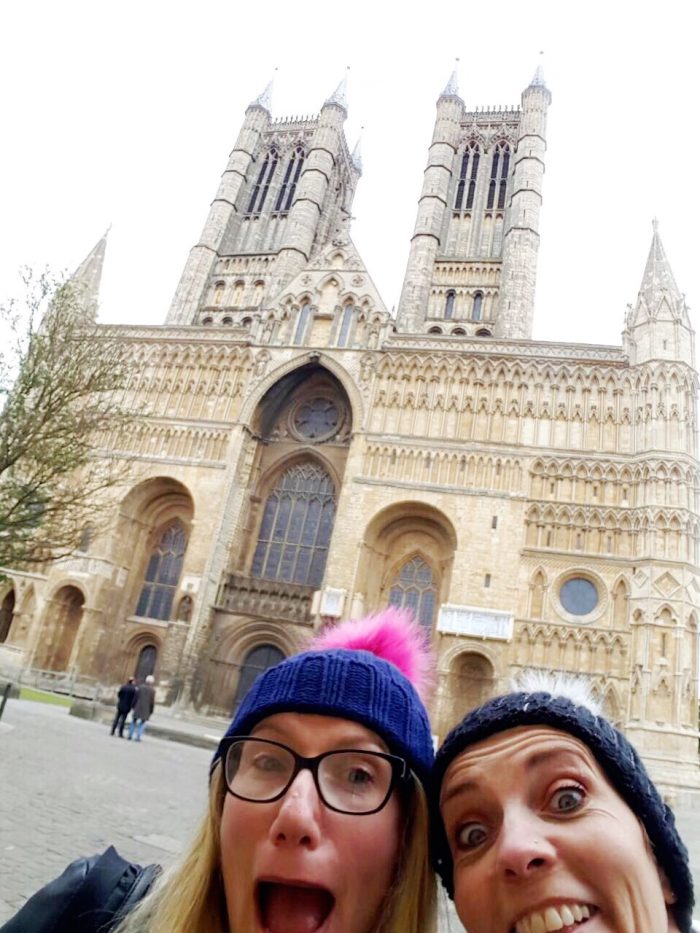 Heather and Dharish follow in Sarah's and Sam's footsteps and I still can't get enough of the selfies! You might remember Dharish from her chicken curry recipe  which is one of the most popular blog recipes of all time. I've made it twice since I've been back and I have a heap more Dharish specials to try! Watch this space!
This popular tourist street, Steep Hill was voted Britain's Best Street  in 2012 and one thing is for sure, it's steep by name and steep by nature. If I'm being honest, we only stop to take this photo to rest our legs and catch our breath!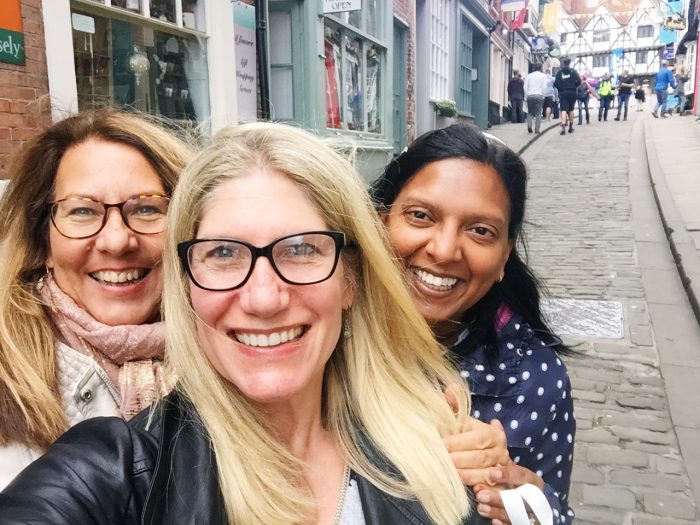 Steep hill is considered to be one of Britain's Best Historic Streets for the cobble stoned streets are home to many historical and architectural gems, the oldest of which is Jews House which many people believe to be the oldest inhabited house in England, dating back to the twelfth century. There are also more tea rooms, pubs, independent shops, vintage stores and all round olde worlde charm than you can shake a stick at. We love it so!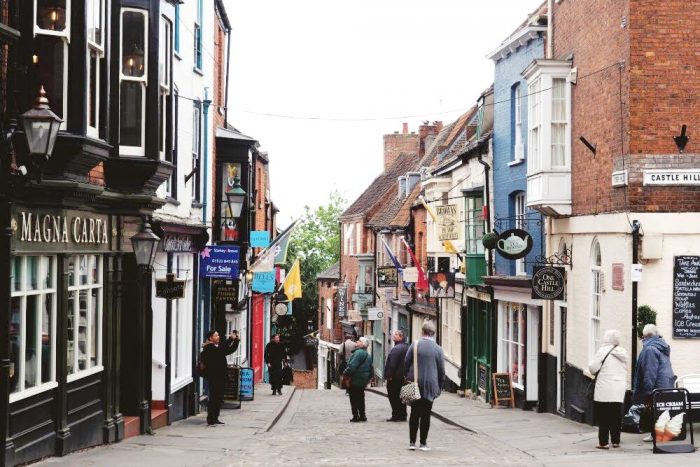 One of the highlights of the hill is Goodies Sweet Shop.  Dubbed the best sweet shop in Lincoln, I'd go so far as to say it's the best sweet shop in the world, and  I should know I've seen a few! It's like all my candy dreams come true. Although strictly a non smoker, even I cannot resist a licorice pipe, one of my all time favourites. They even stock my mum's favourite, Coconut Mushrooms, so I buy all their remaining stock and gift it to mum for Mother's Day. Best Mother's Day gift ever. Her words not mine.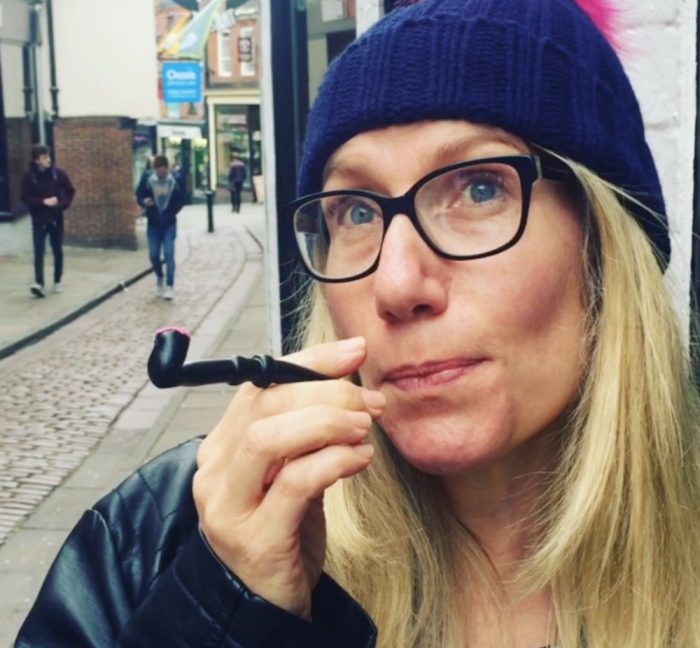 Luckily, Dharish and Heather bring some spring sunshine with them. The cathedral is looking mighty fine. It's in pretty good shape considering building commenced in 1088. At 143.3 metres long and with a spire reaching 160m high, it's pretty hard to get it all in one shot and it still holds the title of the third largest cathedral in Britain. It's as awe inspiring inside as it is out, and it's free if you visit on a Sunday.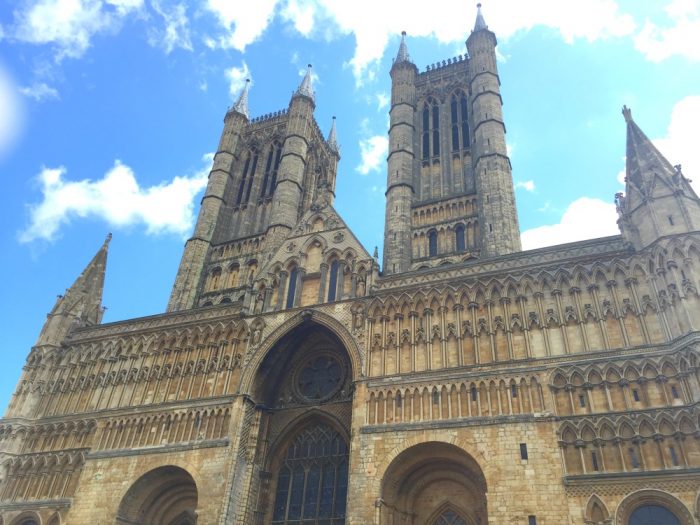 We have a sneak peek at the grounds of the castle but there's not much to see for free or in the limited time we have on our hands. Besides, we're a bit distracted by all the lycra, because the Cathedral Quarter is abuzz with the Lincoln Grand Prix, a huge cycling event. Walking up Steep hill is hard enough, I hate to think how much it hurts to ride up it. Here's the press pack waiting for their money shot. I want the money shot too, but my phone is not having a bar of it, with the message "storage full," the two words iphone users never want to see!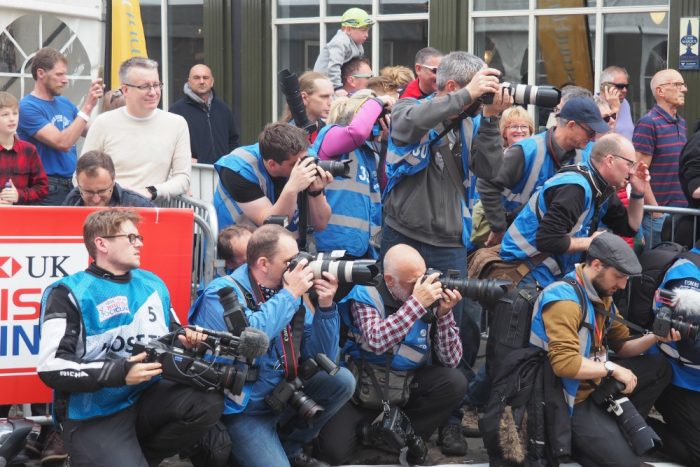 We continue walking to Bailgate, one of the oldest parts of the city. It's all cobbled streets, chichi boutiques and a plethora of places to eat and drink. This is where we find door 60 1/2. It's kind of like Harry Potter's platform only it's real, and it's older. The terrace was built around 1777  and apparently, the central entry passageway between houses 60 and 61 leads to shared back gardens. The  cottage (AKA 60 1/2) is at the rear of 58, and was possibly a communal bakehouse or washhouse back in the day. I'd love to see what it looks like now.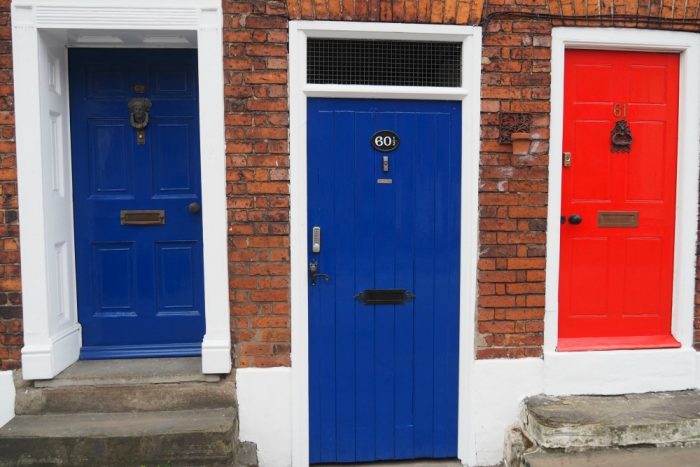 We're also really rather taken with the Newport Arch, the remains of a third century Roman gate and apparently the oldest arch in the UK still used by traffic. I wonder how long it will still be used by traffic because a couple of days after I take this picture, a lorry finds itself wedged under the Lincoln landmark. Fancy that!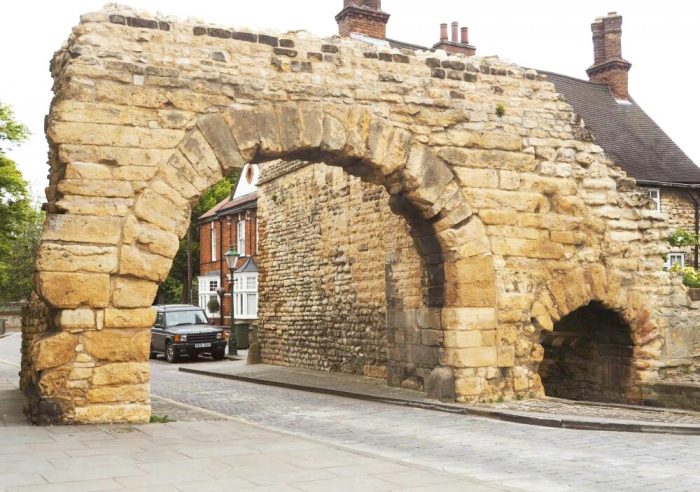 Have you ever been to Lincoln?  If you came to visit me, what would you want to see or do first? What's the oldest place you've ever visited?