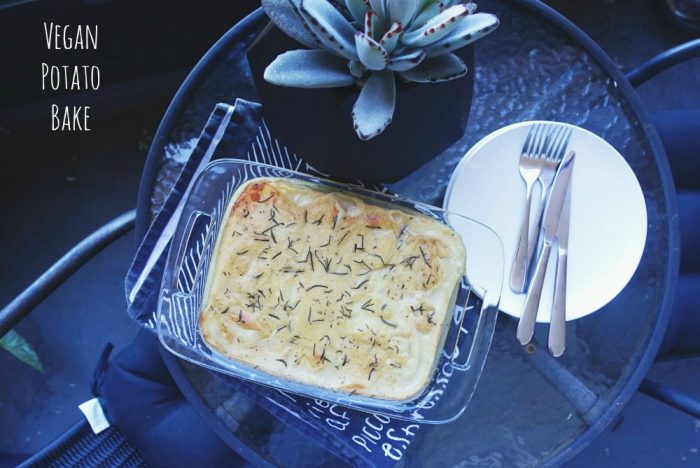 While I'm living it large in California, some of my favourite bloggers have generously offered to share their favourite recipes on the blog. Praise be to these lovely ladies for helping me out and sharing the yum!
Far and away my favourite thing about blogging are the friends I have met through my computer. I'm so glad my paths crossed online with Chelsey and I'm sure it's only a matter of time before they cross offline too!  Chelsey blogs over at Chelsey Crafts where she writes about how to live a happy life and shares yummy veggie recipes, travel tips and lots more besides. I'm so pleased she's here to celebrate Meatless Monday and sharing one of her delicious (and most favourite) vegan recipes. I can't wait to give this dairy free recipe a go when I get home!
"Thanks Sammie! What a pleasure to be sharing my recipe here on one of my favourite places on the www.
Speaking of favourites, today I'll be sharing my recipe for one of my all time favourite comfort foods, potato bake. This potato bake is free from animal products, gluten, nuts and soy, making it super allergy friendly and super comforting. The creamy sauce gets it's cheesy flavour thanks to the nutritional yeast and comes together simply by mixing all of the ingredients in one pot before pouring it over thinly sliced potato and cauliflower and baking it in the oven for 60 minutes. Simple is best (especially on a Monday night).
I hope you like my recipe for this simple potato bake, and Sammie and David, I hope you have the best time doing what has got to be The Happiest Half Marathon in the World! Now, onto the recipe!"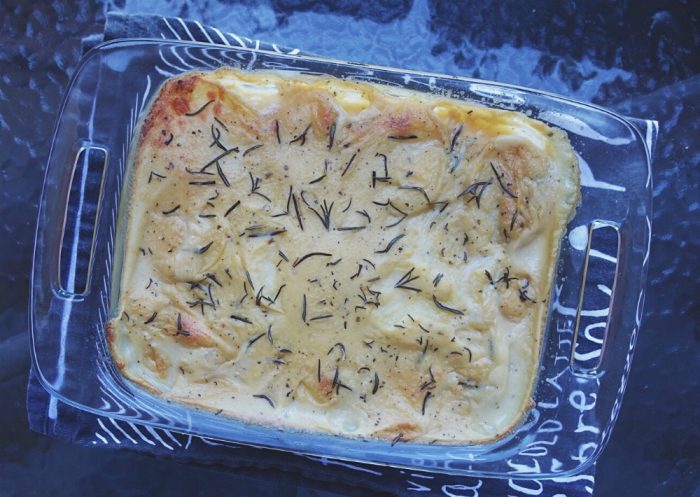 Ingredients
5 potatoes, peeled & thinly sliced
1/4 cauliflower, chopped
1/2 cup (8 tablespoons) of margarine (I used Nuttelex Lite)
1/2 cup gluten-free plain flour
1L almond-coconut milk
6 tablespoons nutritional yeast/savoury yeast flakes
2 teaspoons salt
2 teaspoons minced garlic
1 & 1/2 teaspoons mustard
1 teaspoon onion powder
1 teaspoon of mixed dried herbs
2 sprigs of rosemary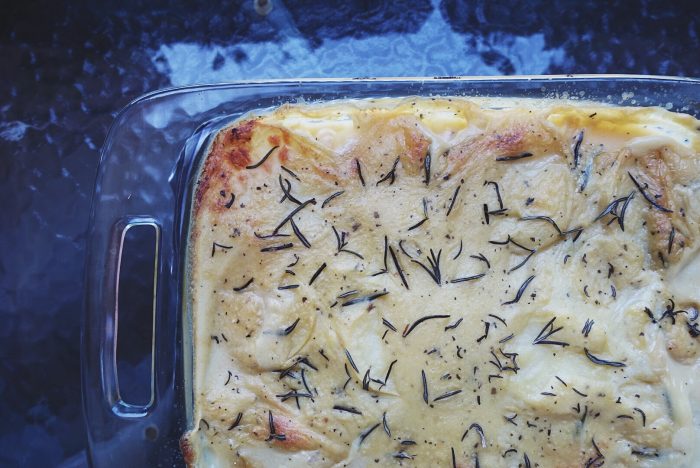 How to
1. Preheat oven to 180C/160C fan-forced.
2. Melt margarine in a small saucepan then create a roux by mixing in the flour. (It's normal for the mixture to become thick).
3. Whisk in the milk, 1/2 a cup at a time. Ensure the consistency becomes smooth.
4. Add all remaining seasoning ingredients and mix until sauce thickens.
5. Layer sauce, potatoes and cauliflower in a large ovenproof dish.
6. Sprinkle rosemary and a pinch of nutritional yeast/savoury yeast flakes on top.
7. Bake in oven for 60 minutes or until top is golden and potatoes are cooked.
8. Serve hot and be prepared for second and third servings.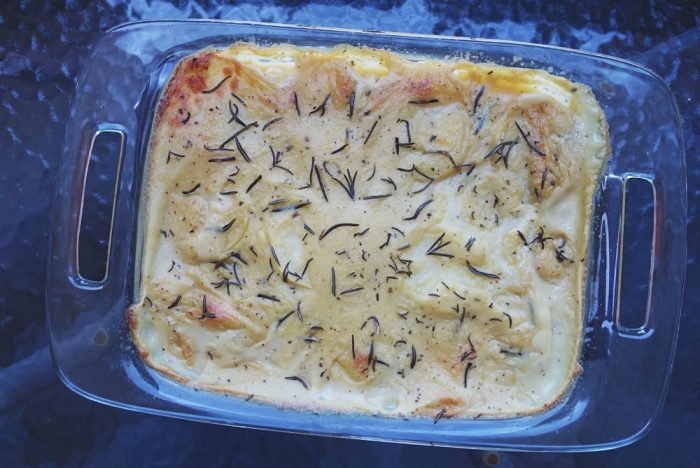 Chelsey writes about living a healthy, happy and holistic life at  including veggie recipes, travel tips, reviews, creative tutorials and living a life filled with passion and purpose.
You can find Chelsey and all of her delicious recipes, travel tales and foodie finds on Facebook, Instagram, Pinterest and of course, her wonderful blog Chelsey Crafts.