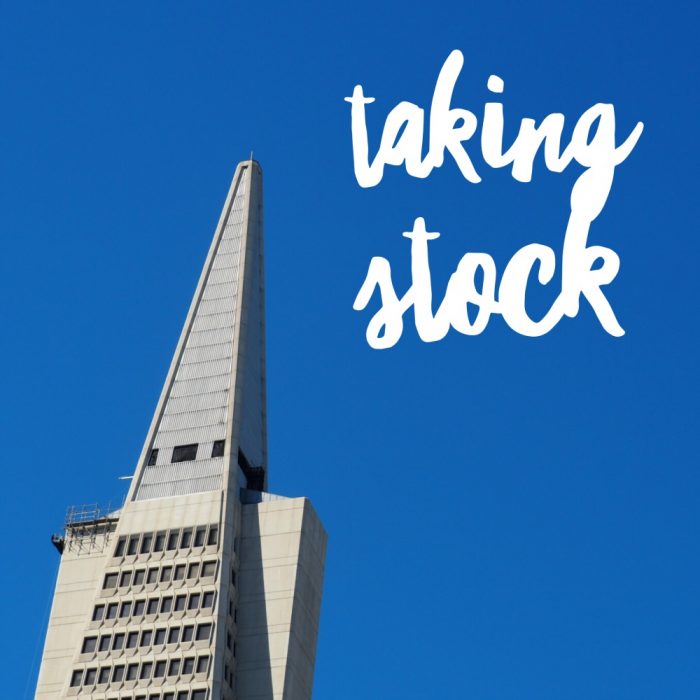 I've renamed the city by the bay, Sam Francisco simply because I love it so much. I think I left my heart here about this time last year so it seems only fitting that I come back and try and find it.
This is my third trip to SF but it's the first time that I've been left to my own devices. David came to work for two weeks and I came to play. There's so much to see and do here that I've barely scratched the surface but I have discovered that being one is fun.
And if you're wondering about the heart of mine, it's still somewhere in Sam Francisco but I'm sure if I go back sometime soon, I'll be sure to find it! But for now, let's take stock and see what went down in San Fran town.
Colouring: My way in to San Francisco. In-flight colouring is as calming as in-flight meds. Who knew?
Eating: An ice cream a day. I have a theory that it keeps the doctor away. This Peanut Butter Ripple from Humphry Slocombe was one of my favourites.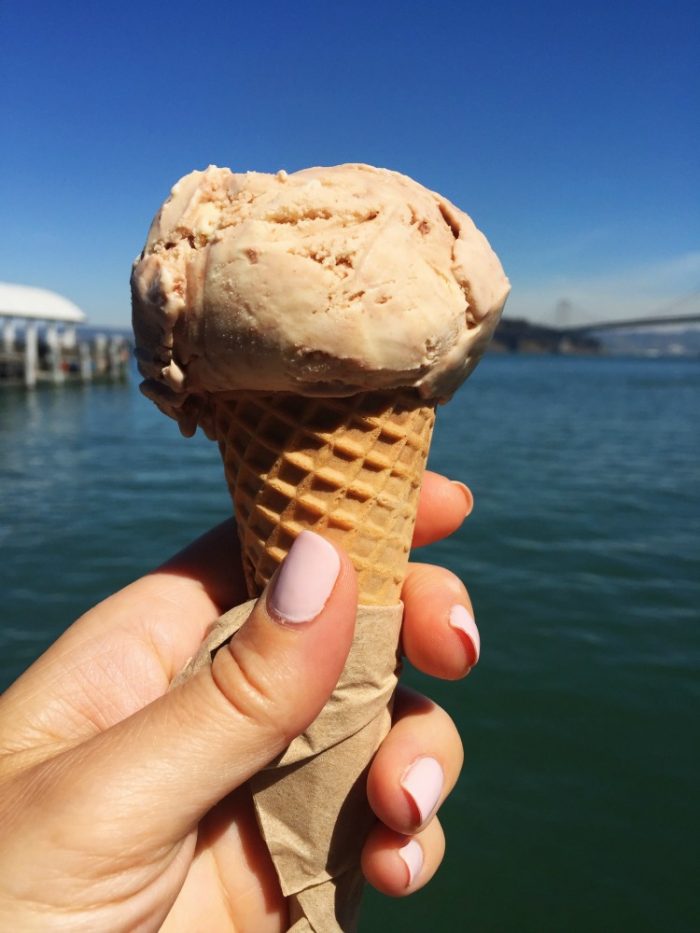 Snacking: On pickle flavoured chips. Best flavour invention ever.
Discovering: The cheapest (and some of the best) dumplings in town at Good Mong Kok Bakery. And how's that for a name?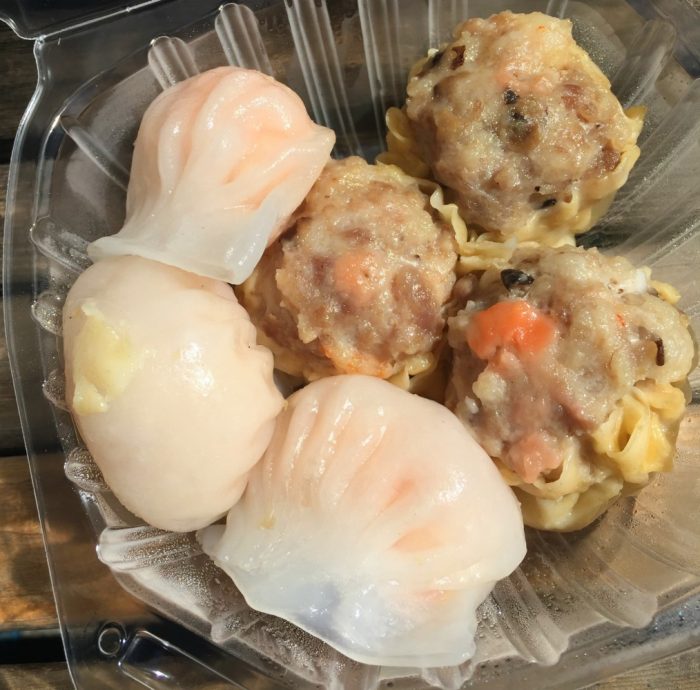 Dining: Solo. It's a novel experience. New, but not entirely unpleasant.
Trying: Not to get lost.
Admiring: The person/people who invented Google maps.
Feeling: Proud for not getting lost. Not even once.
Marvelling: At the awesome that is the Museum of Ice Cream. And before you ask, those are pink bananas on the ceiling 🙂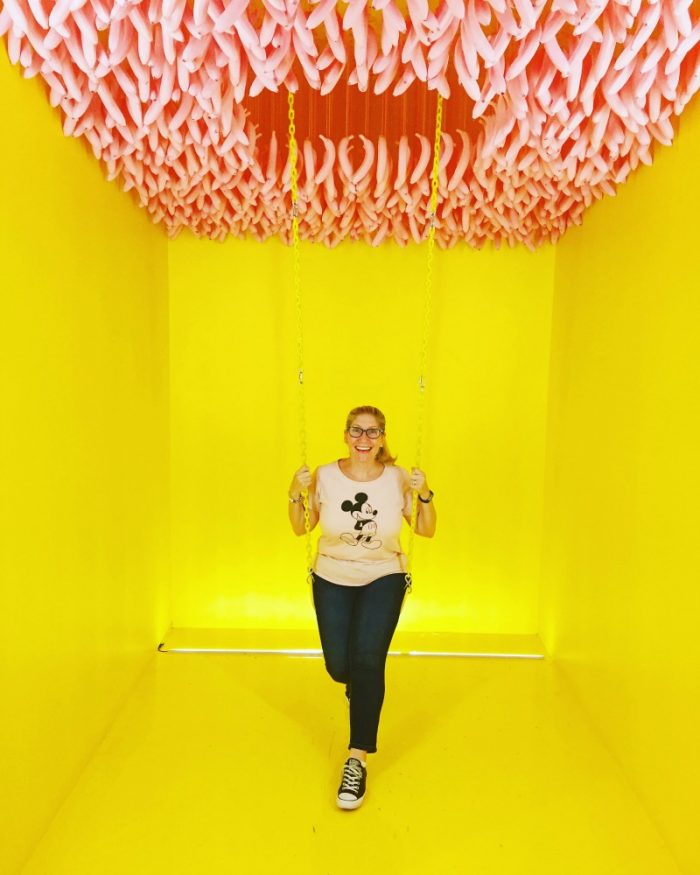 Knowing: That it was worth waking up at 2 am to score tickets for said museum.
Staying: At the White Swan Inn. We stayed here last year and I think I love it just as much, if not more!
Relaxing: By the fire with wine and hor d'oeuvres.
Chatting: To guests from all over the world at wine time in the hotel lounge.
Making: New friends.
Honing: My social skills with my new found friends.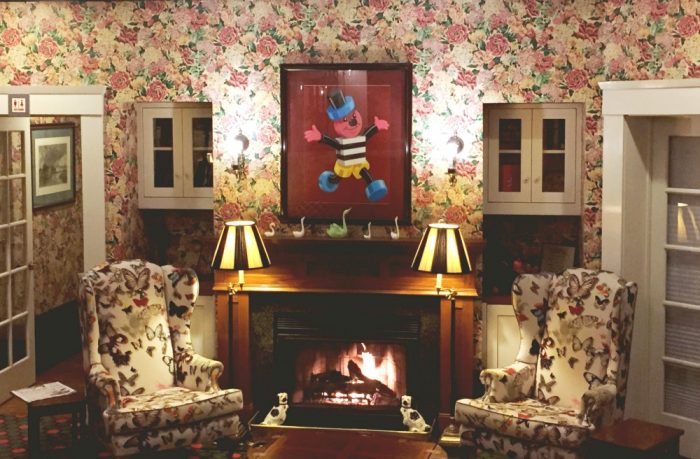 Thinking: That it's a small world after all… I met a woman from Michigan who literally grew up down the road from me!
Overcoming: Being shy and speaking to friends I haven't met yet!
Learning: A lot about myself. A stint of solo travel will do that to you!
Remembering: When we were here last year…. So much fun. This photo popped up in my FB memories.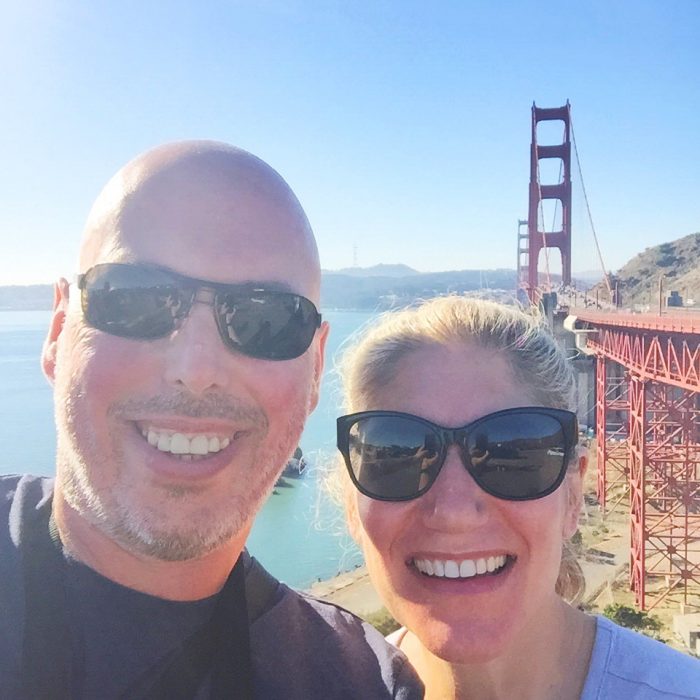 Loving: How much San Fransiscans love their dogs and how they can go everywhere!
Considering: Writing a blog post entitled "Dogs of San Fransisco."
Combining: Learning about San Francisco's oldest neighbourhoods and learning about San Francisco's best beers on a craft beer tour with  SF on Tap.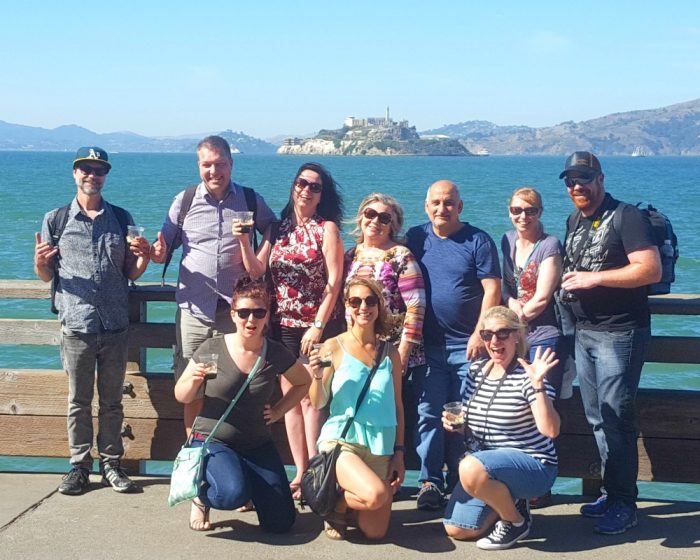 Noticing: How many homeless people there are in San Francisco. It's a most heartbreaking epidemic.
Getting: A mani and pedi San Franciscan style.
Wearing: My new bargain running tights.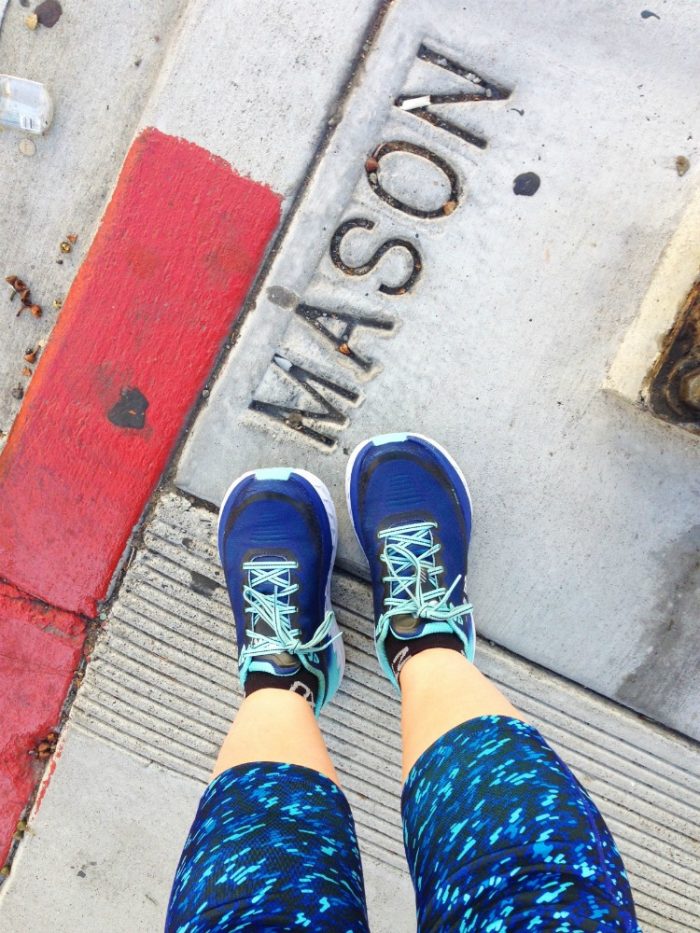 Finding: Bob's Donuts. It's a 24 hour donut mecca.
Needing: To wire my jaws together when I get home!
Popping: My laundromat cherry.
Running: Around Crissy Field in the San Fransisco Aloha Run.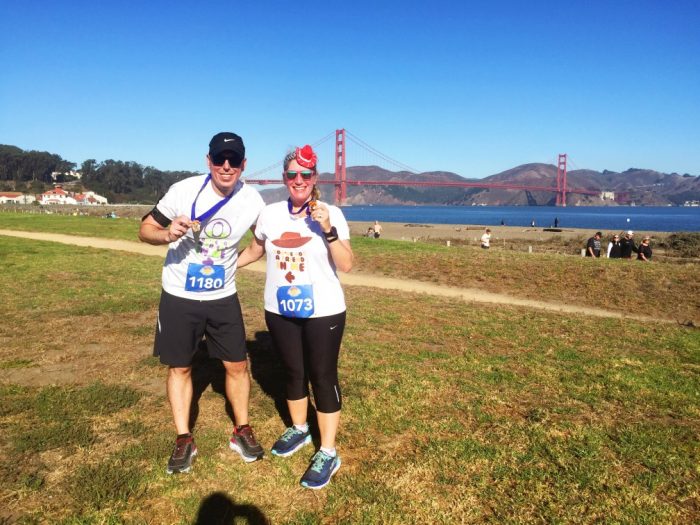 Matching: Our Toy Story tees at the San Fransisco Aloha Run. 
Bringing: Home flip flop shaped bling from the San Fransisco Aloha Run.
Enjoying: The views from the 10k – this is what you call "A Run With a View."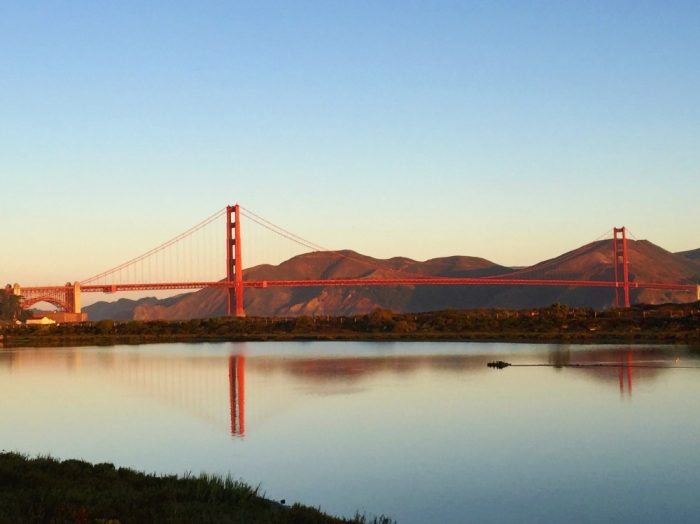 Dreaming: Of living in San Francisco. I think it's my happy (if a little hilly,) place!
Riding: The Sausalito Ferry.
Revisiting: Alcatraz. It's so fascinating. It never gets old. Did you know some of the prisoners were into crochet? For realz!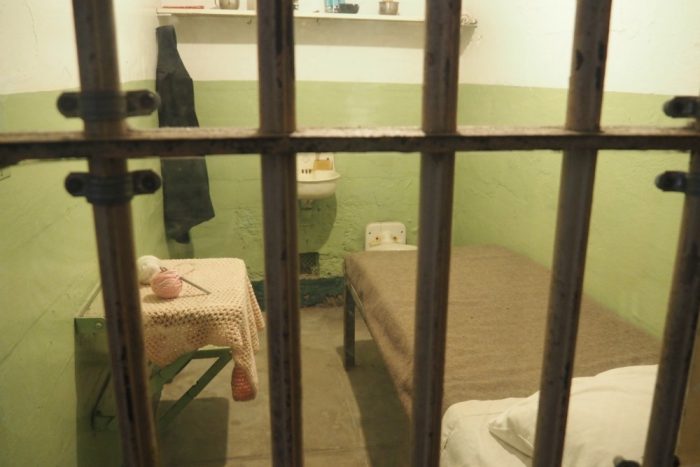 Hearing: Stories about the women of Alcatraz. Fascinating femmes!
Learning: All about San Fran's hidden secrets on a Free Tours By Foot walking tour.
Liking: The weather. It's been glorious!
Disliking: Hills. They're my nemesis and there are so many in San Francisco.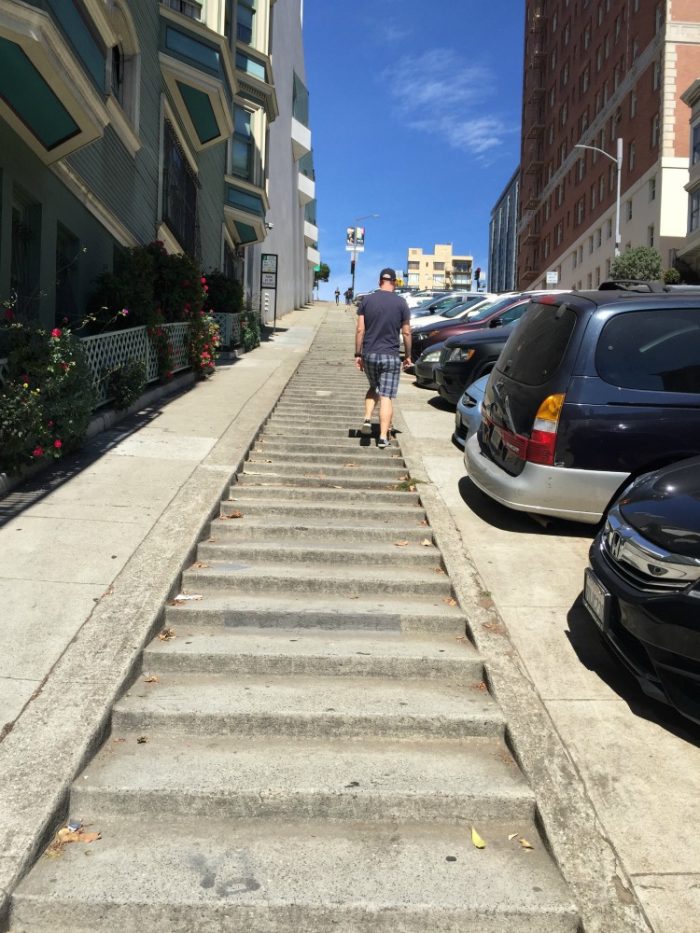 Walking: The hills of San Francisco. Some of the streets are so steep, there are stairs to help you climb them!
Buying: More Christmas Decorations.
Accepting: That I'm not minimalist when it comes to Christmas decorations.
Coveting: A Snoopy Nativity set. But I have to draw the line somewhere.
Seeing: My first ever college football game at California Memorial Stadium. Go the Bears!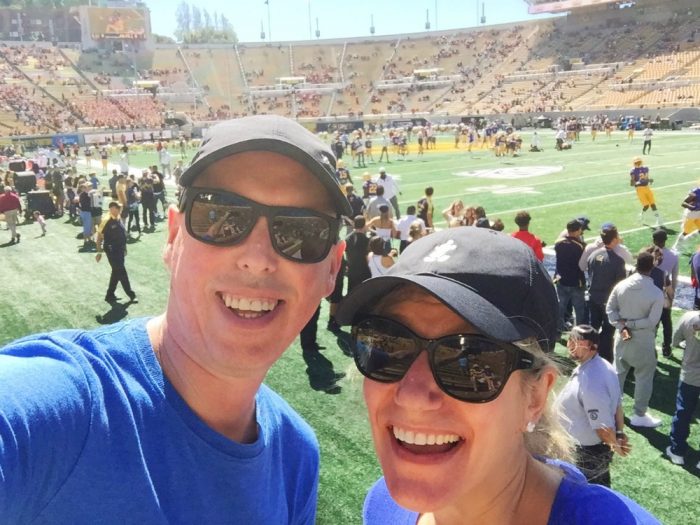 Savouring: The game day atmosphere. The marching bands were a highlight.
Reading: The new (to me) Marian Keyes, The Woman Who Stole My Life *
Watching: Sumo wrestling in Japan Town. Let's just say those sumo thongs don't leave much to the imagination. Wedgies for days!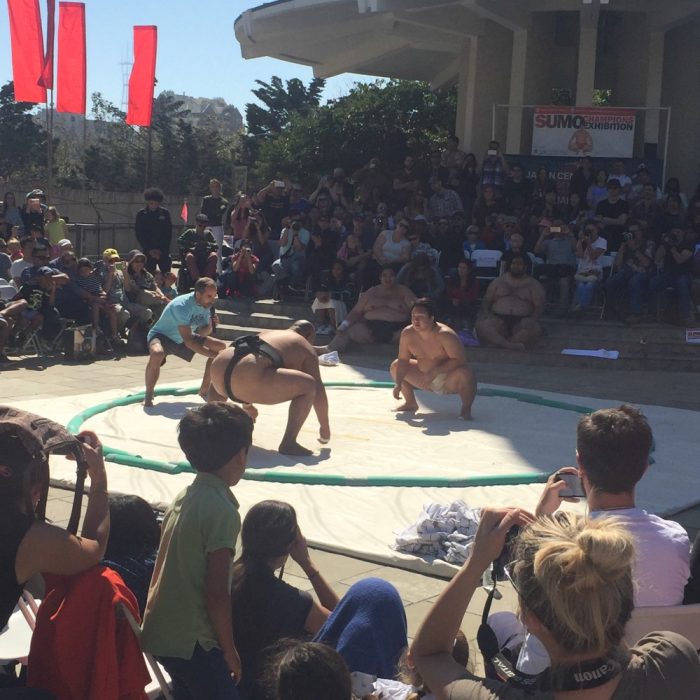 Meeting: Kat from Bright Lights of America. It's always such a treat to meet the friends in my computer, in real life!
Catching: Up with Tessa from Life With Lemonade. So fun to meet up with Sydney friends in San Fran!
Seeing: The seals at Pier 39. I could watch them for hours!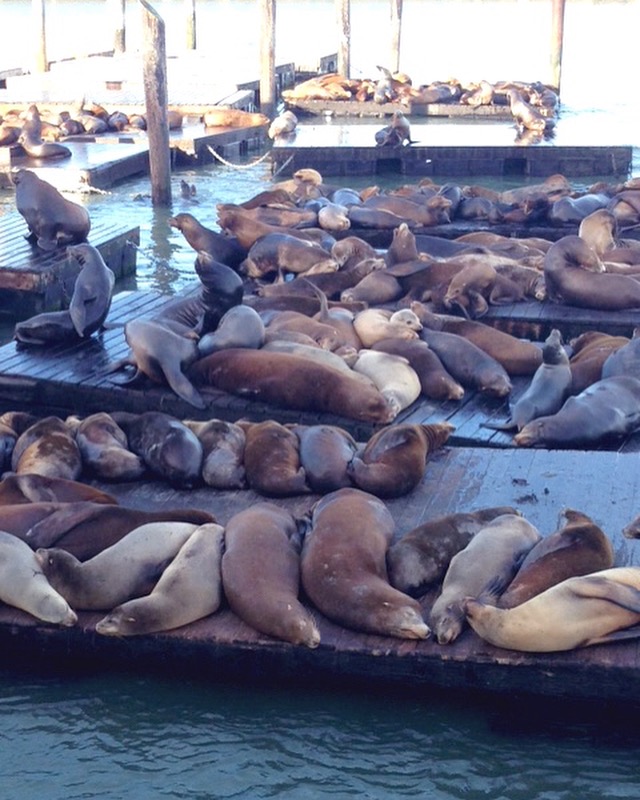 Looking forward to: Going home. I love being away but there really is no place like home.
Chilling: Out with Chedda Cheese (one of the SFO Wag Brigade) at San Francisco airport before my flight home.
Wishing: Every airport had a Wag Brigade! Wouldn't that be nice?!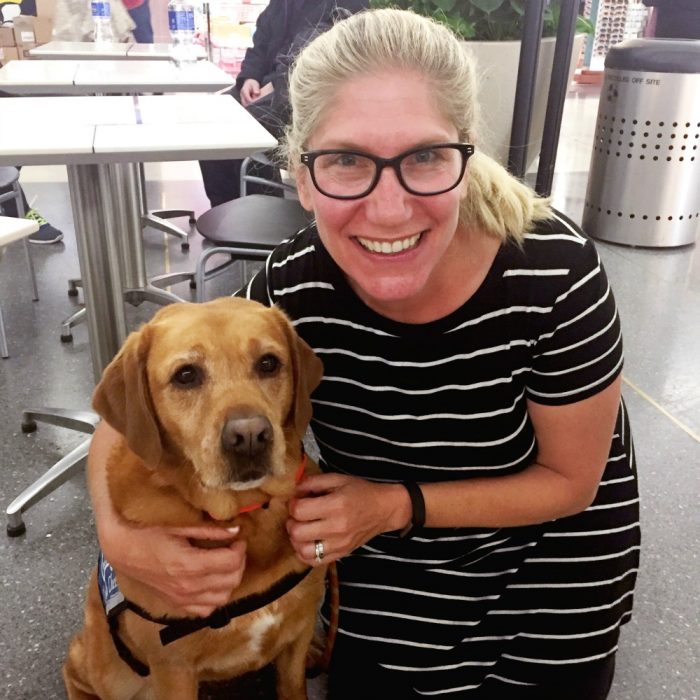 Leaving: On a jet plane and not feeling even a bit anxious. I call this the "Chedda Effect"!
Have you ever been to San Francisco? Have you ever left your heart somewhere? Are you an anxious flyer? How's your sense of direction? Tell me all the things!
Linking up with Kylie for IBOT