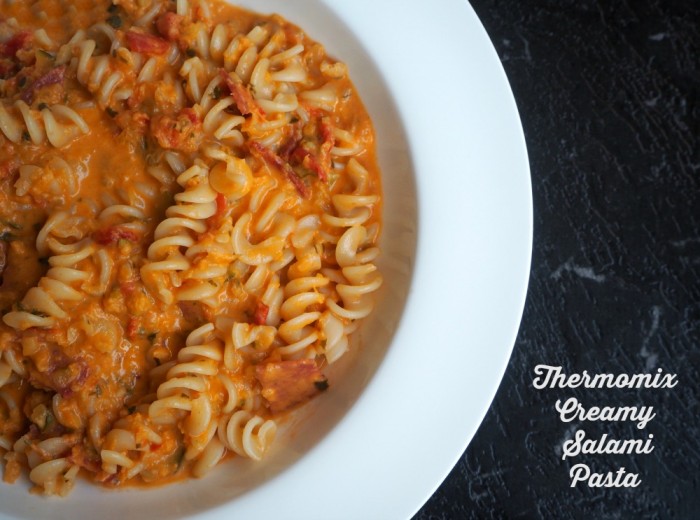 Serves 4
Shall I tell you a secret? When I first got the Thermomix, I was a bit afraid to use it and would only use it if David was in the house. We were laughing about it the other day, and at how times have changed! These days, I can't stop using it!
The funny thing is, we don't cook a lot of main meals in the Thermomix, or not nearly as many as we should. This dish is our tweak on on a golden oldie from the Basic Cookbook and it has stood the test of time – it's still one of our all time favourites. Sometimes ugly food is the tastiest and this is definitely one of those times! This pasta dish is  quick, easy and we can grab all the ingredients and go. We eat gluten free pasta, which doesn't fare so well in the Thermie, so we cook it separately on the stove and add it later.  This is one dinner that won't disappoint!
Do you have a delicious dinner recipe that's on high roatation? Have you ever been afraid to use a domestic appliance?!
Ingredients
1 onion, quartered
1 garlic clove
small bunch of parsley
1 zucchini, roughly chopped
1/2 red capsicum
20g oil
1 x 400g can chopped tomatoes
50g water
200g sour cream or yoghurt
1 tablespoon TM vegetable stock concentrate
250-300g gluten free pasta shapes
100g thinly sliced salami, roughly chopped
How to
Place onion, garlic and parsley into TM bowl and chop for 5 seconds on speed 7.
Add zucchini and capsicum and chop for 3 seconds on  speed 5.
Add the oil and saute for 2 minutes  at 100 degrees on  speed 1.
Add the tomatoes, water, sour cream and stock and cook for 10 minutes at  100 degrees on speed 1. Cook the pasta in a pan of boiling water according to packet instructions. If you're using regular pasta, add it with the salami at stage 5.
Add the salami and cook for 10 minutes at 100 degrees on reverse speed soft.
Transfer the pasta and sauce into the thermoserver and leave for about 10 minutes.
Serve and sprinkle with grated parmesan, if desired.